First Look: 2017 KTM 250 EXC & 300 EXC
KTM's 2017 250 and 300 EXC two-strokes are here. Massively redesigned and updated for the new model year, here's a detailed look at what's on offer.

The new KTM 250 EXC is the perfect package for all who love ripping performance, but don't want to lose control of their budgets. Pound-for-pound, punch-for-punch the compact 250 has always been one of the best fighters in the world of enduro, forming the ultimate fighting machine against more complex 4-stroke rivals.
All muscle, no fat - this 2-stroke machine is as lean as it is keen. With an unbeatable power-to-weight ratio, low purchase and ownership costs and straight-forward 2-stroke technology make the 250 a prime choice for extremely heavy enduro duty. Best-in-class enduro performance combined with a perfectly geared six-speed transmission and a DDS clutch turn it into the absolute top dog of its class.
For those who want torque by the bucket loads, huge top-end power and a lightweight chassis ready to rise to any occasion, give the powerful 300 EXC a go.
Engine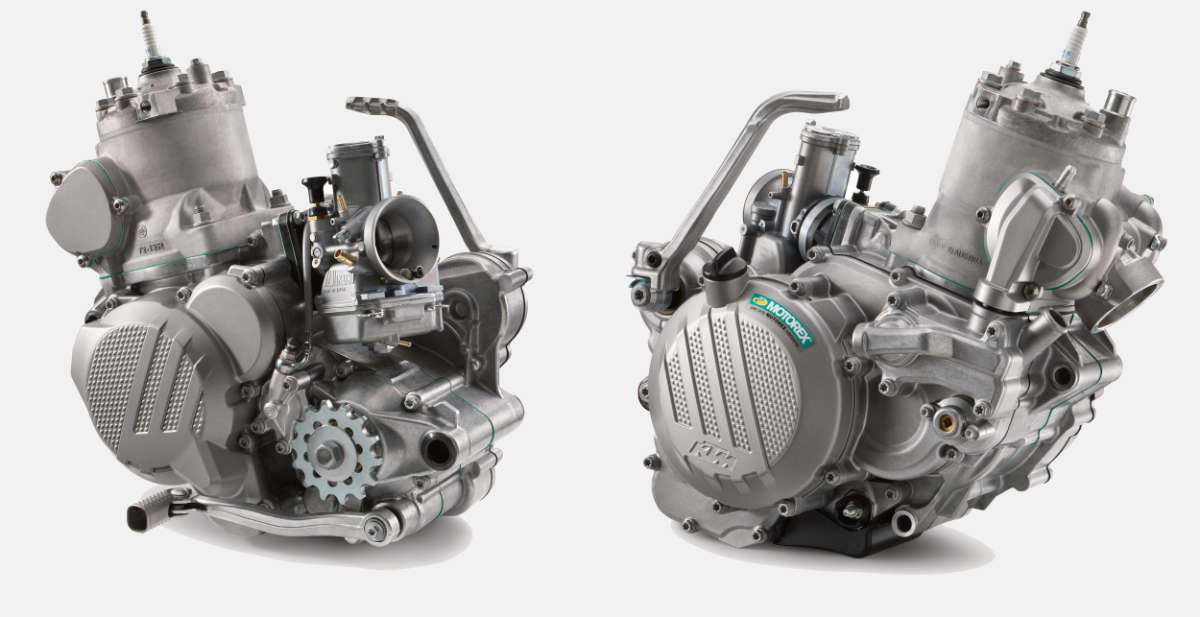 For MY 2017, KTM underlines its continuous commitment to 2-stroke technology by thoroughly re-designing their 250 cm3 power plant. An all-new architecture with a new shaft arrangement ensures even better mass centralisation. Then there is a new cylinder with a twin-valve controlled power valve, a new counter balance shaft and plenty of other first-rate, newly designed peripherals.
Both the 250 & 300 feature a newly developed cylinder with a bore of 66.4 mm (250EXC) and 72mm (300EXC) has all-new ports and is fitted with a re-developed power valve system. This system features a sophisticated mechanism for the lateral support exhaust ports, providing smooth and controllable power on tap.
The crankshaft's 72 mm stroke remains the same, but otherwise, the component has been fully re-designed, which includes rebalancing and setting it up with a counter balance shaft against vibrations. Compared to that of the SX motocross engine, it has more inertia due to a heavier ignition rotor. This helps the rider gently feed in the power for maximum traction in difficult passages.
With a view to reduced rider fatigue, the new engine design creates room for a lateral counter balance shaft. The impressive result of this is drastically reduced vibration levels, lowered by 50% on the handlebars and foot pegs.
The all-new die-cast engine case positions the clutch shaft 8 mm higher off the ground and the crankshaft 27 mm higher, resulting in an improved centralisation of masses for enhanced rideability. In addition, the new layout allows for implementing a counter balance shaft to reduce vibrations. The redesigned engine covers feature a smart, hard-wearing surface structure in order to reduce the wear caused by the rider's boots.
Furthermore the engine's power delivery can be adjusted to track conditions in seconds by swapping between the different supplied power valve springs. New water jackets in the cylinder and head will take care of excess heat in any situation, while the revised lateral cylinder head brackets ensure fewer vibrations are transmitted to the frame via the two lightweight head stays.
Clutch
The 250 & 300 EXC employs the KTM-developed DDS clutch (damped diaphragm steel) with a wear-free steel basket and extremely heat resistant clutch plates. In this design the diaphragm spring used instead of the usual coil springs makes for a considerably easier clutch action, while at the same time leaving sufficient space for a damping system to be integrated into the clutch hub. The result is increased traction along with enhanced durability.
On top of that, the new clutch uses a lighter basket, a revised inner hub and a pressure plate providing a better oil supply and unsurpassed cooling. Actuated by Brembo hydraulics, the clutch offers an easy operation and consistently precise control.
Transmission
The revised 6-speed enduro gearbox has the same gear ratios as its predecessor, but the KTM engineers took a close look at the mechanism in order to provide even more precise and easier gear shifting. Keeping safety in mind, the advanced KTM 'No Dirt' gear lever design ensures the gear lever joint cannot be blocked by mud and dirt.
Electric Starter
The 250 and 300 2-stroke engine is equipped with a new electric starter located below the engine. Compared to previous models, the new starter system is less complex and more reliable. The starter is now powered by a high capacity lightweight new lithium ion battery.
Carburettor
As of model year 2017 the KTM 250 EXC is fitted with a new 38 mm Mikuni TMX carburetor instead of the previous Keihin unit.
Frame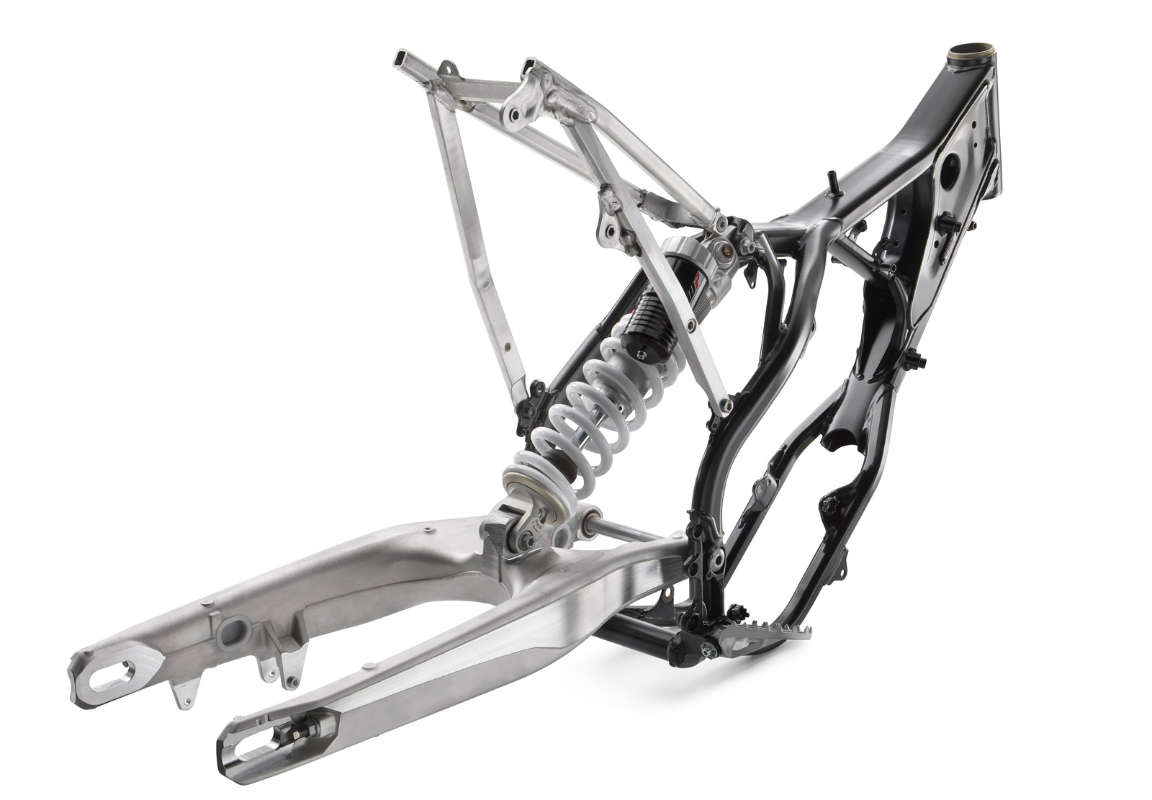 The high-tech, lightweight chrome-moly steel frame is the base of the EXC series' handling, rideability, precise cornering and excellent stability. Due to wider but lower profiles for the steering triangle combined with hydro-formed side tubes, the torsional rigidity was raised by 20% providing more cornering and track stability.
At the same time the longitudinal stiffness could be reduced by 30%, which results in better absorption of the impact energy from the suspension, in short: more comfort and less rider fatigue. Laterally attached, lightweight engine head stays contribute to a reduced vibration level. Two threaded inserts in the lower cradle tubes make a rugged mount for an optional skid plate. In MY 2017, the EXC frame is 300g lighter than the predecessor and a full kilogram lighter than that of the lightest competitor.
Subframe
The brand new subframe, manufactured from a new type of strong aluminium sections, tips the scales at less than 900g – 20% weight savings over the previous generation.
Swingarm
An updated swingarm design allows for an optimised mounting position of the PDS (progressive damping system) rear shock for increased progression. Furthermore, the new cast aluminium
MY 2017 design achieves another weight reduction of 220g, combined with perfect flex behaviour.
WP Split Forks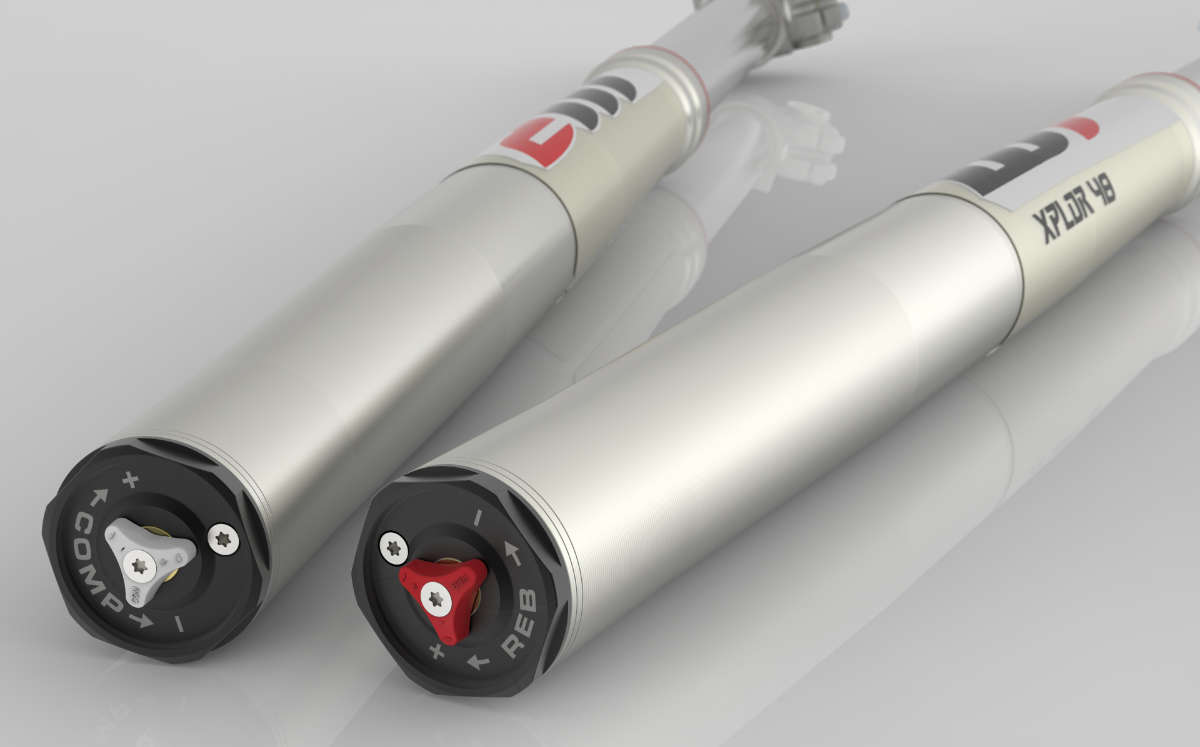 The all-new WP XPlor 48 upside-down fork is a split fork developed by WP in close collaboration with KTM. While it has springs on both sides, the damping action is split between the fork legs: compression on the left side, rebound on the right. The forks are easily adjusted for compression and rebound by twisting the individual dials on top of the fork tubes (30 clicks each). In addition, a longer and sealed hydro-stop guarantees better resistance against bottoming-out.
Due to high-quality materials and a state-of-the-art production process, the new XPlor 48 forks with some 300 mm of travel combine outstanding response and damping characteristics with weight savings of around 200g over the previous generation of forks. In addition, a new, optional preload adjuster allows to quickly dial up one of three different spring preload settings without any tools.
New PDS Shock
The newly developed WP XPlor rear shock retains the signature KTM PDS design where the shock absorber is directly connected to the upper side of the swingarm without a linkage system.
This set-up has now been re-designed with the new frame and swingarm architecture in mind. It boasts the best possible mounting geometry, provides even more progressive damping, and features an all-new shock absorber body with a smaller piston and a larger reservoir.
KTM has reduced the piston diameter from 50 to 46 mm, with the total length reduced by 2.5 mm and the shock stroke by 4 mm, for total weight savings of more than 600g. In addition, it is now mounted 5 mm closer to the centre line, resulting in nearly symmetrical loads on swingarm and frame, as well as more space for the exhaust.
A second piston works together with a closed cup (instead of a needle) towards the end of the stroke and is supported by a progressive shock spring for enhanced protection against bottoming-out.
New Rear Brake Caliper
The rear brake pedal length has been extended by 10 mm while the diameter of the rear brake caliper piston has been reduced from 26 to 24 mm.
Misc
Other details include, KTM's 'No Dirt' footpegs - 6 mm higher than the SX versions - stiffer radiators, 9.5L fuel tank, new seat design, new air box design, 2017 graphics, Neken handlebars, speedometer.
Technical Data