First look: 2022 KTM EXC and XC-W Enduro model range
KTM has announced the 2022 EXC and XC-W model range with updates to the WP suspension settings aimed at offering a firmer and even more planted feel, a tweak to the 250 two-stroke gearing and some striking new colours – especially on the SIX Days Editions models.
New models are coming thick and fast at this time of year and it is now the turn of the biggest selling Enduro range of them all, the 2022 KTM EXC and XC-W models.
On the back of the pandemic it is no great surprise to find the updates for the new season are not earth-shattering. The standard suspension is always a big talking point for Enduro riders and KTM has focused attention in that area for this season.
2022 KTM EXC and XC-W updates:
Revised WP suspension settings for a firmer and more responsive feel
Improved oil circulation in the suspension for more consistent feedback
New 13:52 gearing giving the KTM 250 XC-W TPI added bottom-end punch
New 2022 colours inspired by the Factory bikes
MAXXIS MaxxEnduro tyres (In Europe)
Bold new design and colours for the KTM EXC SIX DAYS line-up
2022 KTM Enduro model line-up: 250, 350, 450 and 500 four-stroke (EXC-F and XCF-W models depending on your country) plus 150, 250 and 300 two-stroke TPI (EXC and XC-W models).
Suspension upgrades
KTM say they have worked with WP suspension to update the production settings of the WP XPLOR forks and shock absorber now has firmer and sportier feel.
The XPLOR forks come with reduced friction thanks to updated outer tubes, a polished spring for less pollution of the oil and a reworked upper cartridge screw connection to enhance rebound damping.
The PDS shock now boasts a new O-ring that is less prone to deformation, wear and fading, while new settings offer better resistance to bottoming out, KTM claims.
Factory looks?
For 2022, KTM has "emphasised the connection" with its factory race team bikes with a new blue theme to the otherwise very orange graphics.
More exciting visually (we think) are the 2022 KTM EXC SIX DAYS models' new graphics. KTM designers have "gone bold" again bringing in elements of the world map in the design but moving away from associating this year's version with a specific country. As ever, the ISDE special editions models offer a sprinkling of Power Parts upgrades over the standard EXC spec on all 4T models and the 250/300 models. (We've put more images of the SIX DAYS models in the gallery above).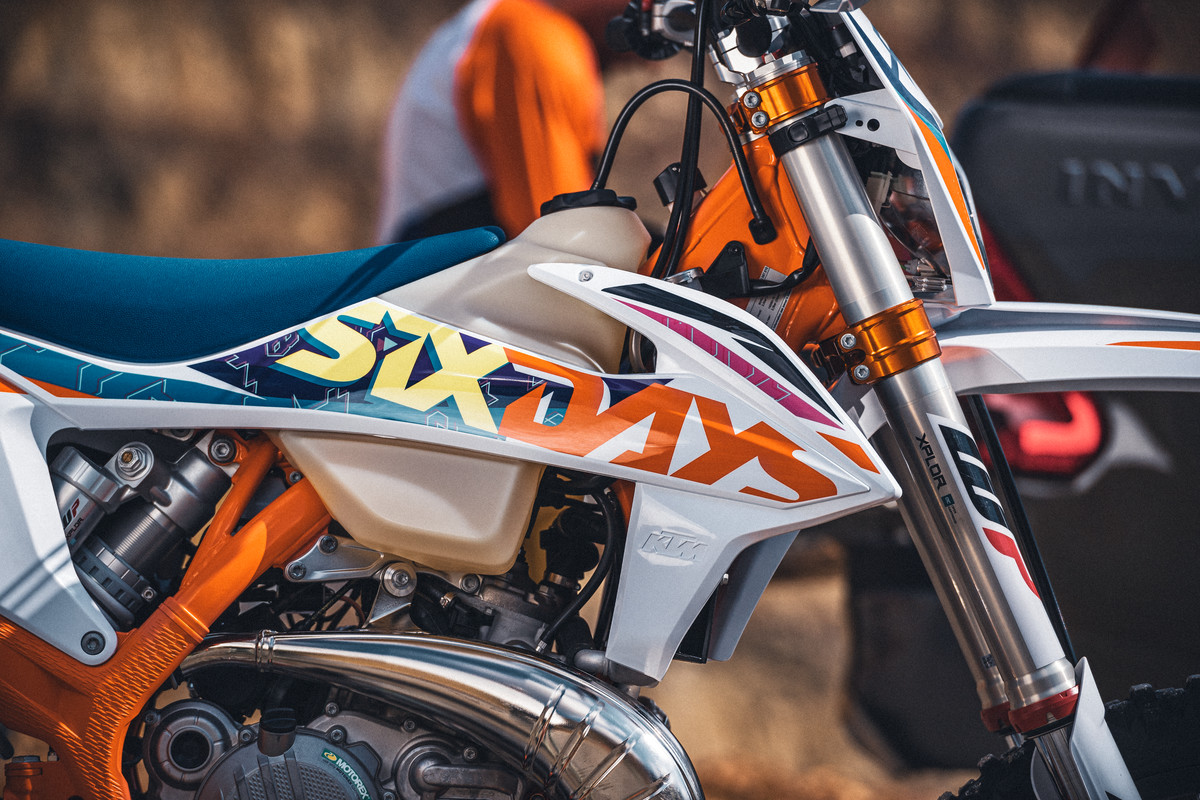 Sharper gearing for the 250 TPI
The two-stroke EXC TPI models have received little change outside the new graphics and the suspension changes except the 250 model now features a revised 13:52 gearing for a little more kick off the bottom out or corners as standard.
In Europe the other change for 2022 is the new-spec MAXXIS MaxxEnduro tyres as standard fitment. KTM say there has been plenty of testing with Maxxis to "improve durability and puncture-resistance".
KTM says the 2022 EXC and XC-W models will be available in authorised dealers from May 2021.
More information: www.ktm.com
Photo Credit: KTM | Rudi Schedl