First look: 2022 Beta 300 XTrainer – engine updates for the off-road all-rounder
Beta Motorcycles have announced the new 300 XTrainer – the "perfect link between a play bike and an off-road race bike" will have an all-new, smoother engine and lighter clutch for 2022.
Holding a position as a well-priced and easier-to-ride all-around model in the Beta range, the XTrainer has always been a popular one since its introduction. Smoother power, lower seat…it's a package many people prefer particularly if you're more interested in enjoying the ride than racing.
Beta says they have traded on those 'manageable' qualities with the updates to the 300 two-stroke model for 2022. It's a bike which promises much with nice, torquey 300 motor and chassis which work for trail riding as well as extreme enduro.
What's new for '22?
Engine: the 300 two-stroke engine has been "completely revised" with an all-new, larger bore cylinder, a new piston and a new power valve
Crankshaft: new shorter throw crankshaft, for a shorter piston stroke than the previous model
Cylinder head: the head is also completely new, and has been redesigned to complement the other new components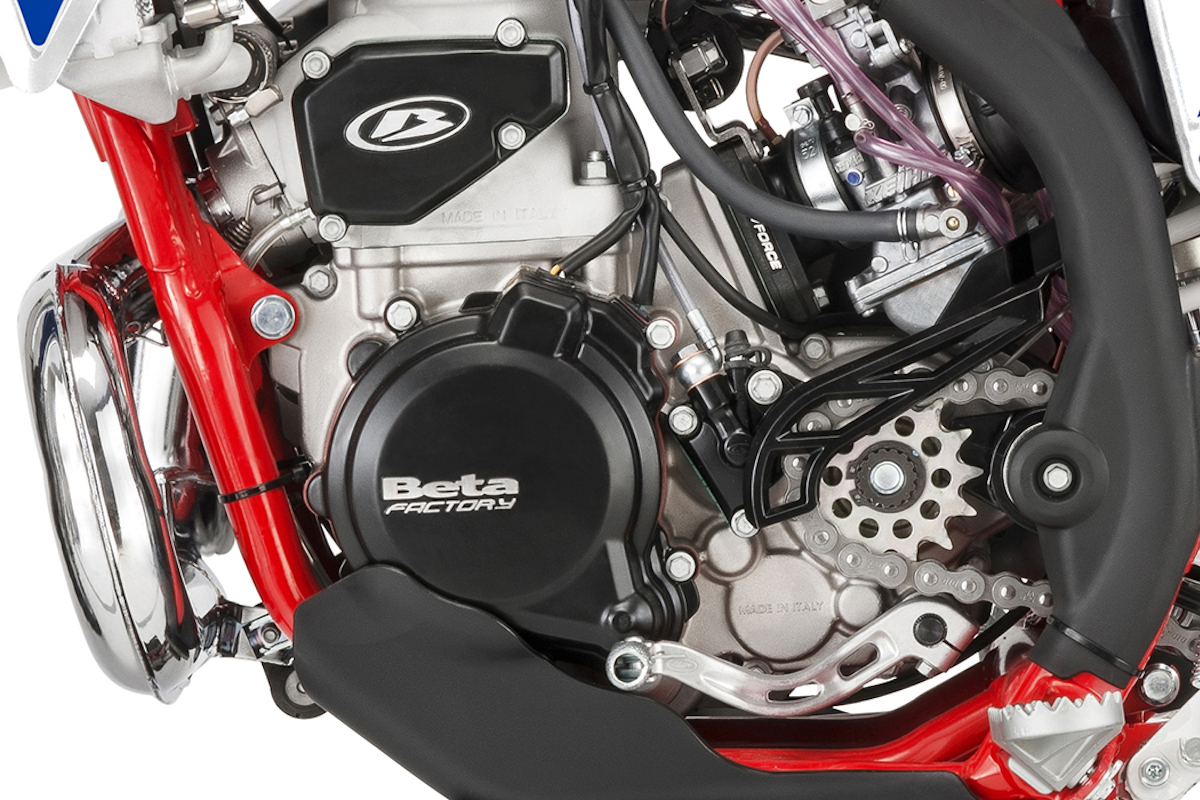 Beta say the new engine combines with a dedicated new ECU map for a smoother and more progressive throttle response and more linear power delivery. The bike as a whole is also easier to handle, providing a smoother riding approach they say.
NB. Enduro21 doesn't have any further technical details (bore and stroke size etc) about the new engine parts at time of writing we look forward to testing it to find out more.
The XTrainer range is two-strong, the 300 stands alongside a 250 model. Here are the technical updates applicable to both model 2022 versions:
New clutch diaphragm springs: this solution makes the clutch action lighter, more progressive and more controllable, significantly reducing rider fatigue. Both engagement and disengagement have been improved, while the clutch is now capable of transmitting even more torque. To allow for totally customisable set-up, three different spring preload settings are available, adjustable with a simple mechanical procedure
New "extremely reliable" starter motor unit
Updated electrical system has improved layout to help reliability and makes components quicker to remove and replace
New graphics and colour scheme
The XTrainer's USPs:
Seat height 91mm/35.8"
Dry weight 98kg/216lbs.
Smooth and manageable power delivery
Oil injection system eliminates the need for pre-mixing fuel
Soft compound off-road tyres
Easy-to-access externally adjustable power valve
The new XTrainer 300 will be available from the end of May in dealers across the world. Check with your nearest dealer for exact details including prices.
More information: www.betamotor.com or www.betausa.com