First look: Husqvarna Motorcycles' 2022 Enduro Model Range
Husqvarna Motorcycles has announced its 2022 Enduro range with updates to the WP suspension, new Braktec hydraulic brake and clutch systems and Michelin tyres now as standard.
Early summer always gets busy with manufacturers releasing their new models and this year Husqvarna Motorcycles are the first to shoot their seven-model range at us.
The '22 Cross-Country and Motocross models revealed a couple of weeks back had a new look but the Enduro range takes another step again – what do you think of the grey? Each year they seem to find a new way of presenting the "Swedish-inspired" design and for 2022 it is certainly a cleaner overall look.
The FE four-stroke and TE two-stroke range remains at seven bikes: 250, 350, 450 and 501 4T plus the fuel injected 150, 250, 300 2T bikes.
The headline changes for this model year focus on the suspension and a new collaboration with Braktec for the hydraulic brake and clutch systems...
2022 Husqvarna Enduro model highlights:
New colours, trims and graphics with rugged grey and electric yellow accents are a distinctive and stylish adornment for the Swedish-inspired design
New Braktec hydraulic clutch system - perfect modulation and reliable performance in all conditions
New Braktec brake system and high-performance GSK discs - superior stopping power with outstanding sensitivity and modulation
Revised suspension settings for improved performance and rider feedback
Oil bypass in the outer fork tubes reduces friction for smooth, consistent travel through the stroke and a revised cartridge joint offers added damping performance
Revised shock valve seals with reduced hardness (from 90 to 70 Shore) offer improved feedback and consistent damping performance
Inspired and tested by our Factory Racing Team all 2022 enduro machines run Michelin Enduro tyres for maximum traction on difficult terrain
New 13:52 gearing on TE 250i for improved low-end response
Braktec the new Magura
The switch from Magura brake and clutch systems is a significant one for this 2022 Enduro range. KTM use Brembo systems and the new GASGAS models took on the Braktec set-up as standard last year as part of the more 'budget' outlook of the GG range.
Husqvarna's are the more premium bikes – they cost a little more but you get better standard equipment like ProTaper bars, CNC triple clamps, clicker suspension adjusters, engine map and traction control switches. If the premium bikes are adopting the same brake system as the less premium bikes, then are they as good? It's an odd little twist in this plot and we look forward to testing them to find out.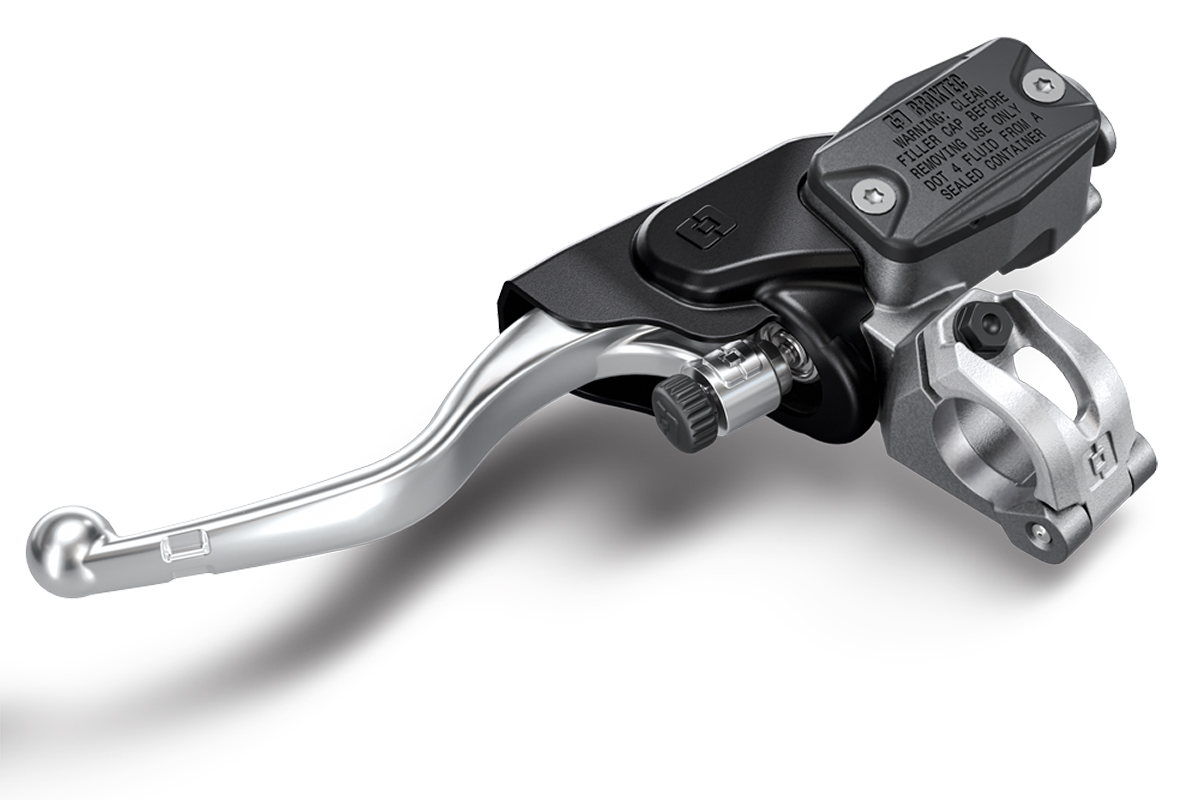 Husqvarna say the new Braktec braking system "offers the highest level of performance and is specifically tailored for enduro riding". The new clutch gets particular attention in the press information which they say guarantees even wear with "reliable, near maintenance-free operation and perfect modulation in every condition." The Braktec design also compensates for free-play to keep the biting point and function of the clutch consistent in cold or hot conditions, and over time, they say.
If you are interested in the details the Braktec front brake has an 11mm master cylinder, monoblock caliper with a pair of 25mm pistons and a 260mm GSK wave disc. The rear brake has a 12.7mm master cylinder, single 25mm piston caliper and a 220mm GSK disc.
WP XPLOR fork and XACT shock revisions
As for the suspension, well it was pretty good out the blocks for your regular rider and the changes to the shock look to have sweetened that ride.
"Improved damping consistency and rider feedback" is how Husky describe the changes and that is down to new valve seals which have reduced from 90 Shore to 70 Shore (measurement of hardness) for 2022. That means improved feedback from the XACT shock absorber Husqvarna say. The linkage system continues to run with the same ratio as the motocross models by the way, which is one of the reasons the standard set-up works well for Enduro.
It's a similar story with the XPLOR forks which also have revisions to help with feedback for the rider. A new oil bypass in the outer tube reduces friction for smoother, more consistent travel throughout the stroke they say plus a revised cartridge joint improves damping performance.
We're looking forward to a test asap on the new bikes to check out these changes over the '21 model which we have to say we enjoyed running as a test mule for a few months last year.
The 2022 Husqvarna Enduro range is available through authorised dealers from May 2021, though availability may differ from country to country as will prices so check with your national Husqvarna Motorcycles subsidiary or importer.
More information: www.husqvarna-motorcycles.com