Pro Bike: Pol Tarres' HEWC Yamaha YZ250 two-stroke in detail
Enduro21 catches up with Pol Tarres for a detailed look at one of the biggest attractions in the new Hard Enduro World Championship paddock, his Trece Racing Yamaha YZ250 two-stroke.
How nice is it to see a Japanese two-stroke in the HEWC paddock? We already brought you the 'first look' photo gallery of this head-turner Yamaha YZ250 when Tarres' team was launched. Now it is primed and ready for the 2021 season beginning this weekend at Extreme XL Lagares, it's time we took a closer look at the details behind the bike that so many people are talking about.
Although Tarres is by no means the first to be riding a Yamaha two-stroke in major Extreme races, they are pretty rare in any form of world-level Enduro racing. But with the backing of Yamaha Europe, a heap of his own experience and with some subtle adaptations thanks to carefully selected specialist parts suppliers, Tarres has built a bike that he believes is a match for anything in the HEWC paddock.
Enduro21 caught up with the man himself to find out more…
Catching Yamaha's attention
"After 'The Seeker' video with the Ténéré 700 we hope Yamaha would take notice of us and all the work we did with The Who production team," says Pol to let us know how the idea of racing a YZ250 in the Hard Enduro World Championship came to life. At the beginning, "they only wanted me to ride the T700, but it wouldn't make a lot of sense to jump on a bike from a different brand to race Extreme Enduro or SuperEnduro. In the end we decided to go with this new project, a YZ250 that we tamed to suit this type of racing." Pol says.
When he talks about his new bike, Pol gives the impression he could take it apart and rebuild it with his eyes closed...
"We have spent loads of hours with 'her', I have a special affection for it," Tarres admits. "I wish that in the near future Yamaha thinks about it as a possible Hard Enduro bike, because the base is really great. It's spectacular. I think that it can match any of the current factory bike's performance even if it's a bike that loads of people have forgotten about because it doesn't have an enduro model." Tarres says about his new 'baby'.
"A great base to work with!"
"I started working on the base, the chassis and suspension, and when I saw how well everything was evolving I started working on the engine and everything else. Chassis and suspension are the key components on a bike. If you have them, you can make the rest work. In this case I give the YZ a 10 out of 10 in chassis and suspension." Pol says.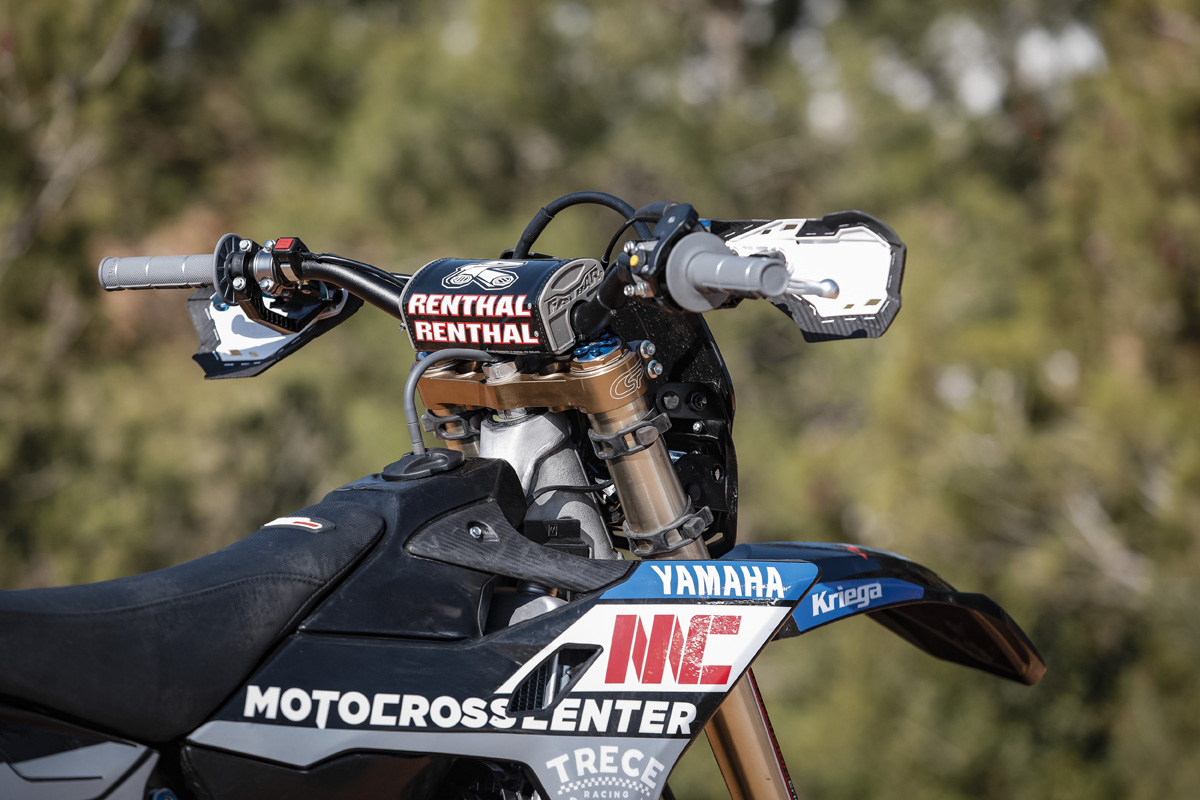 Apart from having flawless technique on the bike, Pol is also notorious for being a tall guy, almost two metres high. It means a bike, any bike, needs adapting to suit his scale. "It's the first bike that I really feel comfortable on." Pol explains. "The people from Costa Special Parts (CSP) built longer triple clamps that also have a "slacker" angle, along with footrests which are lower and further back, makes everything much better."
Adapting that motocross set-up – Bigger offset and a shorter at the rear
"I like having a slacker angle in the front, I like the bike to be longer in the front and shorter in the back, especially for traction," Pol points out. "It's a habit that I have since I rode trials and that I have brought to the enduro bike, and most likely, one of the secrets that makes me be able to conquer those big steps in the videos."
"I told the people in Costa Special Parts where I wanted the handlebars to be, and they build the clamps especially for me." Tarres has a great relationship with the Italian parts brand CSP and that means most of the special parts found on his bike come from them.
"I have two options with the triple clamps. One that sits further in the front for Extreme Enduro that provides a more comfortable riding position for those long hours and a further back setting that makes the bike more aggressive and radical for SuperEnduro. With the same triple clamps I can do both things which is great for me."
Hard suspension setting by EA392
Pol is different from many riders in the Hard Enduro world as he likes his suspension to be set up, "quite aggressive, nearly like a motocross bike and not enduro." He has mounted a handlebar from Motocrosscenter that has the same bend as a Renthal 997 on a Kayaba set of forks tuned by EA392 – EA stands for Eric Augé, a Spanish suspension tuner working with many top riders on the Enduro and Rally world stage.
The forks are, "quite hard and harsh" but there's a reason: "It helps me have traction in the uphills, and even if it doesn't look like it we ride quite fast in the extreme races so you this way you avoid having brown pants moments." Pol adds.
"It's true that a softer bike is cosier, but that brings more problems than benefits at the end of the day." Tarres explains about deciding to go hard on the suspension. At the end of the day he feels good with that set-up which is in part due to his fitness, strength and technique. For us mortal enduro riders, it would be a nonsense Hard Enduro set up but it works for this big guy.
Sticking with the 250cc two-stroke, for now at least...
One intriguing question is why Pol settled on the 250 engine. Going with the 250 was only "a matter of time" he says after seeing how well the chassis and suspension worked. "I focused in getting the right riding position and getting that as close as possible to a 'trials bike', but I haven't thrown away the option of going with a 300 or 325cc big bore kit in the future. We're still arguing about what's best."
As with the suspension, Pol's engine set-up is not what you would imagine in a Hard Enduro bike, he admits that the engine is 100% stock. "Taking my height and weight into account a big capacity bike suits my riding style better, but this 250 has plenty of power and pull. It's a matter of preference, not power."
"Some of the riders have an engine set-up that you wouldn't imagine suited Hard Enduro," he adds talking about the top riders at the HEWC. "We spent a good number of hours with the bikes and we know when they deliver the power. It's true that most of the bikes run a lower compression than stock to achieve a mellower power delivery, but I like them to be aggressive, it's a matter of preference in the end."
SmartCarb carburettor
One of the details that caught our eye was the shiny SmartCarb. "The main reason for using it is it helps the bike use less fuel," Pol points out. "It also doesn't spill any away through the overflow, which is one of the problems that carburetted two-strokes have when they fall on their side or when you fall down."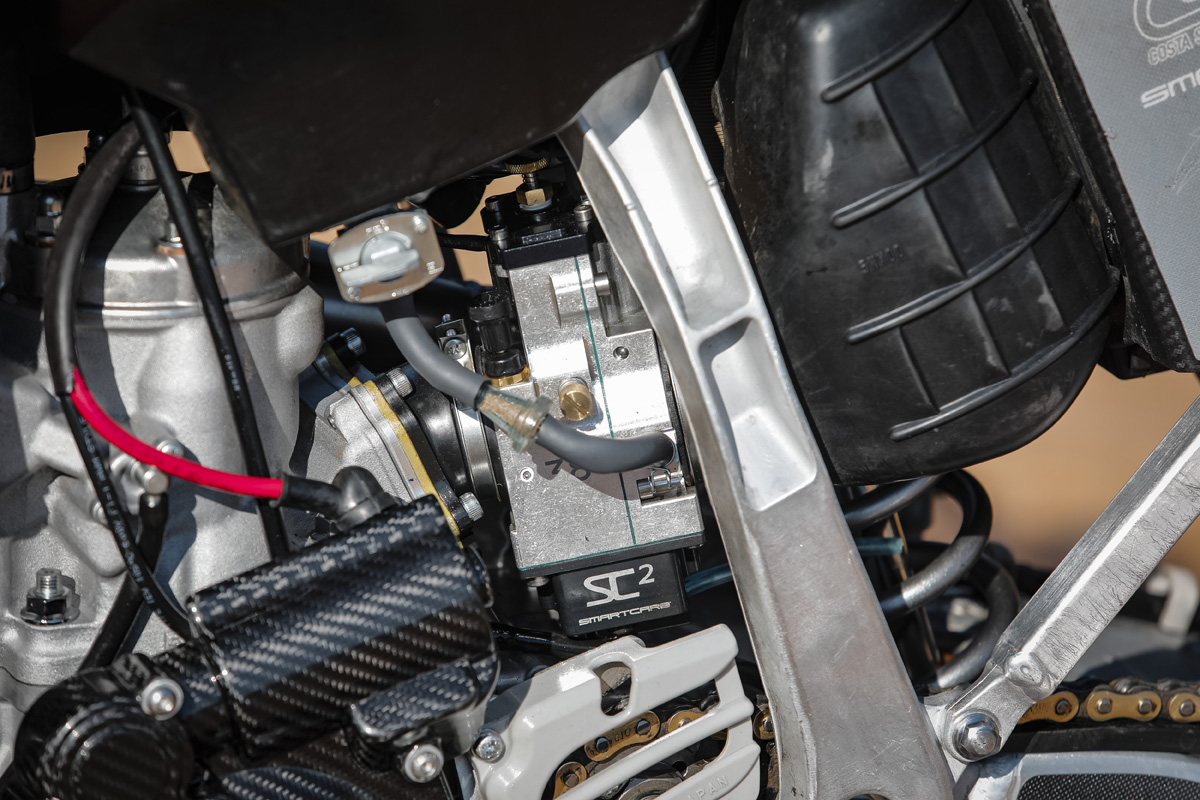 "This carb can be compared to a 'fuel injection' system, and power wise, if you tune it right, it does give you something extra," he points about his 'revolutionary' carburettor.
Top-secret trails clutch mod
He points out once more that the engine is stock with enough power for Pol. "The cylinder and top end are stock, the compression ratio is stock also, because we tried to tune it, but the bike was running worse every time, so we left it as it came."
Some of the modifications are through Pol's experience he picked up from his time as a trials rider – he claimed the Junior World and European Trials Championships back in 2010. Tarres is less free with his words when it comes to the transmission, particularly the top-secret mods he has done to the cable-operated clutch.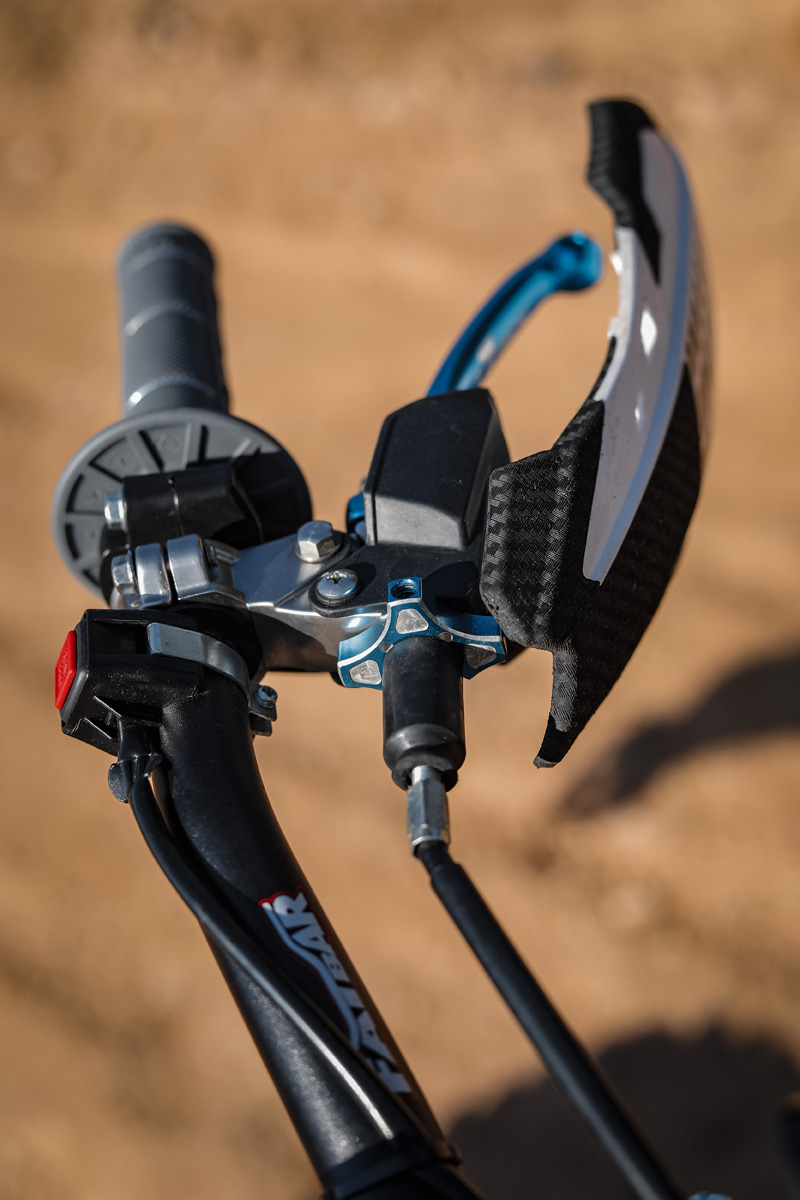 "I have a different gear ratio which is more open and the clutch is customized by me, but I won't tell you what I have done, it's top secret. It was a bit too hard before but now it's just perfect," he adds without saying any details.
There's more than one way to skin a cat, particularly in trials
"By luck or design, a lot of things happened during my career as a trials rider and even if the clutch is in an enduro bike it stills being a clutch from a 2T. It suffers the same way as it does on a trials bike. I know which are the weaknesses, the same ones as in a trials bike. I know how it operates so it's easy for me to put a remedy to those weaknesses," he assures without saying anything else about what he has exactly done to it.
"The exhaust is also from an Italian brand, Fresco." Adds Tarres. "They made it as we requested and now the bike has a lot of bottom end. It might have lost a bit in the higher rev-range, but we don't need power in that area. It works as it should," he says about this hand-built system.
When Enduro21 asked Pol about what front and rear sprocket ratio he uses, he laughed again about our will to know every secret from the bike. "That's also something I'll keep for myself; I can only say that the rear one is stock, that the front sprocket isn't and that the chain is from RK which was provided by Motocrosscenter."
Electric starter, a life saviour at the extreme races
"We used a bolt-on electric starter kit from Panthera Motorsports, a Canadian brand that started doing them for Honda CR500's and then jumped into Kawasaki KX500's, Yamaha's, etc… they're specialized in bringing modern solutions to 'old' Japanese two stroke engines," a kit that Javi Echevarria assured that was a really easy fit, just take it out the box and install it. The kit also comes with a battery that is now hiding in the airbox.
Javi by the way is part Trece Racing Society manager, minder, art director and much like Pol's big brother in reality.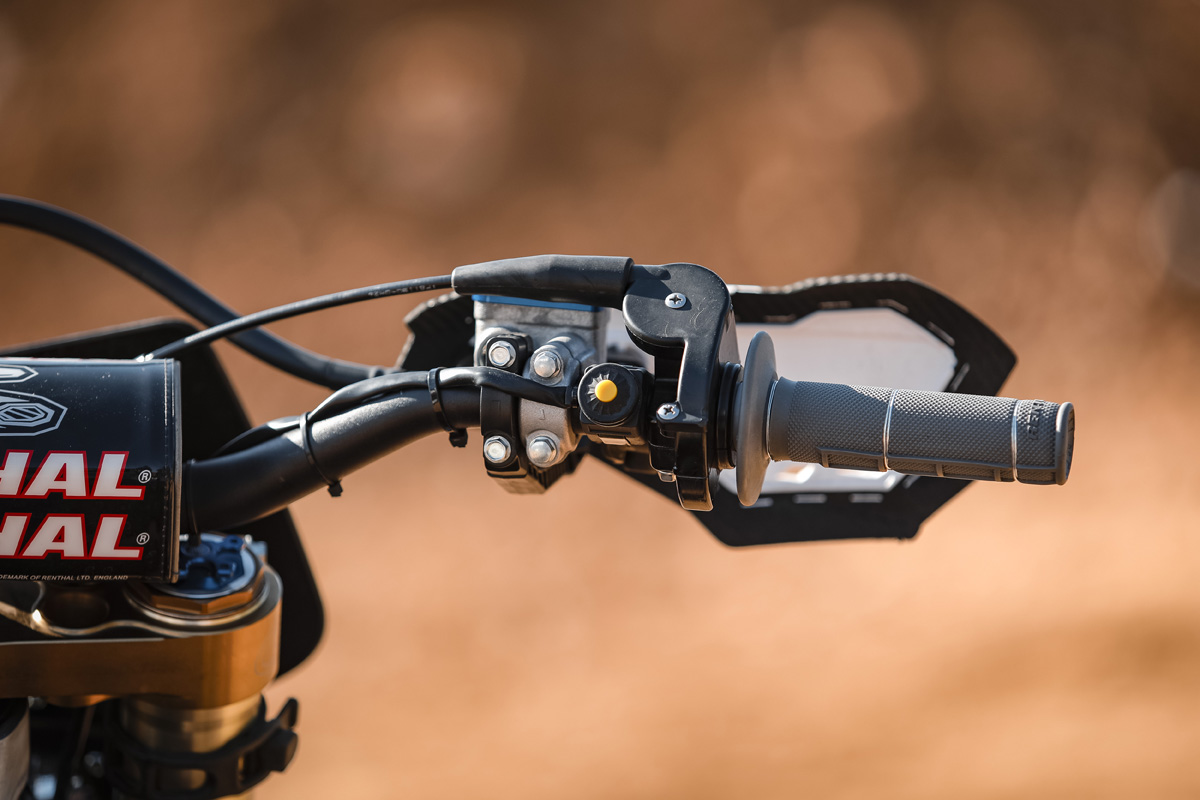 "The people think that building a bike like this is rocket science but it's nearly a stocker. It features some secrets brought from personal experience, but it has a lot in common with the one you can get at a dealer," says Tarres, adds that, "we haven't played with the CDI."
A 'black mamba' look
The black bikes always have a special vibe, a factory bike one maybe, and Pol's has that by the bucket load. Thanks to the Race Tech Revolution plastic kit especially built for the Yamahas which "brings a more aggressive and modern look than stock. We also added a fan from Motocrosscenter [one of his main sponsors] that is connected directly to the battery and to a thermostat in the radiator and that's all…"
"The sticker kit is from 'Living the Bike Life'. I used to run their kits before, but I have to admit that they have evolved a lot, because I have been training with this same kit, the first one we ordered, for a while and I still could race Lagares without changing them as they look like new. Their great quality caught me by surprise."
Mitas tyres, Excel rims and Galfer brakes
Pol admits that he blindly trusts Mitas tyres. "Right now, I think that they're the best tyres out there. In the extreme races we always use the softer compound in wet or dry conditions because I don't want to take the risk of rain making its appearance and conditions worsening from one lap to another. I always go with super soft tyres," he adds.
"The rims are the stock Excel ones that you find on any Yamaha. I use Galfer brake dics and I have been using them for a while."
Pol clearly is proud of his creation which is covered as much in his experience as a rider as it is with Costa Special Parts "neck turners".
"Building the bike has taken long working hours and we still have some more to go," Tarres says. "Probably the first race won't be where we perform the best but I'm sure that this bike will draw some attention towards the end of the season."
We need your support
If you've enjoyed this article, if you've found it informative, interesting, entertaining even, please support us.
We want to continue doing what we do, to the best of our ability, serving the enduro and off-road community.
Please consider a donation, every little helps…
Thank you.
Photo Credit: Enduro 21 | Nicki Martinez