First Look: 2023 Husqvarna Enduro range – minor updates for the white bikes
Husqvarna Motorcycles has presented their 2023 enduro range, a seven-bike line-up – three TE (two-stroke) and four FE (four-stroke) models – developed from the race bikes that catapulted Billy Bolt to become the Hard Enduro and SuperEnduro World champion.
"Riders of every level will find a machine in a line-up unequalled in its sector for technical advancement, and race-winning reliability and durability", that's how Husqvarna Motorcycles introduced their 2023 enduro range.
As happened with KTM and GASGAS, we'll have to wait one more year to see any substantial changes on the Husqvarna enduro bikes. The 2023 enduro range from Husqvarna maintains a seven-bike line-up – TE 150, TE 250 and TE 300 two-stroke models, along with the FE 250, FE 350, FE 450 and FE 501 four-stroke bikes – with no major updates in the chassis or engine. Just new "dark blue with electric yellow" graphics.
A very minor change, although not to the bikes, is that Husqvarna Motorcycles have ditched the 'i' in the model name for the two-stroke bikes which is probably down to them being fuel injected for many years.
In the suspension department, Husqvarna retains the WP XPLOR 48mm fork with split damping function and easy access preload adjusters. At the rear, the linkage remains with a WP XACT shock offering 300mm oftravel which will "absorb every surface change" Husqvarna says. The TE and FE models continue to use Braktec hydraulic braking and clutch systems.
Watch the 2023 Husqvarna bikes in action:
2023 Husqvarna enduro range technical highlights
All-new colours - distinctive dark blue graphics with electric yellow accents
New metallic blue frame
A two-piece carbon fibre composite subframe weighs just over 1 kg and is a major contributor to outstanding handling and rider comfort
WP XPLOR front forks and WP XACT monoshock for consistent damping and exceptional handling
Two switchable Electronic Fuel Injection (EFI) maps on four-stroke models plus traction control. Two selectable ignition curves and automatic fuelling adjustment on two-stroke
Advanced linkage progression, shared with the Husqvarna motocross range, for optimum control and comfort
Pankl Racing Systems 6-speed gearbox with enduro specific ratios for perfect command in all conditions
Michelin Enduro front and rear tyres
New Functional Offroad Apparel collection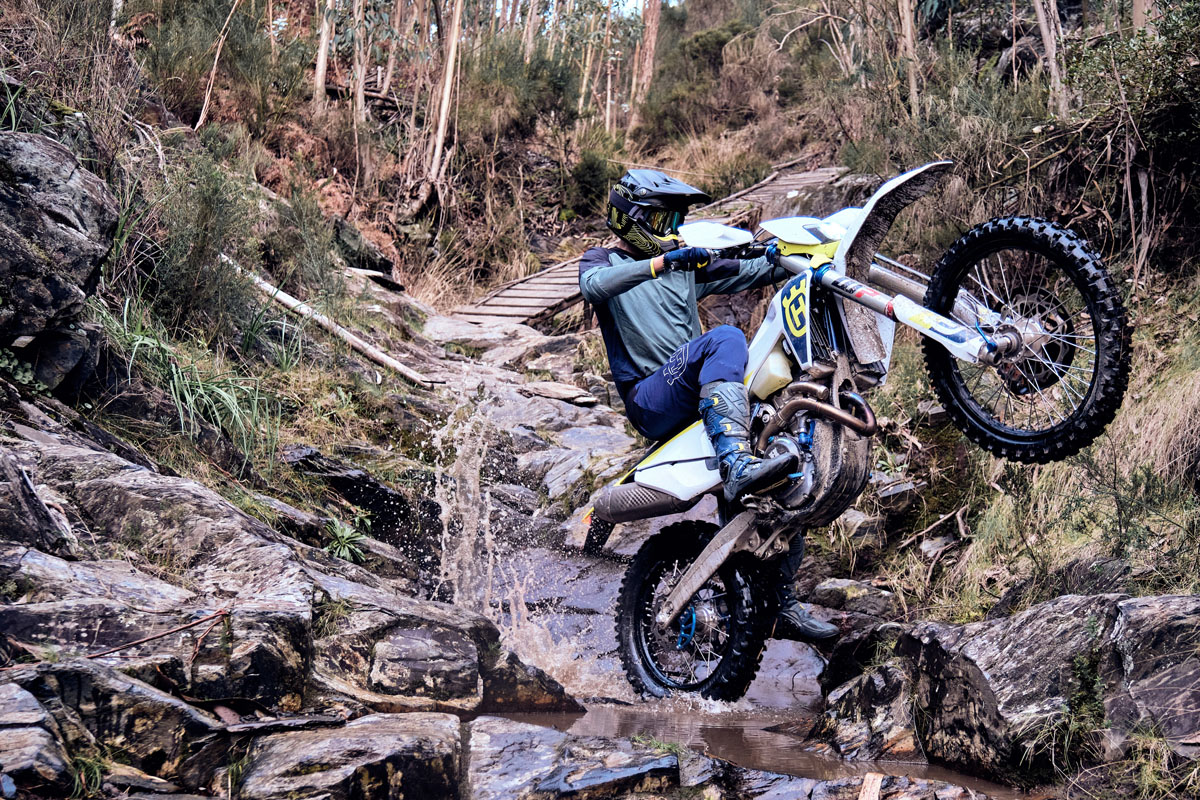 To compliment the new bikes, Husqvarna has launched a new 2023 Functional Offroad Apparel Collection with the Gotland jacket, pants, shirt and waterproof gear as the highlight. As always, they offer a wide selection of Husqvarna Motorcycles Technical Accessories to enhance the performance and protection on the TE and FE models.
The 2023 Husqvarna Motorcycles enduro bikes are already available in the brand's official dealers and their availability may differ from country to country. Check with your local national importer for further details.
More information: www.husqvarnamotorcycles.com