First look: 2023 KTM Motocross range – new fuel injected two-strokes including a 300 SX model
KTM has announced their full range of 2023 SX and SX-F (& XC) motocross models hosting a bag full of updates to engines and chassis' but new fuel injected two-stroke engines and a full-power, 300 SX steal the show.
Let's get straight down to business here, the 2023 MX models from KTM precede the updates we'll see in the '24 EXC enduro line-up. It's why Enduro21 keeps a keen eye-out for the motocross range announcement and for good reason, this year has seen some seismic changes.
Two power maps on all models, launch control, traction control (both only on 4T models), a 'roll-over' sensor for crashes, an hour meter as standard, tool-free suspension adjustments, new 7.2 litre polythene fuel tanks and a fresh spoke 'nipple' design...yadda, yadda, yadda.
What about the new two-strokes?
KTM, like many manufacturers producing new two-stroke motocross bikes, have stuck to the carburettor for longer than in enduro – simply because they can with bikes that do not have to meet emission regulations.
Not anymore as the 2023 SX two-strokes make the giant leap to have a new electronic fuel injection system – not the TPI engine by the way, as is still current on the EXC KTMs, but the more direct injection system like the 4T engines and as used on the factory enduro race bikes for over a year now.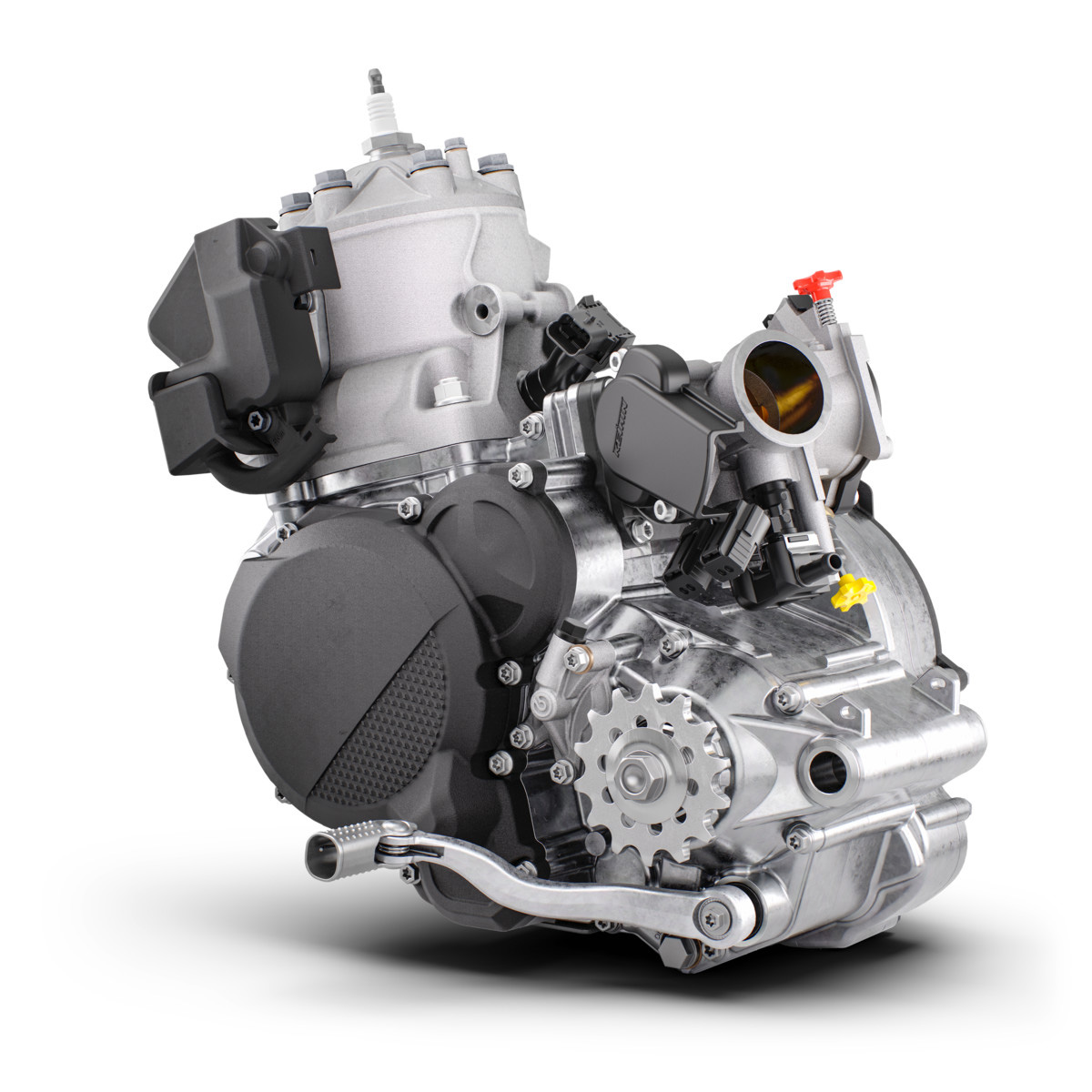 The SXs, including the 125 SX, get a new 39mm throttle body with injectors, a TPS-sensor for "better behaviour" at idle and for the fuel-air mixture (plus the cold start mechanism which is the same as the KTM SX-Fs). We think that means these bikes (SX and XC models) will run pre-mix fuel still.
The press material points at an ECU from Vitesco which works with the Keihin throttle body to deliver correct air-fuel mixture by "constantly analysing water temperature, air temperature, ambient pressure, the pressure within the crankcase, rpm, and throttle position."
New injectors have improved Sauter Mean Diameter (SMD), although it's not clear if they mean improved from the 4T models or improved versions of the TPI engine injectors. Either way, KTM say they are producing a finer spray of fuel for a cleaner ignition and less fuel wastage.
Enduro riders and TPI naysayers take note…
Here's a bit we were pleased to read. The reed valve case on the new 2T engines has new plastic flaps on the outside for better sealing of the entire intake tract. KTM say the new design negates over-fuelling in extreme up or downhill sections with less tendency for bogging down or running rich. Boyesen continues to supply the carbon membranes for the reed valve case.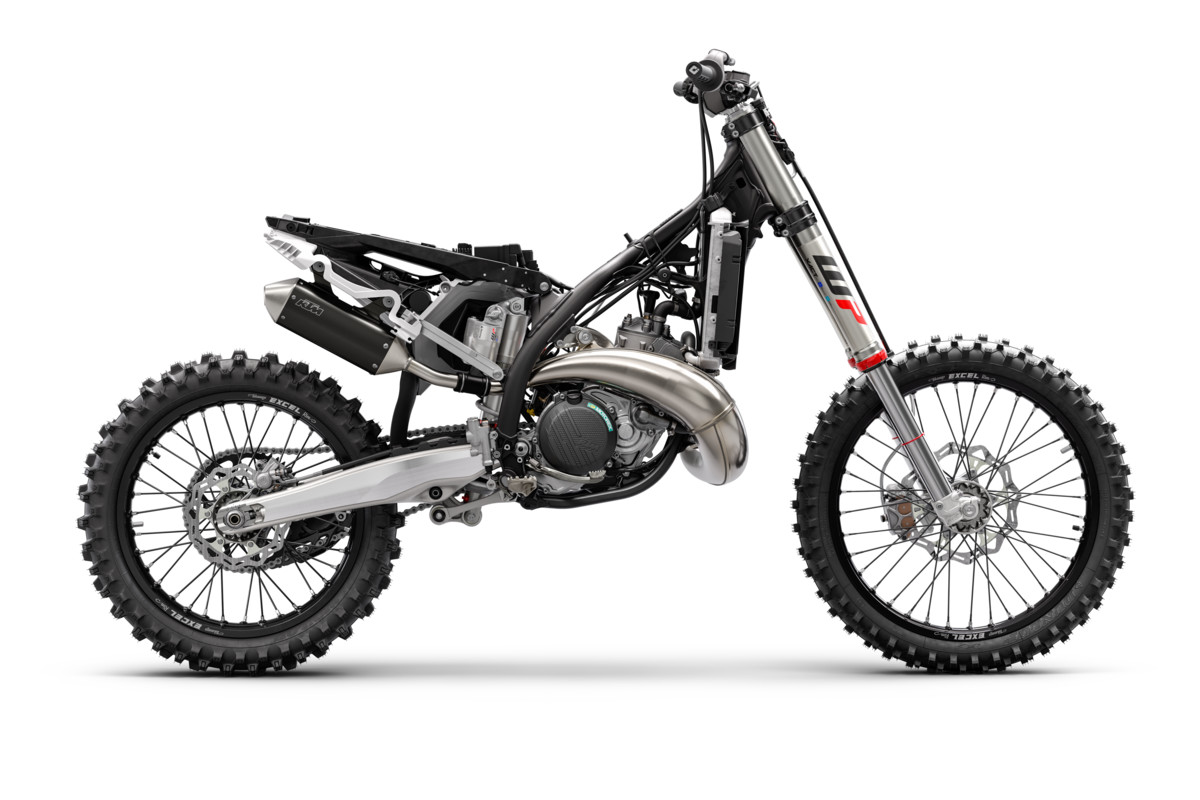 The new 300 SX sounds nuts
KTM's new entry in to the open class of two-stroke racing is aimed at racers looking for maximum power to weight ratio. If it offers "more than 57hp" and a claimed weight of 99.4kg (without fuel) which is three kilos lighter than a 300 EXC TPI. We want a go on one now.
The SX models transfer to the XC range in selected countries as well. Same bikes but with larger 2.24 gallon polythene fuel tanks, 18-inch rear wheels, XC-specific suspension, a standard side stand, skid plate and set of handguards.
The XC bikes get specific gearing but while it is not clear from the initial press material, we think that means six-speed gearboxes and different gear ratios.
4T Engine updates
KTM's 2023 engine packages are "more compact, more durable, more serviceable and offer the best power-to-weight ratio across the board" they explain.
New cylinder heads on the four-stroke models boast performance gains and a rearward tilt of the engine position, by two degrees, gives "better centralisation and a more profound effect for the chassis".
The 2023 250 SX-F engine height is reduced by 8mm making it more compact and lighter (26.11kg KTM claim). The valve covers across the four-stroke range now have just two mounting screws also for easier servicing.
All models have a brand new five-speed Pankl Racing Systems transmissions with an additional sensor for the four-strokes helping up-shifts (from second gear onwards) be slicker with a quickshifter function. That quickshifter can be disabled with a switch on the handlebars if you want but a "weight-optimised" shift shaft in the transmission means gear changes are easier with or without the electronic assistance.
Chassis upgrades
KTM say they have taken the chassis and frame design back to its core to improve dynamics, stability and strength. Improved rider feeling through "an anti-squat philosophy" comes via a new frame and mounts, subframe, swingarm, engine reposition, ergonomics and WP Suspension.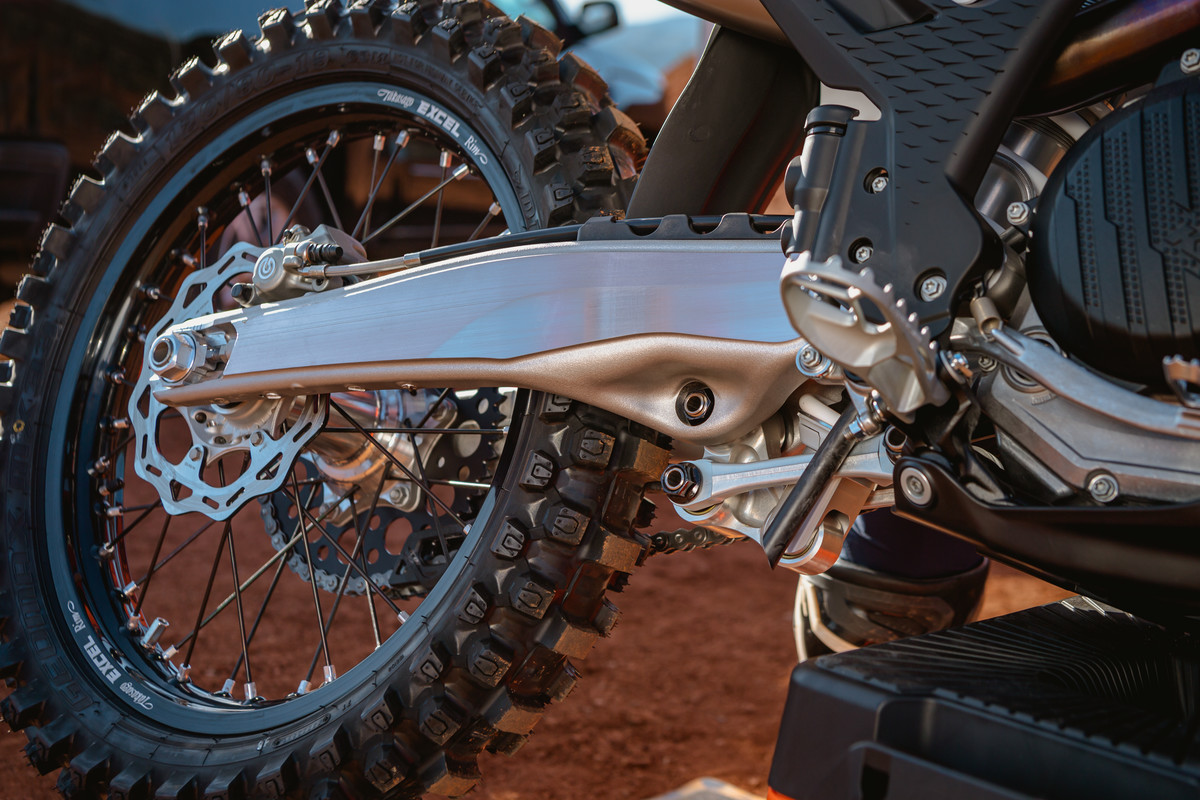 The hydro-formed frame has a different wall thickness to improve specific rigidity in high stress areas such as the steering head and all new shock mounts they explain. The two-strokes have new parallel frame mounts and KTM say the design is "sportier" with sights on improving agility.
New 26% larger (but lighter) die cast footpegs have greater clearance in ruts or for dropping the bike flat for scrubs, wherever you spend more time dragging them.
A lighter die cast, hollow swingarm (using a new casting process saves weight) and a new rear axle.
New triple clamps and subframe
The changes continue up top of the '23 SX and SX-F models with triple clamps and subframe getting attention of the development team to reduce weight and improve stiffness.
New CNC-machined triple clamps have new bar mounts and wider grip surface area mean less handlebar 'twist' kTM say. There's also a new number plate design.
The subframe is a "finely engineered hybrid" constructed from polyamide reinforced aluminium.
It brings strength to the lower part of the frame and improves flexibility for control and comfort and the new subframe design weighs less than two kilos in total KTM claim.
Shorter shock treatment
Changes in the WP Suspension department include a shorter and lighter XACT linkage shock. The internal flow of liquid is more "flush, reliable and resistant" KTM says, and the shock's smaller dimensions mean less chance of dirt intrusion.
The new shock shape means higher ground clearance (343mm/345mm 4T/2T) with the linkage and the upgrade includes better damping to help with traction because, as they say, "the bike ingests the bumps" with a new geometry setting.
The WP XACT AER air forks feature a new hydrostop to improve performance and 'bottoming' resistance in the last 40mm of travel.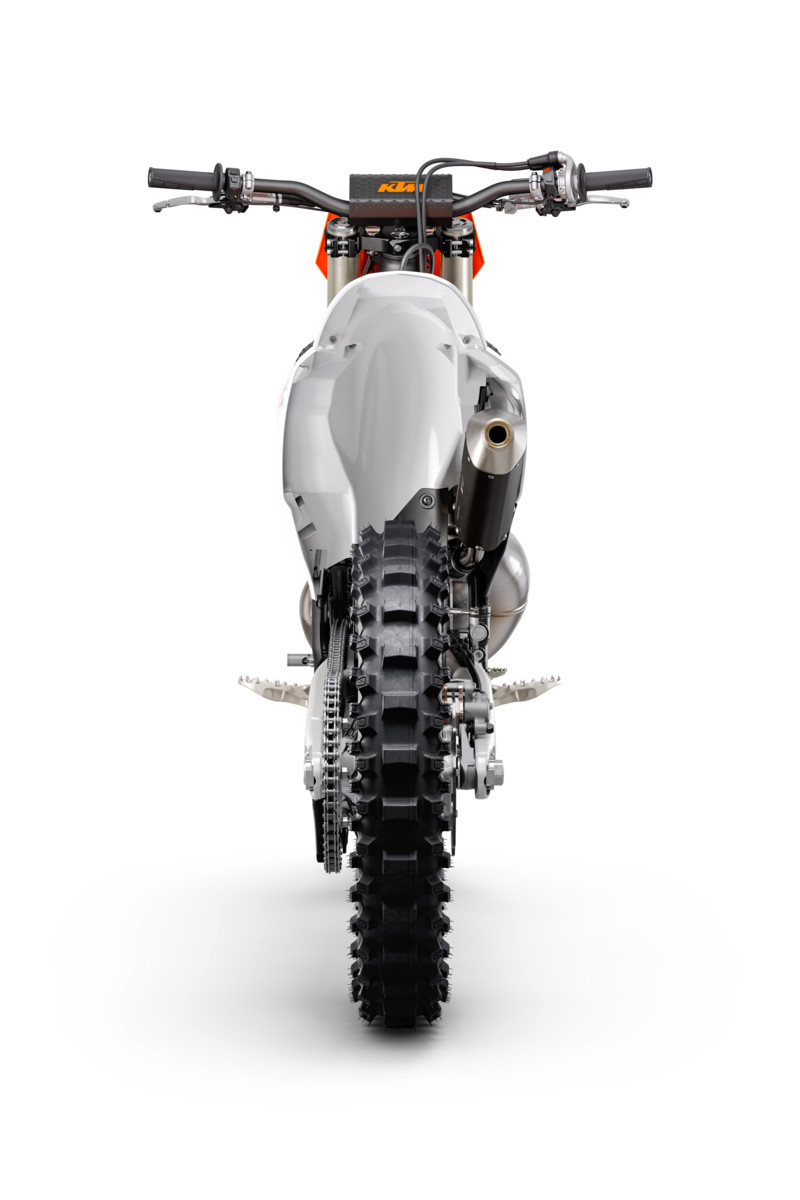 Slimmer by design
The 2023 KTM SXs are narrower but have increased contact area to help rider input and bike handling. A better rider triangle for knee contact, especially when standing on the pegs they say.
A flat orange seat – what do you reckon to that look? – is new and has a recessed pocket under the seat, just above the airbox, to help air intake.
There's also a reworked front fender. The 'mud flaps' of the fender aim to combat excessive dirt being flicked up to the rider and the radiator in wet conditions.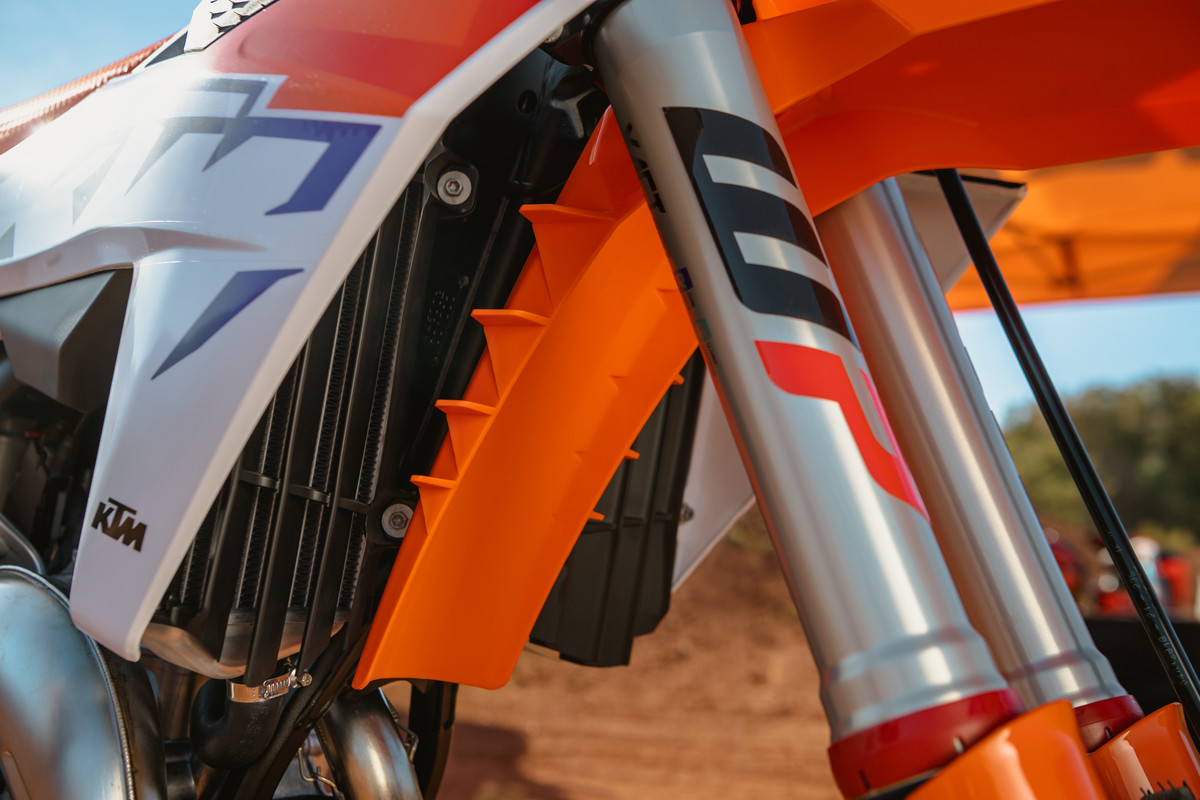 At time of writing Enduro21 has no word on prices.
More information: www.ktm.com
Photo Credit: Rudi Schedl + Kiska