First look: 2023 Sherco enduro range – new graphics the only change
Sherco has announced their 2023 SE two-stroke and SE-F four-stroke enduro model range – just new colours for the new season from the French manufacturer.
If it ain't broke, don't fix it? Sherco has long since stopped being a growing force in world enduro to become one of the dominant forces. In EnduroGP or the Hard Enduro World Championship, riders like Hamish Macdonald, Zach Pichon, Mario Roman and Wade Young are winning at the highest level.
The bikes are clearly working and trading on their winning specification straight out the crate, coupled with a general slowing down of development changes across every manufacturer in the last few years, it is no great surprise to find Sherco have not updated the enduro range for the 2023 model year.
However we have to admit we expected something, usually Sherco pull a small update in the engine or a customer-fed update to some part or other. But not this season and we had to look twice to even see the graphics have changed on the side panels.
As ever with Sherco, the standard parts list is a quality one and they rightly trade on this as a positive aspect compared to other, often more expensive rivals in the showrooms.
2023 Sherco Enduro Factory range highlights:
New in-mold, durable graphics
Selle Dalla Valle seat cover
Neken soft foam bar pad
Fan and radiator expansion tank as standard
Akrapovic exhausts as standard
Brembo calipers and Galfer brake discs as standard
AXP 6mm HDPE engine guard as standard
Funnelweb air filter as standard
KYB fully adjustable suspension as standard
2023 Sherco enduro range technical data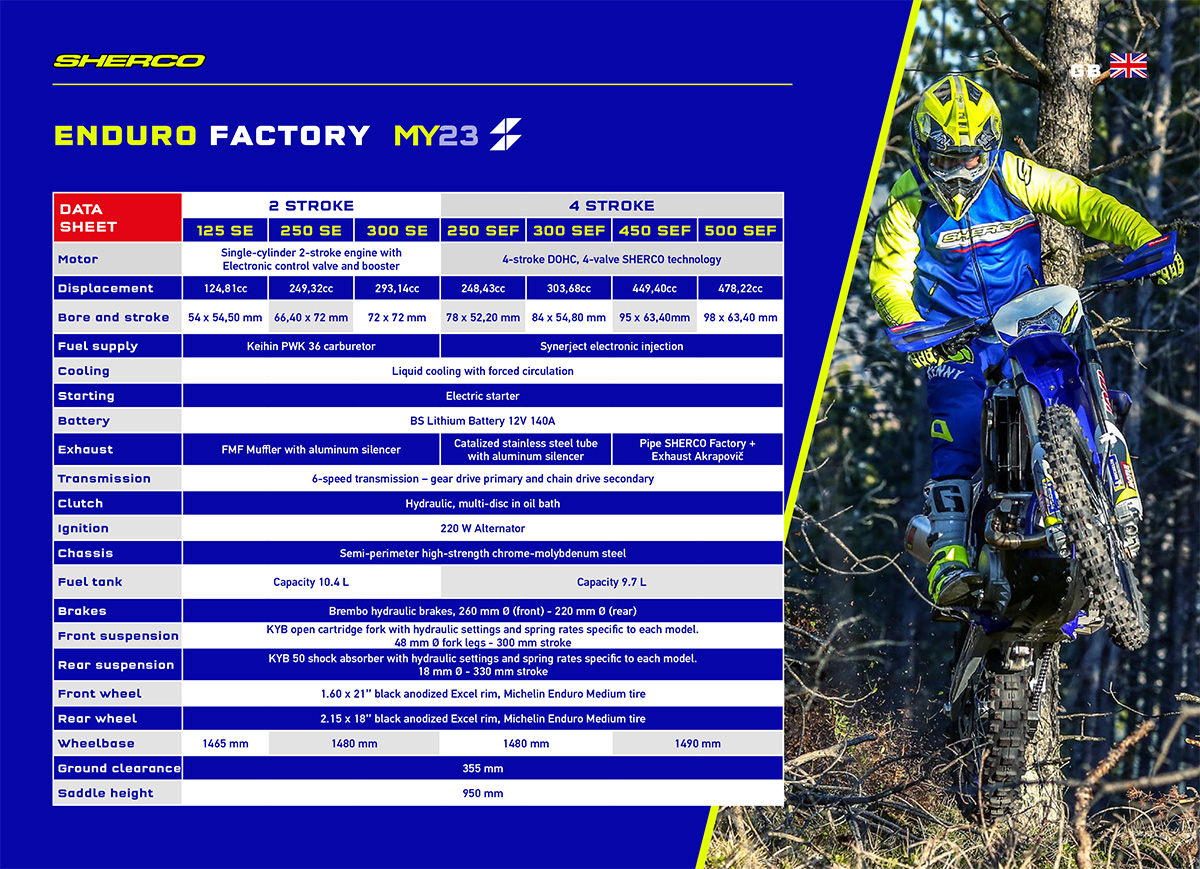 More information: www.sherco.com
Photo Credit: Sherco