Pro Bike: Alfredo Gomez 2017 KTM 300 EXC
The 2017 enduro models are slowly coming out in force, with KTM one of the first to see their riders make the switch to the next generation of machinery. At Erzberg they debuted the new 300 EXC with Alfredo Gomez delivering a podium result.
He's since gone on to top the podium at Extreme Lagares, where we caught up with the Spaniard and his mechanic Georgio to take a closer look at KTM's newest batch of shiny factory two-stroke goodness…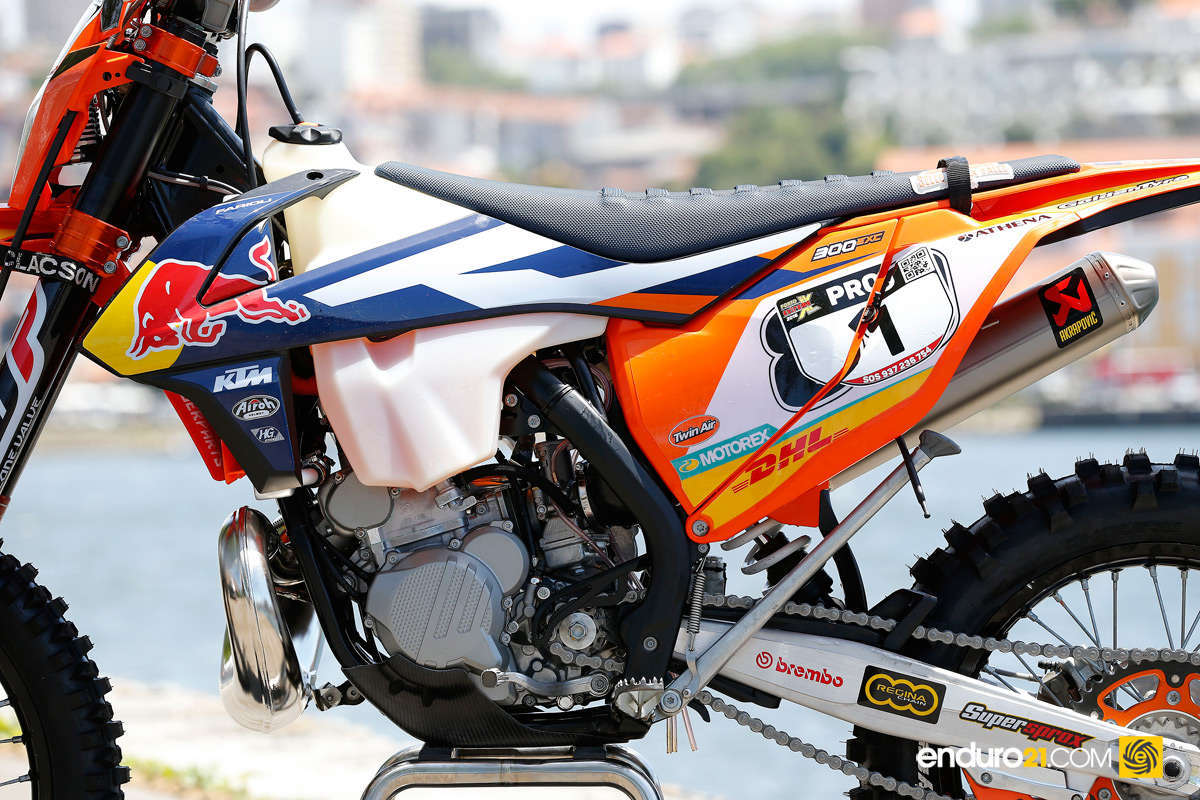 Alfredo really likes the new engine over the previous model. We've only made some minor adjustments to the bike. Our setup offers more low to mid power. Doing that compromises the top end but it's a sacrifice we can take in a sport like Hard Enduro where tractable power is so important.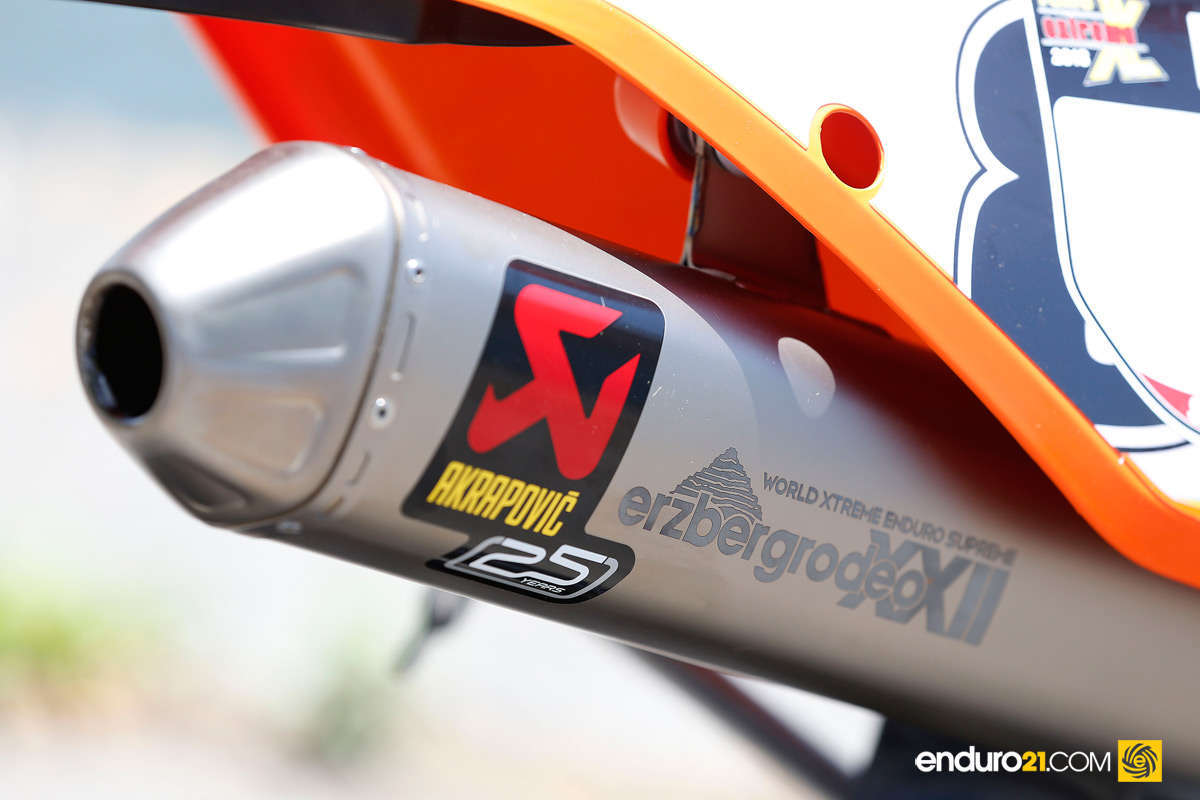 The new Akrapovic pipe is also proving very good too.
We've changed the gearing to a shorter ratio from the standard sprocket setup of 13/51 to 12/48.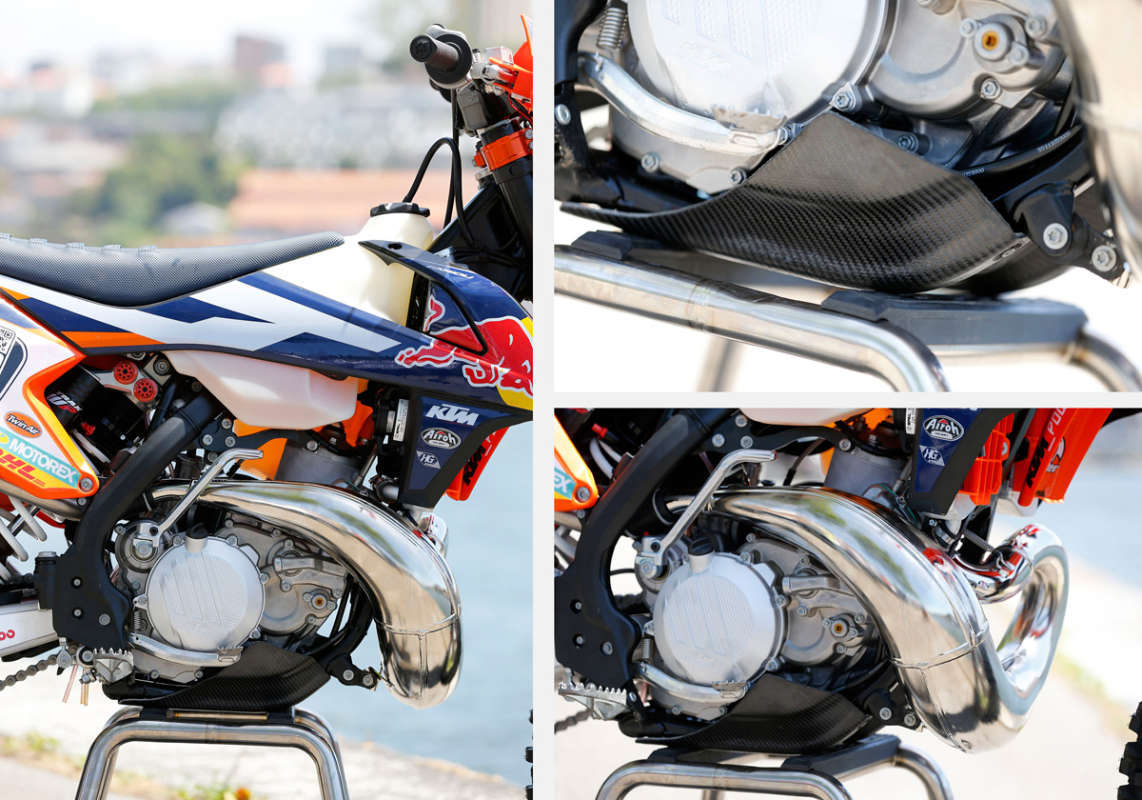 The new counter balance shaft inside the engine also seem to have transformed the engine. There is much less vibration through the handlebars to the rider's hands. It's much more comfortable and Alfredo believes it helps with arm pump and fatigue during a long day's riding.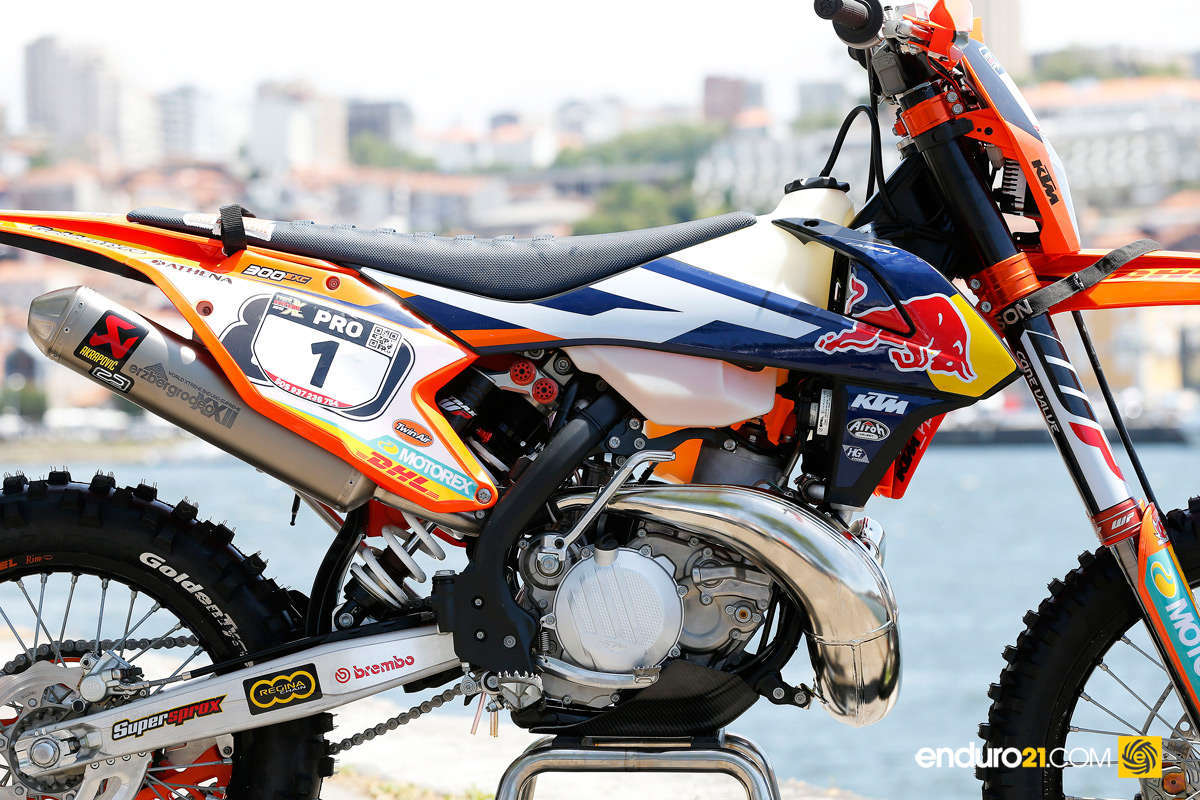 We run the WP factory Traxx setup on the rear. But it is much softer than standard. It's more trials like. To achieve that we change the valve and shim settings and run a different spring. The front end is the WP Cone Valve 48mm fork. But unlike the rear it is much stiffer in comparison. This maintains stability and allows Alfredo to attack rock steps more aggressively.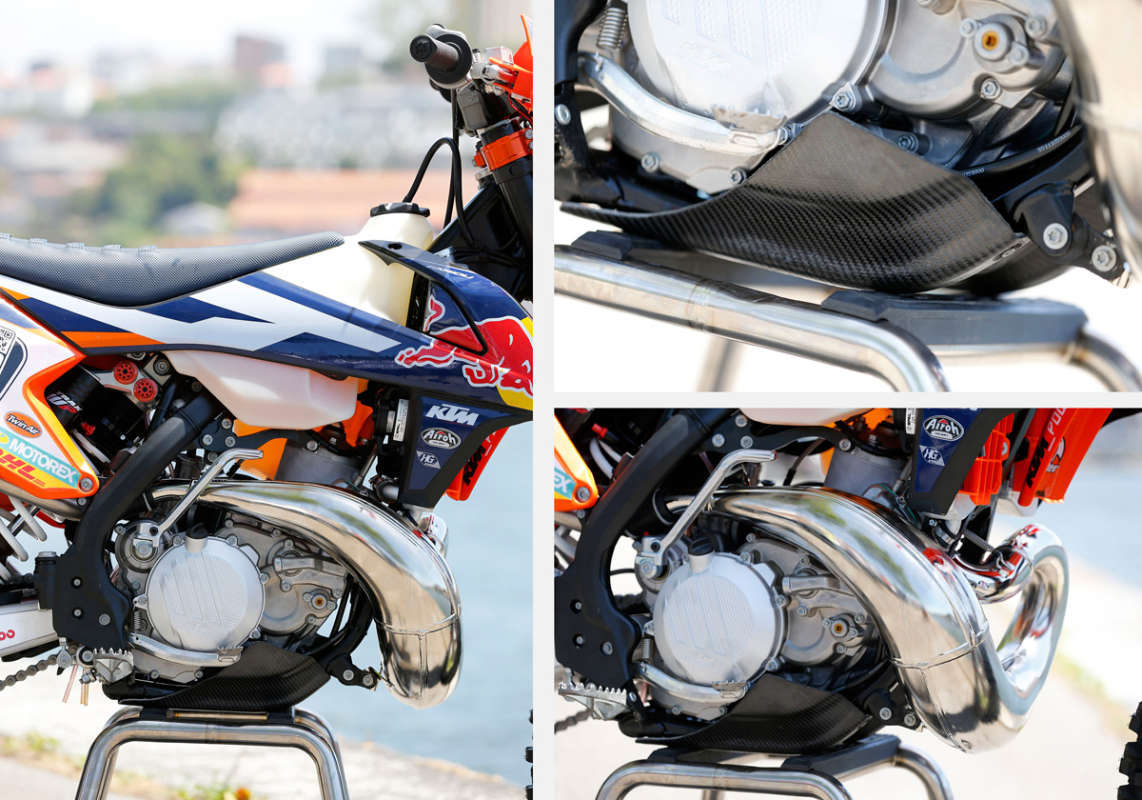 We use GoldenTyre front and rear, generally opting for the drilled rear moose too.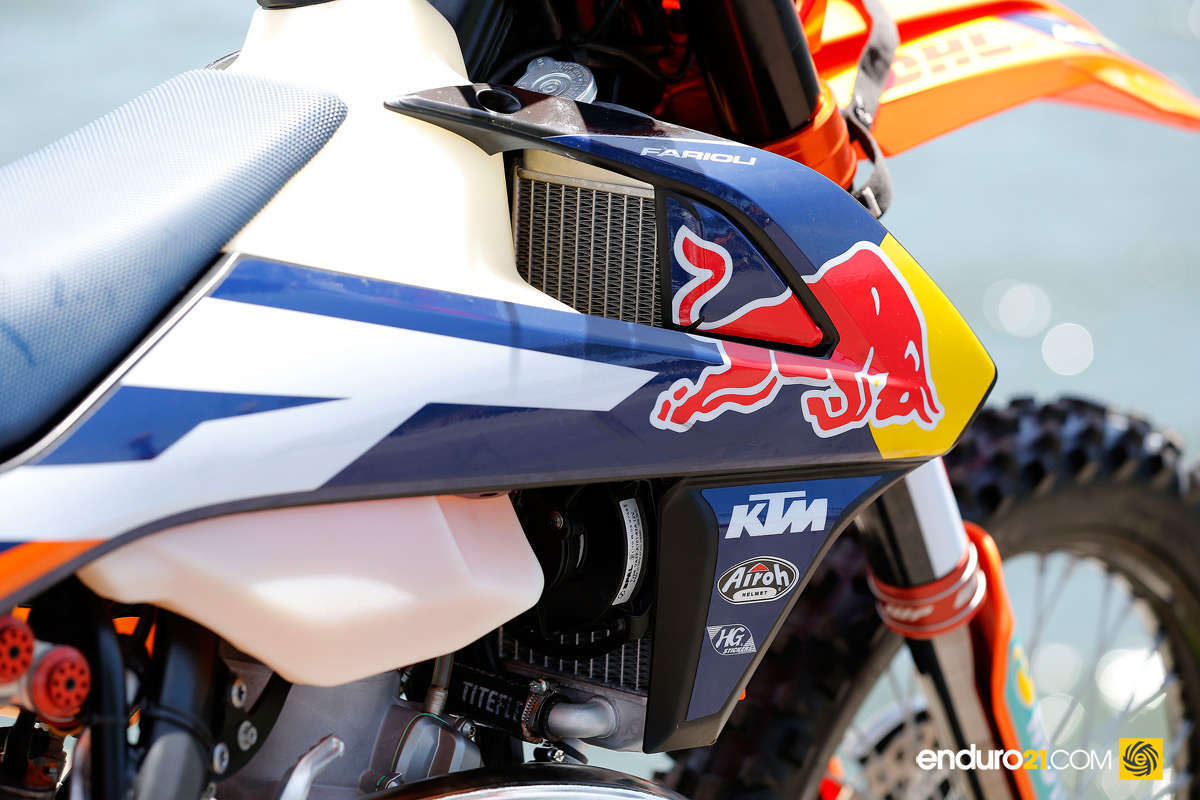 After that it's a matter of making the bike Hard Enduro proof. Sump guard, an aluminium rear disc guard and Acerbis carbon fibre front disc guard, plus hand guards and pull straps are fitted. To aid with the cooling we use a radiator fan but we fit a switch to allow Alfredo to operate it manually.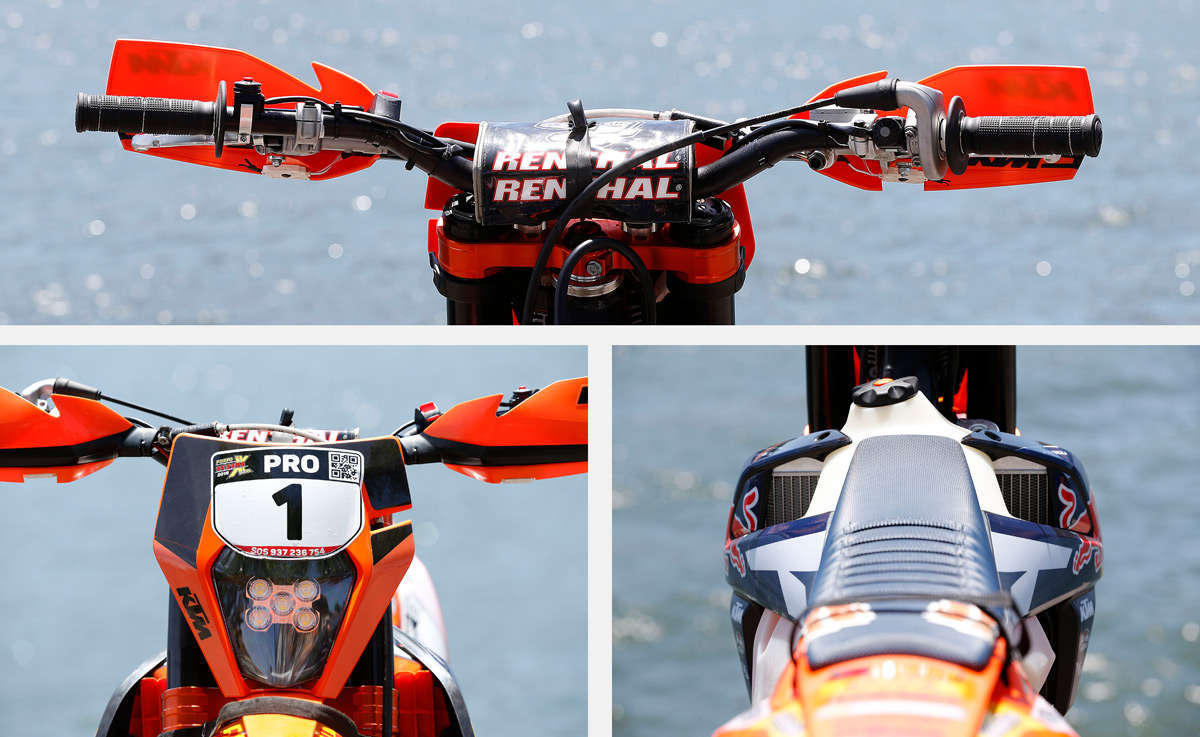 Alfredo prefers the Renthal Fatbar, given his trials background and height, he feels more comfortable with these than the Twinwalls. The headlight is a new product. It's a high power LED light and gives much more vision than the standard headlight and is available in the KTM Powerparts catalogue. For a race like Extreme Lagares, where we race at night it has been perfect.