Pro Bike: Josh Strang's GNCC Kawasaki KX450
Enduro21 takes a detailed look at Josh Strang's 2020 Babbitt's Online Kawasaki KX450 GNCC and Sprint Enduro bike...
The Babbitt's Online Monster Energy Kawasaki race team, and rider Josh Strang, have strong pedigree. Under team manager, Denny Bartz, they already have titles in their trophy cabinet and when they stepped back into racing GNCC and Sprint Enduros in 2019, many people saw the Team Green bikes back in the Pro classes as a welcome return.
Josh Strang needs very little introduction either but indulge us at least a couple of his accolades: GNCC outright champion in 2010 and ISDE Trophy winner multiple times. Notching up four podiums from four rounds so far in 2020, Josh is currently in second place overall and closest challenger to Kailub Russell in the championship.
>>> Pro Bike: Thomas Oldrati's 2020 RedMoto Honda CRF250RX
As ever though, our Pro Bike feature is not about the people but the bike. The Babbitt's Online Kawasaki KX450 is a beautifully turned-out machine which welcomes a closer inspection. Joey Mauer, Strang's right-hand man, guides us around their GNCC set-up…
Trusting the Kobe quality
As is so often the case with Pro bikes we feature on Enduro21, the race mechanic, team or rider we speak to are at pains to point out how standard their bike is. It is no different here with the KX450 Babbitt's bike.
As pretty much anyone will tell you GNCC racing is tough on bikes like very few other race series. But that need to be tough is exactly why the Babbitt's team keep things simple and trust the reliability engineered into the KX450 at the Kobe factory in Japan. Holding steady for three hours of GNCC requires a high level of reliability so why would you tune a 450 engine (which already makes more than enough power) and introduce potential reliability problems?
https://www.instagram.com/p/B8jlh88nhJR/
The Babbitt's Online team do have engine tuning options at hand with their own racing experience and strong connections to both Kawasaki Racing and Pro Circuit. Despite those possibilities, the Babbitt's GNCC bikes are all stock: "stock piston, stock cams, stock everything – it's all stock except for the valved suspension and the exhaust system," says Joey Mauer.
The Pro Circuit Ti-6 Pro Titanium exhaust system header pipe and silencer are one of the few performance enhancing products bolted on to Strang's KX450. The titanium system and aluminium muffler from Pro Circuit is lighter than stock and meets AMA/FIM noise regulations needed for GNCC races as well as improving performance.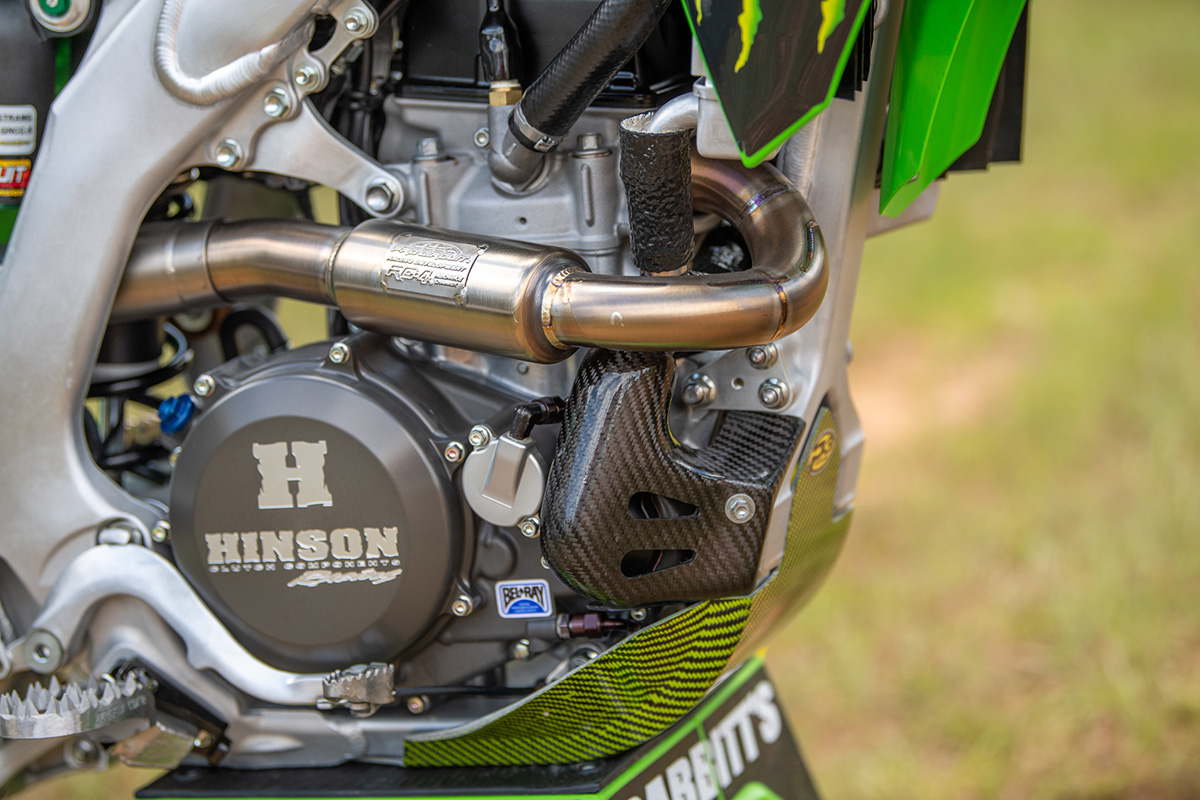 Roving our eyes around the engine we were surprised to see the standard radiators and no fan fitted to Strang's bike. GNCC is hard work in the woods and can often have brutal hot conditions, plus we know some Kawasaki Racing teams run larger radiators.
But Mauer says the stock water-cooling system can take it and engine reliability is not a problem for the team who run three or four races between rebuilds on a motor depending on conditions. Mauer builds the engines himself.
Oil cooler
The only part which baulks that trend is the Pro Circuit oil cooler. It is a part which comes across from the motocross race team and is developed to maintain lower oil temperatures and therefore engine temperature.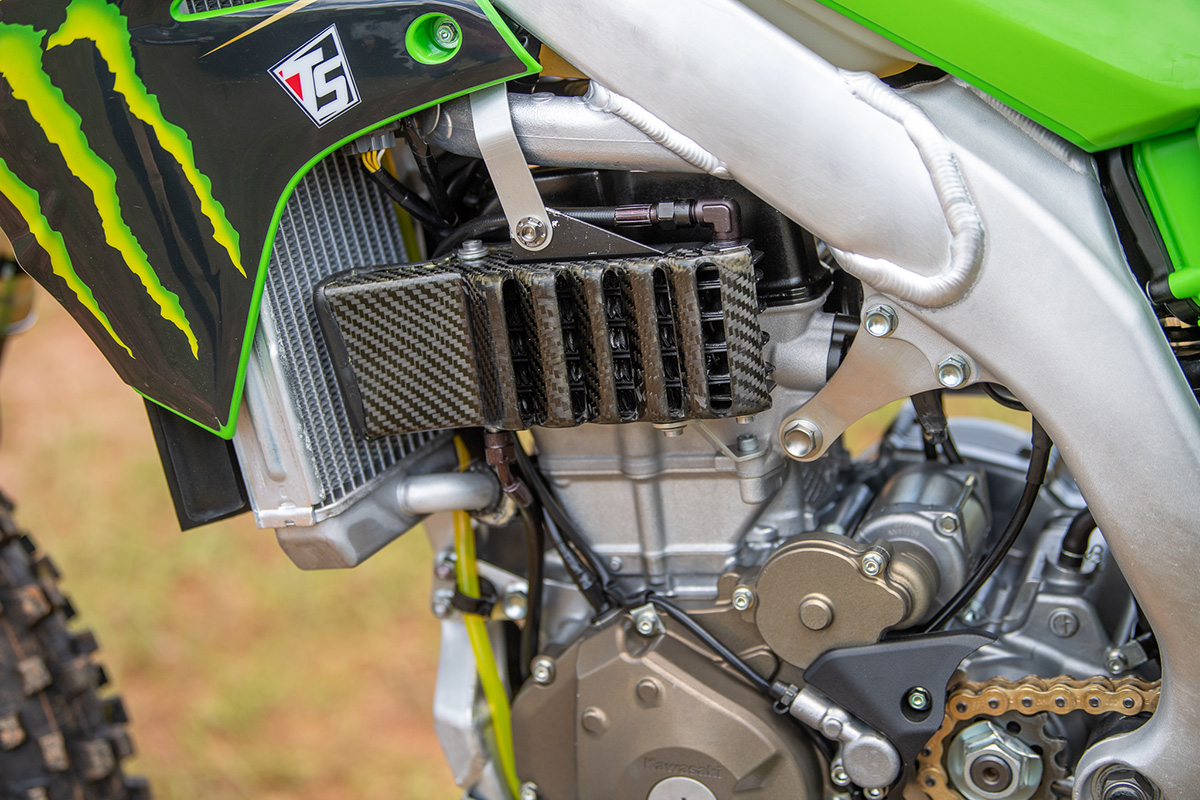 The need for it is easy to figure out when you witness a GNCC race like round four of 2020 at Aonia Pass, the Bulldog GNCC where riders and bikes took a roasting.
Showa Suspension, Pro Circuit tuning
Strang and the Babbitt's team run the production Showa 49mm coil sprung fork and Showa shock with Pro Circuit doing the valving. "Josh likes it pretty normal, 103mm (sag) so nothing crazy," says Mauer, "he is a pretty neutral guy as far as the suspension setting goes. There's nothing crazy about his set-up."
Asked if there are any differences between the suspension setting between GNCC and Full Gas Sprint Enduros Strang and the team also race and Joey gives a short, "same" in reply. For some rounds the conditions may mean the team run things a little stiffer, "but it is just a few clicker changes, nothing major," adds Mauer.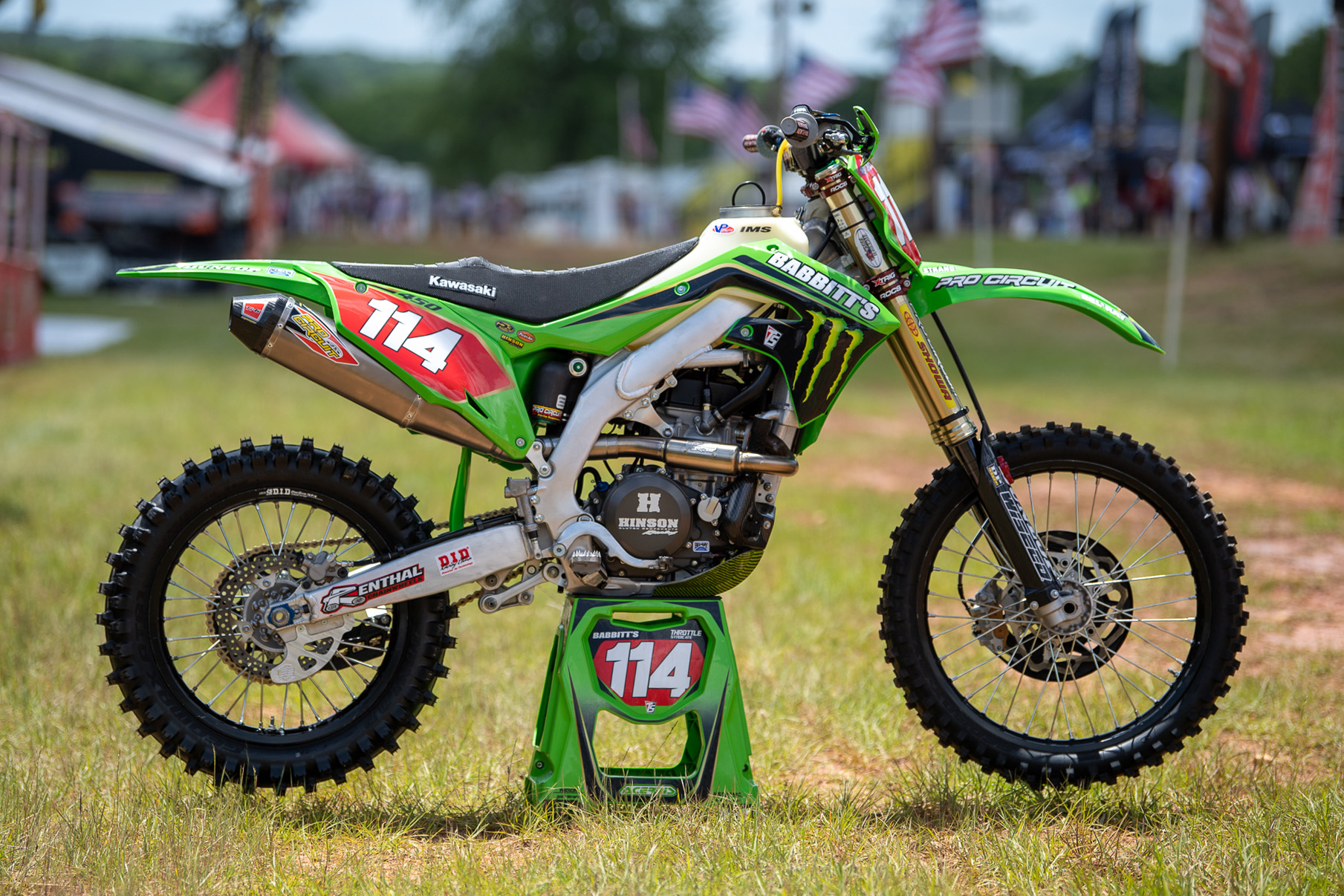 At the sand tracks, even in Florida for GNCC, it is still the same valving explains Joey, "GNCC races are all in the woods, so the setting is the same because that way you're not riding a different bike. You start changing a bunch of stuff from one round to the next, you don't know what you're riding."
Josh ain't fussy
Riders traditionally have their own specific bike set-up but Mauer says Strang is pretty straight. "I can't pick one thing Josh is really anal about. His bars are pretty standard position – not too far forward or too far back – it's the same with the levers which are pretty neutral. He's a real easy guy to work with."
"The suspension is maybe the only place we have to work a little bit. It takes him a while to work out if he likes something or not. I've tested with some guys who'll go do a lap or two of a short track and they'll come in right away where-as it'll take Josh five, six or 10 laps on every setting before he comes back and gives you an answer. It's not that he's unsure but he really wants to know what he's telling me is exactly how he feels."
Stock chassis with added flex
Among the bolt-on extras fitted to the Babbitt's KX450 standard aluminium frame are the solid XTrig ROCS triple clamps which they run with a standard 22mm off-set – they can also adjust to 23mm off-set but prefer the stock setting.
Josh also prefers the 999 bend Renthal Fatbar and runs the XTrig Progressive Handlebar Damping System (PHDS) which, as the name suggests, dampens bump shocks through the bars. Mauer says they sometimes play with the Renthal throttle cam to make it more or less aggressive depending on conditions at a race – less-so with Strang than with teammate Jordan Ashburn.
What about the added flex? That'll be the Works Chassis Lab engine hangers and mounts, which claim to bring more comfort and rider feel over the stock parts. They were developed by Eli Tomac for motocross legend has it, to deliver more flex for off-road on the KX450s.
Fuel tank changes
A common sight across GNCC Racing paddocks are the quick-fill tank systems from IMS Products. Babbitt's Online Kawasaki use the 2.5 gal (9.4 litre) fuel tank on the KX450 for GNCC racing, switching back to the stock 1.2 gal (6.2 litre) tank for Sprint races where less weight takes priority over capacity. Strang also runs the IMS Core footpegs.
Nestling in behind the tank is the tailor-made seat with the crafted hump to help Josh locate his backside when seated.
Nissin brake set-up
Stock is the name of the game for the brakes and Josh can typically be tough on the rear brake. "The Nissin brakes don't over-heat as much as the Brembos" says Joey, "he's pretty tough on the brakes. In GNCCs he's fine but he's pretty hard on them at the Sprint Enduros – he'll go through some brake pads at a Sprint and maybe we get some blueing through the heat there.
"The only thing we do is put a smaller rotor on the back. Stock rotors are 250mm and we put a 240mm one on and that is mainly because the 250 is too much brake for what we do. Motocross guys need it for what they do but Josh drags the brake a lot and with that brake there ain't no way, it is too much."
The front brake is standard with a dual-piston front Nissin caliper biting a 270mm floating disc. Brake pad choices are stock compounds, albeit using the team's sponsor, DP Brakes parts.
https://www.instagram.com/p/B_tMPkOH0e2/
The Babbitt's team also uses the solid (billet aluminium) rear brake disc protector from Enduro Engineering. It mounts direct to incorporate as a rear caliper hanger plus rear disc protector which is "second-to-none".
As far as rims, spokes and hubs are concerned it is the same "stock" mantra we hear all around the bike from Mauer. D.I.D. Dirtstar rims, hubs, spokes and nipples from the KX450 motocross are built tough and have proved themselves reliable across GNCC races.
Tyre choices, there's no choice for Josh
"He runs an 81 everywhere." Joey explains of Strang's set ways on the Dunlop tyres. "This year at Florida (sand conditions) I got him to run a 33 and it was like pulling teeth – he wanted to run an 81 there too."
Dunlop's range is obviously well-established for off-road with the Geomax AT81 remaining something of a benchmark for many riders because of its all-round toughness over race distances.
The AT 33 was developed in motocross for soft-to-intermediate terrain and is a step-change in terms of performance, feel and technology. There's no telling Strang that though: "most guys run a paddle tyre in the sand but not Josh.
Last year even (this is the second year Babbitt's Online Kawasaki and Josh Strang are teamed up) he ran an 81 in Florida as well but this year I finally convinced him to run a 33. He likes that rear tyre because it is good everywhere," says Joey.
Third gear all the way
Gearing options are equally straightforward for Strang during races. "He doesn't use first gear at all," explains Mauer. The stock KX450 gearing is 13/50 (front/rear) final drive off the five-speed gearbox which Strang steps-up simply with a 51 tooth Renthal rear sprocket.
"The way it's geared means he can ride pretty much third gear everywhere unless you get a fast straightaway, but anywhere in the woods he's normally third gear," says Mauer.
Aftermarket parts fitted to the Babbitt's Kawasaki KX450
XTrig ROCS triple clamps and PHDS bar clamps
Renthal FatBar, throttle and grips
IMS 2.5gal (9.4litre) fuel tank
IMS Core footpegs
Hinson clutch basket and pressure plate with either Pro Circuit or Hinson springs (depending on build for a race).
Pro Circuit Ti-6 exhaust header pipe and muffler
P3 carbon skid plate, water pump and front brake disc guard
DP Brakes pads (standard compound)
Acerbis protection around the bike including the handguards
Renthal sprockets (13/51 ratio)
Enduro Engineering rear disc protector
More information at Babbitt's Online