Putting it to the KTM man – your 2024 EXC enduro range questions answered
Enduro21 puts the reader questions to KTM at the launch of the 2024 EXC model range, questions you asked like why no kickstart, how come they cost so much, why fit parts manufacturered in Taiwan…
At the risk of sounding like an advert, if you think you know what an EXC feels like, think again. It seemed like KTM had gone a bit quiet. Sitting on their existing laurels while a pandemic then a global crisis hit.
Clearly that's not been the case because the 2024 EXC range is arguably the biggest step change we've seen for more than a decade.
Chassis, engines, bodywork, user-interaction, feel, riding position and finally better suspension (yes, it's true). Just about the only thing which stays the same is the Brembo braking systems. If it ain't broke don't fix it, right?
Read our detailed riding test impressions here: 2024 KTM EXC Enduro range riding impression – "the most radical update yet"
But there are some massive questions raised by Enduro21 readers about the new EXCs which couldn't go unanswered. They boiled down to some major themes like why no kickstart, how come they cost so much and why should we trust parts made in China.
We took them with us in a notebook and put them to the KTM man, Off-Road Product Manager, Fabian Gusta…
We'll start with the phobia, if we can call it that, about Chinese or Taiwanese parts. Is it correct some parts come from that part of the world? There should be no issue, right?
"At the end of the day we're now living in a global world, right? Everything is connected with each other, and our supply chain is set up in a way that we can build the bikes everyone loves to ride and it also includes parts supply from markets like that.
"We think that is the right approach to build the volume we produce and that's key to us to keep our production in line OK. It's simple as that."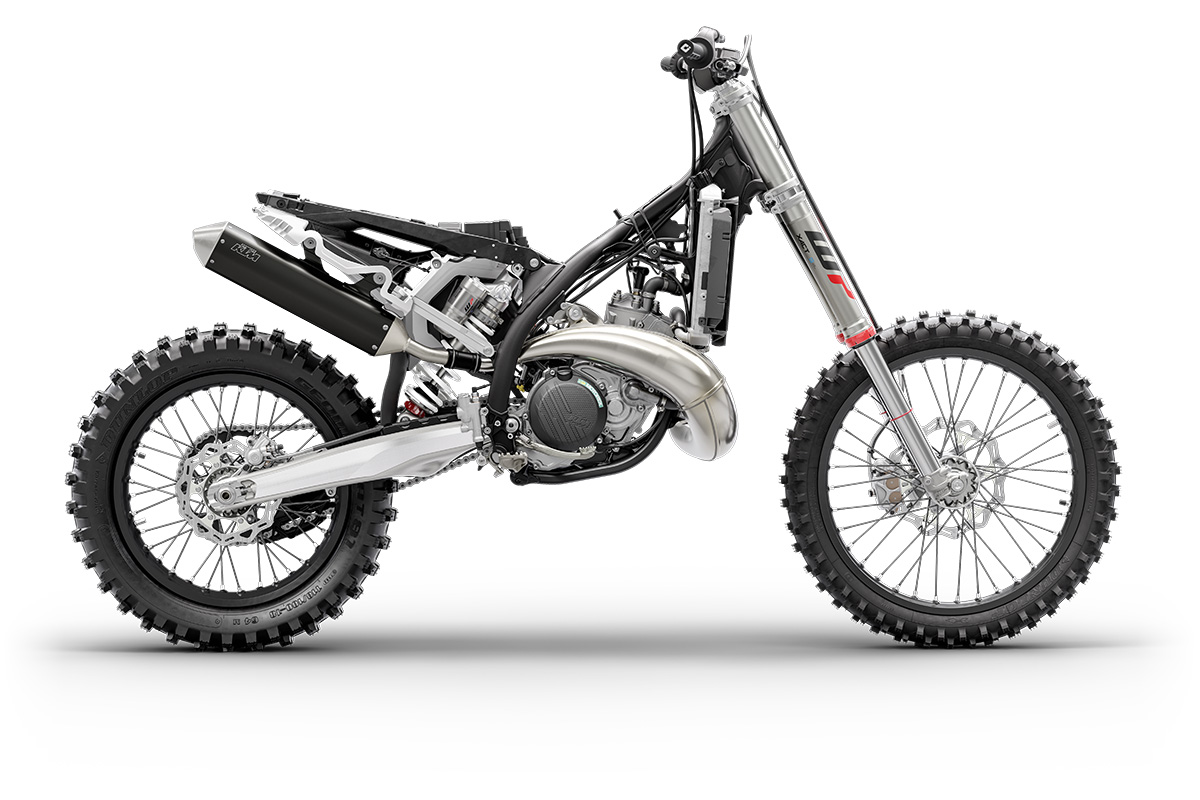 Let's turn to parts supply. We hear some people who have the SX and XC bikes are unable to get some parts…
"It's an ongoing thing especially since the pandemic. Of course, like every manufacturer, we had issues with parts not only for our production but only also the aftermarket, spare parts, Power Parts, the whole business was affected by that.
"That's declined now so we are in a better position than two years ago for sure. Of course we have different options of supply of some parts from different suppliers. You simply need to be prepared for whatever happens economically or factors you can't really influence as a business operation.
"When you work with big companies like, let's say Akrapovic who have a big supply chain like us, that is something we can rely upon. But when we start to go into niche companies for dedicated parts for specific models or specific bikes, from enduro all the way to street, that's where a little bottle neck comes into play much faster compared to a big supply chain."
So if somebody buys a new EXC next month, they break something, the supplies are there or not?
"It depends on the part. Generally, we have a good stock when we launch bikes but it's always a matter of what you break because we can't as a company be prepared to have every single part of a motorcycle on endless supply in the dealers.
"It also depends a bit on the on the market but generally we're pretty well prepared especially since we already launched this platform with a lot of the hardware parts one year before on the motocross bikes. That's one positive for the enduro models. We took those learnings with us and we're more prepared for whatever will happen."
We are KTM, we're ready to race with premium equipment from the beginning to the end…at the end of the day we believe the customer gets a fair deal
"We also think there will be no major issues with the EXCs and because of additional activity we have done to face this problem. Things like engaging with the dealers before the embargo date to try to build up the necessary stock for parts.
"Obviously we're trying to face it and I think it's pretty common across manufacturers nowadays to be able to supply at the right time almost straight away for every single customer.
"But we took more of an unseen approach here to open up really in depth technical details to our dealer network way before the official embargo dates that they can stock up."
Another major element is the price of bikes. Some of us remember when a new bike was just a couple or three thousand, now it has pushed above 10 grand, how do you justify that?
"At the end of the day of course price is always a big factor when it comes to the decision of the customer. But we think we have a fair price offering for what you get. The strategy of KTM is to be a player in the premium segment because we produce premium bikes so that's our key message.
"I think you must have seen riding the bikes how much of an improvement they are and we are always trying to be a step forward compared to our competitors. We need to take into account the cost that other competitors are not actually taking because they can just re-engineer something that is being brought to the market [by us].
"That and obviously the entire R&D team they need to really like push their brains and their capacities to figure out components, developing from CFD parts which no one is developing before. To be doing such a step compared to everybody else needs to be compensated at some point to actually afford it."
"Another thing just to mention is the inflation. We have not moved at the same rate as inflation with our price increases, so I think considering that we have quite a fair offering.
"With the Six Days models we offer a lot of additional equipment which is an even better option for those wanting to go in that direction. If you just take a standard model and equip it with all the Power Parts on top, you would end up with a bike that's much more."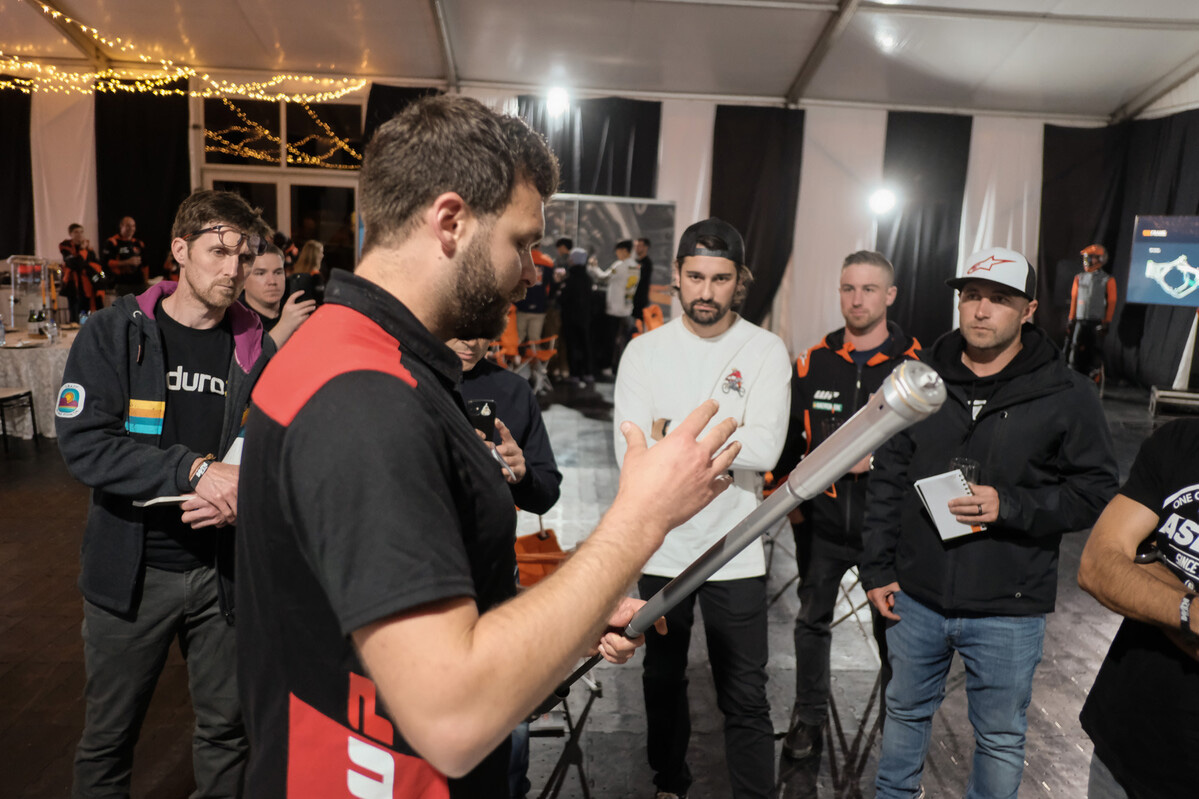 "On the European side we have players from France or Italy which play in the same or lower price categories and then you have the US market where you compare yourself more to the Japanese players, and it's flowing into the cross-country segment so the models are overlapping. It's very hard to differentiate and say where does the one thing start in the other ends.
"For us one thing is clear: we are KTM, we're ready to race with premium equipment from the beginning to the end. If its in-house components we develop ourselves like WP suspension, frame production or external partners such as Brembo, at the end of the day we believe the customer gets a fair deal."
A different train of thought, how the hell do you make a bikes to suit all the different disciplines within enduro? Does Hard Enduro take a priority?
"It's a very good question actually and one which is keeps us busy day and night. We build on platforms and for us this approach is beneficial but it's also challenging because our approach is whatever we do, we bring it for each and every motorcycle.
"Whenever it's a compromise it needs to be beneficial for each and every capacity so for example taking the frame we built on our motocross bikes which we already presented a year ago but still the frame has some very specific differences for the enduro bikes. The rear shock mounting, the swing mount, the PDS set-up that something which very much differentiates the enduro bikes.
"Hard Enduro is very specific and part of development testing but at the end of the day we need to also consider the classical enduro because it's still the majority of our customers. Our motor sports department do some very specific stuff, they of course test our new bikes fully before we bring it into production and we gather that feedback. Maybe they tell us they want another direction but in the end we decide to go different path. This is always the way it goes, negotiations within the company. You need to have it and sometimes we decide to go this way and sometimes we go the other.
"Your question is actually very difficult to answer and there is no easy answer to that but that's why you have different models."
We simply want to progress and we don't think kickstart is part of it
"The key to that question is that with our old concept we reached the limit with the rider. You take Garcia or Mani, regardless of what they ride classic GP or Hard Enduro, they couldn't go much faster anymore, the bike was the limit.
"Now we bring a new generation as we said 95% different. Maybe at the very beginning now we will not reach the same lap time, but the overall potential of the new platform is much higher and that's our approach."
"It's been a challenge not only from R&D but all sides but we literally took all the learnings of 6-7 years of a stable platform to completely redesign everything and start almost from new."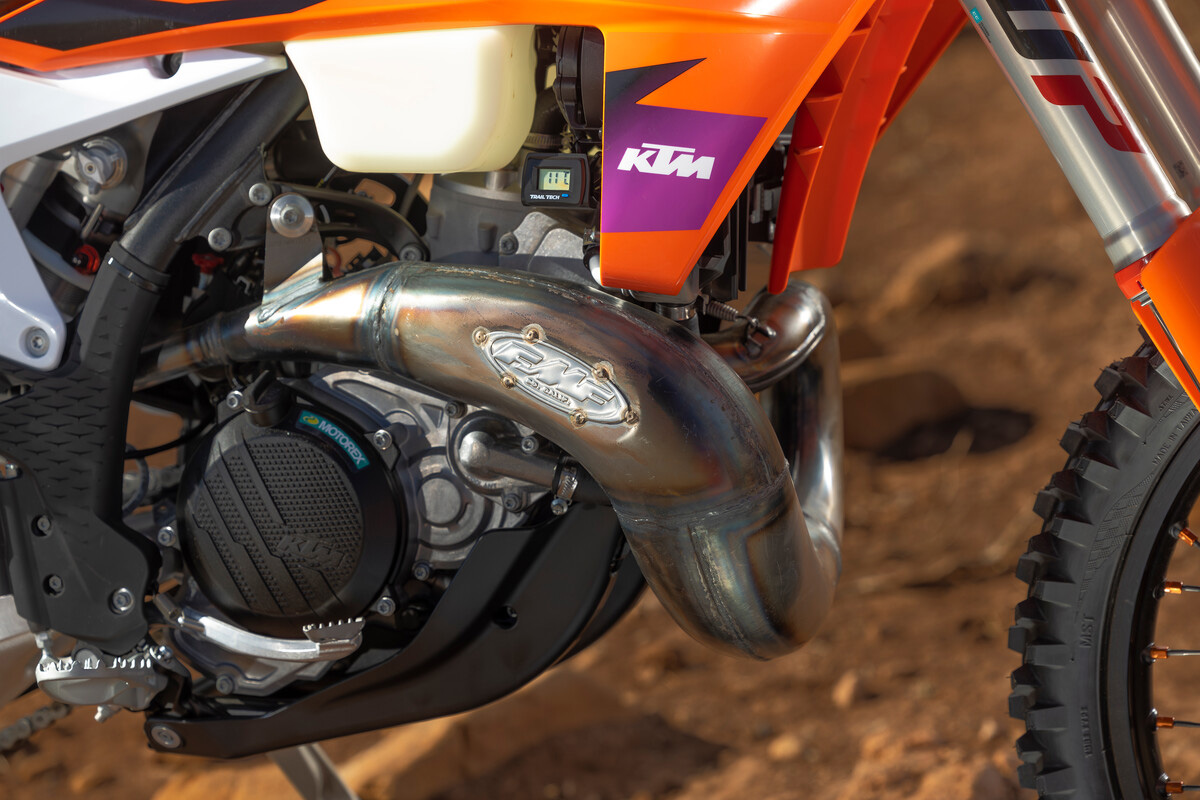 The last question is about the kickstart. Battery technology, electrical systems, starter motors are all in a different place and personally we don't remember the last time we used a kickstart. But not having one, not even having the option to fit one, is a big deal for some people.
"The decision takes a lot into account. We obviously take a look into the numbers, seeing all the people buying the Power Parts kickstarter kits, all the orders in the past and how things have been developing over the years and when you see a steep decline in the orders of that obviously you reach from point where you ask yourself is actually anybody interested in it anymore.
"You have to ask yourself 'are we doing it only because it's been a common thing over the last few years?' So at that point we have reached with the technology we have right now, and countless testing hours across all platforms, we reached the point where we see there is no benefit anymore.
"We were the first bringing the starter into the off-road world and it's been on the market now for, I don't know, more than a decade. The older platform kept a possibility to mount kickstarts yes, but we also said goodbye to carburettors a long time ago.
"We are a forward-looking company and we are the only ones to develop two-stroke bikes engine wise onto the next level. We simply want to progress and we don't think kickstart is part of it.
"Maybe something is common and familiar but you need to do a step ahead to keep going forward. The benefits are pretty clear from weight saving to reliability overall and so at that point, it's a no brainer.
"We are very aware that there is a customer group out there still buying Suzuki bikes for example, and that's OK, we don't want to convince them of anything, it's their choice. We just offer a product we think is much better."
What about electric bikes? Nah, alternate fuels is the way forward
For all the time spent riding and interviewing, one fascinating piece of news we learned while in Lesotho was overheard, ear-wigged while another journalist was chatting to a KTM staffer.
"We're investigating and working on the principle that alternative fuels are the way to go, not electric motorcycles." Enduro21's ears pricked up. We kinda knew it because frankly it feels like if KTM were developing an electric powered off-road motorcycle like the Stark we would've heard about it by now.
But to hear electric is not the way forward for KTM will come as music to the ears of many who, like KTM, value the sight, sounds and smells of dirt biking. "Those things are key to riding a dirt bike." Amen to that.
Photo Credit: Sebas Romero + Kiska