2024 KTM EXC Enduro range riding impression – "the most radical update yet"
Is KTM's 2024 EXC enduro line-up a giant leap forward for enduro or is it just a new set of handguards and an updated two-stroke fuel injection system? Enduro21 tests the complete range to find out if "95% new" and "the most radical update yet" amounts to the step change they say it is.
The 2024 KTM EXC range has kicked up a lot of dirt. Giant handguards are the tip of an iceberg hiding huge changes to every aspect of the biggest selling off-road bikes on the planet.
What are the standout features of the new EXC range? What are the biggest takeaways from two days in Lesotho which included an eight-hour ride on the Roof of Africa course and all the access we could need to ask questions of the people behind the bikes? Let us tell ya...
EXC suspension which works
Literally every time Enduro21 writes about an EXC comments ping up about the standard WP suspension. Depending on what you do with one, it's fair comment – too soft basically for years now and a shock which cannot cope with getting too hot. It clearly matters to some and the criticisms haven't gone unnoticed in Austria.
One third of the model presentation the night before riding the bikes was devoted to the new suspension with detailed explanations of how the new mid-valving works, how they've made a hybrid from WP Pro Components for the standard suspension, how you can jump off a two metre step and not have you spine shortened, how the fork clamps are affecting heat build-up, how the shorter shock was a real headache…it was a long list which we won't bore you with.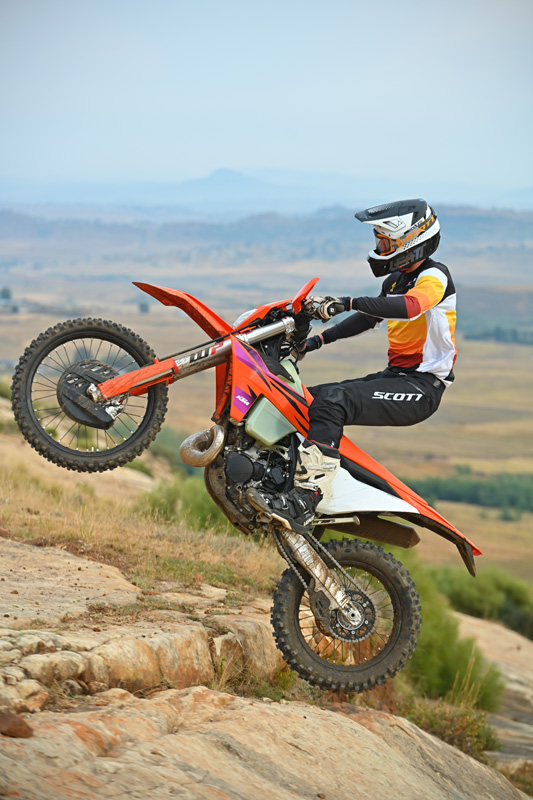 What matters is if all that talk and added spec actually makes a difference and the answer is yes, yes, it does.
Better feel, forks which stand up taller and stand up to bumps better, a shock which behaves itself, manual external suspension adjusters which do something at last. In essence it feels like the EXC suspension is more or less like it should be, like you'd expect from an enduro bike.
You can ride faster with confidence now, safer in the knowledge the bike will keep on a line and not get badly out of shape if you hit a hole or bump in the track or have to get over a log. If you are used to the standard kit gettign on the new bikes is a transformation.
Don't get us wrong, if timed tests are your thing there's still a reason to upgrade the suspension. But there's way less reason to do so now because the new WP XACT suspension (note, no longer Xplor) does what it should do on a standard enduro bike. It won't suit everyone still but it's a huge improvement.
Quick note: clicker adjuster which actually work
The added bonuses here are the manual adjusters which really do make a difference. Jumping off a 2T to a 4T on this test immediately showed the rear suspension was set differently with not enough rebound. Two clicks was enough to feel a difference on the trail. The clickers work.
You still have to remember the suspension is tailored to suit a wide range of riders, among them a huge majority of trail riders who never go anywhere near an enduro test or a hard enduro. That still means compromises but the base set-up here is way better.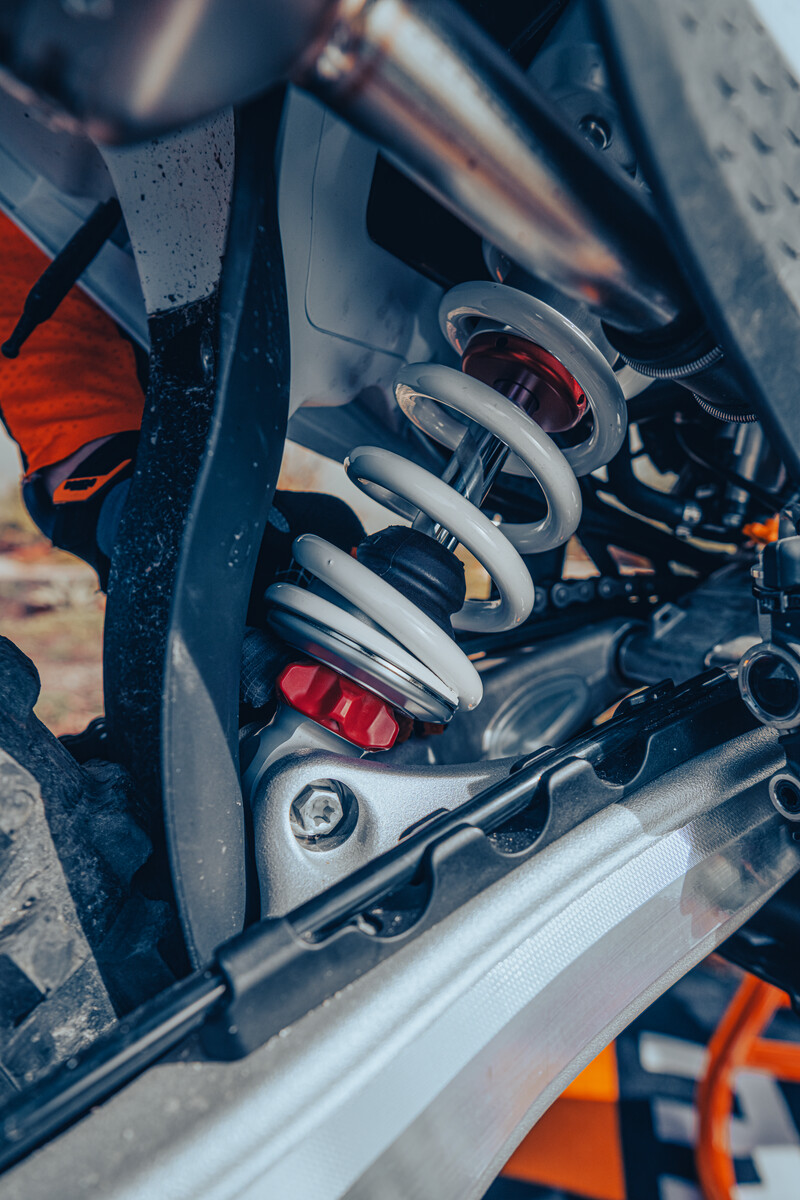 Picking lines and sticking to them
It took just a few minutes to feel just how different the new EXC chassis is on this very comprehensive day testing. There's a common feeling across all six models for a start, a riding position dictated by new, 6mm lower footrest height and tweaked (lower) handlebar shape, which is now familiar across all six EXCs.
Sure, they all have their different character depending on engine capacity, weight, two or four-stroke and so on. But fundamentally there is a common feel now which aids confidence.
More precision comes from things like the shock mounting position, triple clamps which hold around the forks (and not an oval pressure as before which caused heat build-up they say), a beefier swingarm (which weighs less) and the suspension changes listed above.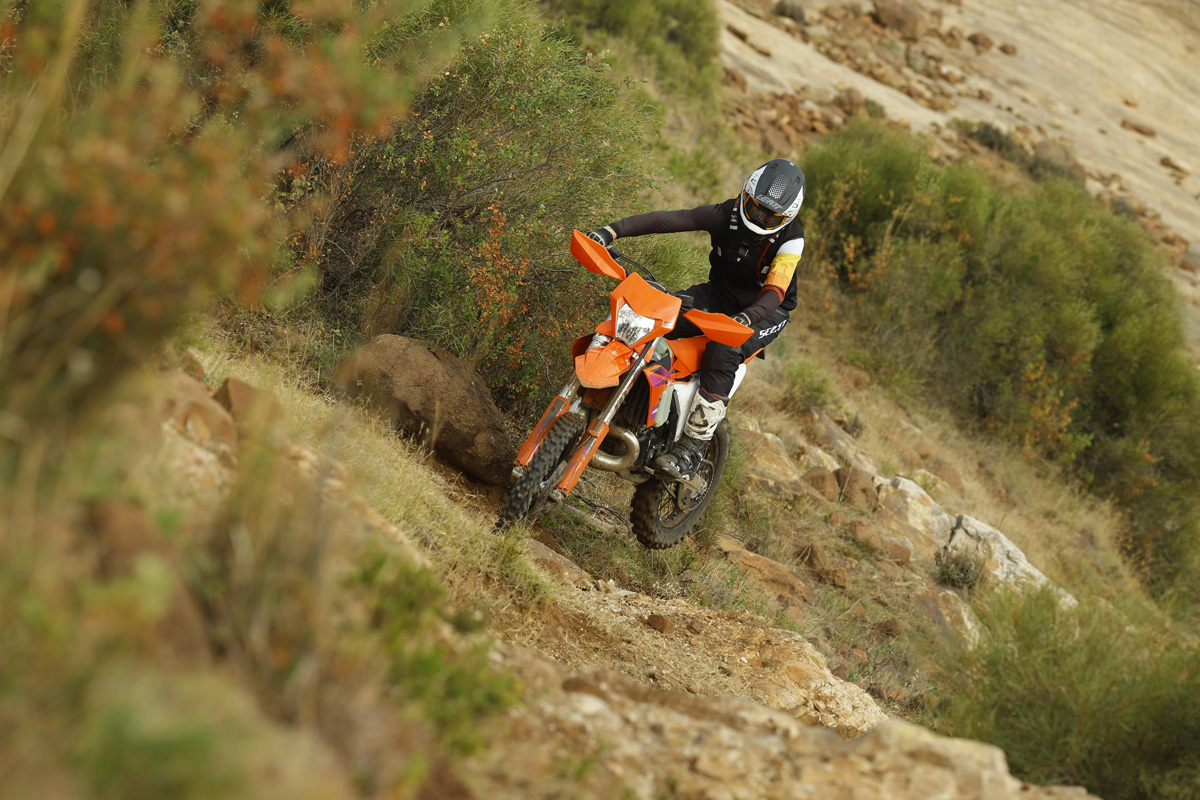 The biggest difference you notice is more precision and stability in the chassis. Whether you are on the trail cruising in fifth gear, picking a route up a rocky climb or trying to nail a line in a special test, the new chassis lets you choose, hit it and stay on a line better.
It's particularly noticeable through your feet, steering and making quick direction changes to miss a rock or choose a line up a hill. Wider and lower footrests, a more attack-minded bar bend means the new chassis' are willing and you really do feel like you can be where you want to be on the ground.
Quick note: 450 and 500 footrest vibes
We never got to the bottom of it on the launch but there's a marked new amount of vibration coming out the 450 and 500 four-strokes. To the point of getting that tingling feeling in your feet for an hour after getting off the bike.
That didn't used to be the case with the old big four bangers, so something about the new models has introduced vibrations through the chassis which wasn't there before. We didn't feel it on the smaller 4T or two-strokes FYI.
Thinking of you
We highlighted some of user experience positive vibes coming out the '24 models in the "first look" and there are more to add now we've ridden them. More protection from dirt off the front mudguards fins and fork leg protectors, slimmer radiator shrouds, lower side frame protectors and a far better chain guide and rear sprocket protector are superficial changes you'll notice easily.
But details like every single engine bolt which should have a copper washer now has a little triangle on the casing next to it (so you know it should have one), two bolts to access and more room to service the 4T engine rocker covers, more torque settings marked, a single bolt at the front of the grippier new seat and a better sealing airbox all stack up to a bike bucking the trend in the modern world.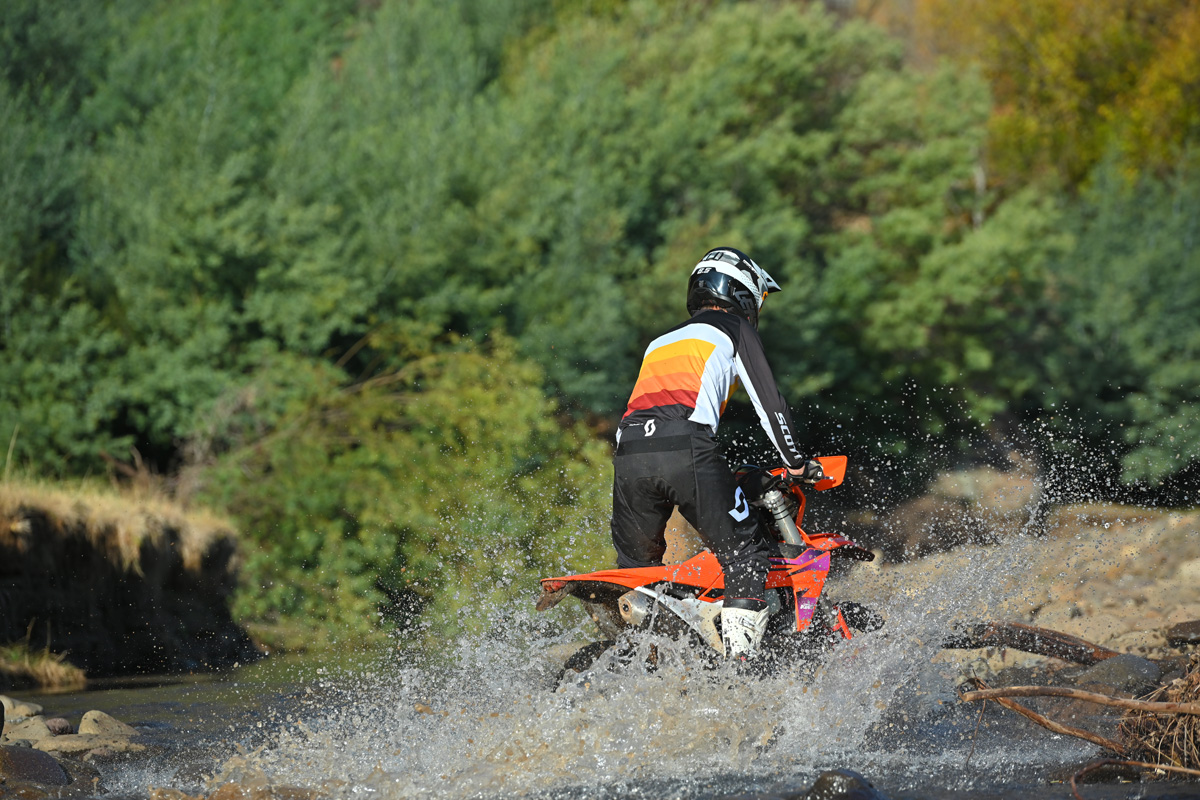 It bucks the trend because unlike your car which the manufacturer doesn't want you to touch, KTM knows we want to service our own bikes and has both acknowledged that and made some of it easier.
KTM's new EXC range handguards are massive by the way and a big part of the 'face' of the new range, but actually they work. They deflect better and from all the crashes we saw in our eight hours riding, they stand up pretty damn good to a beating.
Quick note on the air boxes and grab rails
Learning that "the old air box was almost an afterthought in the design" came as bit of an eye opener. It was during a chat about how the new EXC airboxes are designed to keep water out and breathe better.
Those gaps under the seat can be used as grab rails like we first thought but actually it is more about the air supply that anything. You're still better off using the side of the rear fender to lift the bike if needed.
Our test ride took us through some above-the-boot, deep river crossing and we had no issues with water getting in. A quick look in the air box and the filter was dry at the end of the day.
No fuses? For real?
Actually, not true. The starter still has a fuse and relay but it is the only one left behind in a new electrical system neatly packaged in a tray under the seat. It largely does away with relays and fuses but it rang alarm bells for some.
The new system is simple: each circuit has a separate marked light on what you would have called a fuse box, now an OCU or Off Road Control Unit. If you get a failure of one circuit, it is indicated by a light and that means you can trace that problem alone.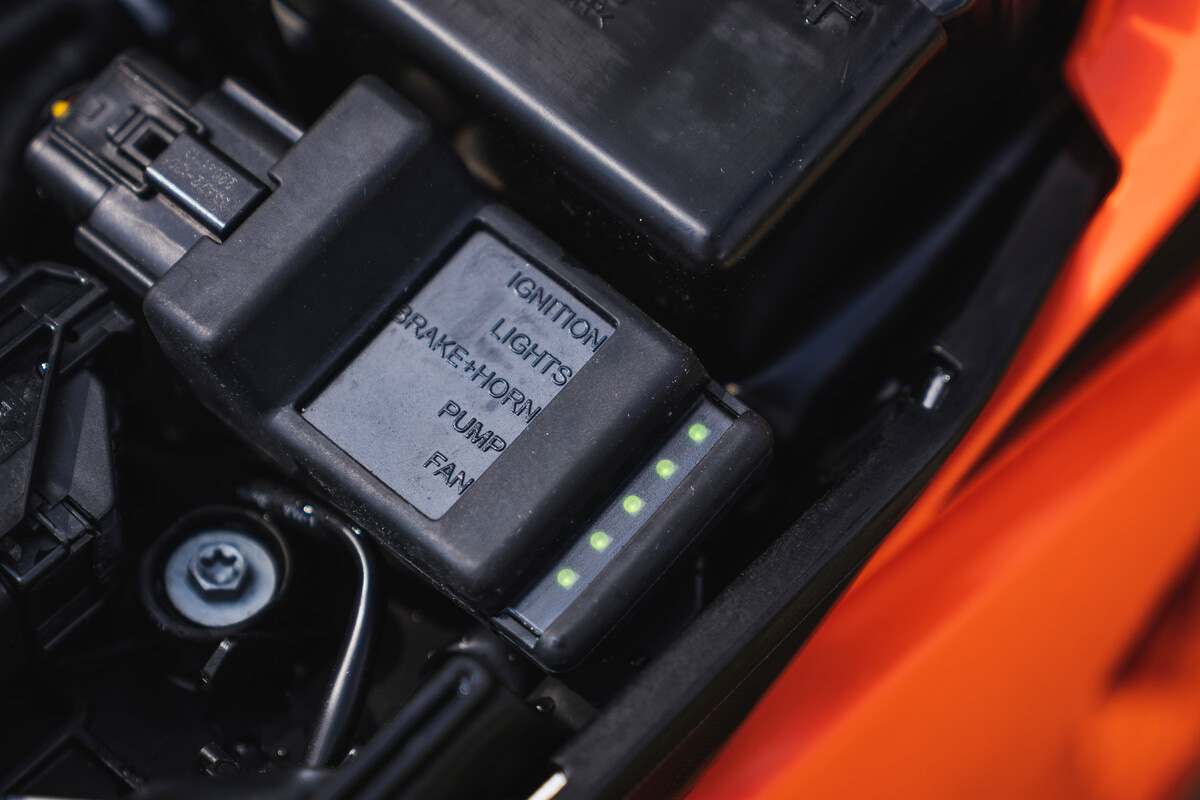 We obviously didn't test this, nothing went wrong on the launch, but the principle sounds logical to us. Who needs fuses? (Apart from the starter still, obvs).
The 250 two-stroke got its character back
Fishing out an old notebook from the 2018 EXC model launch in Erzberg, there's a line in there about not feeling too much difference between the 250 and 300. The TPIs' flat power curve made the bikes pretty similar in some ways and we think contributed to the huge popularity of the 300 compared to the two fiddy.
Great news from this launch is the 250 has got its character back. There's a sharpeness amplified by the new chassis but definitely handed back thanks to the throttle body injection, new reeds, new airboot and exhaust.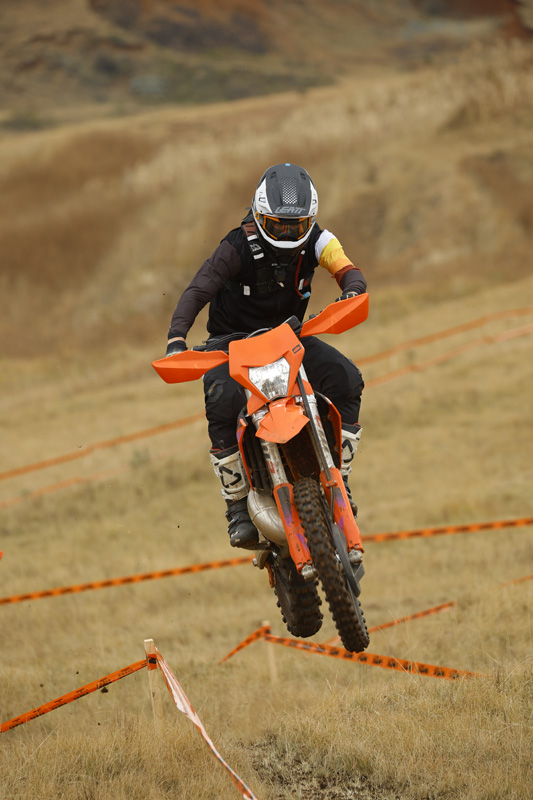 'What was you favourite bike on the launch?' was a question we got asked on the day by other journalists, by KTM staff and mates since getting home. All three of the 2T bikes are now Throttle Body Injection (TBI) and have better engine response, more consistent fuelling on steep elevation changes (and at up to 2000 metres altitude) and still seem just as economical.
But the answer to that question above is the new 250 EXC for this tester. KTM's 250 two-stroke got its character back and the two special tests thrown in along the miles of Lesotho trails were its natural, exciting home.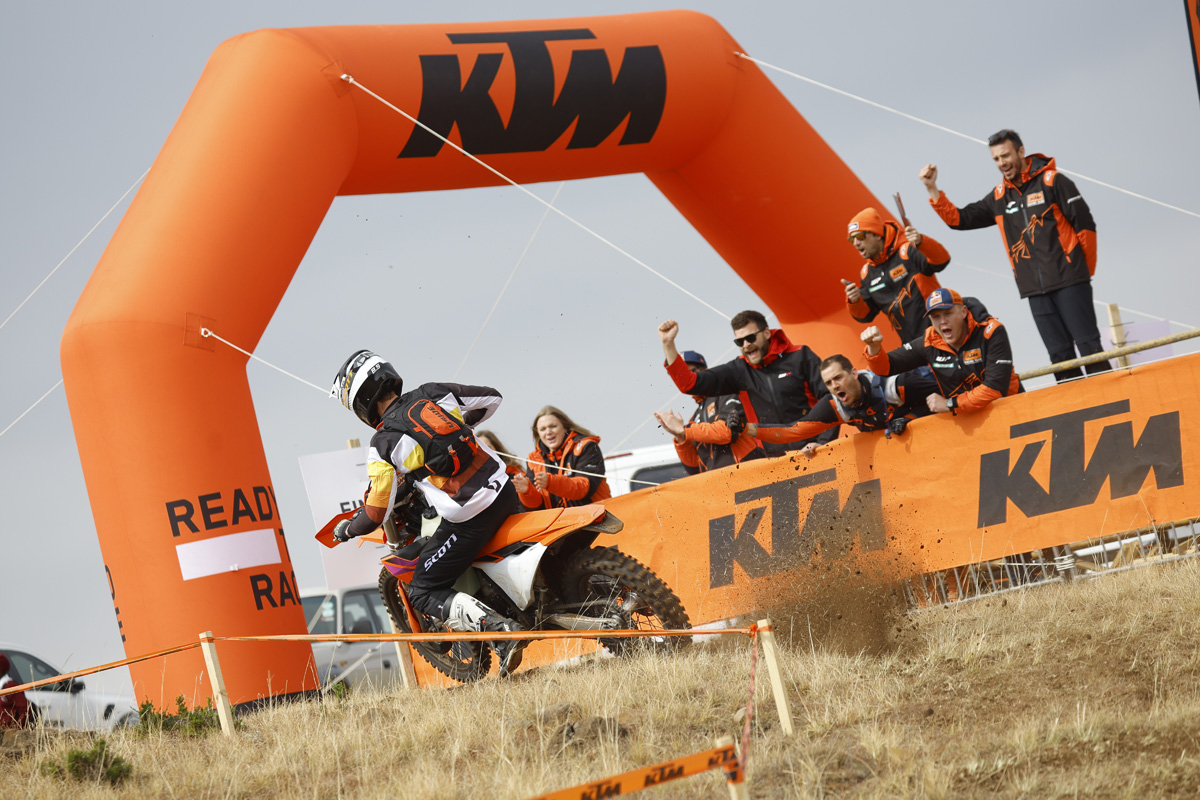 Same too for the 250 four-stroke versus the 350, 450 and 500. These four bangers have always had their own characters but the engine changes have manifested noticeably more in the smaller motors. The 250 EXC-F now fizzes more and though you can switch between soft and full power maps for options to suit novices and Josep Garcia, the baby of the bunch is a lot more exciting to ride.
The big bikes, ignoring the vibes through the footrest mentioned earlier, have more distinct differences. The 350 is built on the 250 and feels quite different to the 450 but that too now feels distinctly different to the 500.
All good, nothing bad?
Well, it depends if you think needing to buy new air filters and spare wheels is a bad thing. If you're like us you have a stack of air filters built up over several generations of EXC/Husky bikes being in the garage, the news that the new EXCs have a redesigned foam filter is going to be a pain. They've been inter-exchangeable for years now but no more.
So too for any spare wheels you might have because the new 20mm versus 22mm axle sizes. The good news is we think you can simply swap a different set of spacers in there.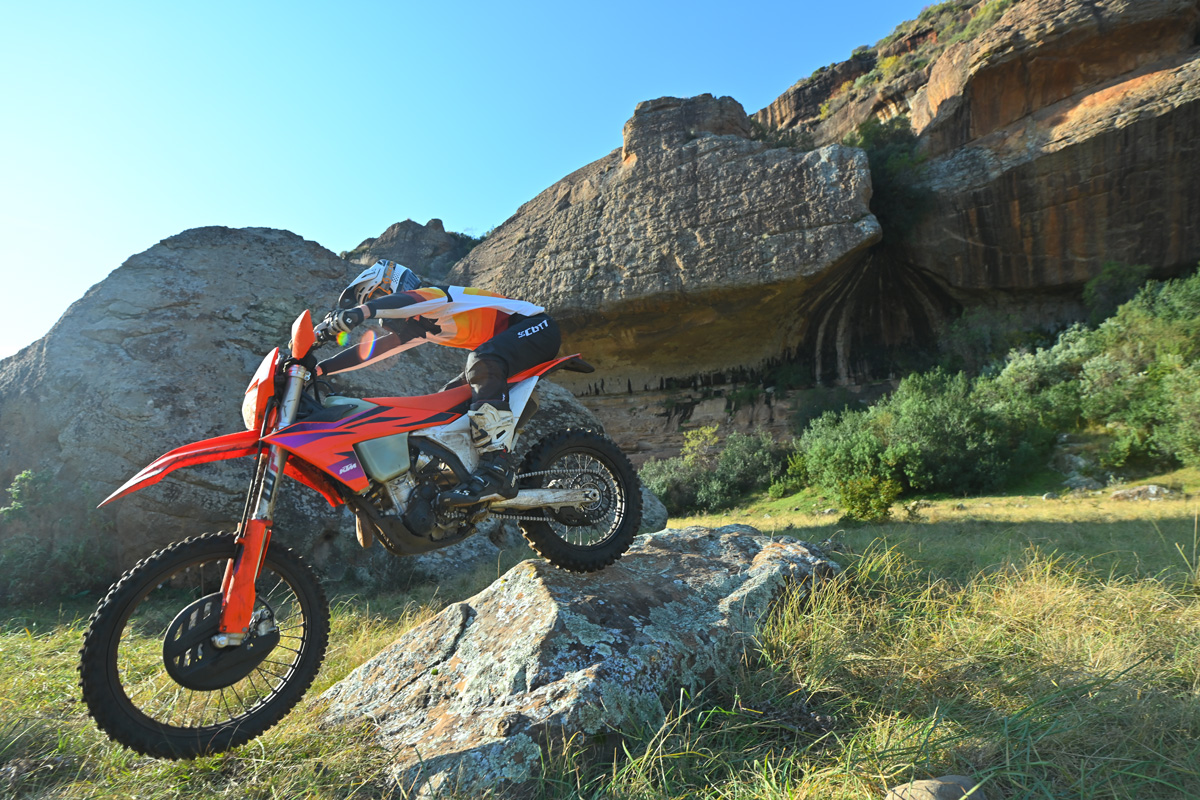 Quick note: Exhausts
Worth a mention are the new slimmer exhausts. A big, fat expansion chamber was definitely a feature of the TPI which we're glad to see literally ironed out. The new bikes fit between rocks better and are generally less vulnerable. And you'll be able to blow the dent out again without sending the mounting points to the moon.
Enduro21 Verdict
We're in the process of editing a video review which will go on our YouTube channel with more. Plus we had some honest, hard-hitting and informative interviews with the peiple who matter in building these machines which will be on Enduro21 in the next few days.
But in the meantime our '24 EXC enduro range test verdict is simple: the facts are backed up by the riding. New chassis and suspension, better performing engines, improved riding positions, improved bodywork and user-interaction. It all adds up to a set of seven EXCs which are a healthy upgrade over the last generation.
Building up to this launch Enduro21 has done plenty of hours on the older models to arrive armed with good feeling for how they worked. Night and day different would be going too far but maybe dusk and day different is not an exaggeration.
The engineers and R&D people have been busy this last few years building EXCs which will probably make the old ones feel a bit like blunt tools in the tool box.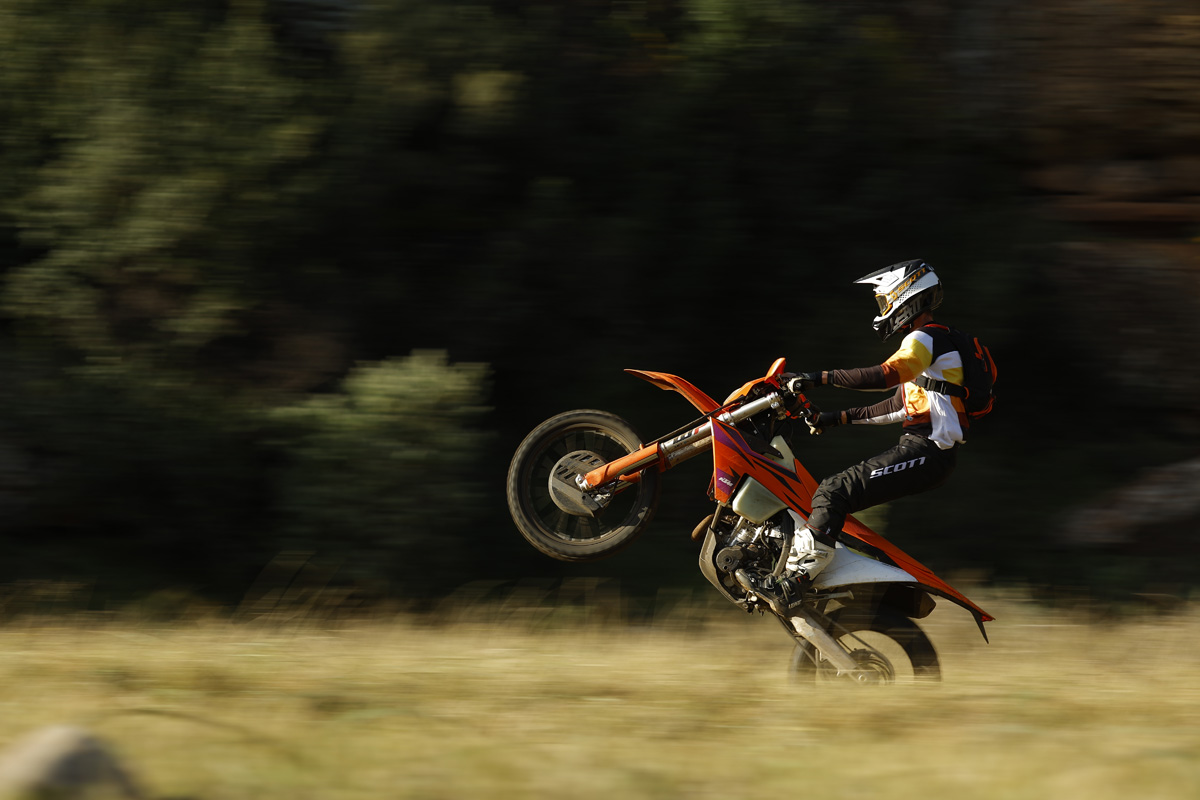 Photo Credit: Sebas Romero + Francesc Montero