Tested: all you ever needed to know about Fantic's 2023 Enduro range
Enduro21 takes the opportunity of the international media launch of the 2023 XE two-stroke and XEF four-stroke enduro model range to take a deep dive into all things Fantic – we test the bikes, talk links with Yamaha and even snoop around of the Italian factory.
The resurgence of the Fantic name started (for us at least) with the unveiling of the new off-road model range at the EICMA motorcycle show in 2019, and the following year the bikes remerging on the race scene including factory Enduro World Championship teams.
In all that time and with the pandemic affecting so much, Enduro21 has never had chance to swing a leg over the new generation Fantics until now and the invite to test the 2023 line-up.
If you want to read only about the bikes we tested, scroll on down because first, we're going to lay some groundwork and spill some fast Fantic facts on the table…
Fantic and Yamaha – what's the score?
There's an elephant in the room here, the connection between Fantic and Yamaha. In fact, it is a bloody loud elephant trumpeting away every single time Enduro21 writes anything about the Fantic. It's a clear an obvious connection but one which perhaps need explaining (and putting to bed).
A lot has changed for Fantic in the last few of years. Eight people working for the company has expanded to 600, annual turnover has grown to 150 million Euros, they've taken over the historic engineering company and engine specialists Minarelli and to all intents and purposes have become 'Fantic Group' rather than Fantic Motor as some older readers will have known them by.
Fantic has an industrial agreement with Yamaha which works to a mutual benefit: Yamaha gets engine development and production outside of Japan, a joint programme on e-mobility and e-bikes, plus a stream parts heading to Europe.
Fantic gets "a platform" upon which to build some of their bikes, revenue from building engines for Yamaha and the joint venture on e-mobility.
The fact is the world is full of bikes and parts being made by one manufacturer for another and historically lots of names in off-road haven't produced their own engines and/or chassis', so there really isn't anything new here.
Shared platforms
The "shared platform" for Fantic's XE and XX enduro and motocross models respectively is the Yamaha YZ range which ships chassis' and engines into the Bologna factory where they are assembled to new (Fantic's own) specification, with all other parts being their unique including electronics.
Fantic now owns Minarelli in entirety too, having bought it from Yamaha, and there is a strong historic bond which very much continues: on a factory tour Enduro21 saw Yamaha engines undergoing testing in the dyno rooms, 300cc scooter engines running down a production line and some unmentionable stuff going on in the R&D department.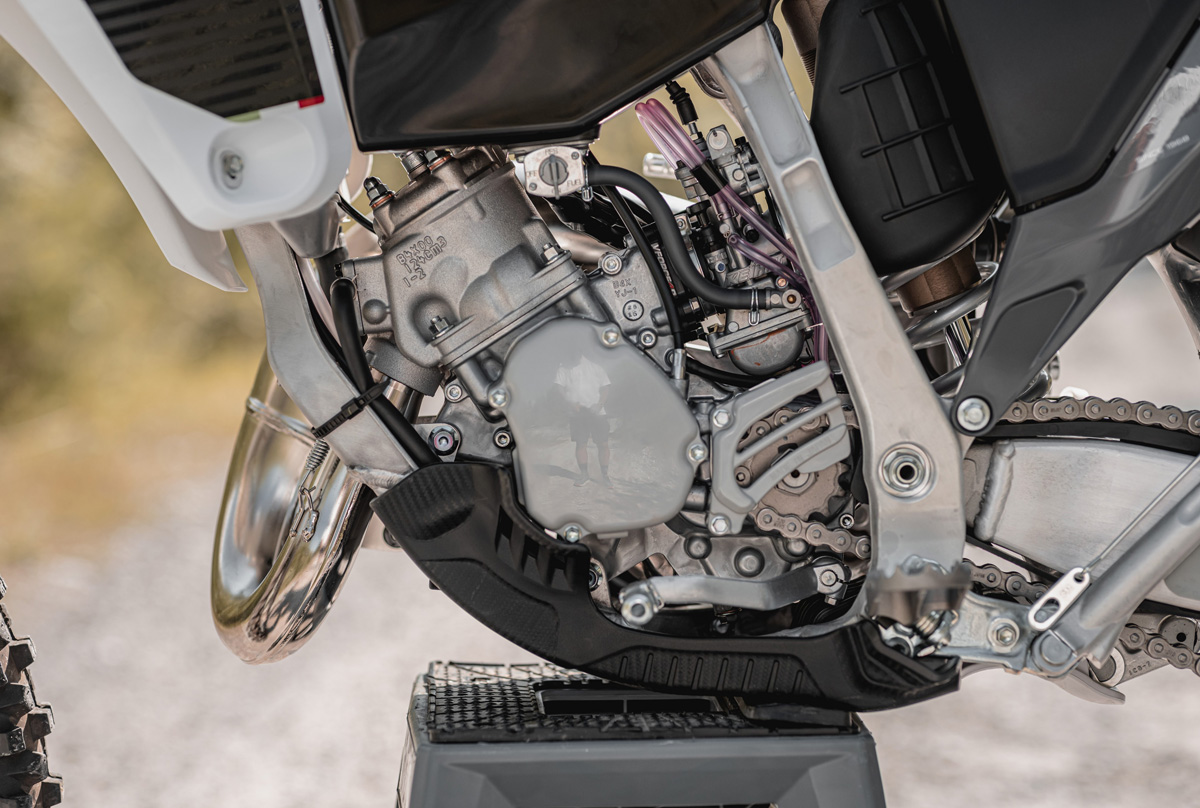 Fantic also a bunch of their own street bikes for the huge 50 and 125cc market in Europe, but also bikes like the Caballero model plus a range of reliable, cheap and cheerful trail bikes. All of which are assembled by hand in Bologna where Enduro21 visited the day after testing the '23 model range.
There's also an e-bike portfolio which appears to be breeding like rabbits and includes some awesome e-mtb weapons plus urban city scooters and commuter push bikes for that huge global market.
Did you actually ride these bikes?
Yes, sorry , we'll talk about the bikes now! It felt like some groundwork was needed here.
In motorsport, racing promotes the brand but also serves as the best way to develop bikes and Fantic have been all about that from the start.
The phrase "factory feeling" cropped up a few times on this press test and for Fantic that means focusing on which are fit for purpose. Jump onboard one of the XE enduro range (add an F for four-stroke) and this is the most immediate first impression.
There's also an underlying 'Yamahaness', and there's no getting away from the stiffer perimeter frame, but quickly a different feel marks the Fantic apart from any blue doner machine.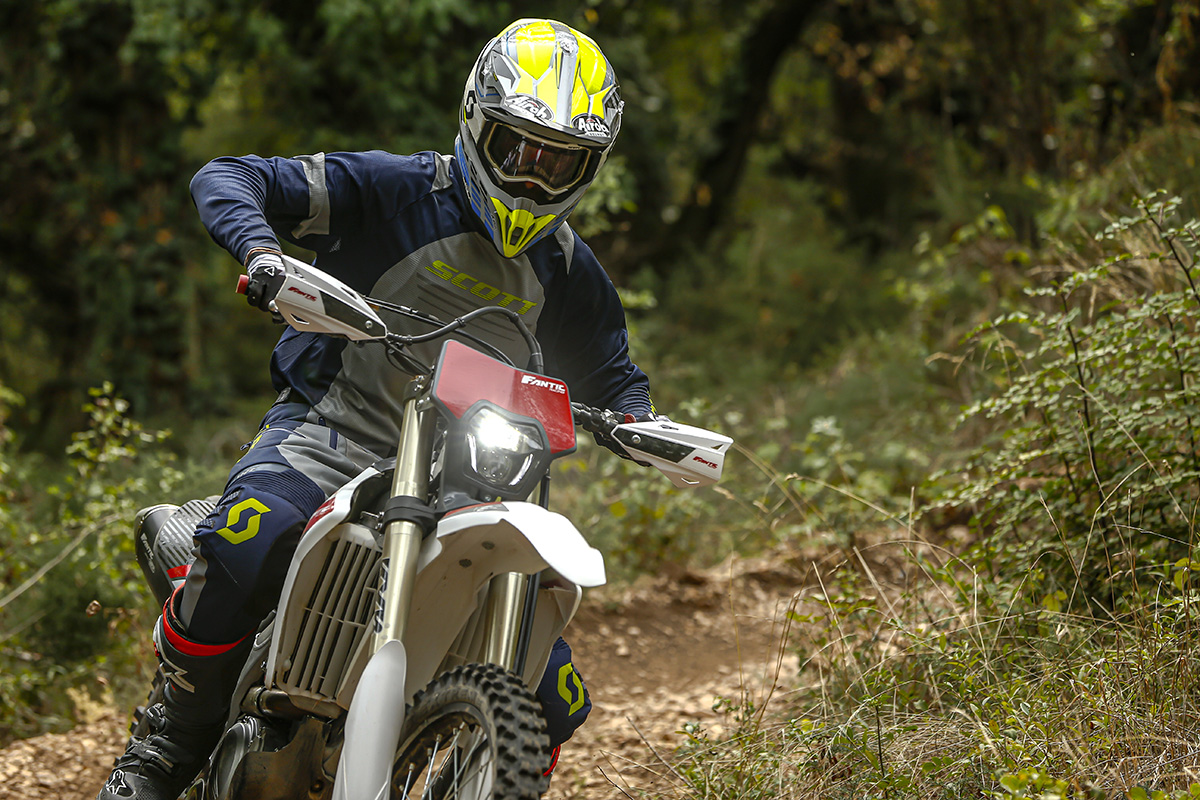 In a nutshell that means they feel a bit slimmer and the throttle delivery and engine performance feels more tuned to enduro (most notably they start on the button each time, even when hot).
What about that monster 450 then?
Given the fact a rider like Daniel Milner changed his mind about racing the XEF 450 in favour of its smaller 250 brother, you'd be right to approach a test on the big Fantic four banger with some caution.
450 four-strokes clearly can work for GNCC or AORC but in countries where the tests are tight, rocky, hard-packed and require more agility than raw power, a 450 can easily be a bit of a beast.
First out the box, fresh as a daisy in new Scott riding kit for this test and on unfamiliar hard and stony track laid on for the photos, Enduro21 can confirm the XEF was "a bit of a beast" for an early morning wake-up call.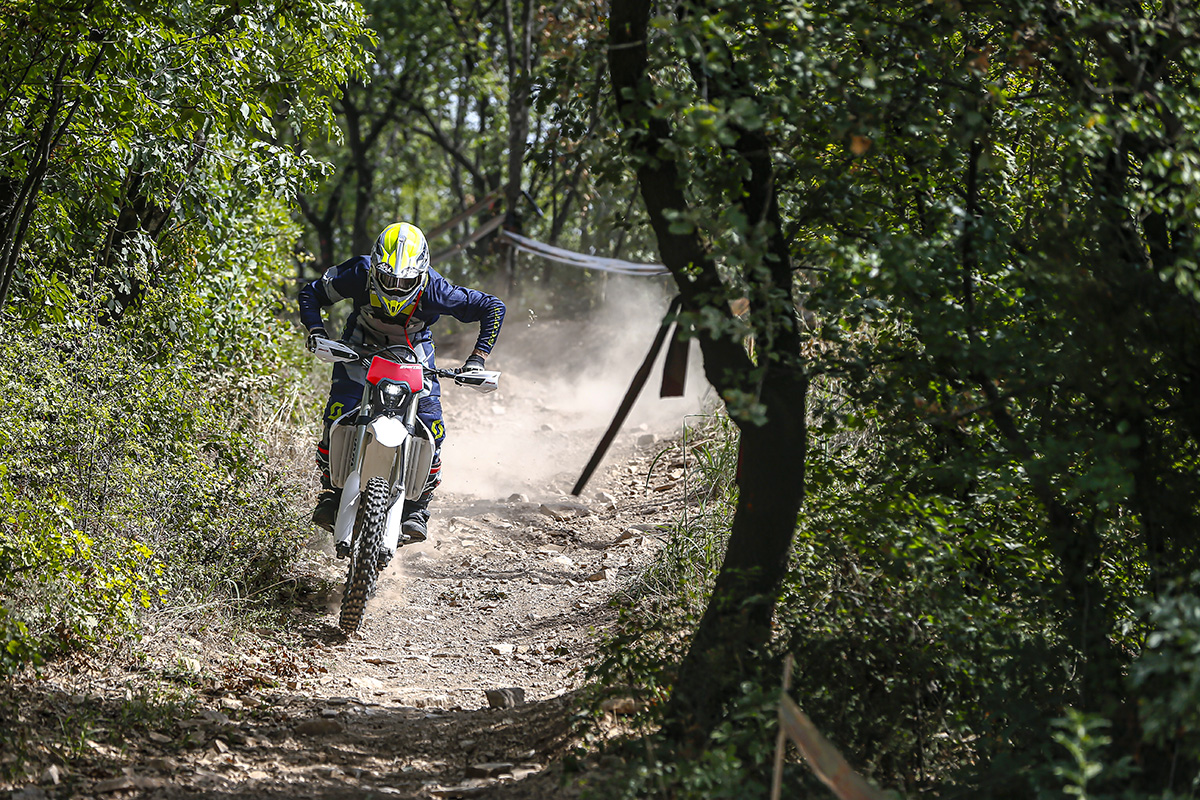 The test loops had a longer and shorter option which blended tight and twisty through the trees with a drop down into a basin for a gentle MX track before hoofing back up a long, rocky hill into the trees again. The test loops were good but not open enough for a 450 to stretch its legs and offered no let-up on the body either.
A couple of things quickly started to stand out, apart from the lack of stalling in tight turns (if you ride a WR, you'll probably know this one), like how well you can move around on the bike, despite this being a big 450.
The Fantics feel slimmer between the knees and when power delivery was strong on the tight track, it helped to be able to move around easily with so many horses readily there at your right hand.
You have options for taming that power with a power tuner app on your phone (not the Yamaha one but Fantic's own tune of the GET system) but ideally it'd be better with a switch on the handlebars for a softer map to make an instant change depending on riding conditions.
Calm down dear…
After about 15 minutes of riding and getting arm pump, when we calmed down, the XEF450 actually felt like it could equally make a nice trail bike to ride around on. Taking our first, long lap around the test facility, it was easy to feel the tempered throttle response at low revs and progressive power curve and just enjoy the ride.
The Yamaha chassis was set-up well for choppy conditions in the trees, although a little less rebound spring would have suited perfectly. Generally there is a good range for hitting jumps, bouncing up rocky hills or switchbacking through the trees.
Using just a couple of gears, it was nice to have the big power of 450 to ride lazy and when it came to a steep, very rocky uphill section, it breezed up. Even the old-school cable operated clutch feels largely no different to any 450 actually. Hydraulic? Who needs it?
Why no 350 four-stroke?
It was around this time in the test, a bit knackered from hauling the powerful 450, that it dawned that they should have made a 350 model.
Given Fantic's largely European-focused distribution of their competition off-road models, and the bare fact the biggest selling four-stroke enduro model on the planet is the KTM 350 EXC-F, why put effort into a 450 when a 350 would suit the needs of riders?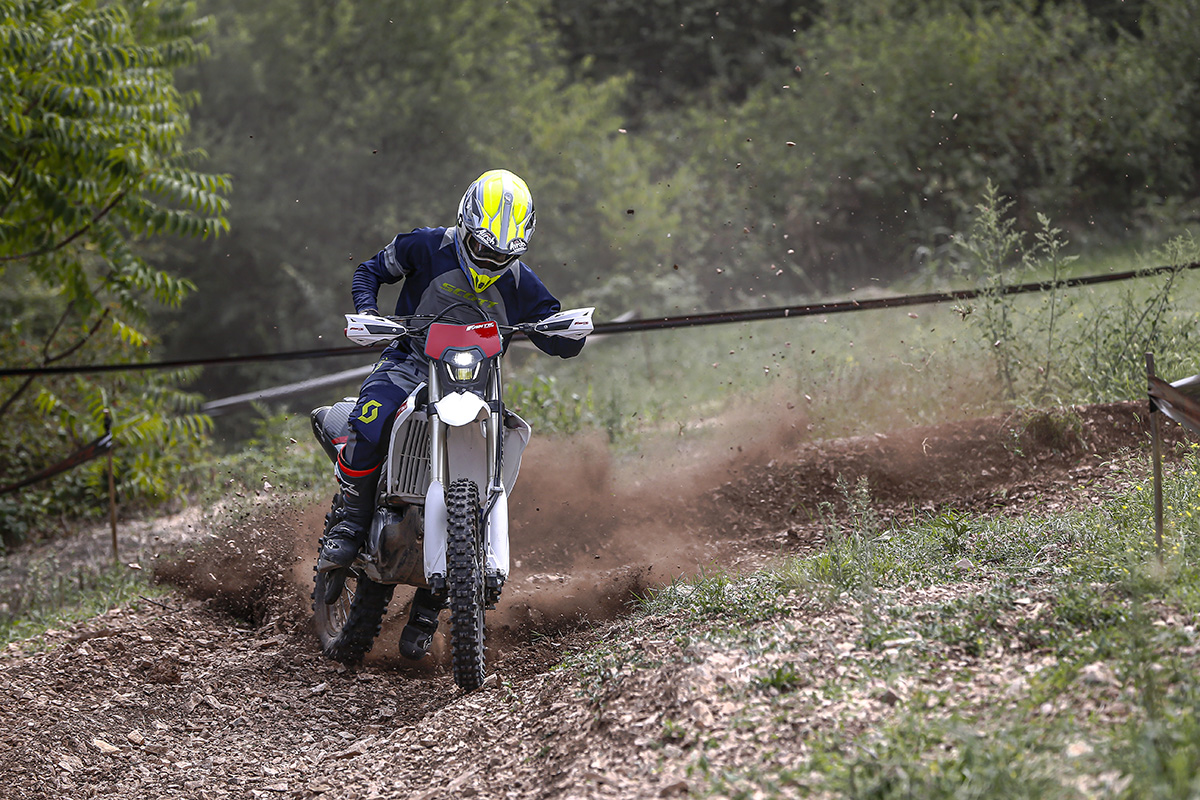 Sure, the basic XE and XEFs are built upon the Yamaha's established 'platforms' so it is an easy switch. But with the obvious expertise in the Mineralli factory, the development of the 250 F model already there (just a bigger bore size surely?) and with Italian specialists Athena in their pockets, an XEF 350 should be a shoe-in.
Fantic are developing a 300 two-stroke for production, maybe a 350 four-stroke should be next…come on Fantic.
Ripping the 125
Easily the biggest contrast of the day came after jumping off the big 450 onto the fizz-bomb XE 125. It's a little beast and as good a showpiece of Fantic's sporting credentials as you will find.
Compared to the YZ125 it derives from, the XE 125 is a ready-to-go enduro bike with lights, Euro 5 homologation, smooth but stronger power delivery thanks to a new piston, cylinder head, Keihin PWK 38mm carb, skid plate as standard, two maps (hard and soft), new air box, an Arrow exhaust system, plus a lighter and slimmer rear end.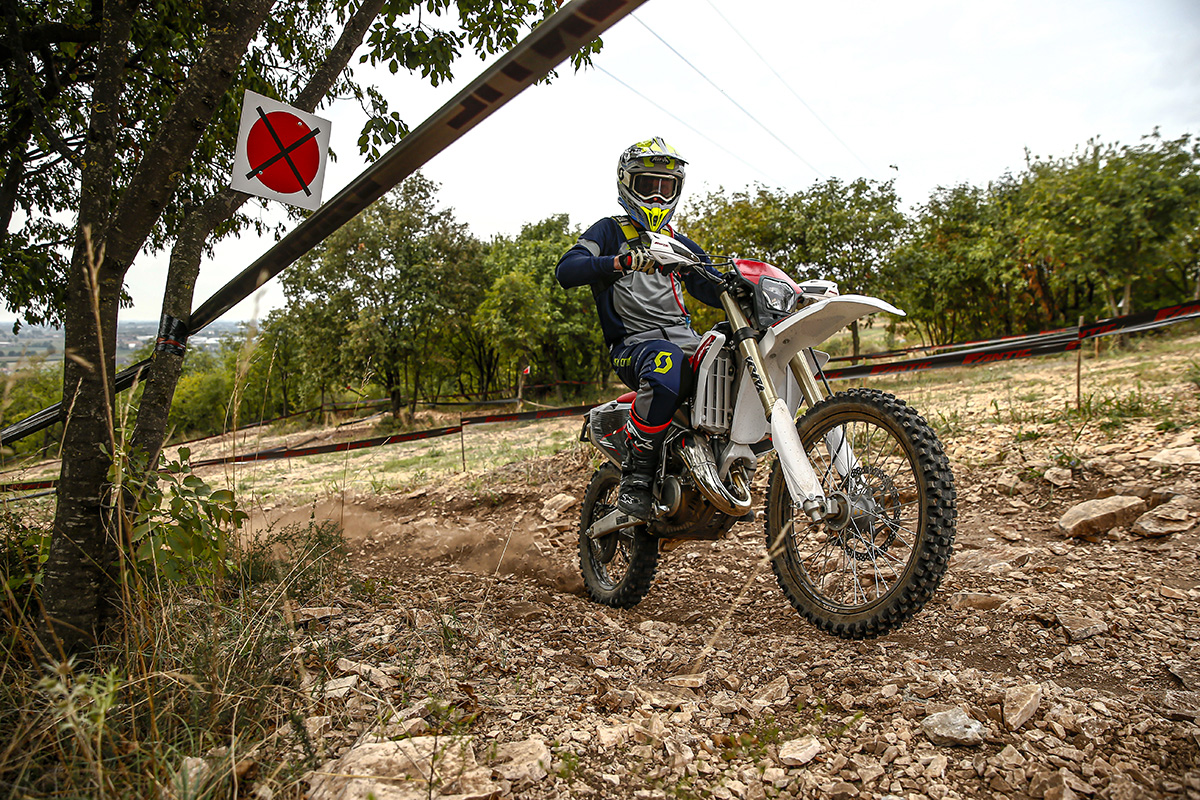 Fresh air(boxes)
Like all the 2023 two-stroke range, the XE 125 also has a new air box which helps pull more power out of the engine and is also designed to make filter changes much quicker and easier.
Check the list of updated top-end parts for 2023 and you definitely find a bike ready to go and win. Which is exactly what Albin Norrbin, Jed Etchells in previous years, and Harry Edmondson along with Kevin Cristino have proved in 2022 with solid podium strangleholds for two years straight now.
The plastics, including fuel tanks are Fantic's own, making the bike slimmer and easier to transfer weight than an equivalent YZ or WR.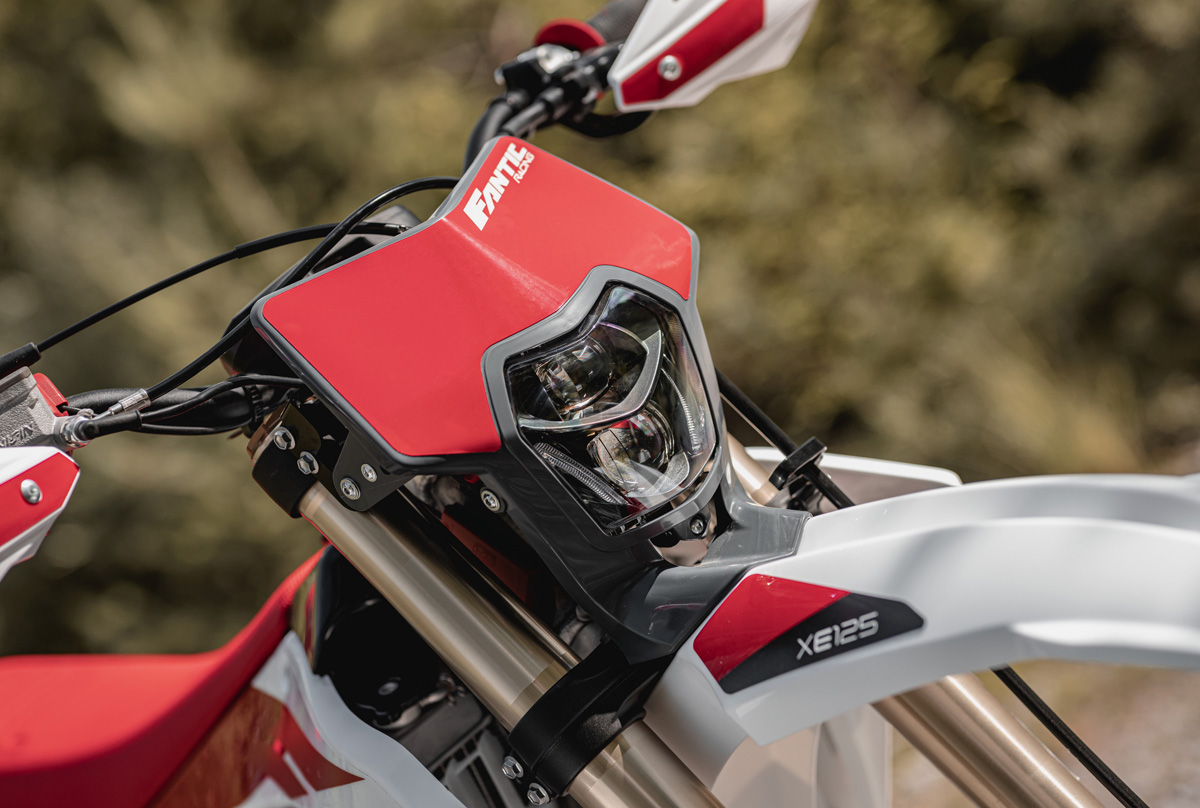 The other major selling point for the Fantic range, and one which they will point out to you pretty readily, is the spec of these bikes – the Arrow exhaust systems developed specifically for all Fantic models (except of XX 250 which gets an HGS front for '23, with an Arrow silencer) the Fantic developed GET electronics, the tuning to the top half of the 2T engines.
That redesigned cylinder, piston, connecting rod and a new Keihin PowerJet 38mm carburettor make "exploitable power even at low revs" add up. There's a spread of power you don't rightly expect from a 125 and whether you're used to one or not, the throttle pickup is crisp (so long as you're in the right gear) when you go for a blast of gas to lift the front wheel over a root or rock.
The higher spec is effectively like getting on a race-prepped Yamaha with a bunch of bolt-on kit added. The difference is a Fantic comes well kitted out already and it costs you less.
That KYB suspension feeling
For regular kinda riders like us, admittedly not so used to a baby smoker, the light weight of a 125 is a real bonus between the trees. After the 450 it felt like the proverbial knife through butter.
The KYB suspension was set up nicely and without the weight and power of the 450 hounding suspension and brakes, it was easier to hit lines and last the 30 minutes sessions without needing a lay down and have a massage.
Naturally XE125 works best of all when you are howling through the gears. It is a real blast…
It feels like there's very little to say about the KYB suspension which we haven't said many times. It remains the benchmark off-the-peg production suspension for enduro because the range of adjustment as standard suits more or less everyone.
Fantic has specified their settings differently for each XE model depending on weight and power and, though personally we'd have made a couple of clicker changes for this test track on the 450, the 125 and 250 F felt dialled. KYB kit broadly has that capability to suit a wide range of riders as standard without a visit to a suspension specialist.
Overall the riding position is a neutral one, distinguished from the Yamaha by feeling narrower, with footpegs in a pretty standard position and an ok bend of Domino bars as standard. The hot weather, a choppy track and the Domino grips did combine for some awesome blisters though, so possibly we'd be changing those if this were our own bike.
Fantic use the Yamaha brake components too, and, like the suspension, we have nothing to report except spot-on performance and consistency.
The old-school nut-locked adjuster on the front brake lever is a very minor niggle. Clicker manual adjusters, as from other manufacturers, would give you chance to change the lever position in an instant to suit your hand size or brake pressure as it gets warm.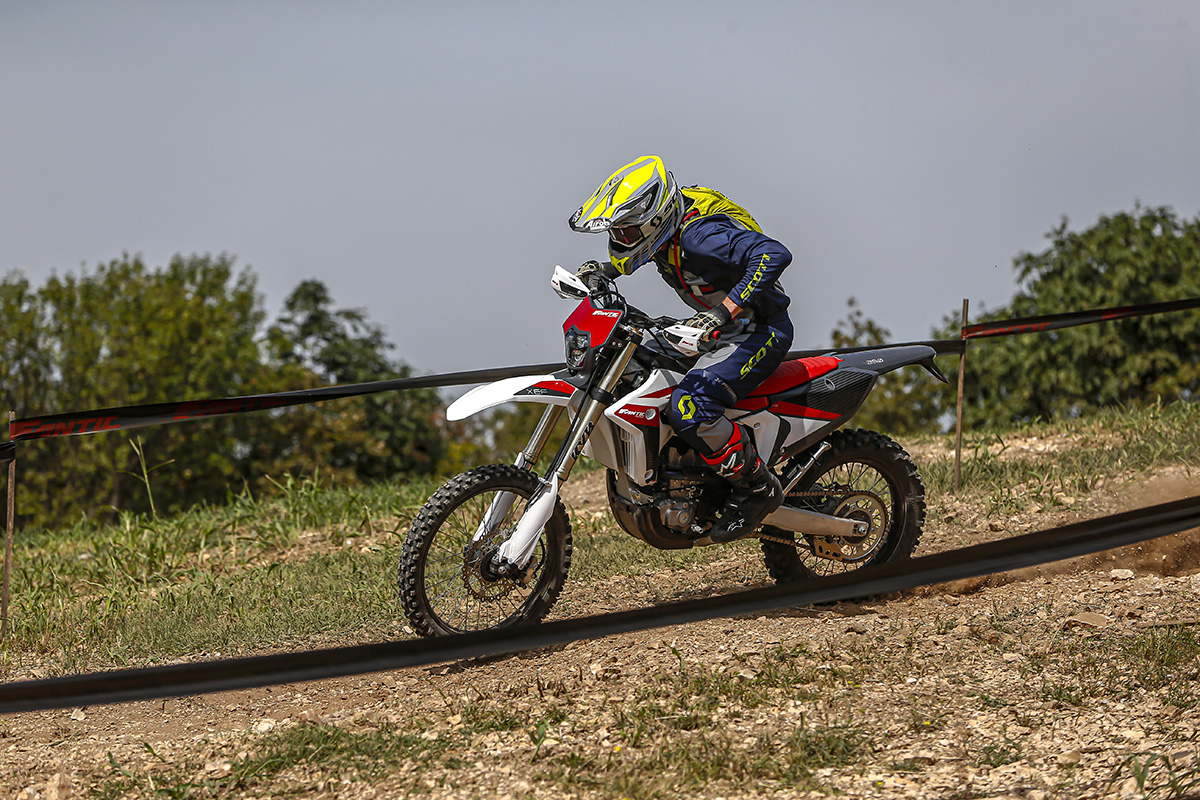 XEF 250 – Fantic's best enduro bike (at the moment)
Fantic's XEF 250 four-stroke quickly felt like the best of the three model range here and helped us get into the groove around the test track.
We hopped on the 250 four-stroke for the third and fourth sessions (we did seven, 30 minutes session in total) and with the extra torque compared to the 125 and ease-of-use compared to the meaty 450, it was instantly a lot more rewarding to ride. Fantic's own development of the power delivery actually makes it pull well and you'd be excused for checking it was a 250 not a 300 down there.
No longer fearful of opening the throttle on this hard-packed, rocky ground, the 250 dished up more confidence without having to work. That meant with all other things being equal – the riding position, the controls, the suspension performance – the XEF 250 was the trump card on this test track.
Like the 450, the CDI is completely developed by Fantic but while the XX motocross bikes have traction control, launch control and map options on the handlebars, none of this is yet there with the XEF models.
It would be good to have those options with all the Fantic models and not just the XX, motocross machines. Like a lot of what is going on here at Fantic, it is in development and this is where the racing programme will bring reward, in time.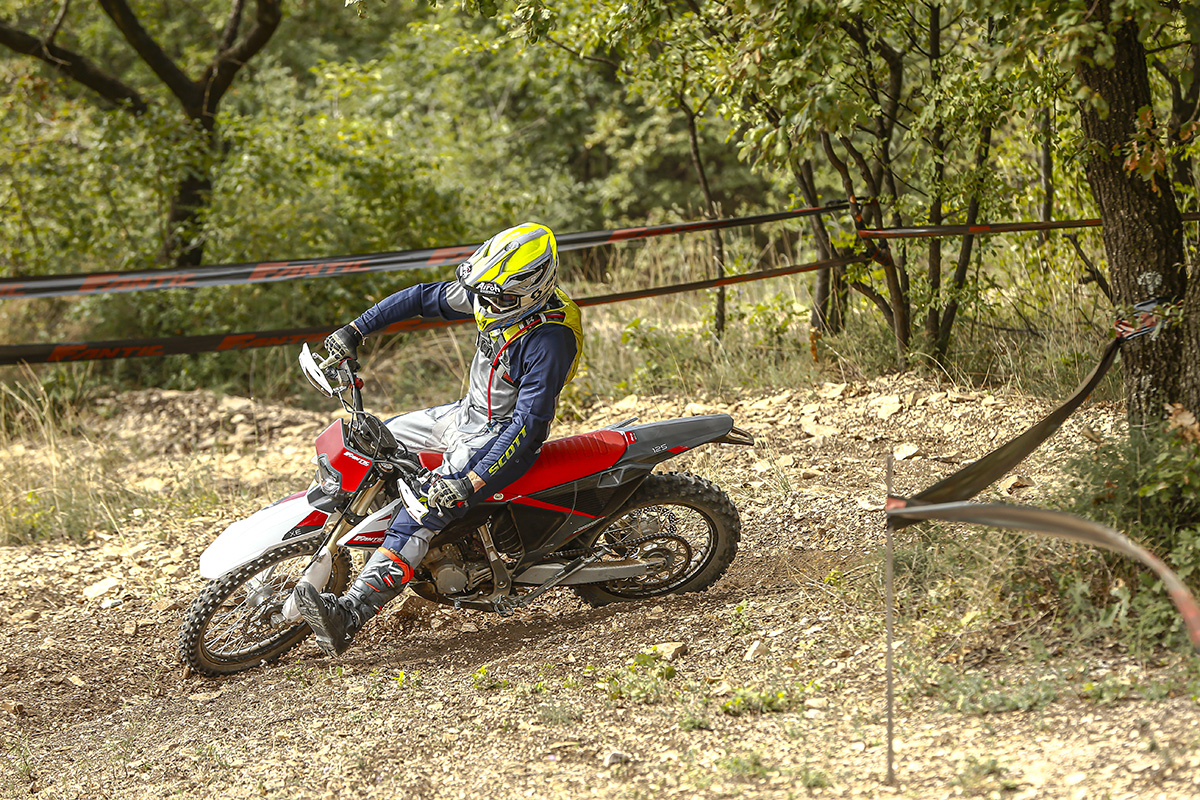 So how much of the comp bikes are actually a Fantic?
At present the four-stroke motors in the Fantic XEF 250, XEF 450, XXF 250 and XEF 450 are by and large Yamaha components. Fantic's unique input is the electronics and the ECU which they tune using Athena GET components.
The two-strokes though have a lot more Fantic genetics and the motors in the XE 125, XX 125 and XX 250, have a healthy dose of Minarelli input.
The bottom end (casings, crank, conrod etc.) are Yamaha but above is the handywork of Minarelli. The XE 125 also has addition Minarelli "alterations" in respect of the stator to run with a battery and lighting. The ECU's are designed and mapped by Fantic themselves and bear the Fantic brand name.
The XE 300 which we've seen in development and being raced by the factory enduro team is a different matter. The project began with the architecture of a YZ250 but, as the engineers joked while we snooped around the R&D workshop, it shares "two bolts and a sprocket" with the YZ motor.
It is possible they are stretching the truth a little, but that motor has almost become a clean sheet design and is very much a Minarelli creation. We just need ride the damn thing!
Get a better view of the prototype 300 two-stroke model in our Pro Bike feature: Pro Bike: Davide Guarneri's Fantic XE 300 two-stroke
What have Mineralli got to do with it?
Fantic's strong heritage is based in enduro and trials from the '70s and '80s and the link extends to Minarelli who were originally builders of their own bikes (including in Grand Prix road racing) since the 1950s.
Rotary valve two-stroke road racing bikes were their most successful piece of heritage but by the mid '80s they'd stopped making bikes themselves and concentrated on engines.
The first Fantic engines in enduro bikes were Minarellis but their best known and most prolific can be found in bikes like the XT660 and "the most sold engine across Europe", WR125, single cylinder 4T. The list of scooter engines across many manufacturers (MBK, Aprilia, Italjet, Beta) is as long as your arm too.
There's also a very saucy R&D department in the Minarelli factory which is responsible for the race team bikes (enduro, MX and rally) plus development for Fantic and Yamaha.
Good news is on the horizon with a new generation of 450 too. It will arrive with a bit more electronic control available to hand on the trail and hopefully we'll see it at the EICMA show in a couple of months. Before that a production 450 rally bike is also expected…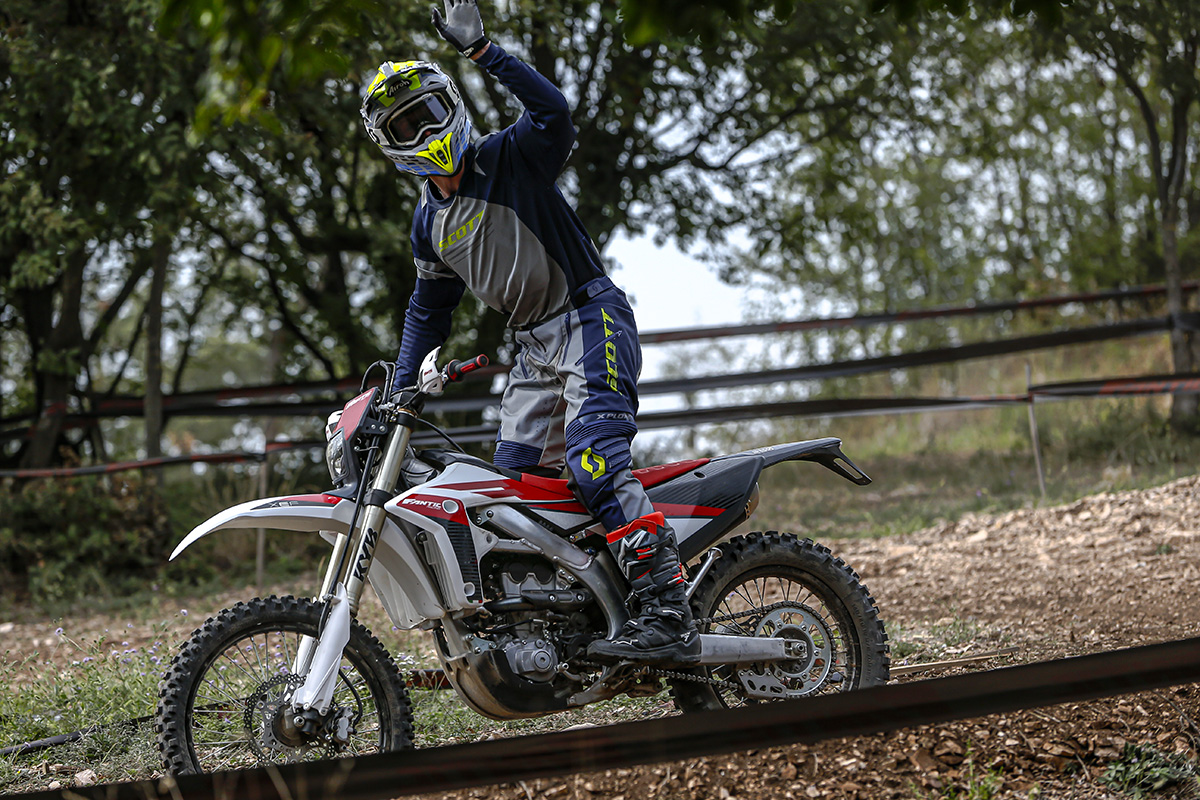 Photo Credit: Cristiano Morello