First look: Fantic announce XEF 450 Rally replica production motorcycle
Fantic Motor have revealed two new, "affordable" 450cc rally replica models: the XEF Rally and limited edition XEF Rally Factory production motorcycles.
Enduro21 has been sitting on this little gem of news for a couple of weeks since we attended the international launch of the 2023 enduro model range in Italy.
Finally we can let you know that Fantic has also announced that after something like two years in development, they are making good on their promise to produce rally-raid bikes for regular riders with the 450cc XEF Rally.
Fantic XEF Rally
"The XEF Rally is a real race bike" Fantic explain of their latest production bike which for a company which shouts loudly about its sporting heritage, is clearly a big deal.
This Euro5 approved machine is designed to make rally affordable they say and is built upon, but heavily developed from their Yamaha-derived 450cc single-cylinder, aluminium twin-spar frame, Kayaba suspension "platform".
The Rally model is distinct from the Factory edition (detailed below) with a slightly lower spec, which is most easily spotted with black versus red triple clamps (red is the Factory), hubs and red writing on the side panels.
30-litre fuel tanks are added and divided in two tanks, one at the back and one centrally around the engine. Navigation instrumentation is the comprehensive set-up required for rally-raid events and sits inside the plexiglass protective fairing.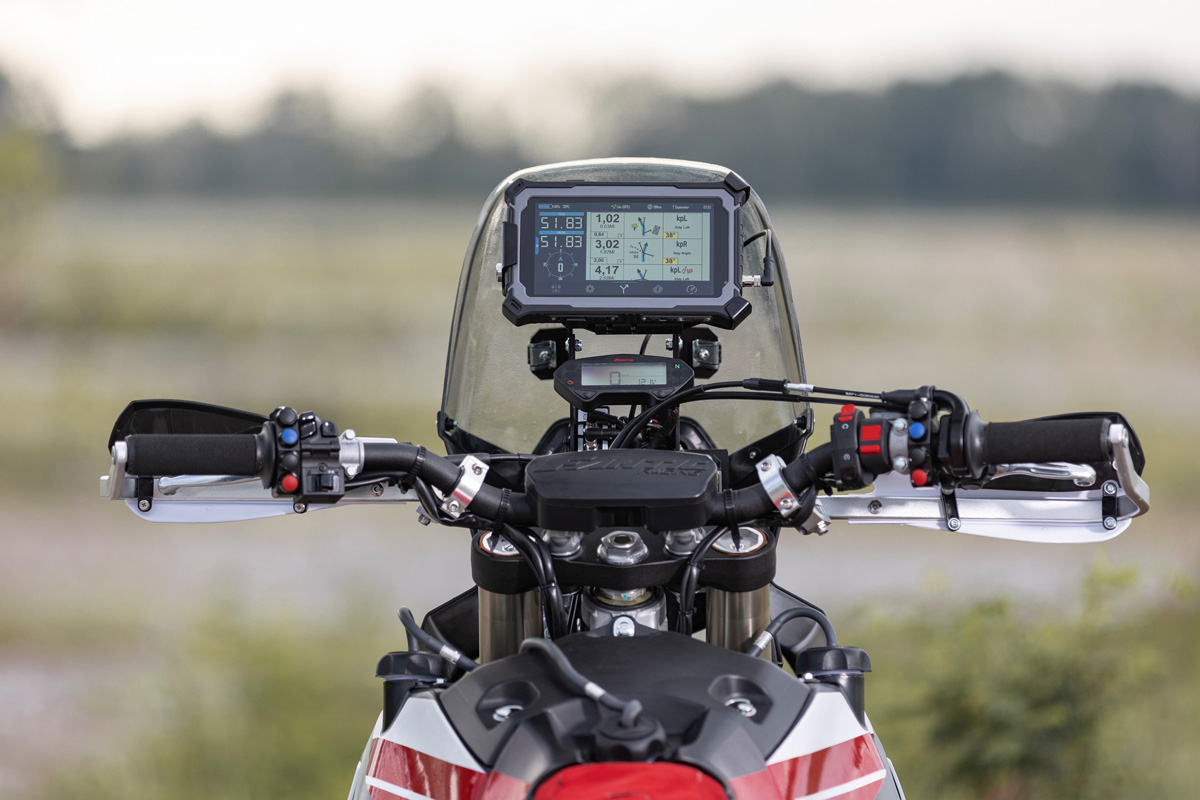 The 7" RallyScreen digital 'dashboard' as standard uses an Android operating system and is as easy to use as any smartphone Fantic say, meaning the rider can easily check GPS tracks, digital roadbooks and use any of the navigation apps on the market, either via the touchscreen or the two controls on the handlebar.
They say it is designed to be fully shockproof, dustproof, and waterproof (IP67 certificate), and switches on and off with the bike, plus it has an internal battery that allows you to programme itineraries remotely and away from the bike, like a tablet.
The XEF Rally uses a specially developed Arrow exhaust system, enlarged 300mm front brake and specific suspension development inside the KYB forks and shock absorber.
Fantic XEF Rally Factory special edition
Fantic also announced the exclusive "launch edition" version of the XEF Rally produced in a limited edition run of 50 and very much a competition-ready bike.
That includes race instrumentation including a strong steel and aluminium structure designed to support a professional roadbook and trip master for orientation in any competition.
It also features roadbook controls on the handlebar and is preconfigured for an additional tripmaster should you be heading for major events which require one.
The front-mounted oil radiator, for maximum air flow, and the enlarged oil filter with an additional tank which improves lubrication in extreme weather conditions.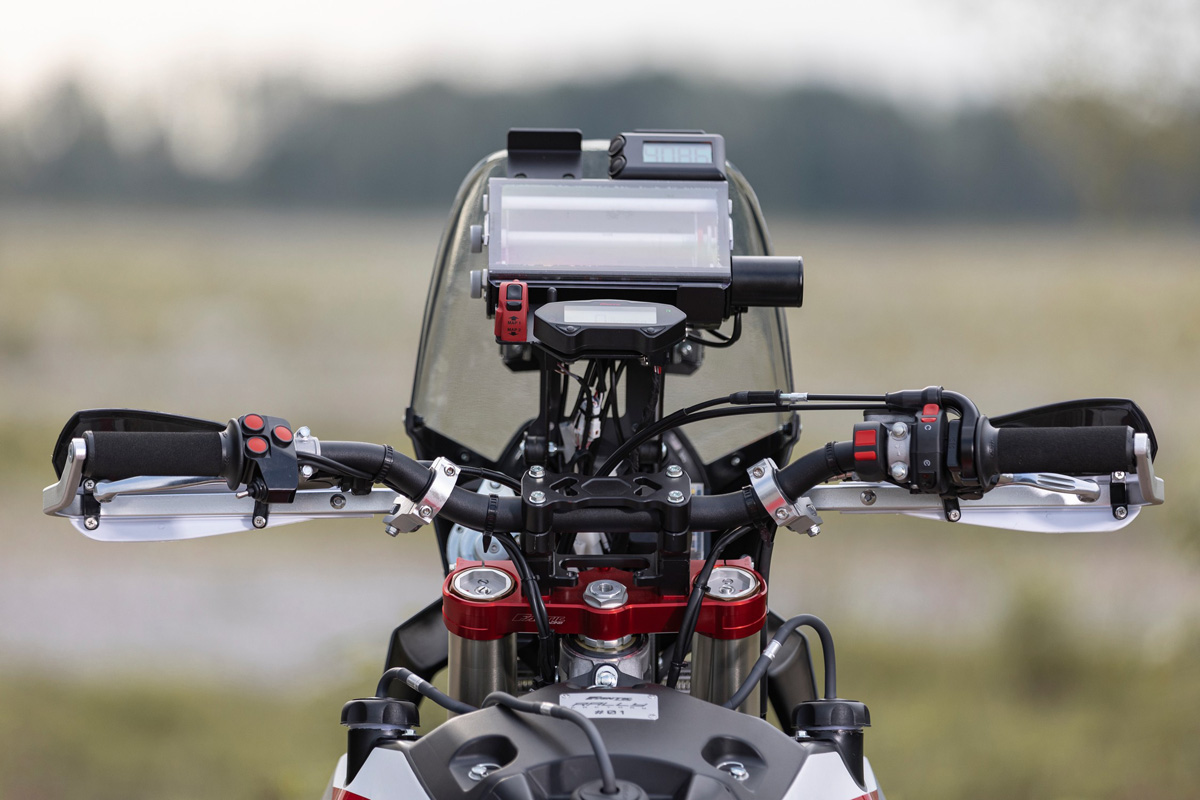 Triple clamps and wheel hubs are made from billet and CNC machined for more rigidity and to improve steering "precision and direction". The rear hub has a sprocket support (cush drive) to soften the reaction from the 450 twin cam engine. Fantic's R&D department has also developed their own hydraulic steering damper plus other details like the footpegs.
The Arrow exhaust system on this bike is full titanium which improves performance and weigh 1.5 kg less.
Fantic XEF Rally Factory bikes are made with a number tag that makes each one unique and are offered with a competition kit which includes a 144 litre trolley toolbox and a Fantic jersey...
Fantic XEF Rally and Factory technical specifications: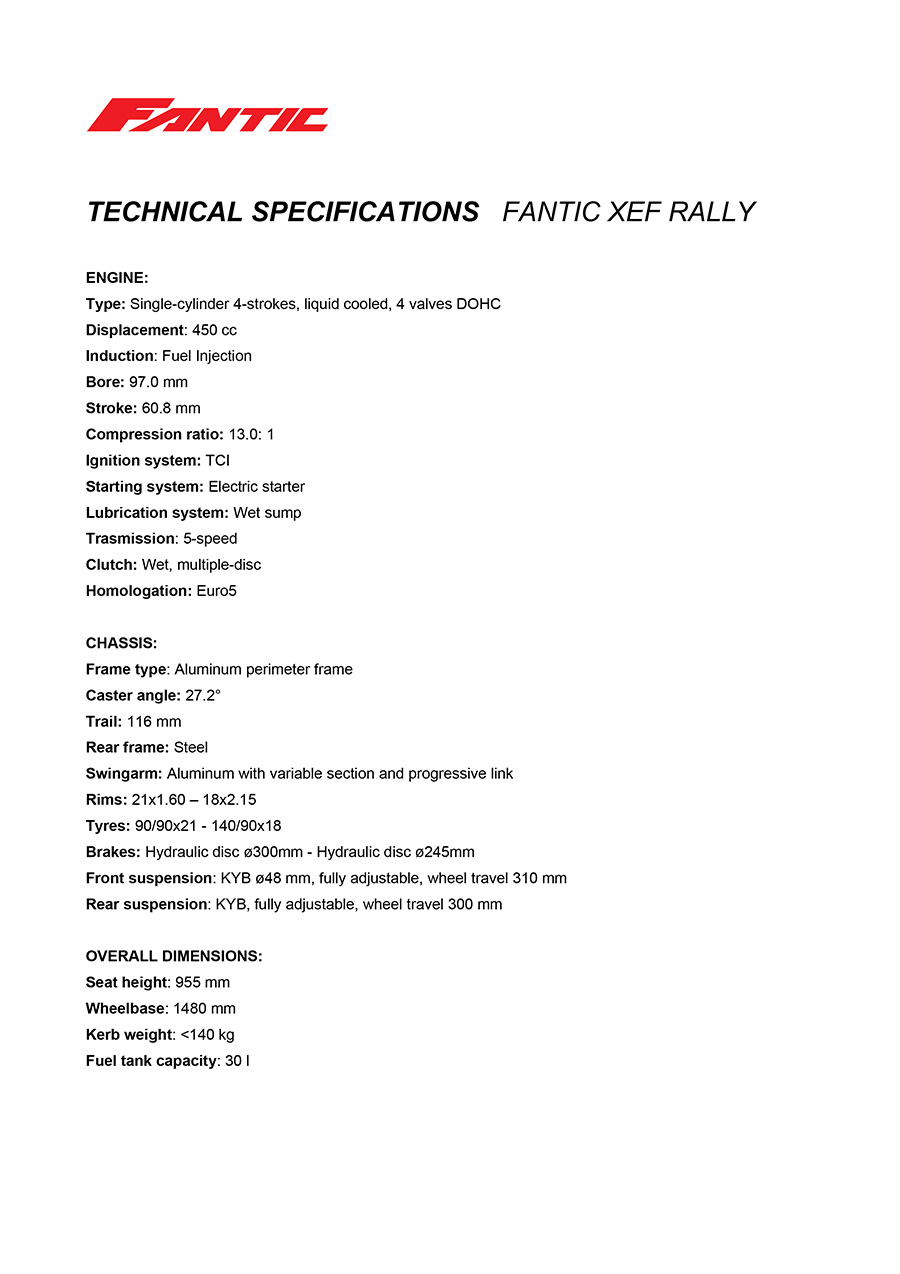 The Fantic XEF 450 Rally and Factory models are designed, built and developed by the Minarelli (Fantic owned) factory and very much an in-house production.
The XEF Rally has the Yamaha 450 chassis and engine as a "platform" but a lot of R&D takes it very far removed from the Japanese origins. It's the most Fantic Fantic we think we've set eyes upon.
They say the bikes will be available from November 2022 but have not yet set a price. These should appeal to many riders out there who either cannot get hold of, or don't want to opt for, the otherwise popular and fit-for-purpose KTM/Husqvarna/GASGAS rally replicas which have become the go-to bikes for privateer rally-raid competition riders.
There are also many stand-alone rally events like the Hellas and baja-style races across the planet which will suit the XEF Rally, especially if they are more "affordable" as Fantic say.
Check the video: