First look: Honda RedMoto's 2023 CRF RX Enduro range
Honda RedMoto reveal their 2023 CRF RX enduro model range including their biggest selling 300cc version and four, upgraded Special Editions.
There are worse ways to start off a regular October Tuesday than gawping at shiny new bikes. Honda's European enduro arm RedMoto, the official Italian home for enduro world championship racing activities and homologated enduro bikes, have announced their 2023 model range:
CRF 250RX Enduro
CRF 300RX Enduro
CRF 400RX Enduro
CRF 450RX Enduro
All four models are also available in Special Edition versions with upgraded parts list – see below for more.
New 450 for '22
The focus for Honda's 2023 CRF model range was largely on the 450 which RedMoto evolves further still with their EnduroGP and ISDE winning experience care of Nathan Watson.
They say "significantly more lowdown torque" from the '23 engine means smoother power delivery to improve cornering exit drive and control. Honda's new intake ports, a longer air funnel, smaller diameter throttle body and revised cam timing all contribute.
The frame stiffness and the revised suspension settings mean for improved braking stability, faster cornering, more front tyre grip feel and better control overall, Honda claims.
Read more about the 2023 Honda CRF 450 RX model: First look: 2023 Honda CRF450RX
The CRF 400RX is derived from the 450 model but with a smaller piston, cylinder and fresh ECU settings and overall follows the upgrades made to its big sister but trades on a softer touch from the throttle with a more "fluid delivery" of power from low revs thanks to a slightly smaller bore size (92mm) and 0.5 less compression.
Biggest selling models – the 300RX and 250RX
Mechanically unchanged, the 2023 CRF 250RX is still the most powerful Honda 250 ever thanks to the development of the cylinder head on the '22 model. That brought significant increases in torque at low engine speeds, plus improved radiators for better cooling efficiency.
The clutch upgraded to a nine disc set-up, while the stronger gearbox has new calibrated ratios. Showa suspensions are perfectly tuned for enduro use and adapt to different types of terrain.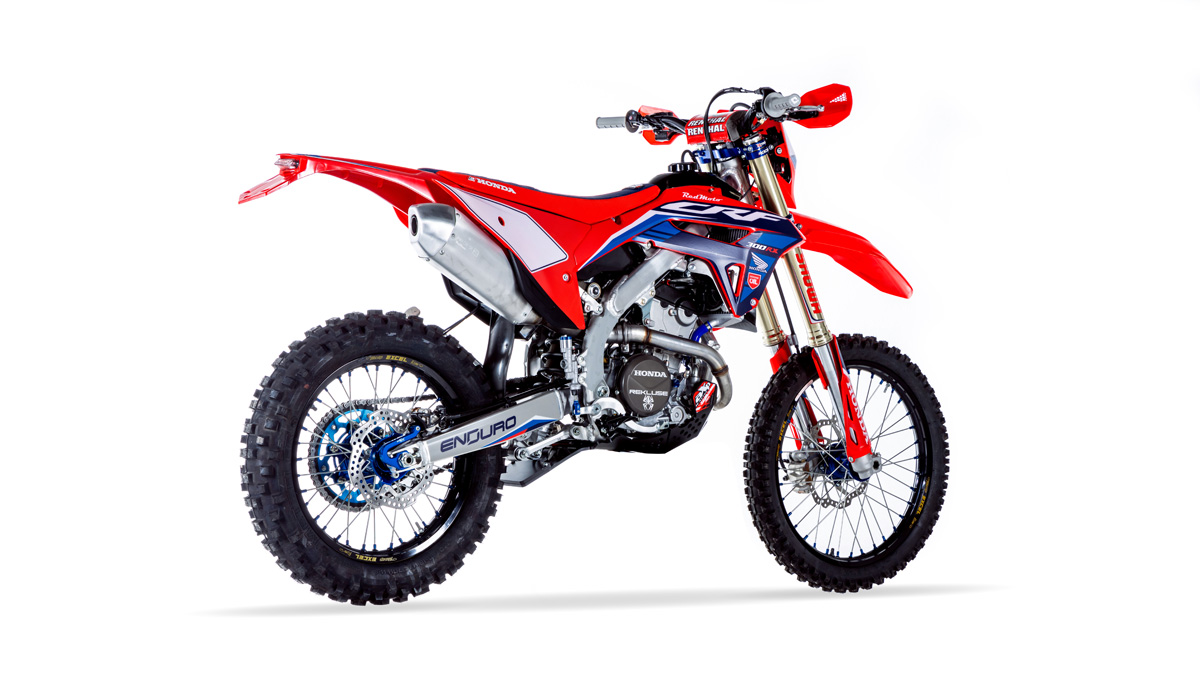 The new CRF 300RX is the best-selling of the Honda Enduro range. A "reference point for amateurs who want to combine a super light bike with an explosive delivery" RedMoto say. We say it is simply the right balance of weight and power for enduro.
It has bigger bore size for 10% more power and 15% more torque RedMoto claim. It's enough to make a difference and when Enduro21 has tested the bikes, we've loved this model.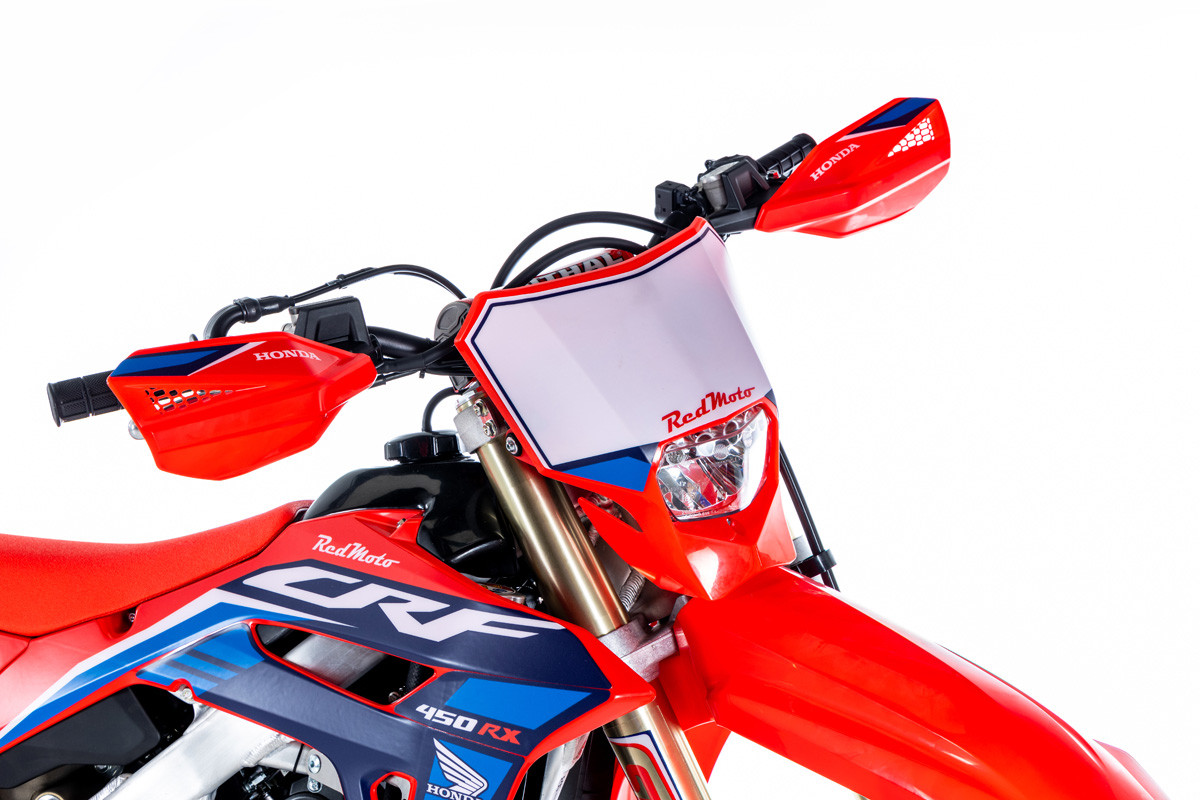 RedMoto's enduro models upgrade the stock RXs with a 7.3 litre fuel tanks, Metzeler Six Days Extreme tyres as standard in 90/90-21 front and 140/80-18 rear sizes. They fit a full LED lighting system, a sturdier rear mudguard which has integrated support for the registration plate holder, that also increases the resistance to the impacts they say.
Cool blue colours set the RedMoto CRFs apart
All of RedMoto's new models receive a make-over with fresh blue graphics to complement the Honda lines of the CRF Enduro model. The Special Edition bikes go bigger on the blue look with anodised special parts (check the parts list below) to upgrade the stock Hondas.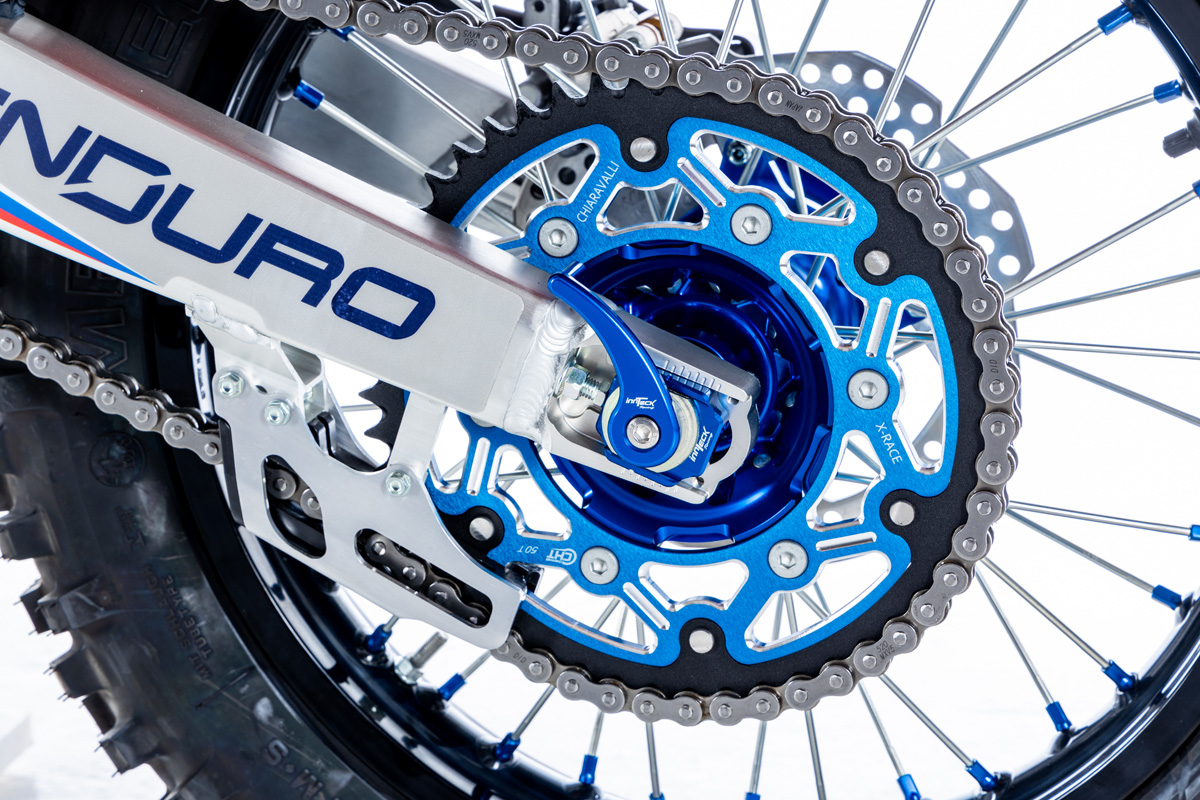 Additional parts on the special edition models includes: CHT steel sprocket, anodised stronger Kite hubs, X-Trig ROCS triple clamps, coolant hoses, AXP sump guard, InnTech anodised parts (axle pullers, chain adjuster blocks, oil fillers etc.) Rekleuse clutch cover.
Other upgrade options are available including exhaust systems, check with RedMoto if you want more.
Who are RedMoto? They are not only responsible for (Euro 5) homologating the Honda RX range in Europe, they also expand the line-up to four with their own 300, 400cc versions. All bikes are built in-house using the race team for all R&D including development of those unique 300 and 400cc model engines.
2023 Honda RedMoto price range: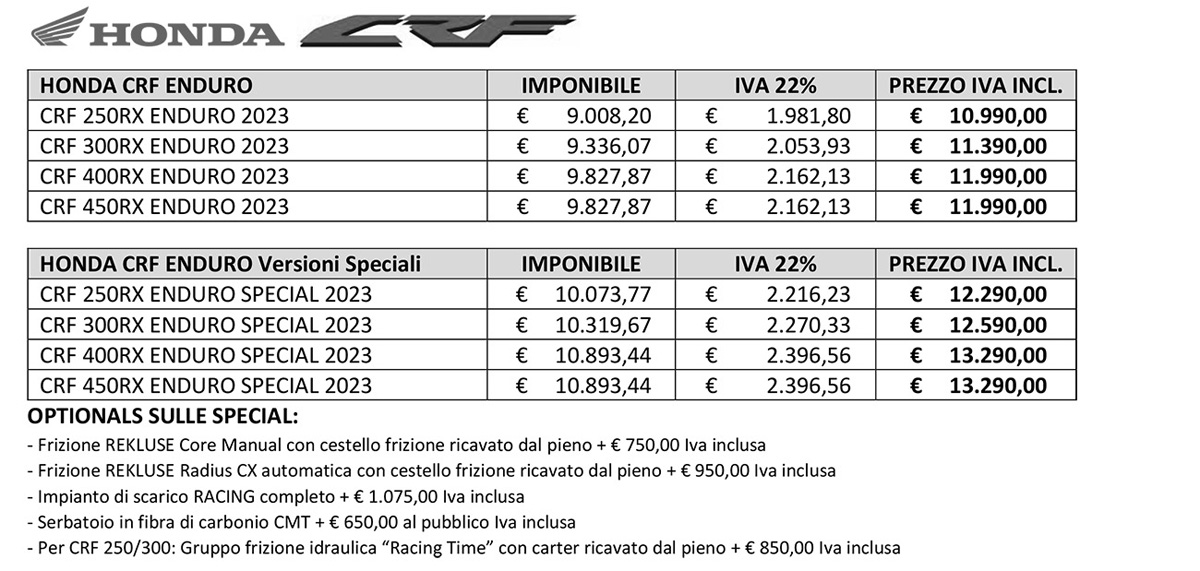 More information: www.redmoto.it