First look: 2023 Honda CRF450RX
Honda has announced the 2023 CRF family model line-up including a 50th Anniversary edition motocross and with the CRF450R and CRF450RX headlining the new model range boasting more usable power, a stronger muffler and chassis upgrades.
HRC rider feedback from the FIM World MXGP, AMA Supercross and Pro Motocross championships has steered the direction of CRF450R development. As a result, the 23YM CRF450R and CRF450RX are easier to rider faster, for longer.
CRF450RX (and CRF450R) updates in a nutshell:
HRC factory rider chassis set-up and engine changes that make them easier to ride faster, for longer
New intake ports, air funnel, throttle body, valve timing and ECU settings deliver over 10% more torque @ 5,000rpm and extra, smoother power at low rpm
New rear muffler now made of tougher aluminium, at no extra weight
Revised frame rigidity matched to new, rear Showa shock setting deliver extra traction and drive
49mm Showa forks also feature revised damping
23YM CRF450R 50th Anniversary edition marks half a century of Honda's MX journey
Striking new 23YM graphics including brand new HRC logo
Two-year cycle of updates from Honda
Unlike many other manufacturers in recent years, Honda is following the two-yearly cycle of development with consistency. The '23 CRF450R and RX models get updates underpinned as ever by factory rider feedback and which alos follow a familiar pattern of making going faster for longer, easier.
"Revised rigidity" for the frame increases in rear damping force without unwanted stiffness Honda say plus the new machine (compared to the 22YM) is more stable and turns faster with better suspension reaction and bump absorption.
Updates to the engine mean it now produces more low-rpm torque with smoother power delivery in part due to new intake ports, a longer air funnel, smaller diameter throttle body and revised cam timing as per factory race bikes. The rear muffler has also been made more durable plus all bikes feature new graphics.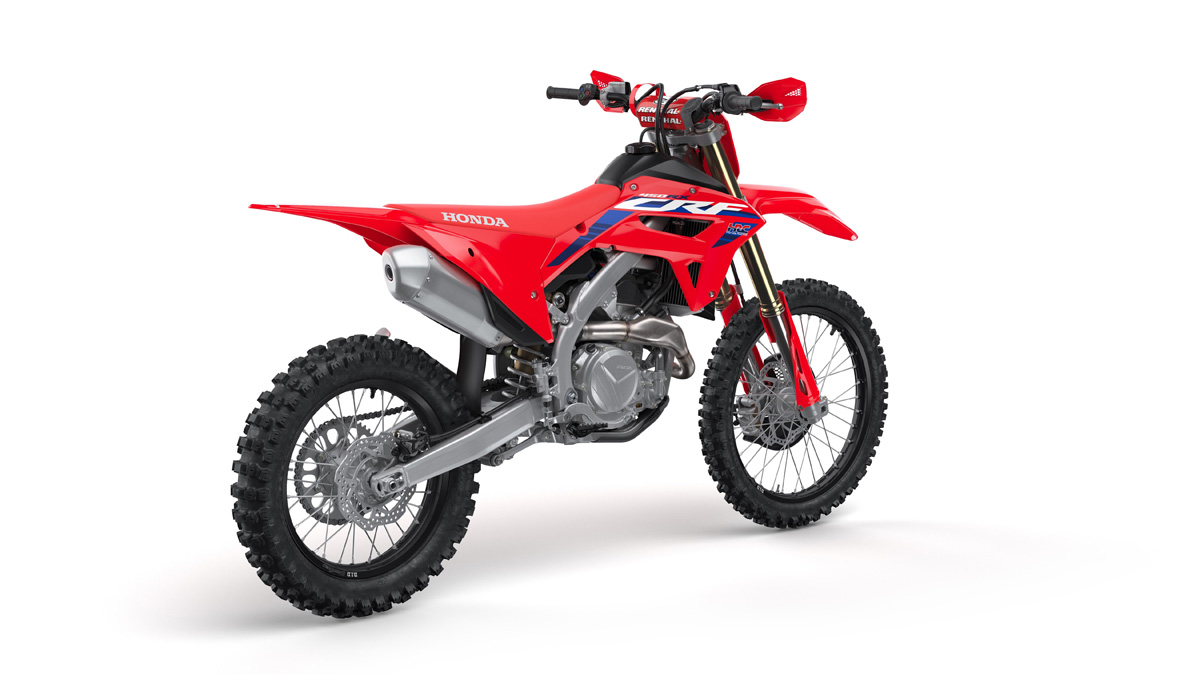 2023 CRF450RX (& CRF450R), the details:
Honda say detail adjustments to frame rigidity along with revised suspension settings make the bike basically more efficient. Here's what Honda have to say in detail:
The front downtube/cradle joint now uses 6mm wall thickness (rather than 4mm); likewise, the upper shock mount is now also constructed from 6mm wall thickness (also up from 4mm). Steel cylinder head hangers replace the aluminium parts used by the 22YM machine to work with the frame's new rigidity setting which means front tyre traction is improved.
It's not simply an MX machine with a side stand…
Although it is clearly based upon the CRF450R, settings are specific to the CRF450RX to meet the different purpose. Given the wider variety of terrain and conditions the RX will cover compared to the MX machine, and to match the new frame 'tune', the suspension and chassis feature adjustments as you'd expect.
The rear shock features increased compression and rebound damping to improve feel and drive, especially in rutted conditions where it feels less stiff Honda says. There are 11 adjustment positions for rebound and six for high and low-speed compression in the rear suspension. Oil volume is 421cc. The aluminium swingarm is 585.2mm long and works the shock through Pro-Link.
The Showa 49mm USD coil spring fork is actually based on the 'factory' unit supplied to MX race teams in the Japanese championship. It employs a 310mm stroke with 396cc oil volume and 13 adjustment positions for rebound, 15 for compression; damping settings have been revised to increase rebound and slightly reduce compression.
Rake and trail are specific to the RX and set at 27°2'/115mm with 1477mm wheelbase. Ground clearance is 334mm. Dry weight is 107.6kg with a 49/51% front/rear balance.
Renthal Fatbars
Renthal Fatbars are standard fitment on the CRF RX machines and the top yoke features two handlebar position options for moving the handlebar rearward and forward by 26mm. When the holder is turned 180°, the handlebar can be moved an additional 10mm from the base position, resulting in four unique riding positions.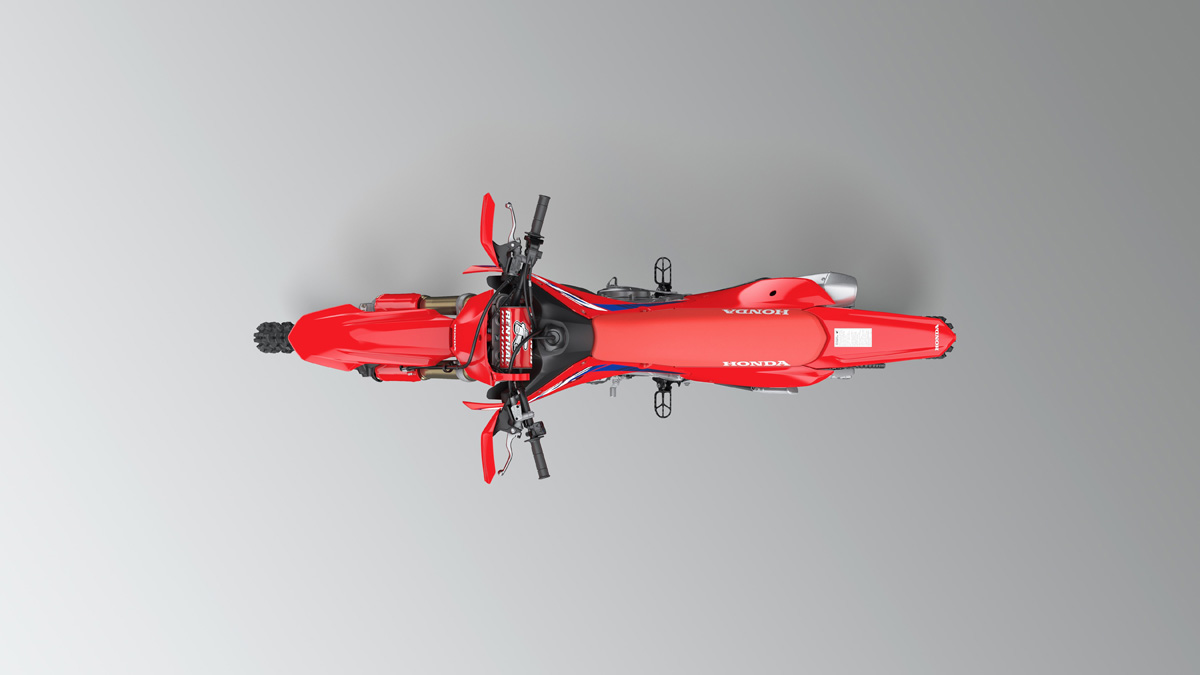 Roost guards are standard also as is the forged aluminium sidestand and 18-inch rear wheel of course. DID aluminium rims house Dunlop's enduro-ready AT81 Geomax 90/90-21 front and 120/90-18 rear.
10% more mid-range, less peak power
A much heavier low-range punch is the "development direction" of the 23YM 449.7cc four-valve Unicam CRF engine, to make getting off a corner much quicker and easier they say. Maximum torque remains as before, but at 5,000rpm there's an extra 10.7% to make use of higher gears, reducing fatigue. The engine also starts making more power in the lower rpm range, with a 5% reduction at absolute peak.
To generate the stronger bottom-end torque the air funnel (a part directly from the CRF450RW HRC race machine) is longer, and intake port shape narrower, increasing gas flow. Likewise another HRC-developed part now is a 44mm diameter throttle body (2mm smaller) smoothing power delivery low-down. New valve springs and valve timing are direct result of feedback from HRC's factory riders and the spec. they themselves use.
New standard muffler
The new exhaust muffler is constructed from heat-treated aluminium to better withstand contact from the rider's boot Honda say. Testing to prove its ability to resist distortion took place with impact from a 2.2kg weight travelling from 600mm away.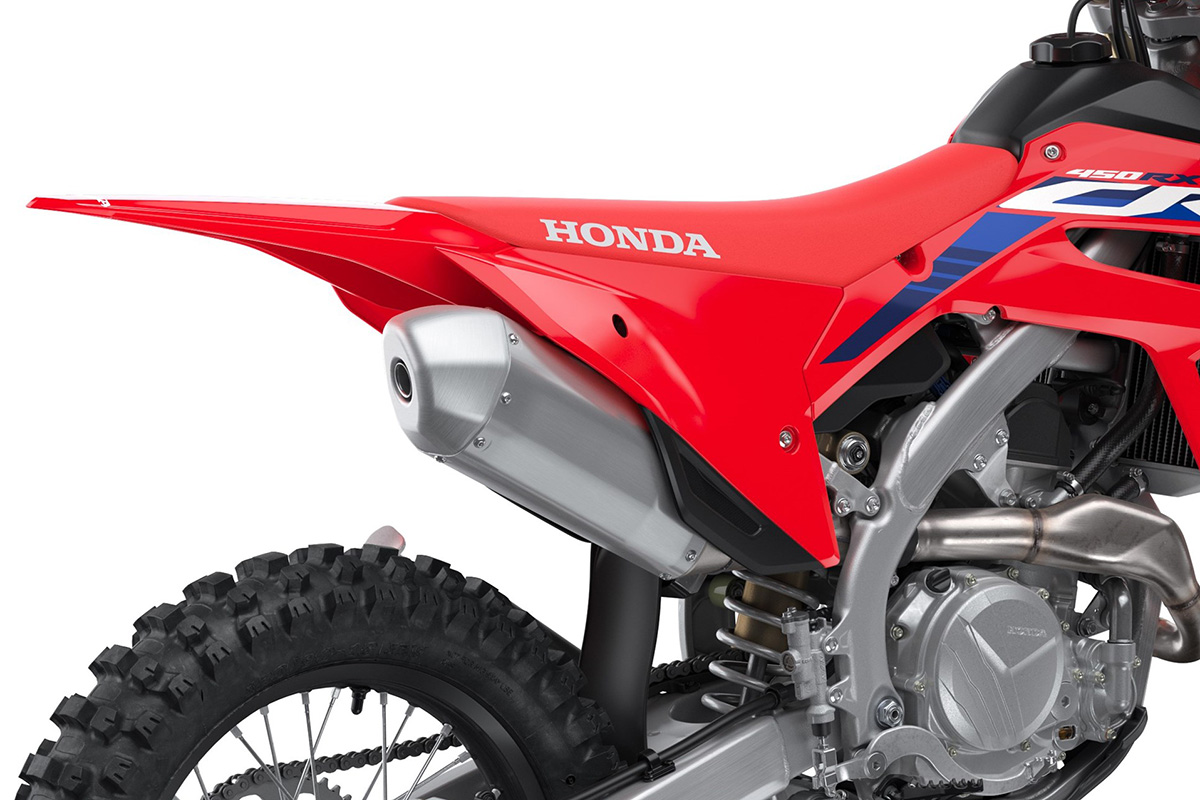 After five strikes they say there was very little deformation compared to the 22YM design. Importantly, the material itself (and heat treatment) ensure zero weight gain.
Bore and stroke is the same at 96 x 62.1mm with compression ratio of 13.5:1. A gear position sensor allows the use of three specific ignition maps for 1st and 2nd, 3rd and 4th, and 5th. An 8-plate hydraulic clutch gives outstanding control and feel at the lever as well as delivering consistent lever clearance under arduous riding conditions. It also reduces slippage at peak output.
Electronics detail remain the same with Honda Selectable Torque Control (HSTC) giving three riding modes (plus OFF), three HRC Launch Control options, three Engine Mode Select Button (EMSB) maps to adjust output character and the HRC Setting tool to allow tailoring of the aggressive and smooth modes.
Nissin brakes
Up front, the twin-piston Nissin brake caliper employs 30 and 27mm diameter pistons biting a 260mm wave-pattern disc; along with low-expansion rate brake hose it gives both a strong feel and consistent staying power. The single-piston rear caliper runs on a 240mm wave-pattern disc.
New bodywork
Designed with Computational Flow Dynamics (CFD) the bodywark requirtes just eaight bolts to remove it completely, is designed for maximum through-flow of air, has a one-piece radiator shrouds, and an eight litre (2.1 US Gal) plastic fuel tank.
For 23YM, the CRF450RX features an all-new graphic treatment which includes the new redesigned iconic HRC logos which have been introduced as HRC's activities.
2023 Honda CRF450RX Technical Specifications:
Liquid-cooled, fuel injected, 449.7cc, four-stroke single cylinder
96.0mm x 62.1mm bore and stroke
13.5: 1 Compression Ratio
8 litres (2.1 US gal) fuel capacity
Digital CDI with electric start
Wet type, 8-plate clutch
Constant mesh, 5-speed
Chain final drive
Aluminium twin tube frame (2,174 x 839 x 1,280mm)
1,477mm Wheelbase
27.2° Caster Angle
115mm Trail
961mm Seat Height
334mm Ground Clearance
107.6kg dry weight – 113.6kg wet (claimed)
Showa 49mm USD front fork
Showa monoshock using Honda Pro-Link
DID aluminium, spoke wheels
90/90-21M Dunlop Geomax AT81F front tyre
120/90-18M Dunlop Geomax AT81 rear tyre
2-piston, 260mm disc Nissin front brake
Single piston 240mm disc rear brake
What about the 2023 Honda CRF250RX?
The long and the short of it is the '23 250 models in the CRF range have not changed. That's simply because they saw big changes aimed at make going fast easier and reducing rider fatigue last season.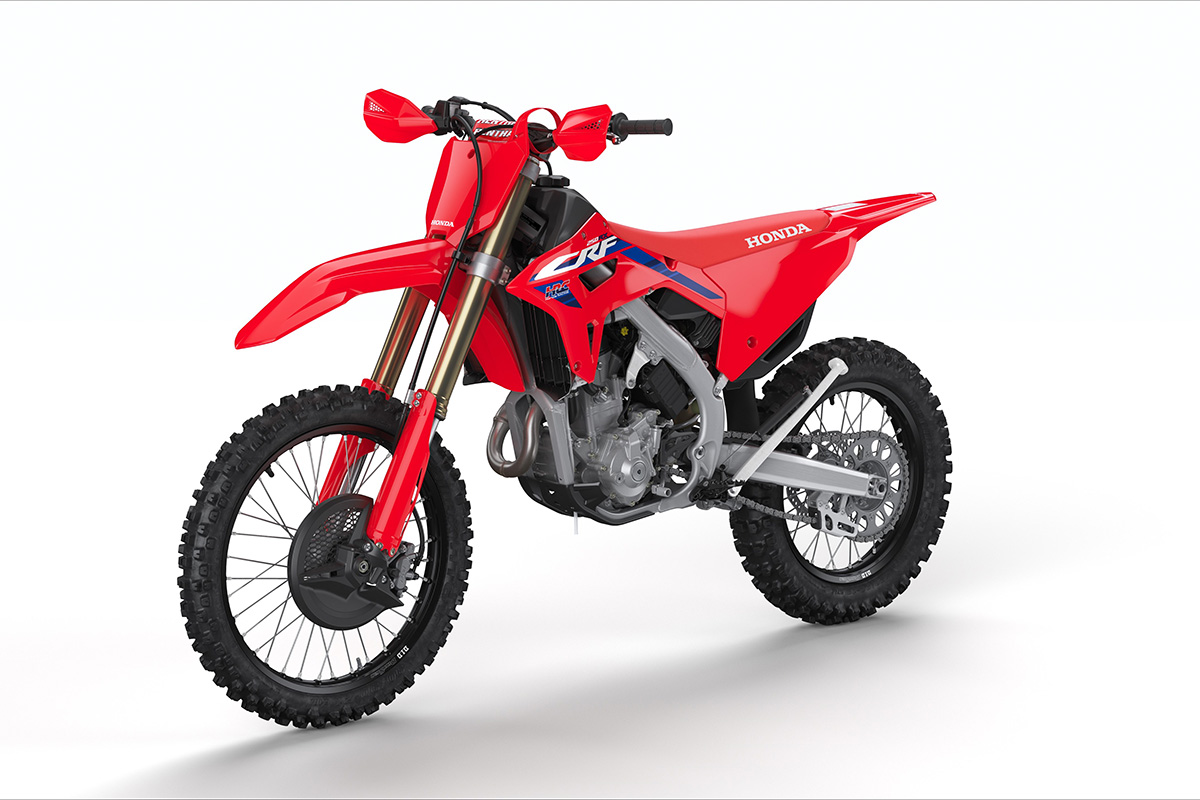 A full 3kg lighter than the previous year, the CRF250RX saw revised frame and swingarm rigidity – combined with tighter chassis geometry and increased ground clearance – to improve performance and ease handling. Showa suspension also underwent new valving to improving bump absorption, traction and control.
Engine performance saw an extensive revision to both intake and exhaust efficiency to improve low-rpm drive. High-rpm cam timing accuracy was also a focus alongside long-term reliability, plus a nine-plate clutch and a stronger gearbox with new ratios.
Find the full details in our separate story: First look: big changes for 2022 Honda CRF250RX
More information including availability and prices in your country: