Tested: What's so good about KTM's 350 EXC-F WESS Edition?
Enduro21 has been clocking some hours on this KTM EXC-F 350 WESS Edition – our latest 'test mule'. Along with our first riding impressions, we've taken a look at how it compares to the stock 350 EXC-F and which bolt-on parts make the difference for Cross-Country action.
To say this bike had a slow start to its life with Enduro21 would be an understatement. It arrived with 15 hours on the clock (having been a promotional test bike over in Austria, some guy called Lettenbichler had been riding it apparently…) and basically it sat under a blanket, locked up for two months due to lockdown restrictions on riding.
It was a bloody nightmare to have such a good-looking bike sat under a blanket and no chance to ride it. When that period finally came to an end and we were let out we (and probably the 350 too) were like spring lambs in the sunshine, wagging our tails and skipping all over the field.
Now we've calmed down a bit, put some hours on the bike and scuffed the plastics a little, here's the first 'tested' riding impressions of KTM's latest special enduro model.
Twist of fate
The first card to hold up here is a big one. When the model was launched KTM did not know that a) Covid would affect the 2020 season so drastically and b) that in fact the WESS Championship would morph into the new Hard Enduro World Championship and 'WESS' would be no more. It was a double bubble turn of events that made this bike kinda obsolete before we'd even turned a wheel.
The reality is it didn't make a jot of difference because the limited run of 350 WESS models already sold out.
KTM has history
The concept is simple and a tried and tested one for KTM. The 350 WESS model stands alongside the Erzbergrodeo edition EXC 300 TPi two-stroke and also the many ISDE editions over recent years.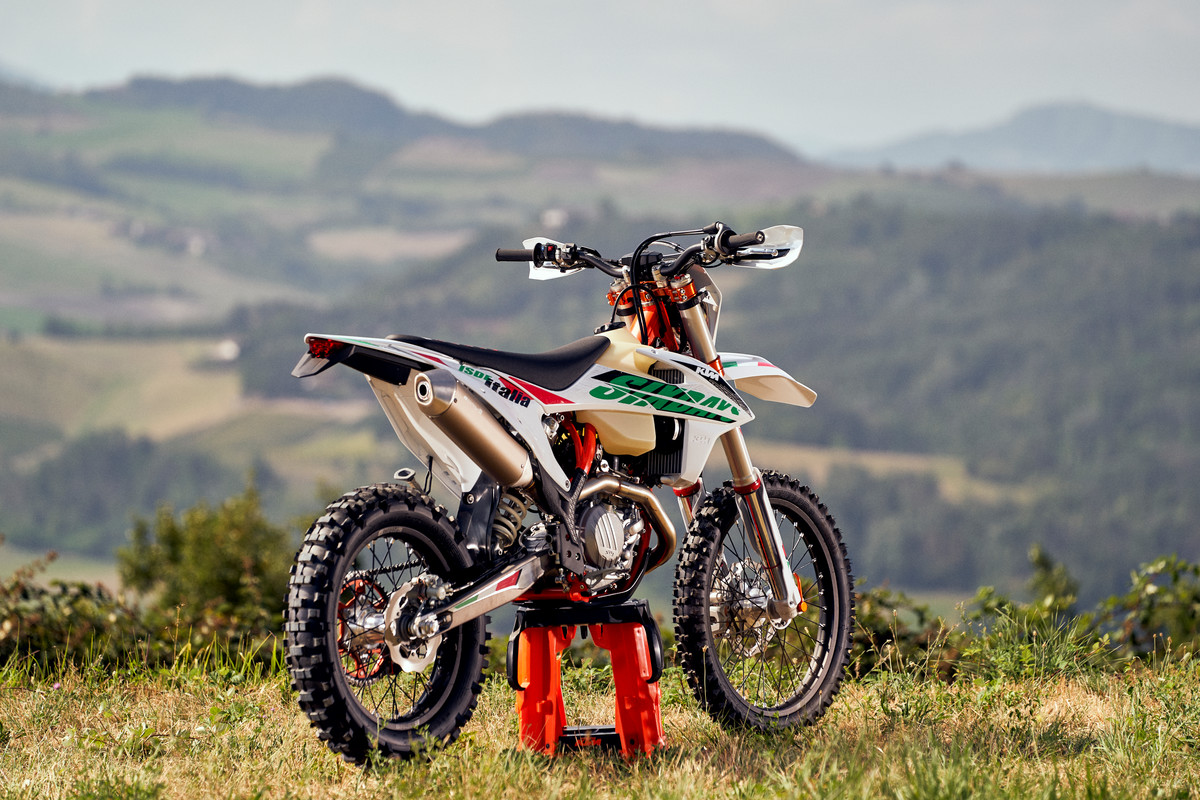 The 350 WESS edition is a standard 350 EXC-F tailored to cross-country spec, the theory being a model to match the extreme enduro oriented Erzbergrodeo model but the flip-side, XC WESS events instead. The Erzberg edition very much remains part of the KTM range by the way and is expected to land in 2022 colours with further updates later this year.
What's so good about the WESS Edition 350 EXC-F?
When the WESS Championship became no more and we learned this 350 had sold out it was hard to know where that left us. KTM loan Enduro21 test bikes to promote their products and here is a 'product' which actually you can't buy.
What that does is make it a pretty special bike and our minds quickly turned in that direction. This is something unique, a collector's item maybe? It could well be in the future but for now we're not exactly treating it like a show pony. We've been out ragging it like normal…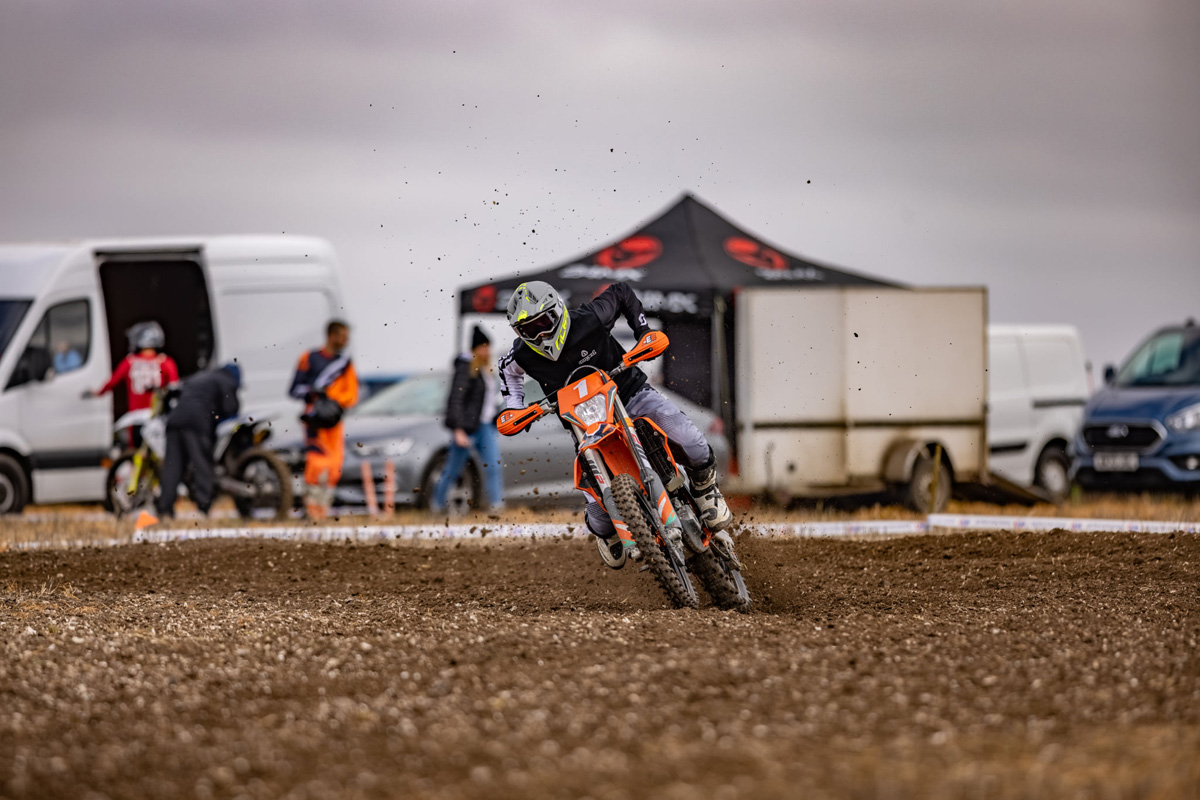 Showcasing KTM Powerparts
Part of the point with this bike, like the Erzbergrodeo or ISDE special editions from KTM, is to deliver a bike to the showroom littered with KTM Powerparts. 'Ready to race' they say don't they? Well this one is more ready than others with motocross-spec air sprung forks, CNC triple clamps, a radiator fan, engine map and traction control switch as standard, a solid rear disc, floating front disc with disc guard, Supersprox stealth rear sprocket and a sprinkling of anodised parts.
It looks good we reckon too and judging by reaction in paddocks it's not just us. Black rims and orange spoke tips are a nice touch and those orange triple clamps plus the Selle Dalla Valle Factory seat creates a factory look that stands out from the orange crowd.
XACT forks fit the bill
The WP XACT AER (air) damped forks are easily a positive addition over a stock EXC-F. Along with the triple clamps, they add to a positive front-end feel that suits the XC nature of the bike. Air forks are lighter and you can feel that difference on the track.
It means you can run a stiffer setting which is a meaningful change compared to the stock enduro models on the XPLOR forks which are set softer to suit trail and enduro riding and less focused towards racing.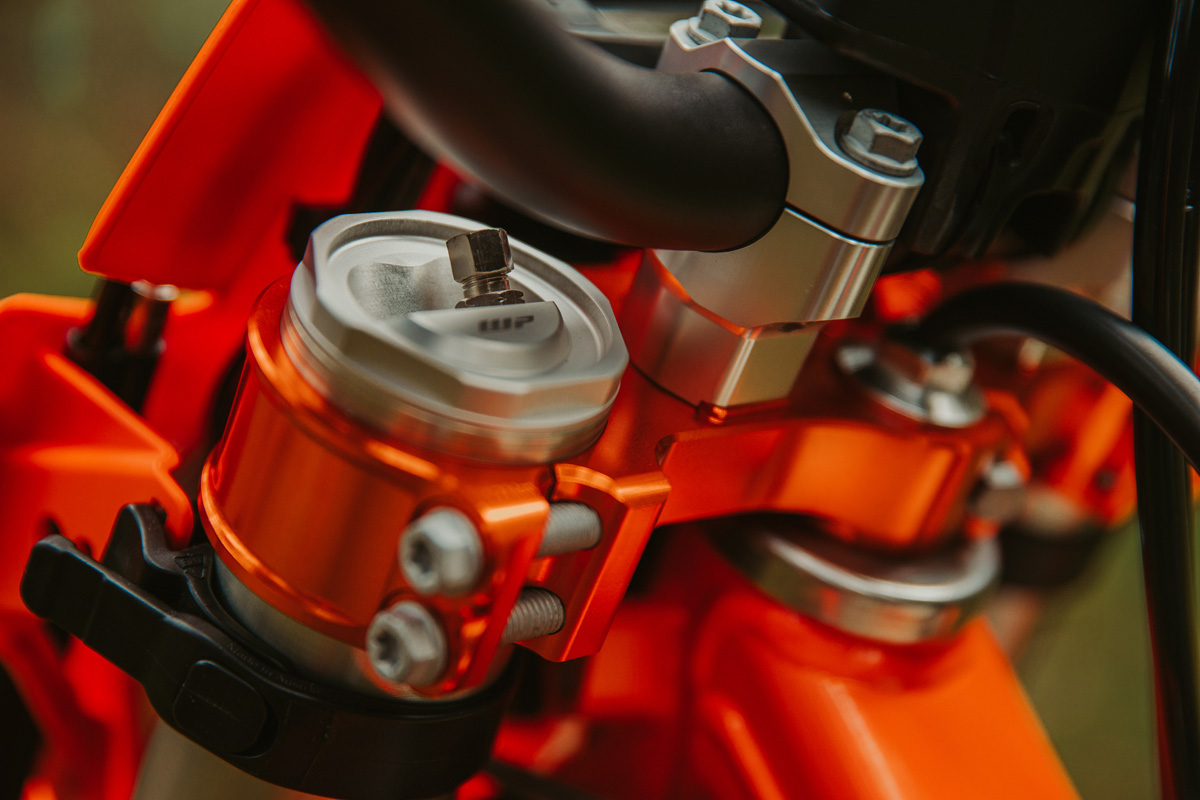 48mm AER forks have damping control on the right (30 clicks rebound and compression damping adjustment on the clickers) and air spring adjustment on the left via a normal air valve. The bike as standard comes with a fork pump but that didn't make it to Enduro21 with the bike so we've been using an MTB shock pump to play with settings.
If you just check the front fork movement at a standstill you might not think it works as well, they don't feel as plush as the standard XPLOR sprung forks. But out in the field, they are lighter and turn more easily which helps if you want more confidence in the front end of your bike in the turns.
XPLOR shock?
One of the few negatives we've found so far is that the rear shock is not also from the MX bike. It's the part from the standard EXC range and the one thing missing from the spec list from KTM and something we can't quite figure out now we've tested it.
Why does it need a shock to match the forks? The answer comes from riding the couple of races we've done on the bike so far which have been three-hour XC or Hare and Hound style events. By design, as a Cross-Country bike, it must be expecting to hit those beaten-up kind of tracks full of braking and acceleration bumps but unfortunately, the stock EXC shock quickly gets too hot and can't cope.
Suspension settings I have settled on these (I weigh just under 80kg/175lbs):
Front suspension:
WP XACT AER forks
7 clicks compression (top right leg)
12 clicks rebound (bottom right leg)
7 bar pressure (top left leg)
Rear suspension:
WP XPLOR shock absorber
1 turn high-speed compression
10 clicks low-speed compression
10 clicks rebound
10mm static sag
Solid Brembo rear disc
Someone in a paddock asked, "can you feel the difference?" The immediate reaction was, "yeah, I think so, come back to me in half an hour…"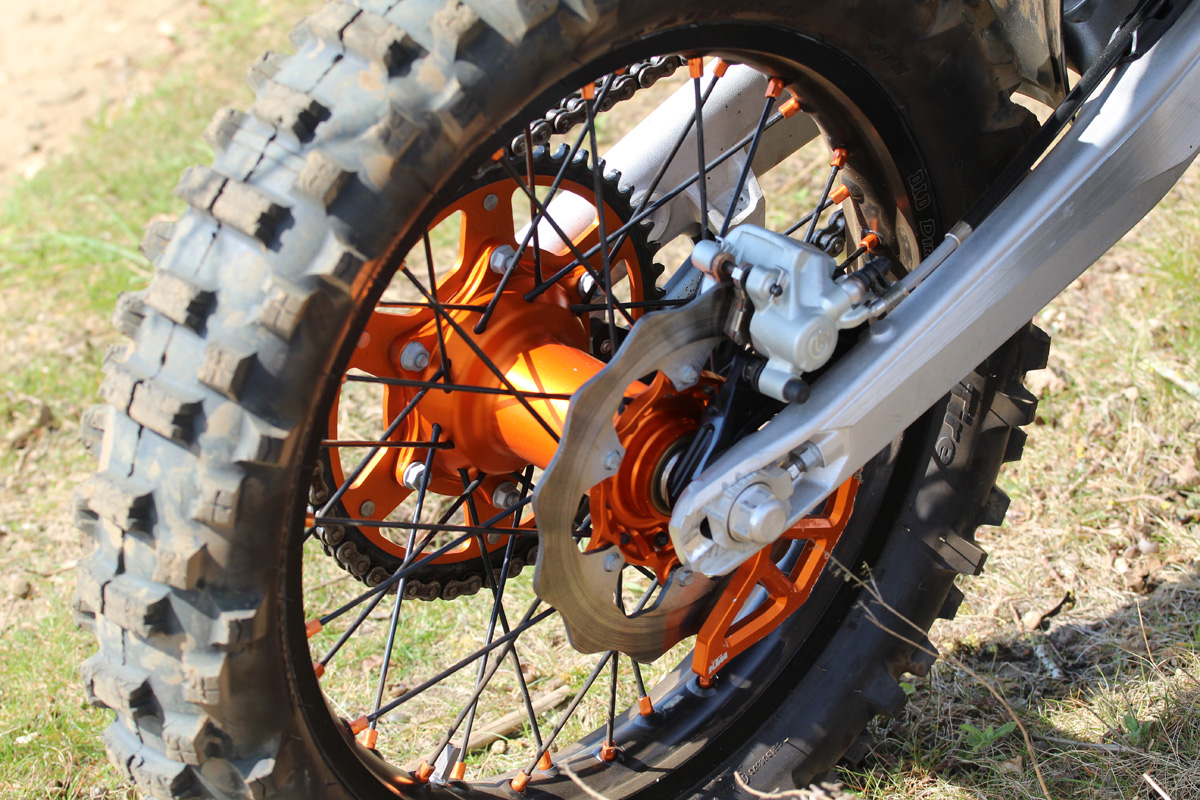 The next time out it gave food for thought, 'how does that rear brake pedal feel?' The answer is this wavey, solid Brembo rear disc does make a difference. The lever – which comes with a security cable bolted to the tip by the way – has more surface area for the pads to bite and feels more positive under your right toe. We've had no troubles with overheating either.
A.O.B. What else have we been bolting on?
How could an already good bike be any better? From a personal point of view, I've already added a couple of parts to suit my preference – I've listed those below.
Parts like the Supersprox Stealth rear sprocket are standard on this bike but there are a couple of additional components I would normally fit to sure a bike up for those three-hour XC races just a little more – bolt-ons like the KTM Powerparts rear disc guard.
Parts Enduro21 has (semi-permanently) bolted on:
KTM Power Parts rear disc guard
Lower fork leg protectors (extra protection from stones)
Raptor Titanium lower footpegs (personal preference to have lower feet)
FunnelWeb air filter (better for those long, dusty events to maintain power)
Designated role as Enduro21 test mule
Being an E21 test mule means it gets used and is how we test parts and products. Some parts have been shoe-horned on to write about soon (you'll have spotted different tyres from a new manufacturer called Deli, the Astra handlebars and Enduro Engineering handguards – hidden from view is a Rise Mousse Climber rear mousse also).
The first couple of hours we did on the 350 were busy on two different tracks littered with flintstones. Riding anywhere near another rider was like being shot and subsequently the front of the bike has taken some hits. This is enduro, and we're not here to look walk about like show ponies, but sometimes it is hard to swallow using a bike in the real world when you see the resulting scuffs and dings. Ho hum.
The ultimate goal with this 350 WESS bike is to hit the race weekend at Hawkstone Park (it is written on the side of the bike after all). The 'Original' Fast Eddy Cross-Country race was a WESS event but now stands alone at the end of May and features a Sprint Enduro on the Saturday and a three-hour XC on Sunday. Perfect for this bike we hope...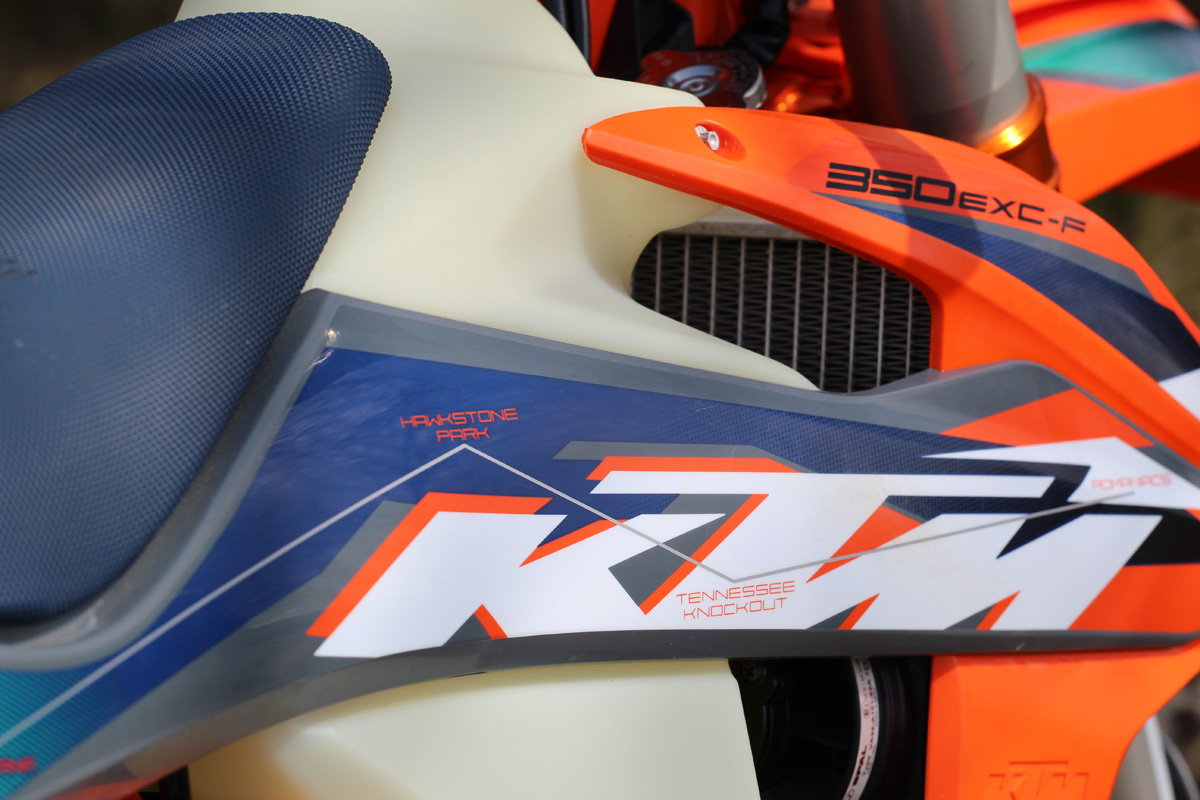 Get in touch if you've got a KTM 350 WESS Edition (or just have something to say about it). Email below or get yourself logged in to the Enduro21 forum.
Photo Credit: Enduro21 + Marco Campelli + Paul Gray + Graham Chapman