Oil leaks, mysterious holes and bad scuffs – the reality of buying a used enduro bike
From buying advice to what happens when you get a bike home and start removing panels, draining the oil and spotting what you didn't see in the showroom. Enduro21 takes one used 2019 Husqvarna TE 250 home to find out.
Taking the leap of faith and buying a used bike can be as scary as it is exciting – it's what you want, everything looks ok but you just know when you get it home there will be something you didn't spot.
Most people can't wait to go for a ride but for many people the first thing to do is get it back in the workshop or garage and start unbolting stuff which can be an eyebrow raising process, for better and for worse.
That's what we're doing here, taking a used 2019 Husqvarna TE 250 from a dealer home and beginning the archaeology process. The idea is to give a bit of used buying advice (more on that below), and to take a reality check picking over a genuine used bike fresh from a dealer.
One careful owner?
In the showroom, it was easy to see past some superficial negative points and spot a bike which had seen only gentle trail use rather than hard enduro hard time. It looked like it online but seeing it in the flesh didn't take long to figure it could be a good used bike.
What were those negative points? The mental notebook was something like this: high mileage, weird holes in the fenders, peeling decals on the side panels, a hacked up seat, a ding in the exhaust and worn sprockets.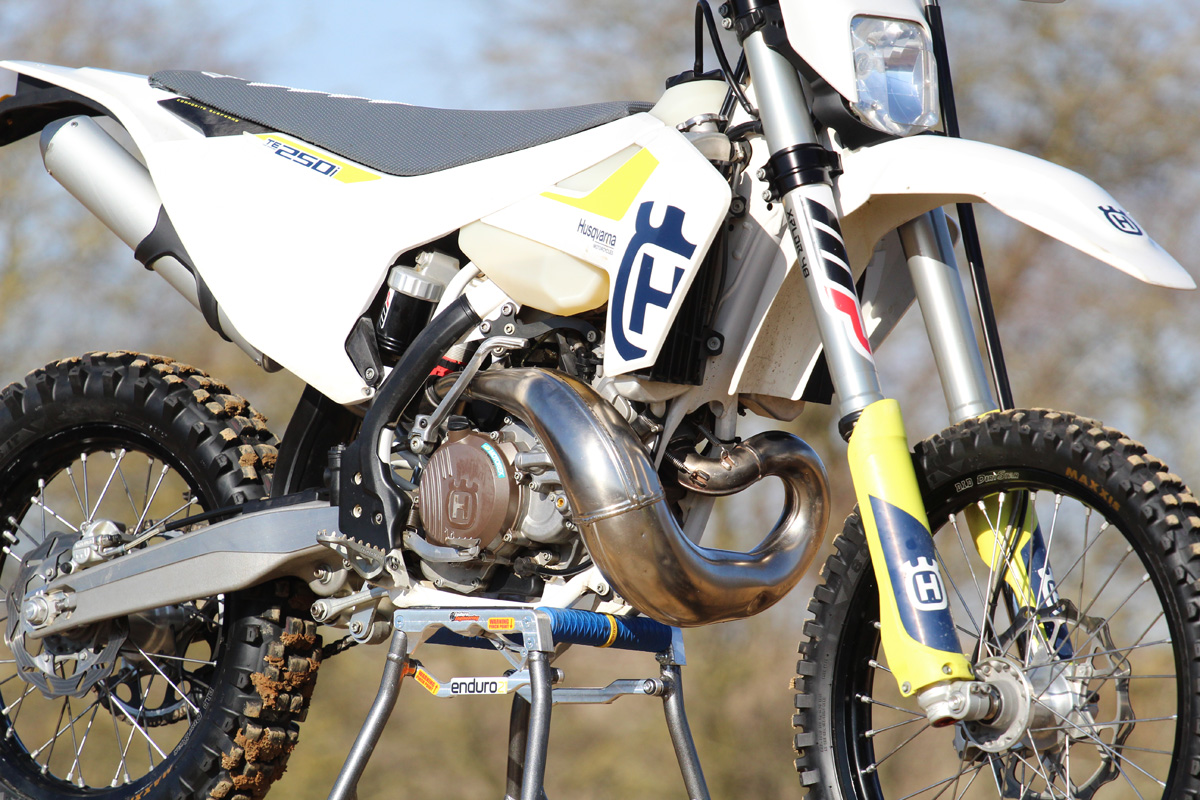 Overall though it had no dings or scuffs around the chassis, engine and panels which showed it hadn't been dropped on rocks or ghosted up any hillclimbs.
It has a heap of miles on the clock (2500 and 80 hours) but this one appears to be a typical, "never raced or rallied" used machine and so the pros outweighed the cons.
Untouched areas like the swingarm, expansion chamber and frame rails, plus parts like levers and handlebars aren't new but are in good condition. At just under 5K the price was on par with other 250 TPI models of that age but easily the best we'd seen.
No oil drain plug washer
This process with a bike can have moments of surprise as well as alarm and that's exactly what happened pretty quickly. The alarm bells certainly rang when we unbolted the stock Husky sump plate and found oil sitting in the bottom. Not a lot, but just enough to be a worry.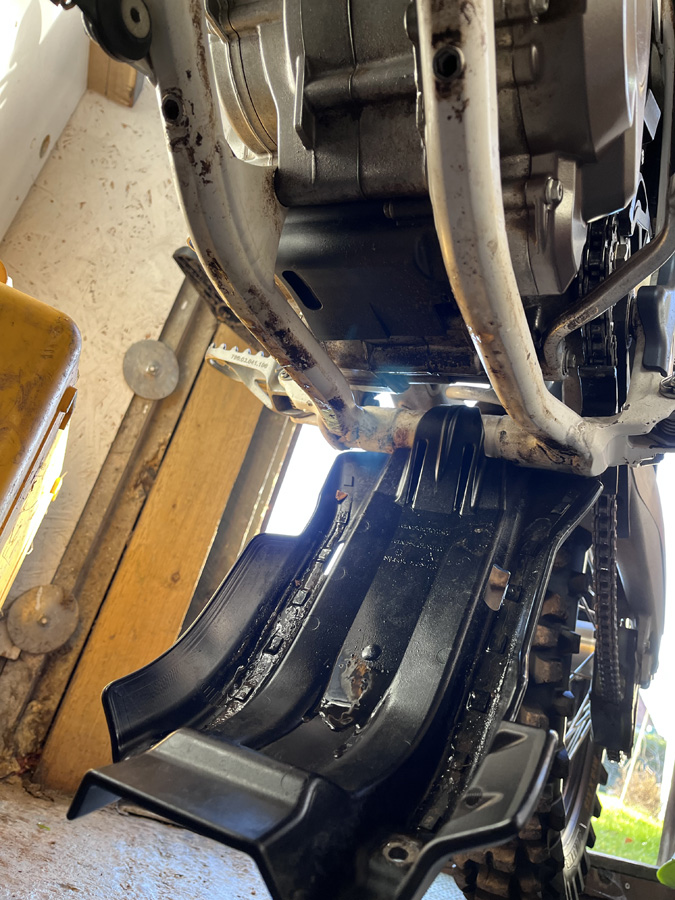 Bust oil seals or just clumsy oil fill? Cracked cases? Surely not?! It was all swimming around in the head as we undid the oil drain bolt to see what the oil was like and check for water etc.
Thankfully, the reason for the oil was quickly revealed as we took the oil drain plug out to find there was no washer.
The oil itself wasn't too bad and ran a grey/brown colour, the magnetic drain bolt had a decent mount of debris stuck to it though and could be a sign of the high mileage.
The owner couldn't wash under the tank…
The previous owner wasn't only light on the dirt use but clearly a little shorter in the inside leg. The seat foam had been hacked down on the stock seat with the original cover stapled back on. It wasn't the best of jobs, didn't look pretty and would be the first thing to get replaced.
Under the tank things were decidedly mucky and showed the previous owner wasn't too keen on removing anything in the jet washing process, possibly even bending their knees to wash it! Oil fills to the TPI tank had been clumsy too with a trail of grunge from the filler tank neck downwards.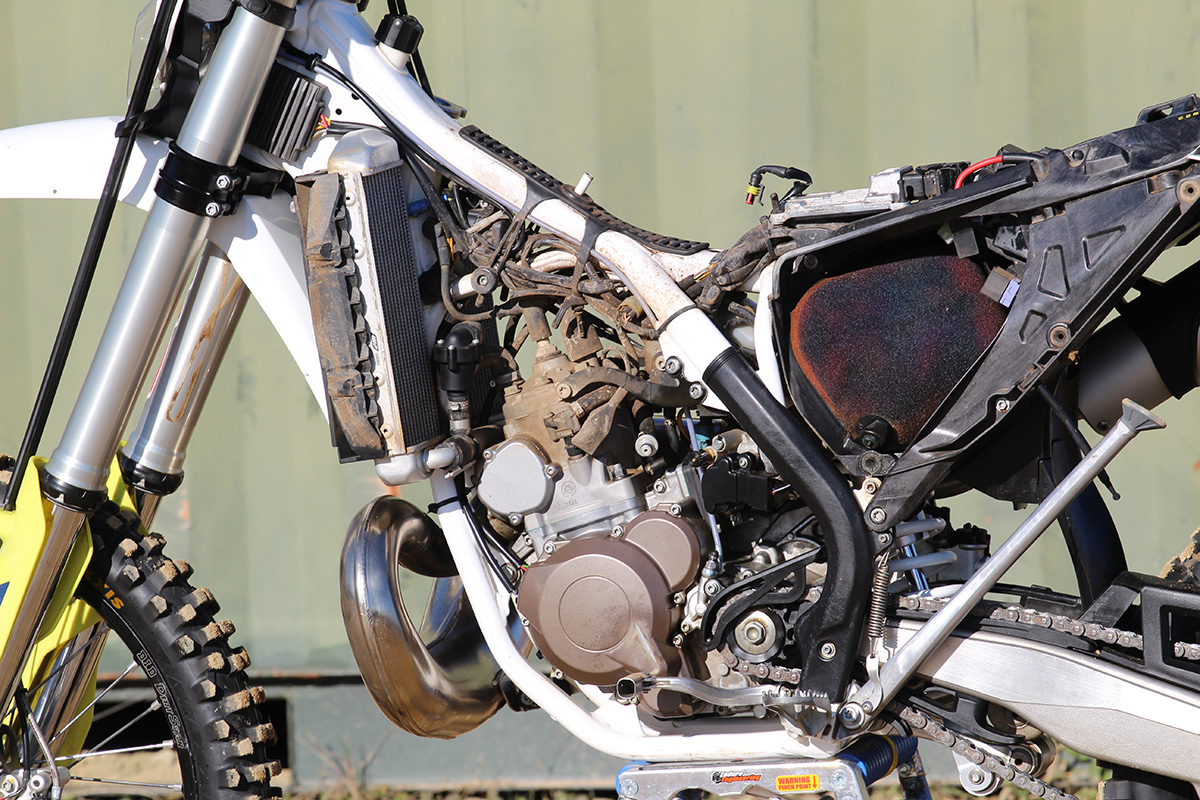 The air filter was ok, but not as good as we like to prep them and possibly another sign the previous owner was light on prep as much as heavy off-road use. It was a bit odd to find the dealer hadn't done a bit more here to be honest.
Nut and bolt check
All nuts and bolts looked to be great conditions and, along with much of the bike, showed nothing was getting unscrewed too often. In most cases bolts were like new and it seems like the only parts being removed at any point recently were the axle bolts.
Dropped on the road?
We don't' know the history of this bike but some clues are there and one was a pair of scuffs on the touch points at the rear of the bike. A grated silencer end and rear axle nut were proof enough for us it had been dropped on the road at some point, probably early in its life because the right hand side grip was fine and footrest showed normal wear and no signs of a crash (so likely had been replaced).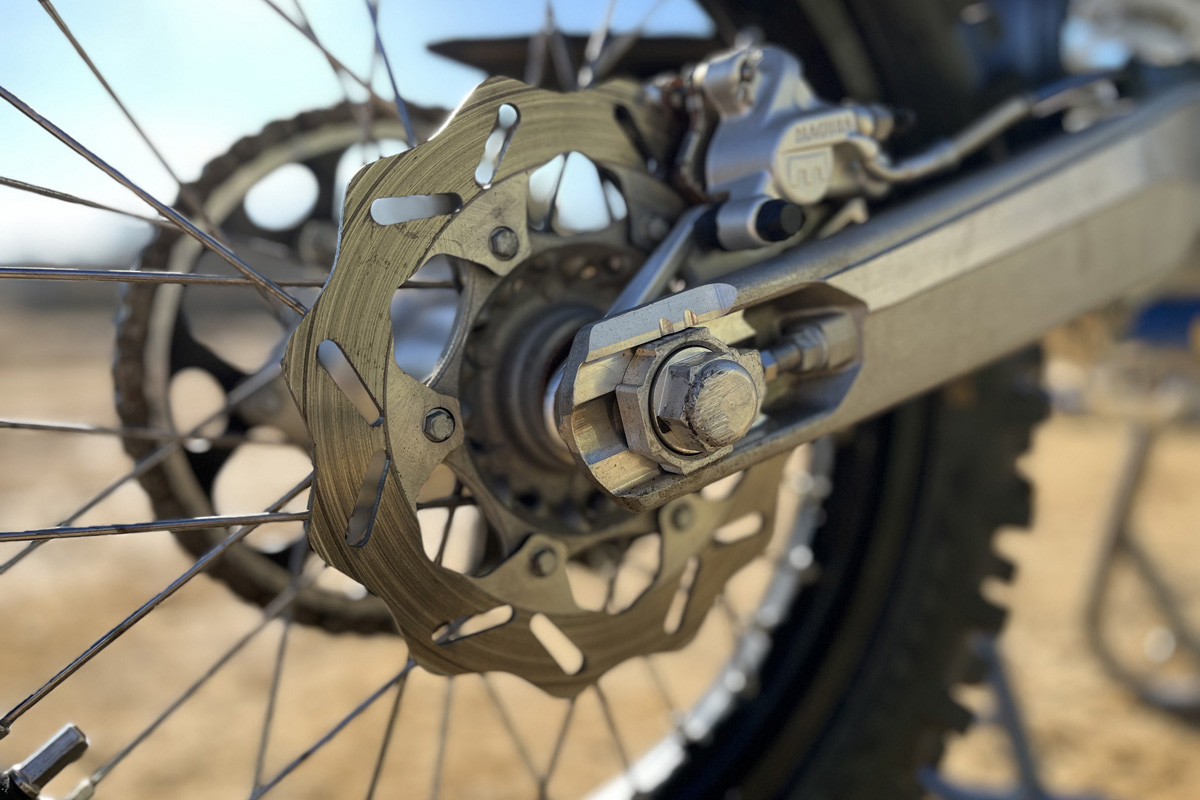 Mystery holes in the fenders
A couple of things stood out in the showroom when we viewed the bike including the holes in the fenders, shoddy stickers the seat and droopy lever positions.
What are the holes? Given the theory this bike had been a trail tool, it's most likely they are mounting holes for some luggage packs front and rear.
The peeling decals were scruffy but didn't bother us too much because they're easily replaced, and we were much more concerned with the mechanical condition of the bike.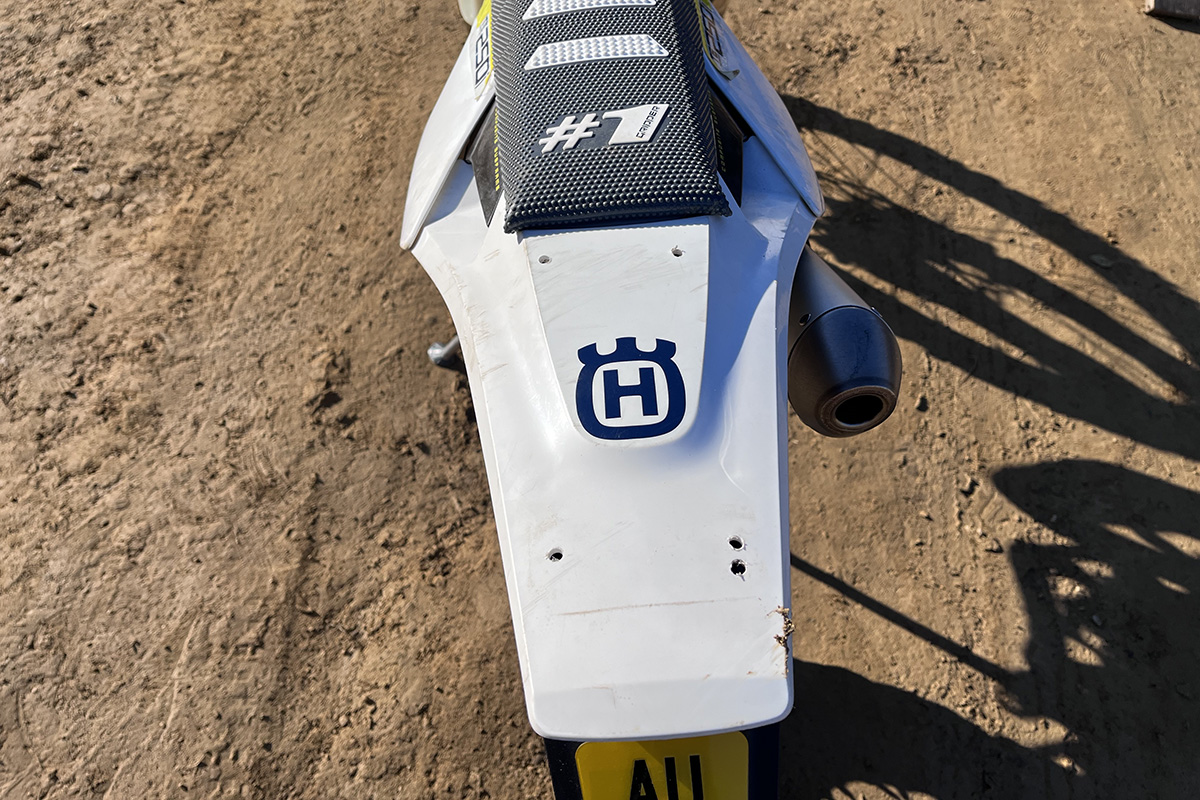 Know your TPI onions?
So far that's about as much as we've done with this bike besides a quick inspection of the plug and removing the header pipe to look inside the cylinder. Both look fine if you are wondering, with no scoring visible on the piston. The plug is pretty oiled up but could likely do with a good blast to clean out the tubes!
Used buying advice
The process of what to do when buying a used bike is another story – something we'll aim to cover in more detail in another feature. But the principles are the same whether it is a used car, dirt bike or set of dining chairs.
Best practice when buying a used bike – what to look for:
If you don't know what you are looking at already, do some online research into common faults and owner questions in bike reviews etc. to see what people's concerns are with that specific bike
Look at as many of the bike your after as possible to get a really good idea of value, condition, age, and basically what's out there so you can recognise a good one when you see it
When you get to the dealer or private seller, ask questions about the bike's history and use, trying to gauge what kind of life it's led and what kind of a person they are
Take time to look carefully around the bike and not be fooled by some new plastics or "new chain and sprockets" on the ad listing – and never be afraid to walk away, especially if someone is being pushy with the sale
Spot common wear and tear points like engine cases (where boots rub), rear of the swingarm and fork bottoms where rocks do their damage), fork seals, side frame rails and the condition of the exhaust header/expansion chamber
Compress the suspension and spin the wheels to check bearings, listen and feel for anything less than smooth
Look at sprocket teeth for curling, levers and bar ends for bashing
Check around nuts and bolts generally to see if the previous owner has been careful or careless by rounding off bolts
Check frame and chassis weld points and to see if anything has been re-painted
Start it up from cold and let it get warm. Listen for any undue noisy rattles and knocks, check the transmission to make sure it is selecting gears smoothly and that the clutch isn't knackered
To dealer or not to deal?
Is buying from a dealer better than buying privately? Though it can often be more expensive from a showroom, what you get for the extra cash is usually a once-over in the workshop at least and a bit of guarantee should you later find the previous owner has filled the transmission with treacle.
Why a 250, not a 300?
Simply this was a really good used bike and it didn't matter to us which model it was. We're also planning to take it for a ride, do a couple of events and hopefully fit some parts including some TSP Racing products to test.
It's a good bike, the last of the models with the kickstart as standard and we have fond memories of the first TPI model too. Enduro21 had a KTM 250 EXC TPI fresh from the factory and the first production run.
We definitely got the best of tests on the new technology at the time. Actually, Enduro21 were the first on earth to race a production TPI at the 2018 Erzbergrodeo no less when factory riders were still on carbed bikes and we went on to race it across a season which included Weston Beach Race and a SuperEnduro World Championship round.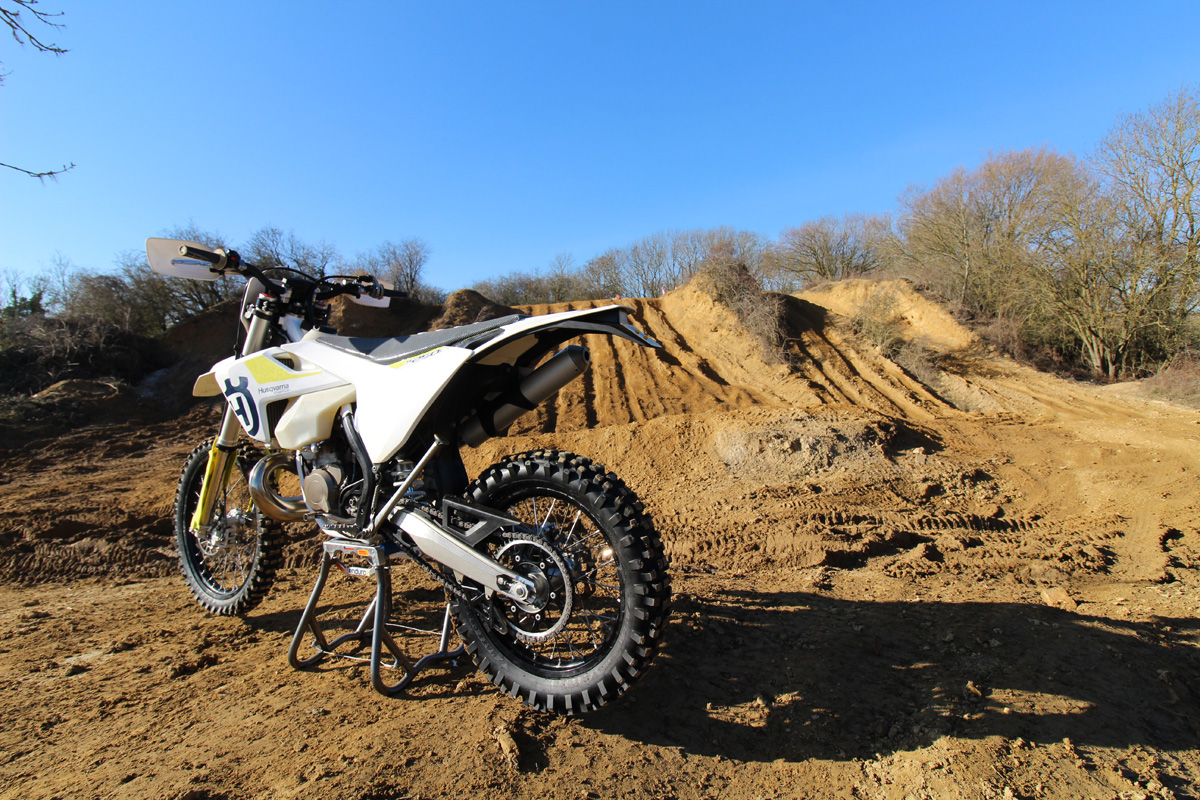 Revisiting the original TPI model will give us better chance to find problems, get behind some of the myths which surround them and live a bike more. Stay tuned to our channels for updates.
Got an older TPI? Got some stories of what went wrong or what you love about it? Get in touch at the email below. Be great to hear from you.
Photo Credit: Enduro21