5 minutes…Brad Freeman – "you've got to recalibrate your brain to ride at that speed"
Enduro21 catches five with Brad Freeman to get a grip on his flying form in the 2023 EnduroGP World Championship, to talk home buying, DIY, training camp spirit, why manufacturers don't care about the ISDE, and of course, THAT documentary series…
Catching up with a rider ain't always easy at an EnduroGP World Championship round. Time pressures, stresses, people to see and places to go…it can mean a quick chat is all too brief.
But catch a rider camping out in a field like the rest of us at a home soil race and things ara lot more relaxed – that two minutes becomes a quality time.
That's how it panned out as Enduro21 caught up with 2023 World Enduro Championship's runaway leader Bradley Freeman. The Beta Factory Enduro Team rider has ticked off four wins from four racing days so far this season, as much to his own surprise as anyone elses' it turns out.
But there are solid reasons behind it, Brad explains, including a new regime of riding and training with a gang of British EnduroGP riders, Beta finally sorting their suspension woes and how buying his own home has led to a more settled life.
Enduro21 catches five with Freeman to talk all that, ask the ISDE question ("it's an afterthought for teams"), and of course, ask how THAT documentary series has gone down…
Hi Brad, more racing on home soil, the downtime and DIY approach for British enduro looks like it's suiting you?
Brad Freeman: "Yeah, definitely. I've spent best part of five years living in Italy and finally last year we committed and bought our own house so that was sort of the trigger to stay home more and do as many as events in this country.
"I hadn't raced the British championship since 2017, I just never really had the chance because riding for the factory team means you have so many events going on you never really at home.
"It is a little bit DIY and at the first British round my girlfriend helped me in the fuelling and stuff but I love it."
Things were different when you lived and worked in Italy?
"Yeah, when I was riding for Jarno (Boano Racing team before moving up to the factory Beta enduro team) we raced the world championship and the Italian championship and in between it was just a lot of training with that team. It was great, the training camp idea, but that changed when I moved to the factory team. Now we're at home more, training with friends and honestly, I didn't know how much I missed it."
We did a lot of work training altogether in the wet and shit and it's difficult sometimes in Britain, but it has paid off big time.
You've been training a lot with some of the other British GP riders, it looks like you've got a bit of a gang?
"Definitely. When I was with the Boano team things were a little bit different because that whole structure was more together, all the riders went riding all the time together and when I passed over to Beta factory team it wasn't like that and it was a little bit difficult to even to have places to go training and just riding.
"I'm a firm believer that you need to ride with fast people every day because otherwise you don't push yourself enough. So yeah, we've got a good group and I go training with Harry, Jack (Edmondson), Jamie (McCanney), and Nathan (Watson) and we're all fairly close together and it turns into a training camp every day we go riding which is perfect."
Last year was a tough one for you with injuries, how do you overcome a season like that?
"It was a very hard season. I was sort of training a little bit, I was trying but genuinely between races I wasn't riding and I shouldn't have been racing really.
"But we got through it and after the last GP I didn't have any time off or anything because I genuinely had had that much time off throughout the year, I almost felt like I'd already had a break.
"Pretty much from the last race in Germany I was ready to start so all through October, November, December January I was just grinding out at home. We did a lot of work training altogether in the wet and shit and it's difficult sometimes in Britain, but it has paid off big time.
"Normally you wouldn't really be able to do that after a long year. You finish in October and you need that sort of four or five week break just to let it all sink in and reset but I just carried on through this winter."
So everything is healed up now?
"I had three surgeries last year and in the end I was in good shape but it was long, hard year. Luckily throughout the winter everything has gone well and I've had a few days where you get a niggle here and there, but nothing major stop me riding."
Let's talk about suspension. Betas now come with KYB suspension as standard, and the factory team upgraded too. Has that played a part in your strong start to 2023?
"Yeah, this year the Beta standard models come fitted with KYB suspension and actually I did a lot of the winter with standard kit and around February I put on the kit KYB suspension. It's off the shelf and available but the next level from your standard stuff but yes, obviously it's been a big part of feeling better on the bike as well."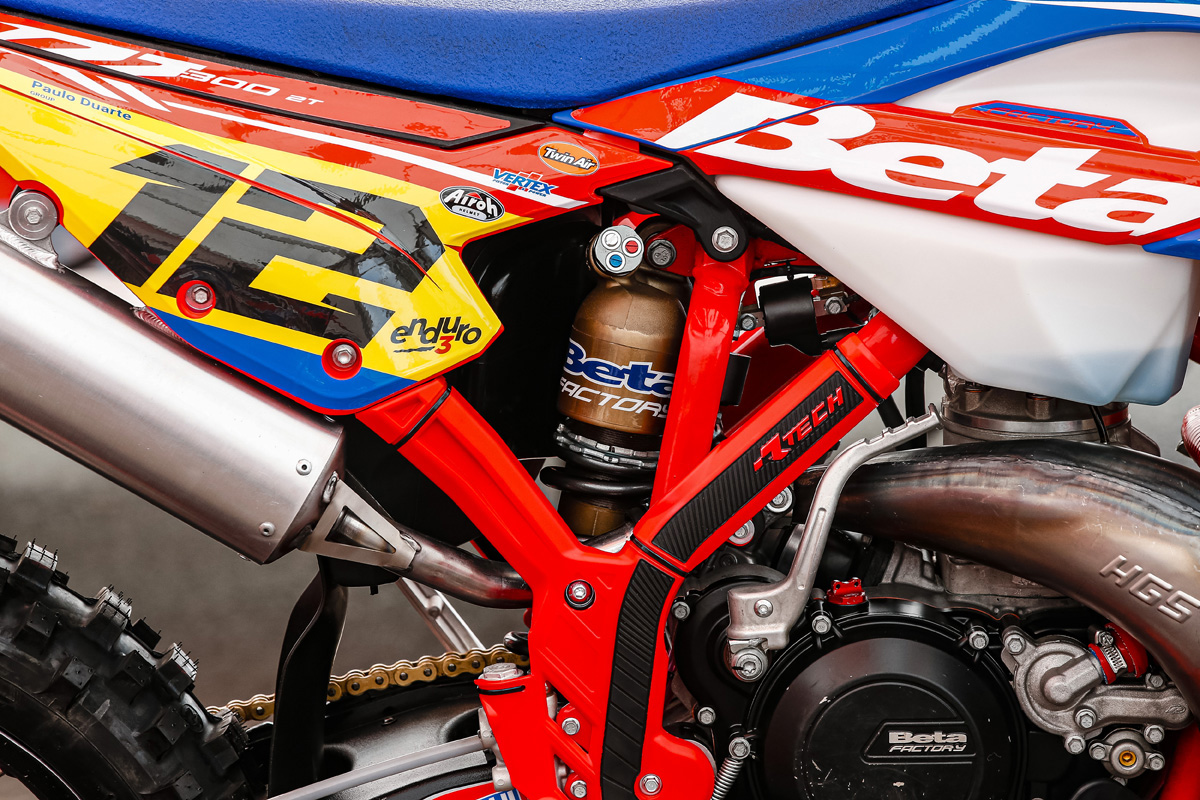 So why couldn't you, or the team, sort the suspension before now?
"Honestly, I've been trying but struggling. The team were not keen and are very sort of controlling let's say in that area. They really want to do it themselves you know but I was struggling and couldn't find anything I liked.
"The whole relationship about suspension was difficult because I was asking for something that I don't think they fully understood. They physically couldn't give that to me and it was creating friction there, it wasn't working.
"I tried getting other people to help me and stuff it was honestly just so much bad timing. I took a set of forks to a suspension specialist to try and help me and a week later broke my collarbone and it never worked out. I've actually still got those forks and have never tried them!"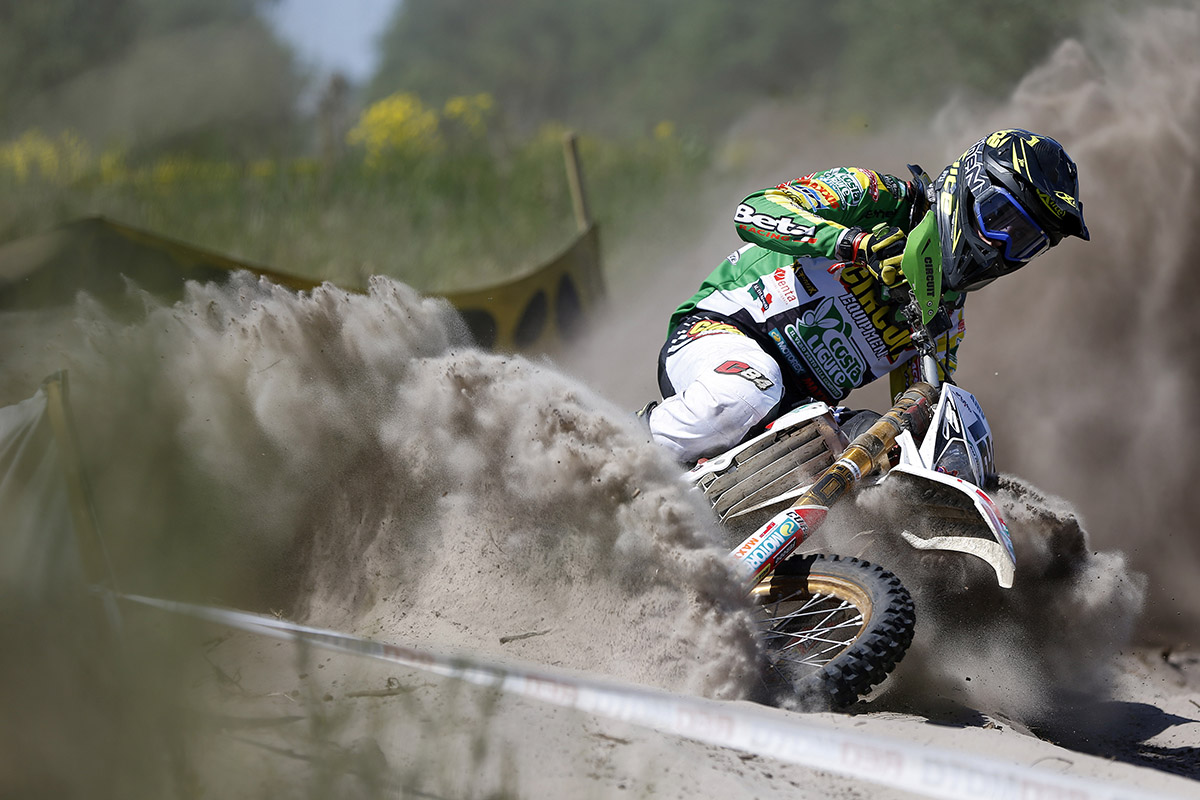 In your previous team with Boano, you ran Betas but the team had Ohlins as a supplier. It must have been a big change to standard suspension in the factory team?
"Oh yeah, it was a big change. Back when I was on the Boano bike the frame and engine were standard but almost everything else was aftermarket or a team sponsor and we changed a lot.
"A lot of people can't get on with Ohlins but I can honestly say it's the best stuff I've ever used. That bike and that suspension, it made my career and I've been trying to find what I had with that ever since.
"I was struggling bad with the standard suspension but since we put this new stuff in it's much better."
You arrive at the first GP of 2023 and win, then the second and by now four GP days. Did you expect that?
"You don't know ever how the first race will pan out. You know what you've done but you don't know what the next guy's done.
"I just went in knowing that generally we did everything we could and that included getting a personal trainer for the first time in my career.
"We did a lot of stuff to the bike as well, then the suspension and by the time we turned up to the first race it was nice just to finally be there, 'finally we're here' sort of thing. You can leave all that work behind you and just race."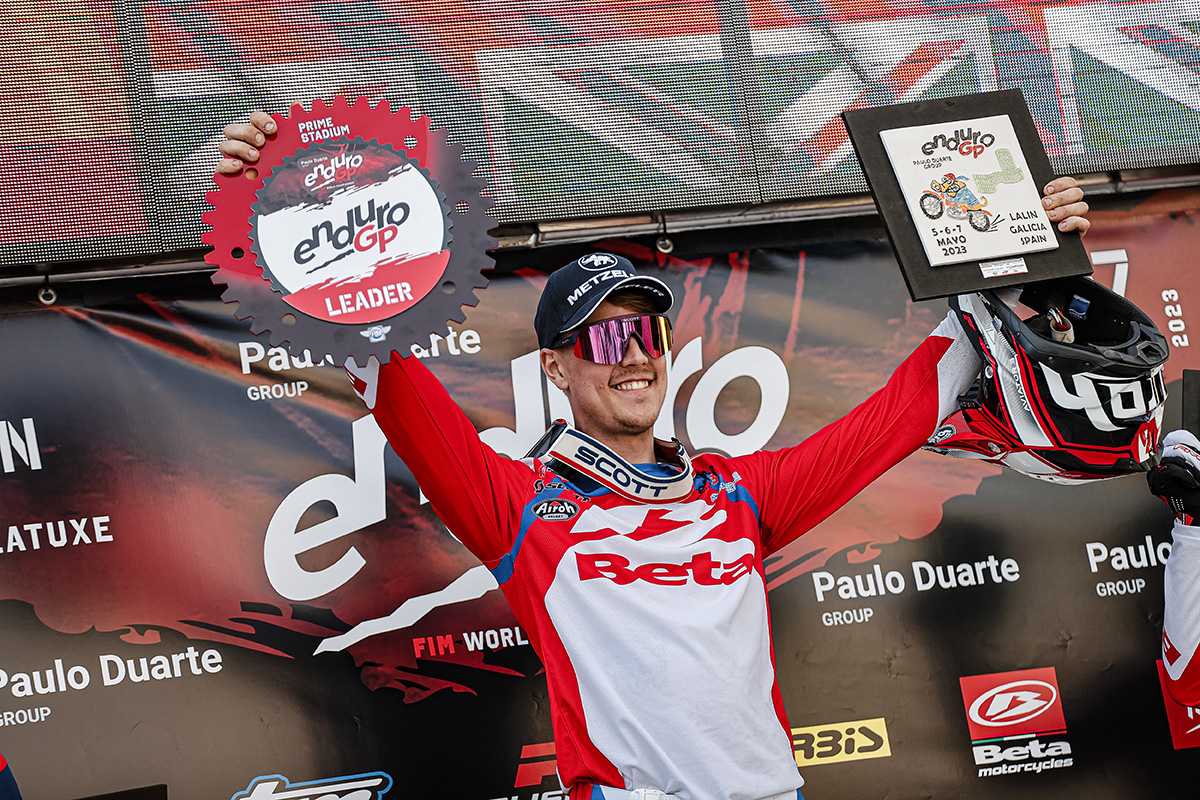 "I didn't expect to win the first GP though, not at all. I knew I had good speed and everything but no GP day win is easy. So many things can go wrong, one little crash or stall of the bike and we're talking a matter of seconds, and you've lost the day.
"To do it again at the next GP was dream come true. I've never done that before. I've never started a season like that in my career. I was really happy with that."
You've gotta just accept that things get out of shape a bit and that's normal. That's just the speed you've got to go at to win the races.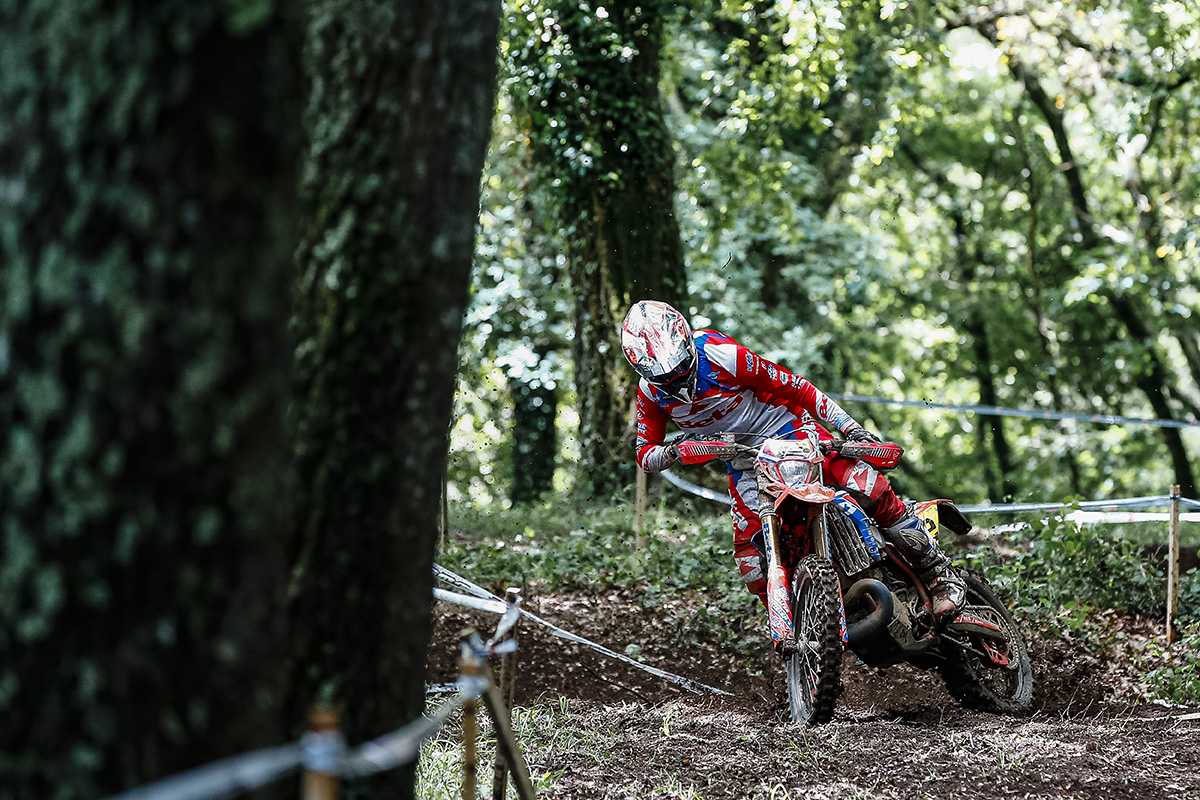 Can you put it down to anything particular then?
"I think it's just a mix of things. I've got to admit it was a bit of a learning curve after last year trying to get used to the speed again. A genuine recalibration of your brain to ride at that speed. You've gotta just accept that things get out of shape a bit and that's normal. That's just the speed you've got to go at to win the races. But at the start I was a bit like I can't get my head around this, but it's just a case of rewiring your brain."
When you set off at a GP and build a lead, do you ever back off a little in the final tests?
"I'd love to be able to do that but you just can't at a GP. You might have the test of your life and come out, look behind and the next guy's half a second slower or even less.
"It's mad the level we're at right now. It's crazy. For years it seems like people always say this but this batch of riders like me, Josep and Andrea we're all in our mid-20s, it's so competitive. It's a mad time to be in our sport."
This year the gap between the top four or five and the rest seems bigger than before. Has the level stepped up again this year?
"Yeah, the last GP we were quite a step ahead. I think all of us have sort of said this winter, 'this is my year' so I think you come in peaking at the right time and next minute you've got four guys that are a couple of steps above the rest.
"That first win in the first GP was a big, big weight off myself. Not from anyone or the team, I don't think anyone expected me to go and win that race. But it was just pressure I put on myself because I knew I had the speed to do it and was fit enough with no injuries and everything. The only thing left to do was to go and do it. Just to get that win out the way was big weight off the shoulders and then to do it at the next round was a dream."
What about the next rounds in Scandinavia? Do you look forward to them?
"I think looking at the calendar, when you know you're going to Italy and Spain first, you think it'll be a bit hard pack and obviously suit Garcia and Verona at their home races. You sort of think 'OK, get the first few rounds out the way' but in Finland and Sweden you really should be peeking.
"I think they're going to be the closest races we'll have to a home GP this year and in the past the races have been good ones. I've never been there personally, I came in the year after but raced in Sweden last year and that was good.
"But it's not going to be easy with Sweden, being a day earlier. So after Finland you're going to have one day travel or whatever and then straight into walking the tests. It's going to tough with a quick turnaround, recovery's going to be important."
ISDE? If I am honest, I was gutted last year.
So what about the ISDE and Team GB?
"Ha! I honestly couldn't tell you right now. I'll have to wait to see. If I am honest, I was gutted last year. I really wanted to do it and I just wasn't in a position to. It was the oddest thing.
"I spoke with Jed (Etchells, fourth team GB member along with Nathan Watson, Steve Holcombe and Jamie McCanney) to say it's not worth me going to have a shit result just for my own self pride. The team's there to win and I genuinely felt they would be better without me. Then obviously they came out the winners and I was sat at home which.., yeah that wasn't good.
"But to able to be part of that…it's difficult every year when it comes around whether to go or not. I've only ever done one half a day of one Six Days and I broke my wrist in Portugal. So I want to go and they've got a title to defend. It's a bit of a stretch being in Argentina but it'd be nice to be out there."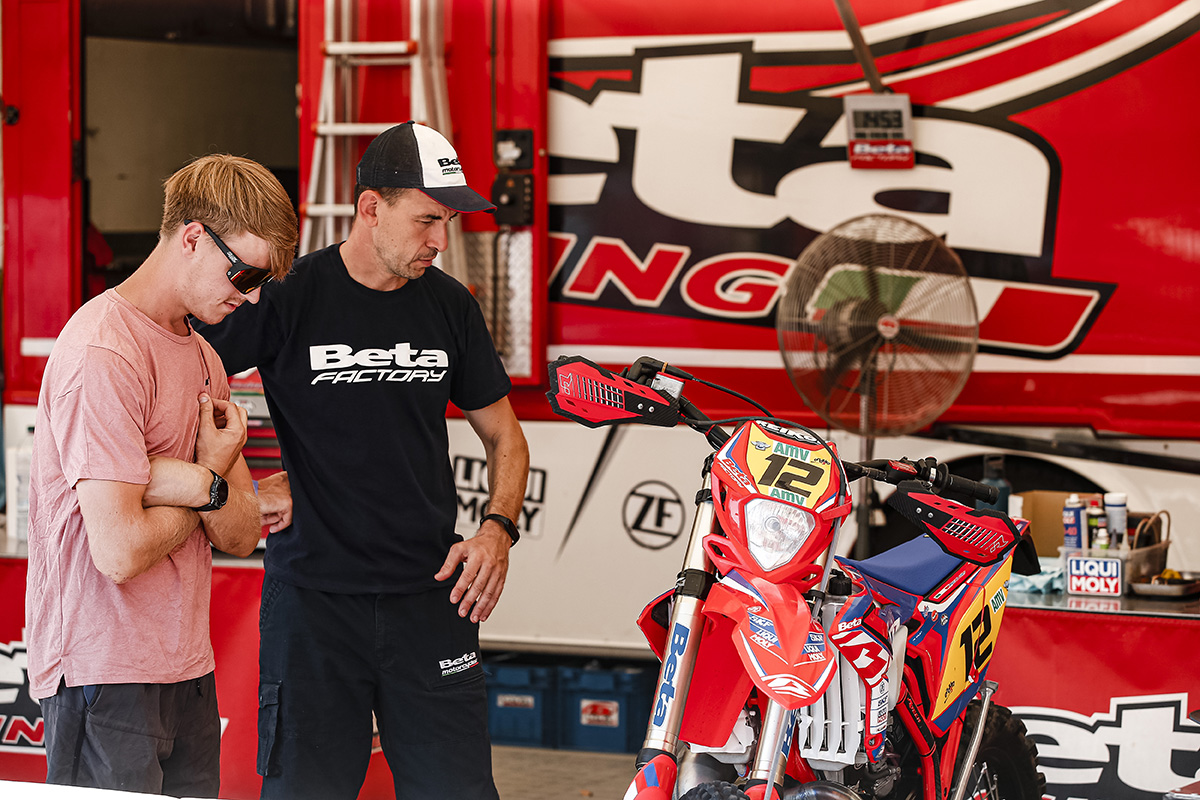 We guess part of the problem is your team's commitment and focus on the World Championship?
"Obviously I don't really know because I wasn't really involved with it years ago but the teams don't care about it anymore. That's the biggest hurdle because you've almost got to convince the team that it would be great to do it. But they're just not interested.
"I understand it because of how GPs have developed over the past few years, especially with a different promoter. There's so much emphasis on the World Championship for the teams and manufacturers it just doesn't mean what it what it once did, Six Days is clearly an afterthought."
Final question, what about this documentary series? They dropped a 'you versus your teammate' drama in there. How do you feel about it?
"I think it's a great thing for the sport and will help bring it into the mainstream. We're not Formula One but I think it will reach people that maybe wouldn't have looked at it before so in that respect it can only be a good thing.
"I understand they're trying to create drama and stuff like that, and it's common knowledge I haven't got the best relationship with my teammate, but probably we should just keep our mouths shut and let the races do the talking.
"Maybe it brought out some things that probably shouldn't have been said let's be honest but he's his own person and everyone's entitled to their own opinion. If not the world wouldn't go round."
ICYMI: Most talked about: Beta Racing EnduroGP teammate rivalries getting spicy
Photo Credit: Future7Media