Josep Garcia: "The goal is the EnduroGP of Slovakia"
Two weeks after his crash at the Swedish EnduroGP, Red Bull KTM's Josep Garcia tells Enduro21 what he remembers of the accident, the pain and how he has accelerated his recovery to be fit for Slovakia just one month later.
The KTM Factory Racing rider had taken back-to-back victories in Finland and Sweden and closed the championship points gap, putting pressure on current leader Brad Freeman as the series ripped through the mid-point of the season.
But everything changed in a second in his last pass through the Enduro Test, where Josep hit the ground hard, fracturing his right collarbone and dislocating his left elbow – an injury which was left "out" for four painful hours until traumatologists arrived at the Swedish hospital.
Typically for a racer it was a setback that, far from leading him to throw in the towel, has made Josep get to work speeding up his recovery to be fit for the next GP in Slovakia at the start of July. Enduro21 catches up with the Spaniard at home...
"My first instinct was to go find the bike"
"We reach the second day of the race in Skövde after two incredible weekends after winning the last day in Finland and then the first day in Sweden. On Sunday our goal was the same. I made a small mistake at the beginning, but I was able to regain the lead right away and, in the last lap, I had a nine or 10 second advantage over second, and as always we went 100%, because in EnduroGP you can never trust yourself."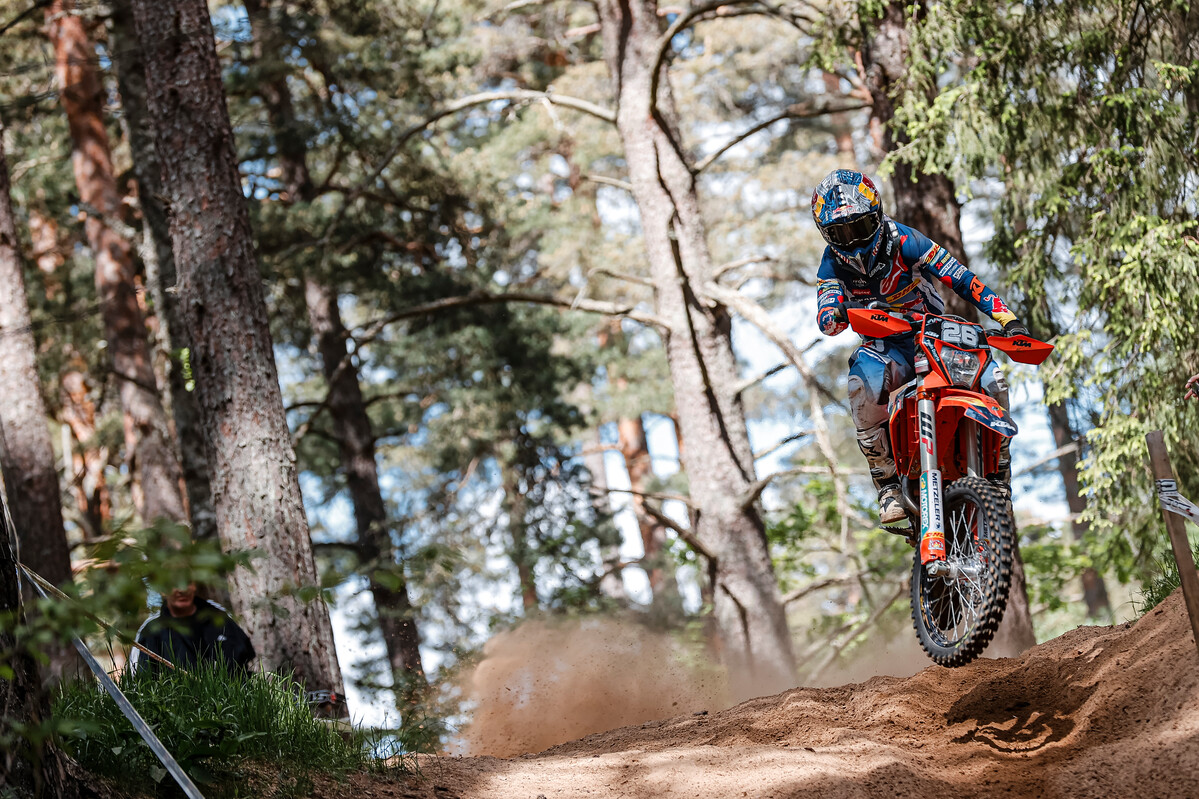 "It was a bumpy straight line of sand which I linked the jumps two by two. I suppose that the Open and amateur riders did not pass them in the same way and left the track with more pronounced bumps. Anyway I did them like that every lap, although I don't really know what happened…. I continued with the front wheel straight, hit the ground and my first instinct was to go find the bike. But right away I saw something was wrong with my elbow and I felt some pain in my shoulder, although I didn't pay much attention to my clavicle."
A painful experience
"The truth is that my elbow hurt me a lot, because there were no traumatologists at the Skövde hospital and it remained dislocated for four hours until they could put it back in place. My biggest concern was that it was broken or had caused a more serious injury, because then the days would have multiplied and the recovery would have lasted months."
Positive results despite surgery
"Luckily, they were able to put my right elbow back in place, even though I had a very bad time, since the painkillers no longer had any effect on me. On Sunday I travelled to Barcelona and went to the Dexeus University Hospital with Dr. Mir.
"We did an MRI and fortunately there were no fractures or fissures. The ligaments in his elbow had been stretched and he had a very large bruise on his elbow, but the recovery will be better than we expected. I didn't need surgery on my elbow, which is positive, and now I just have to rest, gradually recover my mobility and let it heal on its own."
Clavicle surgery and recovery
"As for the left clavicle, I also realised very soon that it was broken, from there they did have to operate on me because it was very displaced. They fixed it with a plate and screws, and that's it... it's a very common injury [in motorcycle racing at least] and not too worrying. Now we wait to see how the elbow evolves."
Despite not having scored points on the second day in Skövde, Josep continues to lead E1 class with a 24-point advantage and lies third overall in EnduroGP scratch. And although the fight for the general classification seems complicated this year, the Súria rider is not one who gives up easily on a world title.
Target: Slovak GP
"Our goal is to reach Slovakia. I'm sure I won't be 100%. Maybe I can arrive without pain, but I will not have trained and I will have been standing still for almost a month. This week I start rehabilitation after having rested last week to let the body recover a bit from the fall helping it with gel machines and radiotherapy for its recovery.
"So, the goal is to recover as soon as possible and try to get to Slovakia…we'll make it!"
Photo Credit: Future7Media | Andrea Belluschi