5 minutes… Beta Racing Team Manager Fabrizio Dini talks ISDE, Brad's injuries and rider conflict
Enduro21 catches 5 with Beta Factory Racing's team manager Fabrizio Dini ahead of the Slovakian GP to talk about 2023 ISDE, why Brad is walking wounded and dealing with his feuding riders:"it's a shame but it's not a big problem".
The life of a team manager is not easy we're sure, despite the fat cigars some of them smoke. As well as the logistics, the finances and the boring stuff, the EnduroGP team manager also has to deal with riders crashing and hurting themselves, inter-team politics, riders falling out and in this case at least, whether a world championship is worth more than the ISDE.
Step up Beta Factory Racing team boss Fabrizio Dini, a quiet spoken man of many years GP-level racing under his own belt who now has to deal with all of the above, plus development duties on the bikes to boot.
Dini has two of the very fastest riders on the planet right now with 15 world titles between them no less. The problems he faces include: the riders don't like each other, both had tough 2022 seasons and are desperate to be back on top, one of them has crashed recently and hit his head badly and they are both from the same country which wants them to represent it at the ISDE in Argentina this year…
Hi Dini, firstly, how is Brad and will he ride this weekend in Slovakia?
Dini: "He is not 100% but he is in better shape than he was for the Italian Championship two weeks ago. We are here and he can try to make his best result. We know it's not easy for him but he can try to ride safely and not take too many risks.
"After the crash in Italy he went to the hospital, they did many checks, scans and everything and they say everything is ok. This is the most important thing. He can race, maybe more slowly but after this GP we have a lot of time to recover. The most important thing is to finish this race without any mistakes."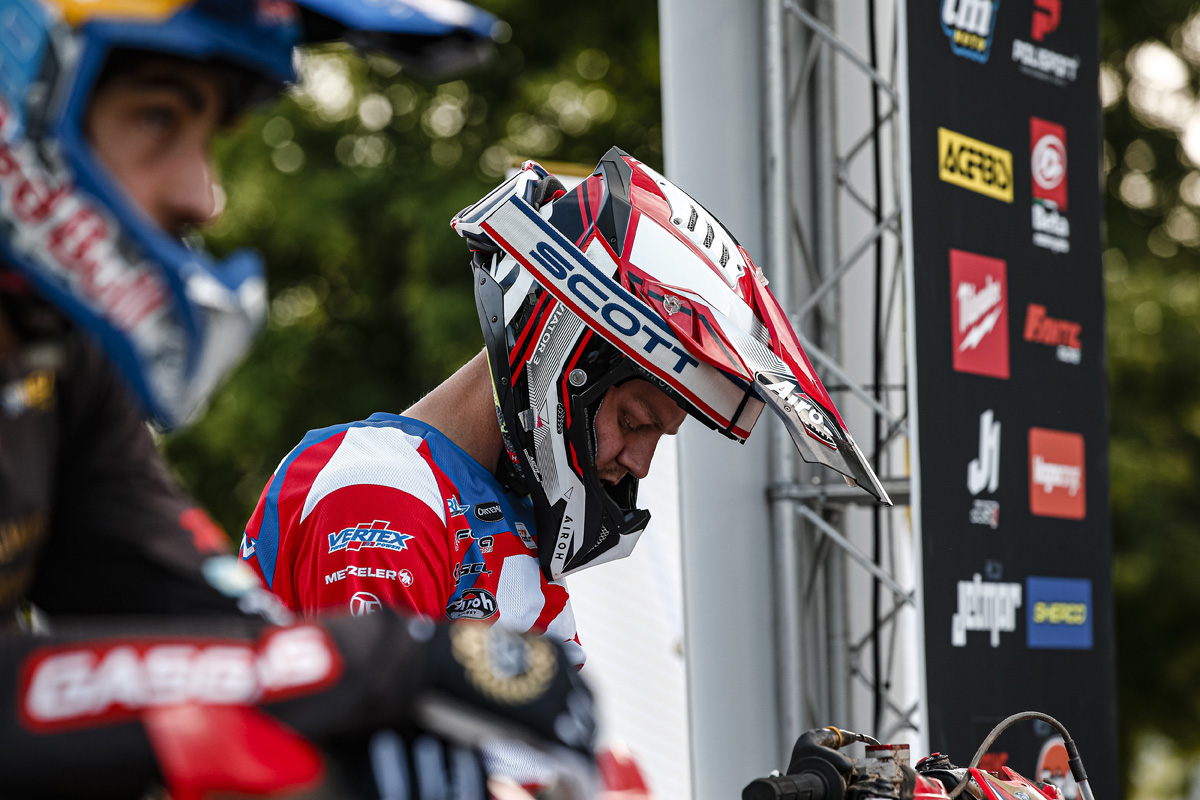 What is the injury?
"There is not an injury. He hit his head really hard in Finland, also Sweden and then in Italy. This is the story."
Is it better that you tell him to take some time out? Sometime Brad is Brad and will always want to ride but brain injuries are serious…
"We took the decision together to try. Physically he is ok but the important thing is to not take any risks to cause more problems. He was confused and with an injury like this it is normal to have a strange feeling but the doctor says he is ok. He can start slowly and we will take it special test by special test."
On the other side of the tent, Steve is gelling well with the 350 this year, can you tell us what has changed from your side? The old Steve is back.
"Well, there are many reasons. Last year he had many problems from the winter time with a shoulder injury and through the season many smaller injuries.
"I don't remember how many times his shoulder came out [dislocated] in the races last year – maybe four or five times. You cannot ride freely like yourself when you have this injury. It's not easy for him. So he has an operation during the winter and this problem is gone."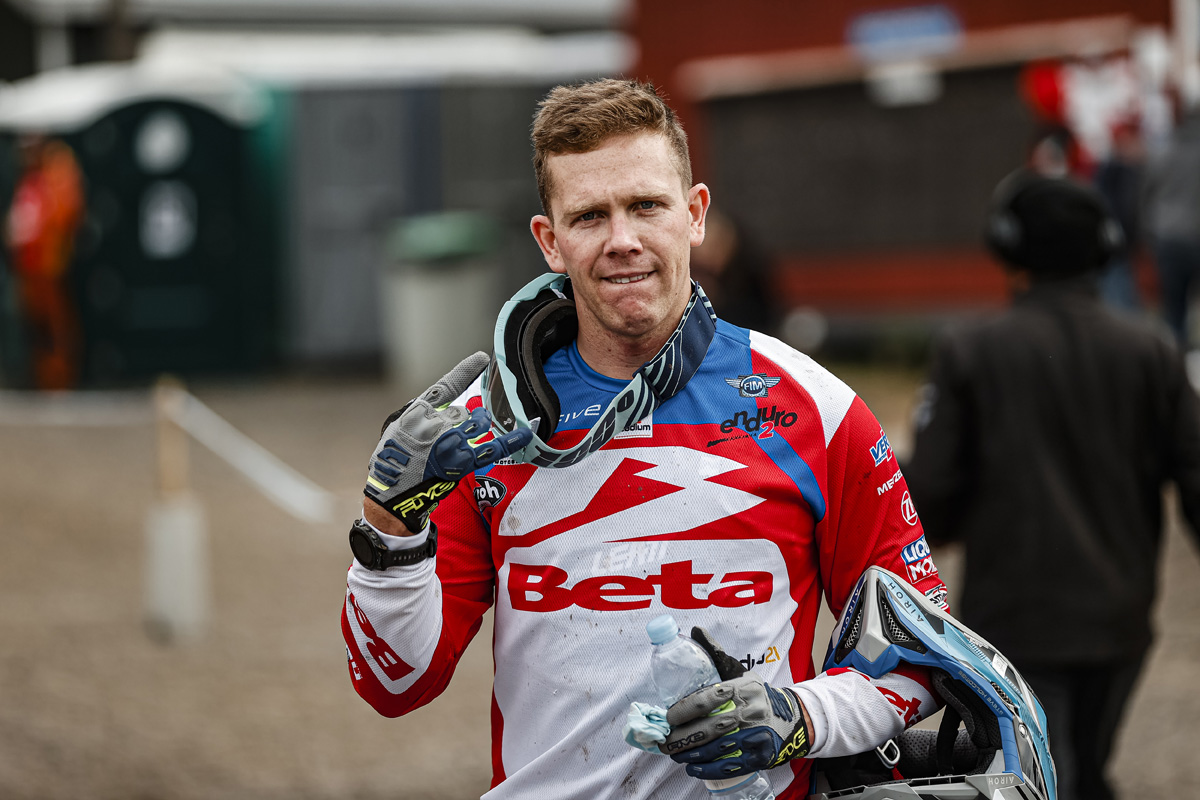 "Also we worked a lot on the bike with him in the engine, suspension, everything…and now the feeling is coming back for him. When he got back on the bike this winter and he knows everything is ok with his shoulder he was immediately faster, immediately.
"He stopped for seven or eight weeks and maybe the rest is good for him also. Time to think and stay calm. Now every race he is improving a little bit and this is the important thing. He is building.
"I think I am happy because we are happy, now he is quiet, confident and it's good. It's not only one element."
Will Beta and both riders go to the ISDE in Argentina or not?
"Honestly, I don't think so. It is really complicated. Our goal is to make a good world championship season. This moment is a good time to make a test and development of the bike with the riders and it is a little bit complicated. I think we will stay home this year."
Final question about the relationship between the two riders. The documentary series didn't help the situation but maybe highlighted a problem. How do you manage Brad and Steve when they are not even talking?
"Both are professional riders and it is a shame they don't speak together under the tent and they are not friends like they were in the past. But like we said many times this is each rider's decision. We try like when Brad arrived here in 2020 and we had discussions to find a compromise. I don't know for what reason but the situation changed again.
"We don't want them to be forced to get on well with each other because that would be worse. I tried many times to find a compromise but it is not easy. And in the end it depends on them, if they don't want it."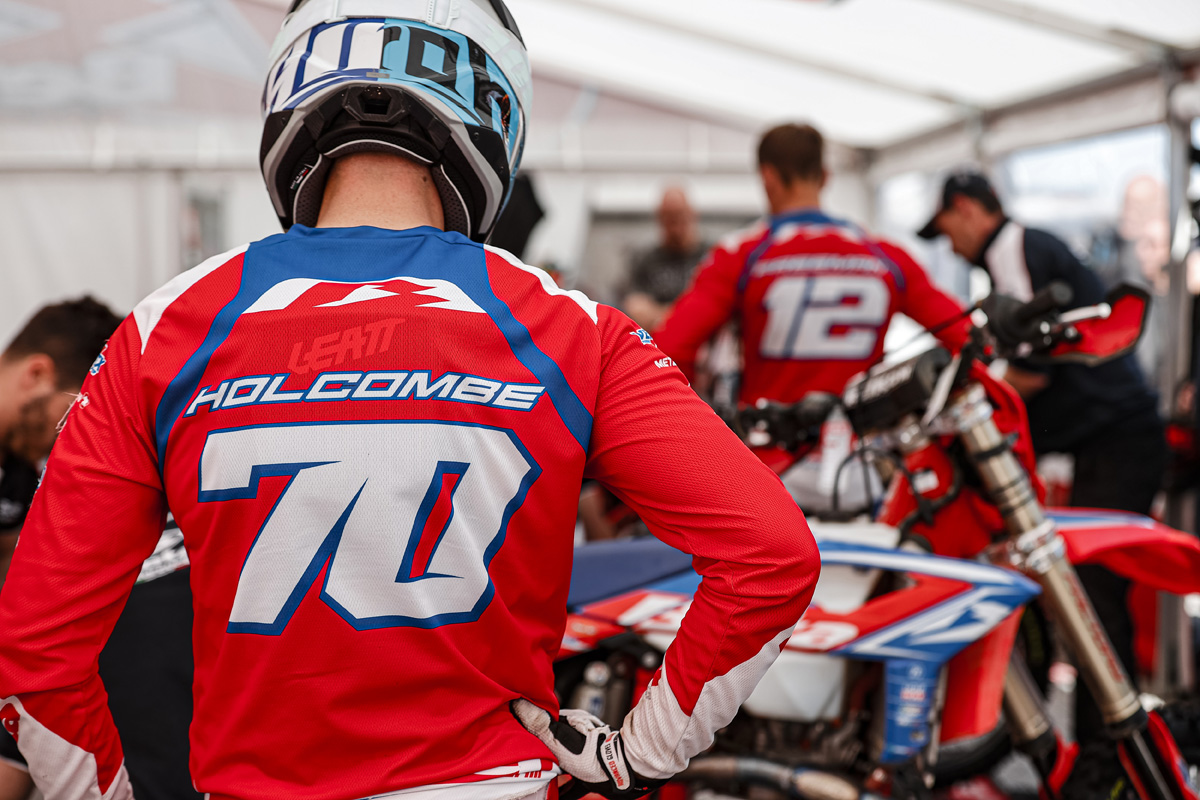 "The most important thing is each can stay concentrated and professional doing his job and have respect for each other. This what I say to both of them, they must respect each other.
"For us we don't have preference for one or the other. We make our best for both riders because we are professional and we don't want to make something better or worse for one and not the other. After that the best wins, this is how it works.
"It's not like motocross when they go race together, the reality is they race themselves, the track and the timing so in the end it is not a big problem. It's a shame for sure but now it is a long time like this and we know it doesn't affect the results. The riders are professional, respect each other and this is the most important thing."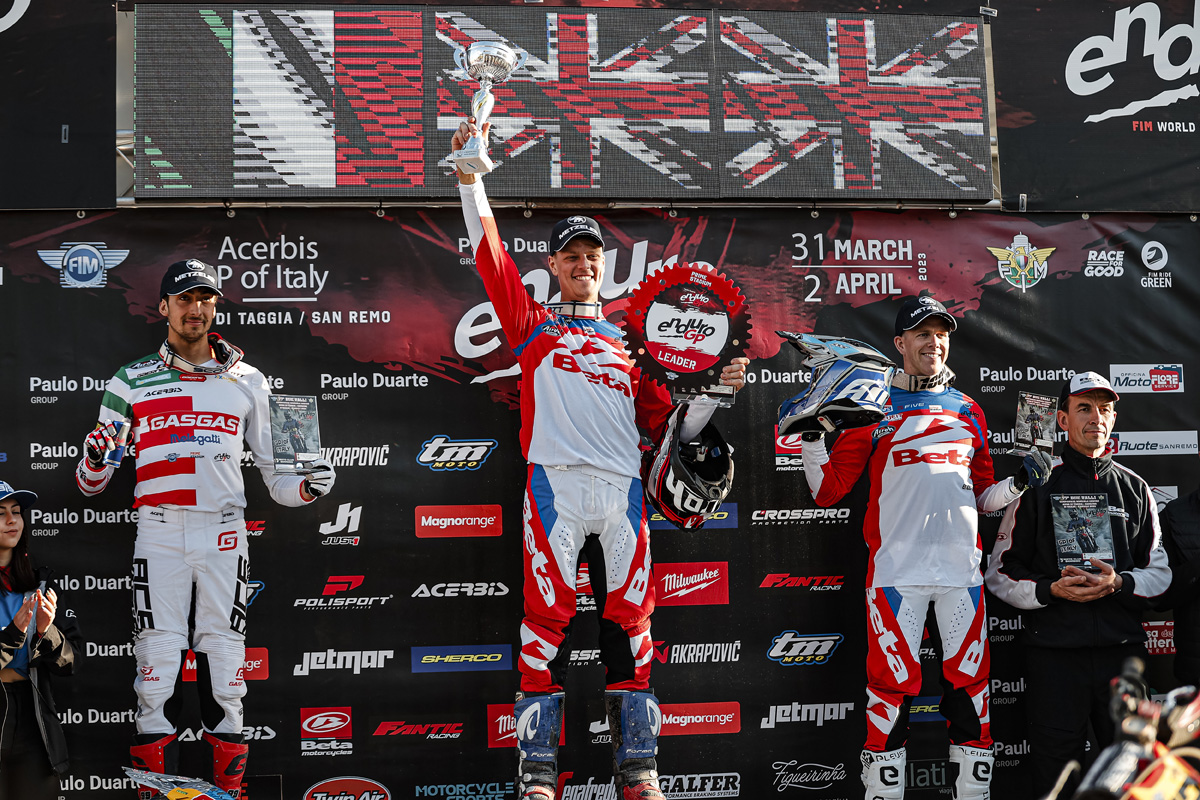 Photo Credit: Future7Media | Andrea Belluschi