5 minutes: "I want to finish Erzbergrodeo once in my life" – Laia Sanz
Laia Sanz talks exclusively to Enduro21 about how she's not giving up on conquering the infamous Erzbergrodeo, being back on a GASGAS, two difficult seasons with injuries and why the Dakar Rally can only get better.
Are there any more challenges for Laia Sanz? The short answer is yes: "I want to finish Erzbergrodeo once in my life" says the off-road legend as we catch up with her at home in Spain. Sanz made her first attempt to conquer Erzberg's Iron Giant in 2019 but the infamous mountain beat her. For Laia all that did was grow the motivation for the challenge to conquer it.
The 13-time Trial World Champion, five-time Enduro World Champion, Cross-Country Rallies World Champion and 10-time Dakar Rally finisher (she has finished and taken female class win every time she has started – ninth overall being her best result in 2015) says she will be back to Erzberg for redemption.
We caught up with Laia to talk about the move back to GASGAS, how her thumb (injured at Dakar 2020) is recovering, her plans for the rest of this Covid-affected race season, next year's Erzbergrodeo and Dakar races, plus her thoughts on the new safety measures being applied to rally racing…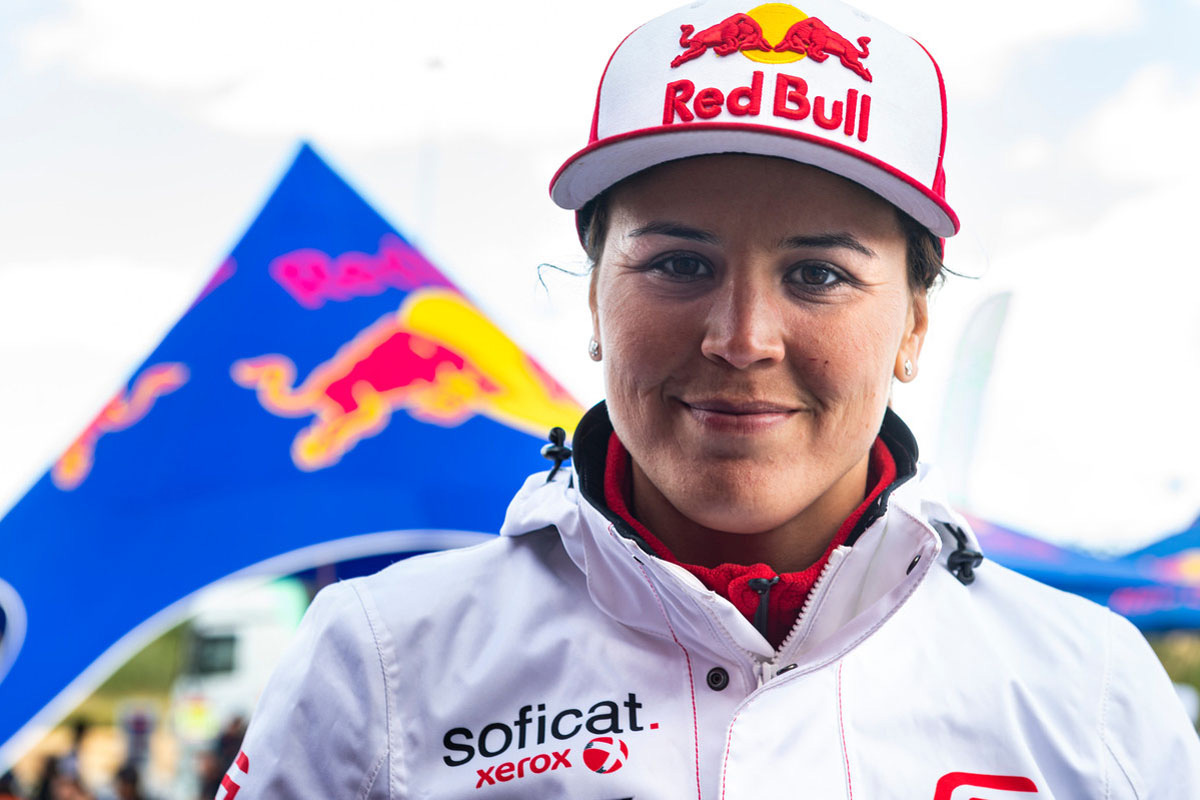 Hi Laia, how are you? Dakar 2020 took a toll on you, are you back to 100%?
Laia Sanz: I had a big crash on the second day where I think I even passed out a bit because I don't remember loads of things about the stage. I broke the ligament in my right thumb but I didn't know this until a long time after. They bandaged it and I have to admit it wasn't hurting much, even if it's the finger that you use a lot when riding to hold the bike. I got through but then on the penultimate day, I mistook a dune and I fissured my sternum and damaged my left hand. I got it checked in the hospital back home and I did some resting after Dakar because of it.
But then when I got back on the bike after lockdown, I started to feel pain in my right hand. If we had diagnosed this injury when it happened it would have only taken a month and a half to heal after surgery, but with lockdown in between it went on for more days than we were expecting. Also, ligaments are tricky to heal by themselves. After lockdown I had my thumb immobilized for a month but now it's healthy and ready to go.
The positive part must be having the time to heal during lockdown and that you were able to continue your physical training?
When we saw that everything was going bad we bought some gym equipment so we were able to train in the garage. We're in touch with my personal trainer via Skype or Facetime so he was sending me the daily routines. Normally, I would do a two-hour gym session at 10 every day and some cycling in the indoor trainer. It's not the same as going for a bike ride or doing motos but I was able to maintain a good shape.
Loads of us have taken the lockdown time to do the things like painting the house, organizing garages, some gardening…did you?
Yes, we found time to do all those things. Lockdown arrived just when we were moving house – the first ten days were nonstop – but once everything was in the correct place there wasn't much left to do. Luckily, we live in a small town so we were able to go out for a walk with the dogs because we were in a more advanced phase than other territories (in Spain lockdown phases varied).
So, you spend the first 10 days like if it was a DIY TV show?
We did loads of things, we didn't waste our time for sure. We tidy everything, hang pictures in the walls… and we also played PS, things you normally don't do. We just wanted to make the most out of our time.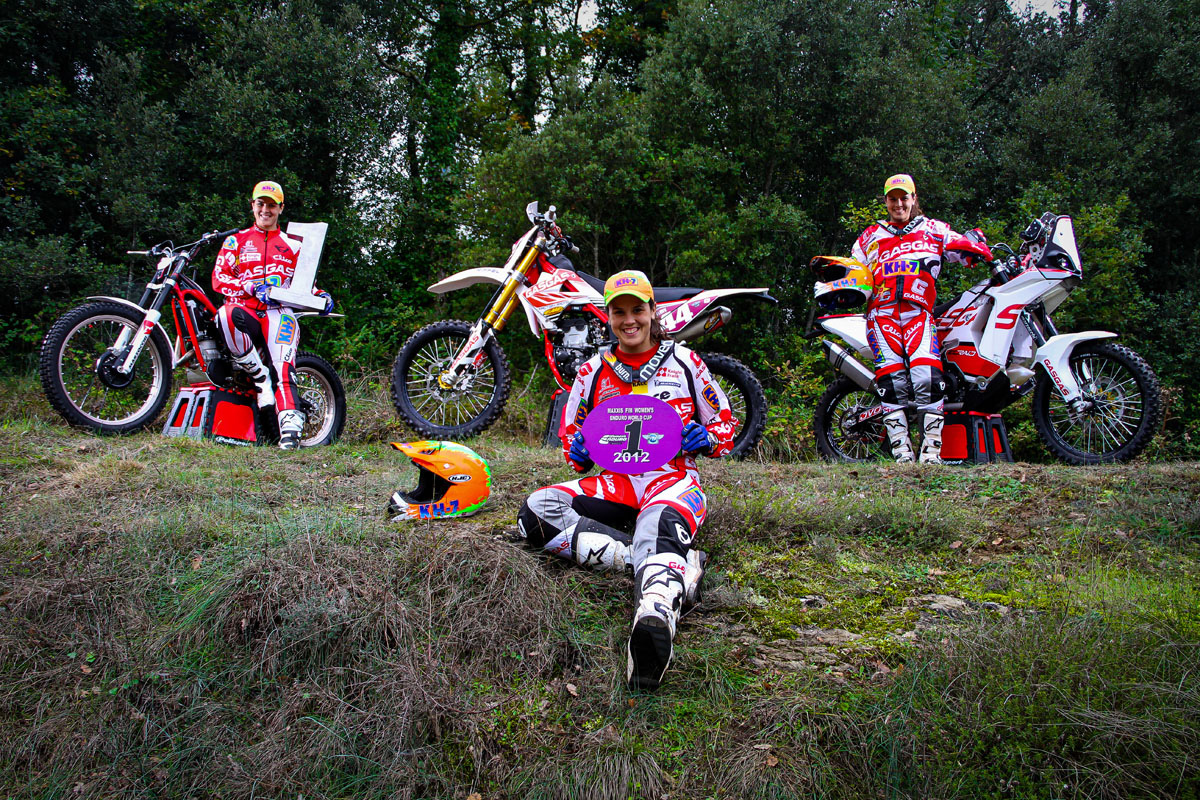 Last year, just before Dakar, you signed with GASGAS and we see you are back riding a TXT trials bike, did you still have the moves?
The truth is that I feel more comfortable each day on the trials bike. During the last years I haven't practiced more than 10 or 12 times in a year. Now that I have a GASGAS trials bike at home I do it more and I have to admit I feel so good on it. I'm happy because I still remember my way around, even though I look at the big steps with much more respect now. I have loads of fun riding trials and during these last days I'm practicing quite a lot.
https://www.instagram.com/p/CCULdV8Jr3M/
You have a GASGAS trials bike and the rally bike, have you tried the enduro bike yet?
Not yet. I have the rally bike and in a short time I should receive a two-stroke to prepare the Erzbergrodeo, I guess… (laughs). One 300 two-strokes, a 350 four stroke and a motocross bike, that's what I normally have in my garage.
Will we see you in any trials or enduro races this year? Are two rally events (Morocco and Abu Dhabi) enough to prepare for Dakar?
I'm fully recovered now and I could race for sure. I would like to race the Spanish Enduro Championship but seeing how tight the calendar is I will probably just do the two rallies at the end of the year, if they still happen.
It'll be enough for me, I never do many rallies before Dakar. I think the year I did more I only did three. I don't see a problem on that side, probably suffering the injury and not being able to train enduro here at home are worse effects. That's what I miss more really, more than rallies.
I didn't enjoy this year's Dakar, it was a Dakar that you could race with an adventure bike – Laia Sanz
In the end, when you have the experience you still need to train for speed but suffering long injuries it's a problem. As it has been for me during the last two years. First, I suffered Epstein Barr virus and the returning with a cracked tibia from Dakar, it was a long recovery. The last two years have been hard, having to deal with injuries has been worse than not being able to race. So, if we can race two rallies before Dakar this year it will be great.
When you came back from this year's Dakar we could see that you had a hard time and you even were quite critical with the route, how's the 2021 edition looking?
We don't know really, last year they promised loads of navigation and it end up not being true. We trained this aspect a lot with Jordi Viladoms and the whole team and it was the edition with less navigation by far. We'll have to wait… I think David Castera has loads of experience and with time to prepare it, he'll make a good Dakar.
No one wants last year's race, it was dangerous, not enjoyable and in terms of competition not much happened. Ricky (Brabec) gained advantage during the first week and then it was impossible to take that time back. In the end, I think it's more interesting when things happen each day and someone gets lost… I think is the way organizers want the race to be and, honestly, it's the way I like it most.
I didn't enjoy this year's Dakar, it was a Dakar that you could race with an adventure bike. I remember that in South America there were always two or three days were you really struggled. This year I have suffered more for the nature of the race and seeing the danger constantly than for the toughness of the race. I think it'll be tougher next year and also different. The ASO wants to make a good job. Last year they didn't have much time to prepare everything.
The FIM has announced new measures regarding rider's safety and reducing speeds: pre coloured roadbooks, mandatory airbags, reduced tyres allocation…what do you think about them?
I always worked towards a safer race, I strongly believe that. The airbag vest is something we tested previously, it was a bit heavy then, but if it's something mandatory and for everyone it's good for us then this is the reality.
Regards the pre-coloured roadbooks being hand out in the morning I think it's a great measure to avoid cheating and make everything equal for everyone. Also, you're only allowed to change one piston per race which is good. The riders will have to take more care of the engine and manage the race better, being intelligent and taking care of the bike will be key. In short, it will mean a stop to the sprint racing it has turned into lately.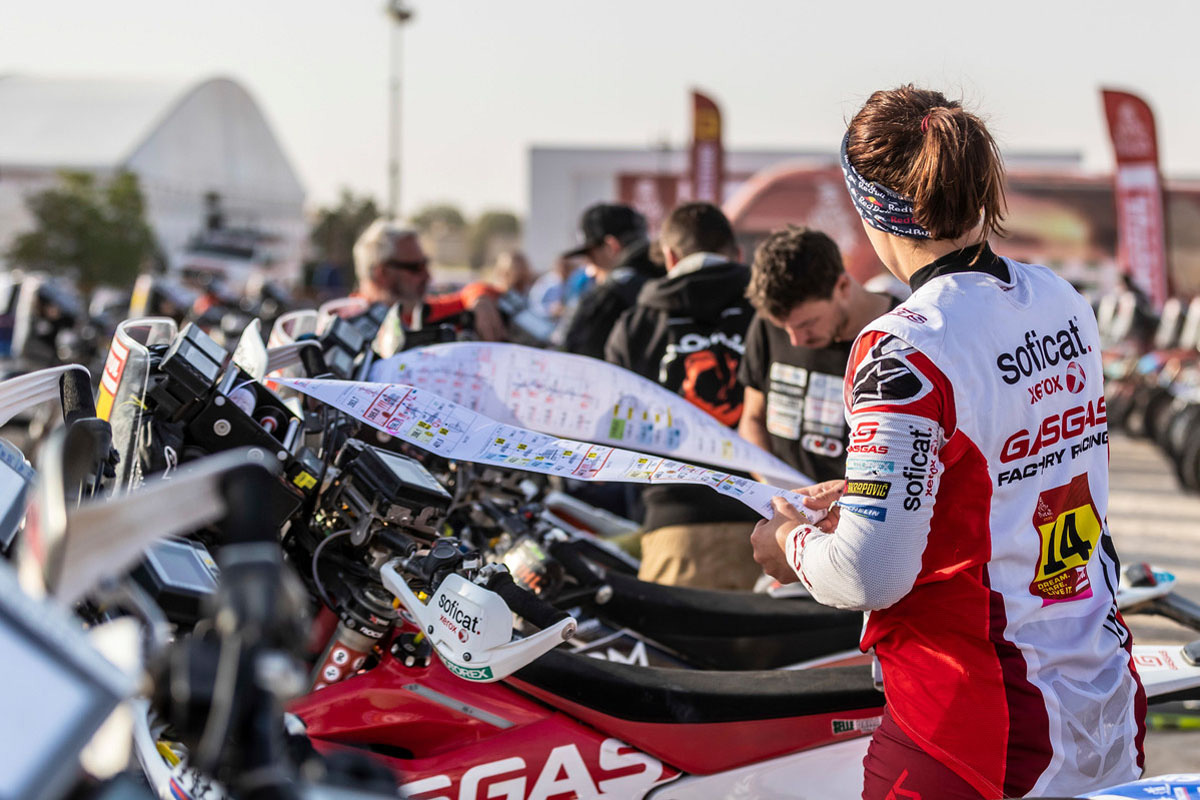 Regards tyres, I think you'll be able to change the bib-mousse but in the end every stage will be like a marathon stage. It'll depend on the type of stage, if it's rocky there'll be critical moments but if it's sand there's no problem in doing three stages with the same tyres, they hardly wear out. The most important thing will be managing the race and that you won't be able to go flat out all the way. More things will happen during the race and that's good for the Dakar.
Until now, everyone painted the roadbooks in the same way?
No, but we started training this aspect last year, because it was like this in some stages, we coloured the roadbooks in the same code as the test ones we got send, that way we got familiar with it. I have always painted dangers in orange and now they're red, you have to get familiar with it. I was a bit slow at processing them before but now I have got used to it.
Last question, tell us about your plans for the remaining of this weird and coronavirus affected race season…
In 2018 I was out for the first half of the season and last year it was nearly the same so this year hasn't been as weird for me as it has been for other riders. I want to race those two rallies (Morocco and Abu Dhabi), if they end up happening, as I said before and do some testing with the team in September. During the rest of the year I'll train in enduro and, if I'm able, I'll do a race nearby… but mainly just train, train and train to arrive in the best possible shape to Dakar.
We need your support
If you've enjoyed this article, if you've found it informative, interesting, entertaining even, please support us.
We want to continue doing what we do, to the best of our ability, serving the enduro and off-road community.
Please consider a donation, every little helps…
Thank you.
Photo Credit: Sebas Romero + Enduro21 (Robert Lynn/Nicki Martinez) + Rally Zone