5 of the best Off-Road winter riding hacks
Enduro21 takes a look at some of the best ways to stay warm if you want to keep riding off-road during the winter months. From clothing layers, to looking after your hands and even a tip for putting vodka in your backpack…
Given the option, most of us prefer to ride in the warmer months of a year, wouldn't we? For a lot of us, if we want to keep riding all year we have to put up with some cold weather.
That doesn't mean it should be miserable because there are plenty of reasons to keep on keeping on through the colder months. The riding can be fun, the tracks and trails are less busy and without doubt it's good for the body and soul.
Experience tells us that riding in technical terrain, where the body is working and keeping warm, means we need less layers. The 'fresher' the temperature though, and the less active you are on the bike, the more important it is to have the right kit and clothing.
We're not talking about enduro racing so much here, working hard in an enduro test, a practice track or doing extreme enduro will normally keep you warm. We're focusing more on practical tips for regular off-road riding and aimed squarely at your body, rather than your bike.
Layering is key
Generally, it doesn't work to pack on loads of layers and expect that to keep you warm. In fact, it can have the opposite effect if you're wearing too many by reducing the insulating cushion and restricting blood flow. Too many pairs of socks is a classic example.
Layering up can obviously restrict your movement on the bike too, which will become increasingly frustrating if a trail gets more technical.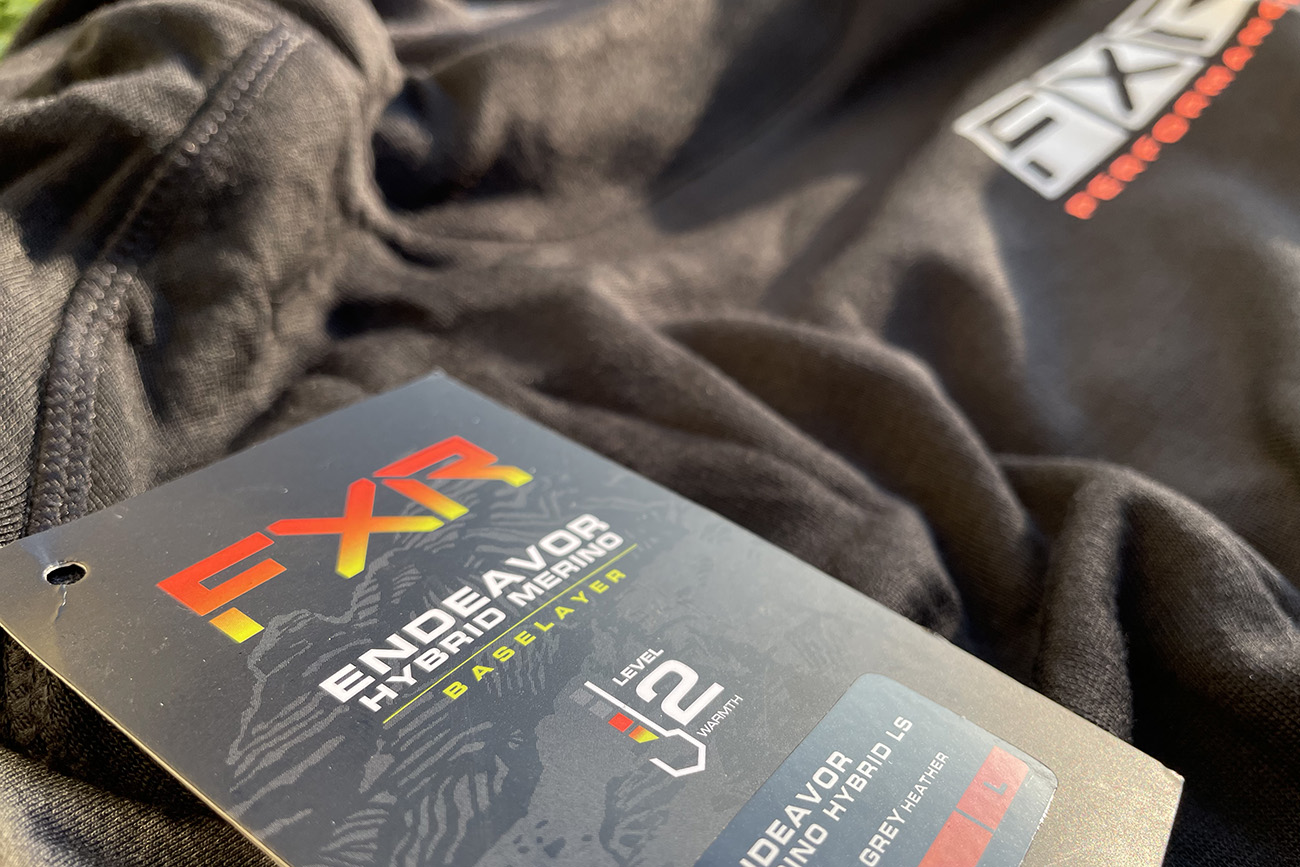 Cold air hitting your upper body is the biggest issue to counteract. Particularly on a long section of trail, it can be the nail in the coffin for body temperature and therefore your overall feeling of comfort and control.
Mountaineers don't wrap-up like babies in a cot but wear specific layers – a long sleeve base layer to help regulate body temperature and wick sweat away, a mid-layer for warmth and then an outer shell to keep the elements at bay.
Will I be too hot?
The best thing about layers is they can be added or removed as needed. If you're thinking "I'll be too hot in that" be sure to look at different materials and thicknesses to mix and match to conditions. Base layers with Merino wool content are great and are manufactured with different weight – 100gsm or 260gsm for example.
Base layers have a lot more technology behind them than you'd find even a few years ago and those tuned in to winter sports are creating garments which work exceptionally well for off-road.
Also consider…
Compression tights.
Thermal running hat, helmet liner or open face balaclava (basically a thin layer under the helmet).
Thermal/waterproof socks.
A neck warmer or buff to halt the draught.
Outdoor sports manufacturer for technical base and mid layers.
Heated base layers, vest, or gilets.
Sort your jacket out
If keeping the core of your body warm is key to enjoying the winter ride then what you wear on your top of everything is a key element. Off-road or enduro riding jackets can be basic, either just something you put on while you're waiting to ride (because you know you'll get warm soon enough) and often something which hangs about in the bottom of a kit bag all year until you need it.
Maybe it's time to sort that out because riding in winter is a very different prospect if you've got a good jacket.
Fortunately, there are some good ones out there which don't just have the function to adjust to different weather conditions but have additional tech to help with colder days.
Look for features like insulated removeable layers, removeable high neck 'gators', detachable sleeves, taped and waterproof zips, and plenty of adjustability to make sure the fit is perfect depending on what layers you're wearing.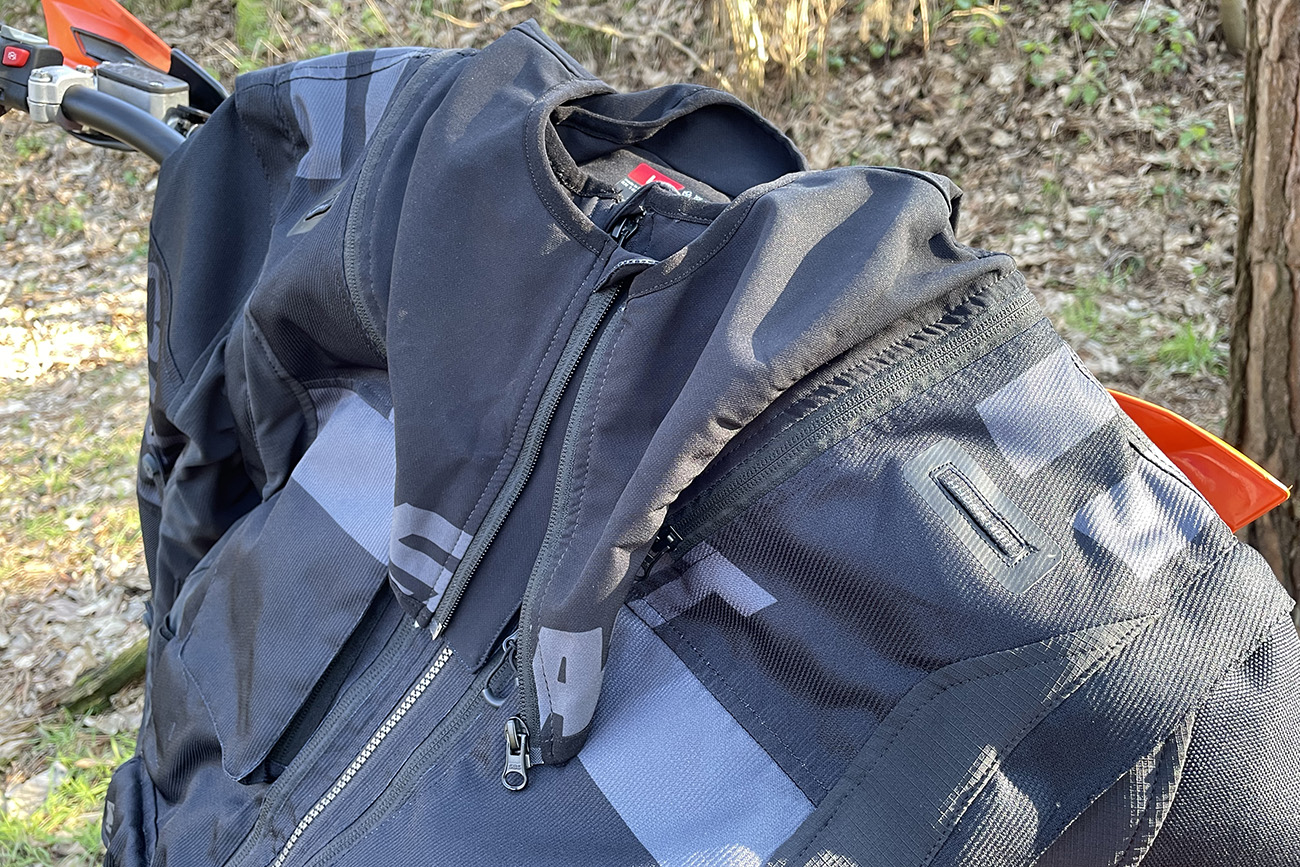 If you want to spend some cash and set yourself up better for the weather then check out some of the outdoor clothing specialists, skiing and snowmobile clothing ranges from manufacturers who really know their winter sports. They're tuned into the idea that you need to keep the cold and wet out but still need to move and create body heat on the inside.
Not everyone wants just one jacket, some prefer the layering option with a riding jersey then a warmer mid-layer topped off by a wind and waterproof outer layer. The fully waterproof outer layer can be just as good at holding condensation inside as keeping rain out, but the beauty of a thinner jacket is you can take it off and put it in a backpack.
If sport or racing is your bag, a thin, wind cheating layer over the top of other layers can make a huge difference in keeping your body warm in those early mornings. This impenetrable layer over the top means you have options to add or remove items as you get warm or cold.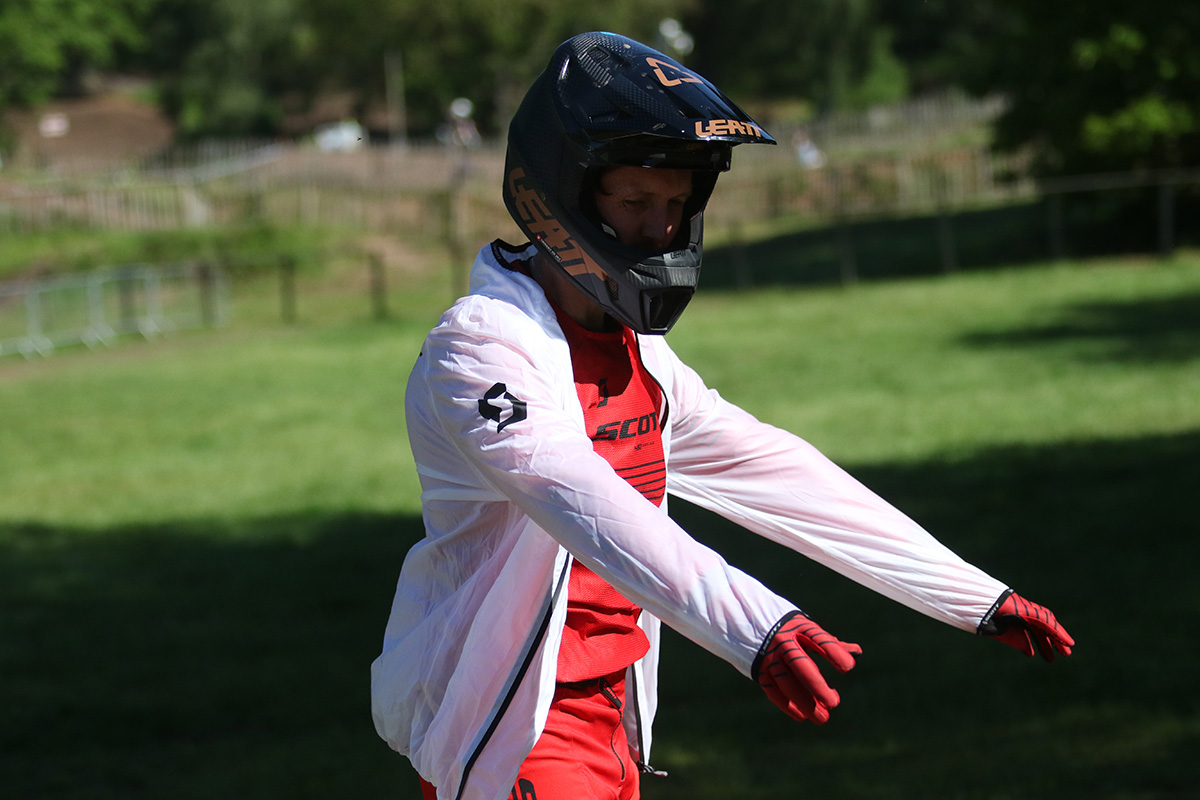 Also consider…
Adventure bike riding kit – can be bulkier but the best are packed with function and designed to work on and off-road.
Got less money? Cut arm and head holes in a refuse bag or find a 1980s race shirt (basically the same material!). This is an old school tip but it kind of works. If wind chill is a big issue, the bin bag gives an extra, thin wind-stopper layer. It ain't pretty but it works.
Looks after your hands
'I had a great day of riding with frozen hands', said no one, ever. They are the first thing to get cold when we ride in winter and crucial to both bike control and general well-being.
From a well-chosen set of gloves, a set of unvented handguards or bar muffs to heated grips, you ignore your hands at your peril.
Gone are the days of bulky, heavily padded gloves which look like they should be worn by a WW1 pilot. Many of the quality clothing manufacturers have a range of gloves with more or less venting, padding and insulation and waterproofing.
Again, some of the best are designed for snowmobilers but with dirt bikes utilising similar controls, these can be a good choice for when the mercury drops.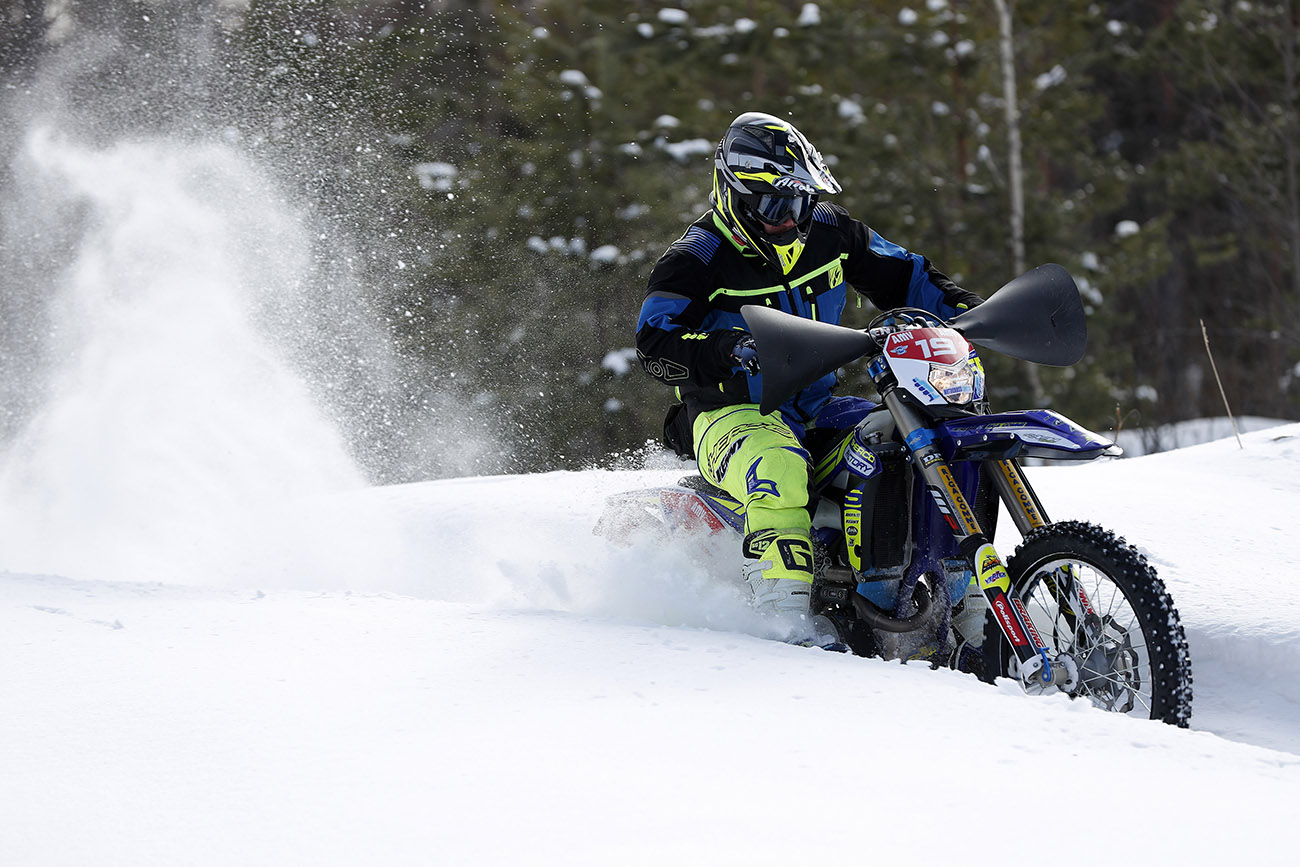 Bar muffs are popular for cold weather racing, particularly in the Northern Hemisphere and countries like Sweden, Finland or Canada where riding and racing continues all year in some unbelievable temperatures.
They might be ugly but when it gets well below zero these things make a hell of a difference.
Handguards don't just offer protection from impacts they also act as a windshield for your hands which can make a big difference too.
Some brands include optional extensions (to make their surface area bigger) and some creative use of duct tape over the vents will stop the wind getting through. Extend the height and depth of the guards with more duct tape for even better coverage.
Also consider…
Carry a spare set or two of gloves in case you fall off and get them wet, or if temperature changes and you need more or less feel.
Latex gloves under normal gloves makes a difference, especially if your hands are getting wet with snow.
Fit heated grips. Smart Dakar riders fit heated grips to their bikes for those 4am starts and 600km transfers in freezing temperatures. Some are simply a layer underneath normal grips and draw a minimal amount from the battery.
Hydration and nutrition
We've all ridden in the height of summer when it is easy to know why we need to keep hydrated. However, in the winter, it's easy to forget it's just as important to keep drinking.
You might not be blowing out your backside quite so much trail riding in the winter, but your body still needs fuel.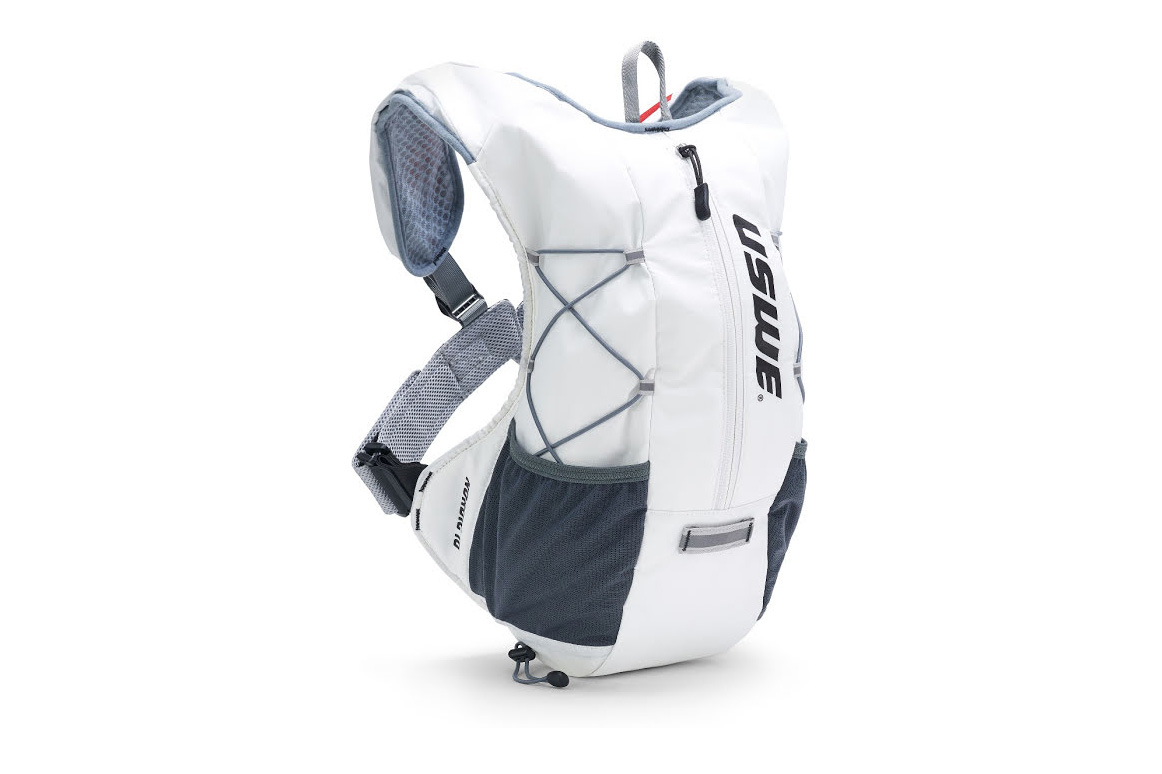 Carrying a backpack is important, not just for storing clothing layers, tools and your phone, but for some food and a drinks bladder. Remember, little and often is the motto.
Do you live and ride in really cold climate? We mean really cold? Splash out on a winter specific backpack like the one above from USWE which is designed for the snow and cold with improved waterproofing and insulation to keep the drinks bladder from freezing.
Also consider…
Hydrating and carb loading in advance.
Plan a coffee stop or two for a warm drink.
Carry energy gels or protein bars. Quick and easy refuelling for the body.
Add a tablespoon of vodka to two litres of your water will stop it from freezing (but not make you drunk!).
Sort your software
There are some incredibly useful navigation apps out there and, of course, plenty of people already use these when they're out on the trails.
Your software stash should also include a tracker or alert app. Some phones (and smart watches) or a specialist app will not only track you but can be set up to send a message to someone else if you stop moving suddenly or for any amount of time.
Some of the best adventure or outdoor apps which break the world into three metre squares (gives each square three words to pin-point your whereabouts) are particularly useful.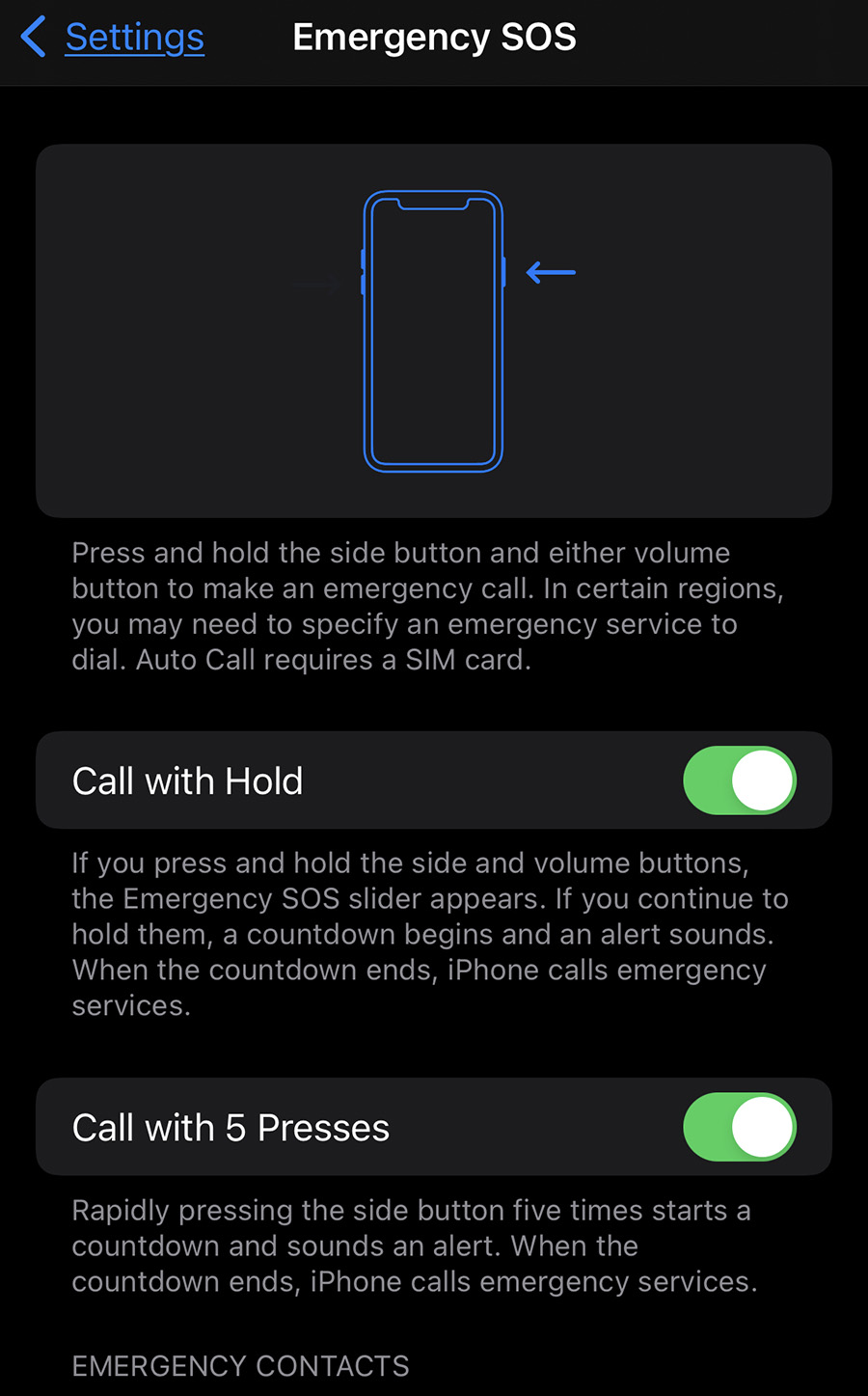 Also consider…
Fully charge your phone before you leave. When the temperatures drop, so does battery life. Stick a small battery booster in there if you have room.
A re-usable handwarmer pack could be handy, literally, but placed next to (not touching) your phone it will help battery life or put it in some spare socks.
Put phones, spare batteries, spare gloves in waterproof bag or zip tie bag to keep the water (and ice) out.
Plan a route
Ok, we said top five winter hacks but having a plan in advance is also a must do. It gets dark earlier in the winter months and your route may take longer than expected so knowing an alternative route outta there is smart.
Whether on maps, GPS, on your phone or by following routes you know well (or riding with someone who does), knowing the way you're heading and how you're getting back are important particularly if the weather changes dramatically.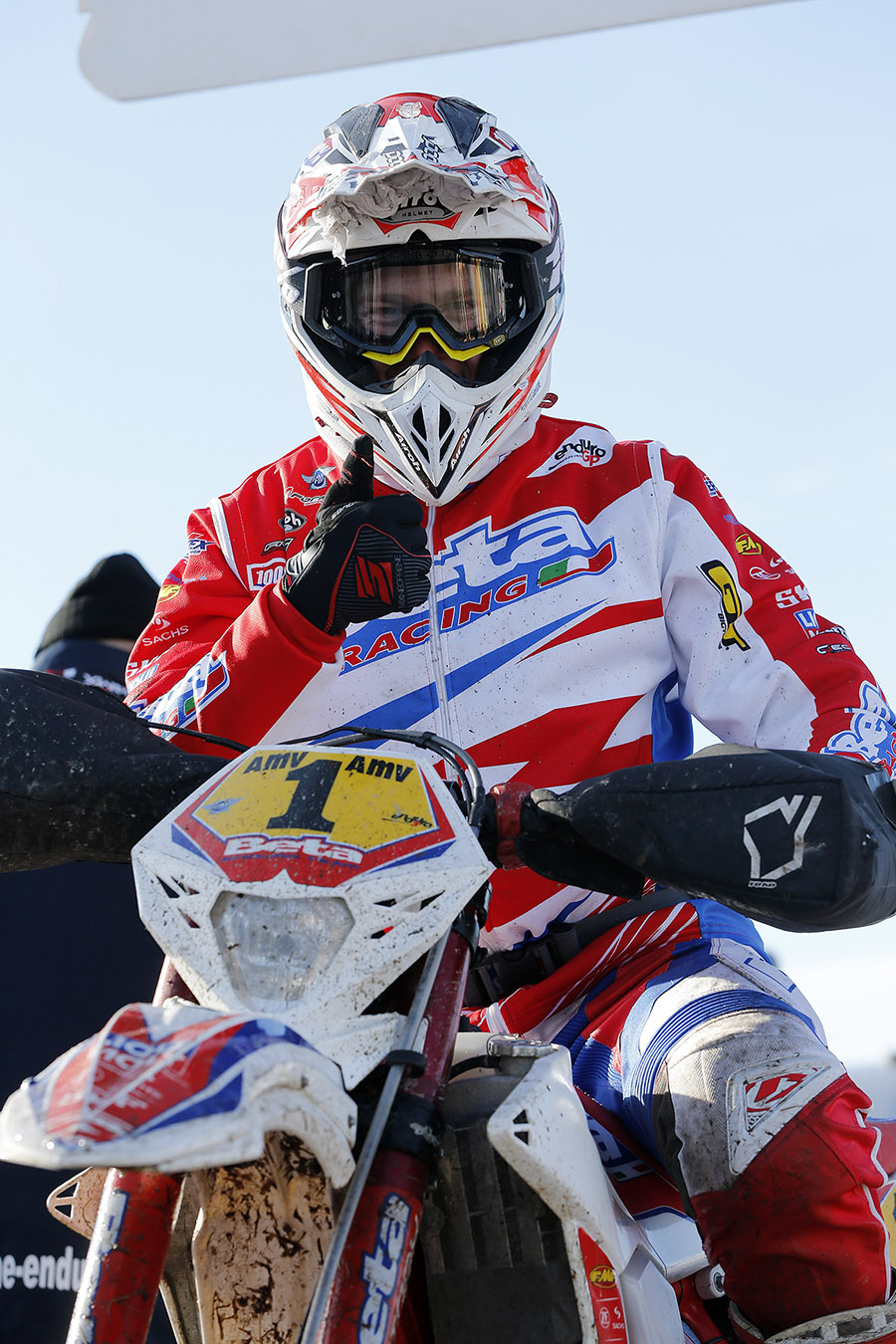 As we said at the top, these hacks are aimed at your body, not your bike. The bike is another matter (and another feature) when it comes to helping engine temperature, sprays, covers, extra parts and so on…
Got suggestions and tips you've learned about riding in the cold? Let us know and share your wisdom.
Photo Credit: Enduro21 + Future7Media + Tilde Tighe