EnduroGP, ISDE, Hard Enduro, TrialGP and now Dakar – Sandra Gomez steps up to Rally
After racing the Red Bull Romaniacs, the ISDE and the TrialGP World Championship in 2021 Sandra Gomez is now taking on the 2022 Dakar Rally – Enduro21 catches up with the multidisciplinary Spanish rider to learn about her next adventure.
The only woman to finish the Red Bull Romaniacs in the Gold class, Sandra Gomez took everyone by surprise when just two days before the Hixpania Hard Enduro 2021 she announced that she was going to race the 2022 Dakar Rally.
Enduro21 wanted to know more about how all this unfolded, how her first rally in Morocco went and if this means goodbye to hard enduro or if she'll just add another discipline to her skillset.
Hi Sandra, suddenly you announced that you're going to Dakar, how did that happen?!
Sandra Gomez: "When we made the plans for this season racing the Dakar Rally wasn't in it. But in May or June I spoke with my brother and Lorenzo Santolino, who's also like a brother for me and runs XRaids team, I told them that sooner or later I wanted to go.
"After that everything came together so fast, during the end of August beginning of September. Just before the Trial World Championship started again I spoke with Santolino and we decided to go for it. He has helped me a lot, without him this wouldn't been possible. He hasn't been in rally a long time but he's a fast learner, he was fifth last year.
"That was the idea mainly. I had also told my sponsor I wanted to do it some time ago and one of them always wanted to have a rider in the Dakar Rally and was keen that it was me. That's why my bike is painted in the Clínica Cres colours.
"Everything came from the support of my family, Mitas, Leatt, Santolino and Clínicas Cres after saying, let's go for it!"
Have you always dreamt about racing Dakar or was it a last minute call? It caught us by surprise…
"I always dreamed about it. I think that everyone looks at the Dakar Rally and says 'I want to be there someday'. This year my goals were the Erzbergrodeo, which got cancelled, and to do my best at the Hard Enduro World Championship, Romaniacs in particular.
"Rally wasn't one of my goals but everything came together quite fast. It also caught me by surprise a bit."
How did the Rallye du Maroc go?
"It went well, I was really nervous because I was stepping into the unknown and it has been a while since I raced something that I didn't know about. Once it started, I realized that Santolino had taught me well and that I had everything under control.
"The main thing is I took it with no stress, riding at my pace, not missing any waypoints and not making any navigation mistakes. I thought that the hours on the bike would seem longer, but I liked it in the end.
"It's totally different. Once the days started going by I was learning, gaining some speed, having the navigation under control and it made everything more enjoyable.
"I loved the first time I rode the dunes. I prefer the snow, but it remind me of it in a certain way, it was just all brown and with 40 degrees hotter!"
What was the hardest part of it? And the easiest?
"Navigation of course. I still don't have it 100% dialled, but I know where I'm going in every moment and if I get lost, I know how to return to the right path. Maintaining the control when you don't find a waypoint is hard.
"In Morocco I got lost once and I had to turn around, but when I looked around there were like 15 people that were in the same situation. You have to stop, think how you can validate the waypoint and continuing is the hardest part.
"I think I'm doing good though and I'm trying to learn and much as I can about how to read the roadbook. I know that it's going to be the hardest part in the Dakar, but I'm doing alright. The XRaids team, Jordi Grau and Lorenzo Santolino are helping me, I have been doing an intensive course."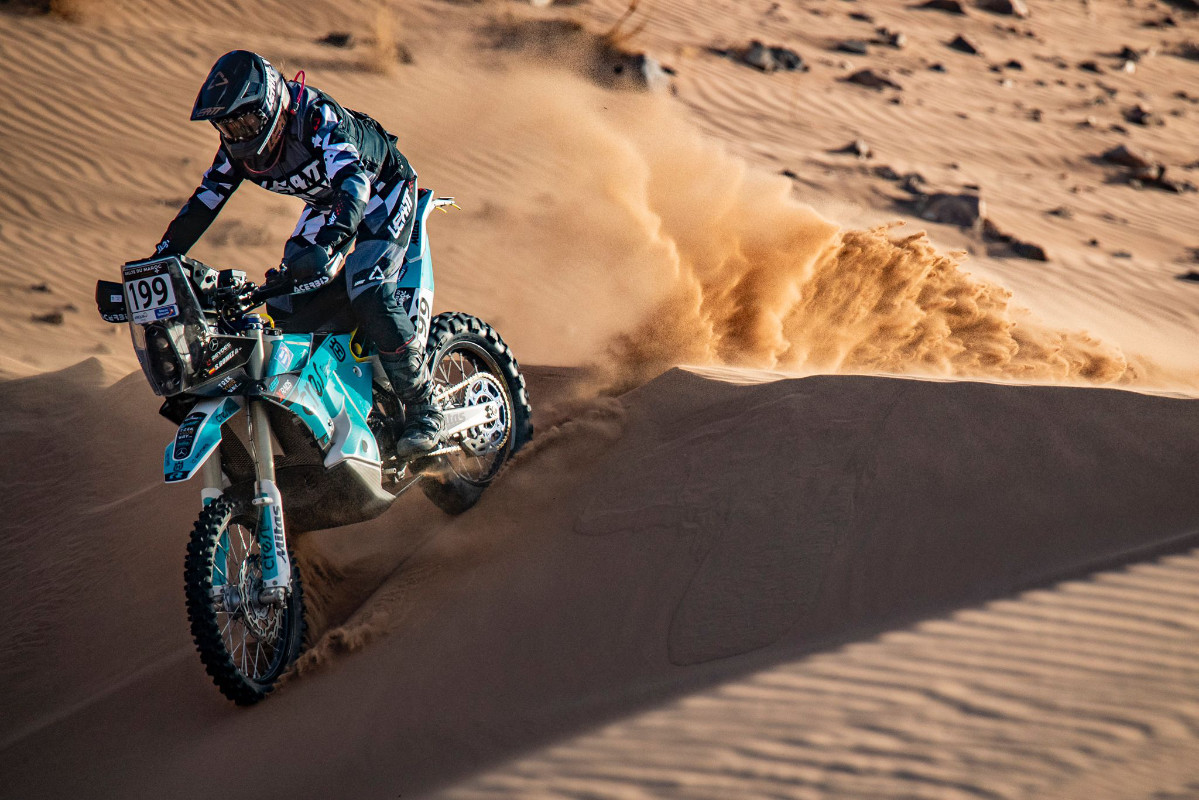 "Riding wise I have a bit of trouble with the weight of the bike. I'm used to rocks of course but not with such a big bike so need to learn that feeling to stay off the ground.
"The easiest part were the dunes. I practiced a bit around the bivouac and I asked the people about how to tackle them. I tried every way to hit them to see what could happen and how I could get the bike out if it got stuck. It has been easier than I thought and I had a great time."
How's the atmosphere at the bivouac compared to extreme enduro?
"In extreme enduro we have a great atmosphere in the paddock and even more inside the ZonaPaddock team (who Sandra rides with this season).
"I don't know many people in the rally bivouac, but in Morocco I started knowing more people, mainly Spaniards. They gave me some advice and I have to thank them for it. I went there not knowing the discipline and it was really helpful.
"I think that in hard enduro the pro riders are more accessible, in rally it's harder to see them around the paddock. In a race like Hixpania you can easily catch up with my brother or Mani Lettenbichler."
You're used to long hours on the bike at the hard enduro races, did that help in rally?
"It helped yes. I had already spoke about it with Dakar riders. My body is destroyed after racing Romaniacs. Here it's different, I don't have bruises all over my body but still it is tiring.
"The concentration is different too. I always say that the discipline in which is more difficult to maintain the concentration is trials. You have to be focused during one minute and a half, then switch off and then switch back on, for 30 times or more.
"The hard enduro races suit me more, the results I had in them speak from themselves. In rally you have to think different, you have to be really concentrated on the numbers, but you don't have to think about how are you going to get through a section. You still need to think fast but not about how to move the body but about which way to go.
"Obviously being used to long days in the saddle has helped me, but they have nothing in common. It's not that one is more tiring than the other one, they're just different."
Extreme Enduro and Rally Raid have nothing in common, how was it jumping from one discipline to the other?
"I like big challenges and spending one year and a half prepping for a rally was going to be a bit much for me. I don't want things immediately, but I know myself.
"It happened the first time I went to Romaniacs, everyone was telling me that I was crazy and I ended up in hospital due to a drop in sugar levels. Anyway, the goal wasn't to finish, we just wanted to try and see if it was possible at the second or third try. I have been doing this at the Erzberg, you have to be patient in these races.
"I'm not planning the Dakar that way, my goal is to finish. The Rallye du Maroc was different. We went there to see if I liked it and to train the roadbook. It was just a test to see if I had what it takes to go for the Dakar.
"It's true that hard enduro and rally have not many things in common, but in both disciplines you spent loads of hours in the bike. In the end it's a bike and you have to ride it.
"It has been difficult and easy at the same time, there were some things that I thought they would be harder and some that were easier. The bike looks quite big the first time you step into it, but it's easier to ride than it seems.
"I still learning, but I feel comfy riding it. I'm getting better at reading the roadbook and interpreting it without spending much time looking at it. I'm going step by step and getting more used to it."
What's the plan at Dakar? Which team will you be in?
"Obviously, making it to the finish is the goal, I'm a complete rookie and I will have the women's class in mind. I know that a lot of things can happen in that race and I understand that in rally you cannot relax, if you do you get lost and gaining time back is difficult.
"The main goal will be to be spot on with the navigation, don't make mistakes and ride without risking anything, always looking to reach the finish.
"I'm going with the XRaids team, the team will be called XRaid Cres, after my main sponsor. I am still looking for more sponsors because everything has been last minute, I hope that some show up before the Dakar Rally."
Is this a goodbye to extreme enduro or just a 'see you later'?
"It's not a goodbye, I still have loads of thing left to do in hard enduro. Next year I would like to be able to finish the Erzbergrodeo, we're all looking to go racing there.
"I would also like to improve the results in some races that I have already finished. In Romaniacs I have finished twice in Gold and know I would like to go there and see what I'm capable of in that class. I still have some things to show in that race."
Good luck Sandra, what's next after Dakar by the way? MotoGP?!
We need your support
If you've enjoyed this article, if you've found it informative, interesting, entertaining even, please support us.
We want to continue doing what we do, to the best of our ability, serving the enduro and off-road community.
Please consider a donation, every little helps…
Thank you.
Photo Credit: