One To Watch: Ryder Lafferty – Young Enduro & GNCC talent
Ryder Lafferty might not be on everyone's radar yet but a podium and fifth place overall result at the 2020 Bulldog GNCC shone a light on a growing talent and one to watch for the future…
Riding for the XC Gear/Enduro Engineering/Husqvarna Motorcycles USA team in 2020, 22-year-old Ryder Lafferty is one rider who can say the halt in racing caused by Coronavirus was actually a good thing – although he says it did send him stir crazy.
A pre-season practice crash while testing saw Ryder break his foot in six places and tear a ligament, almost scuppering his season before it had started. The few extra weeks without racing gave his foot time to heal and allow him to bounce back with some style at the Bulldog GNCC in Georgia.
We caught up with Ryder ahead of round five, Camp Coker GNCC to find out a little more about this young rider making waves in 2020…
Hi Ryder, congrats on the results at the Bulldog GNCC, is that your best result ever at GNCC?
Ryder Lafferty: Thank you, yes that was my best finish to date so far!
Not to be rude but how come? What changed to make that result happen or was it just a question of everything being right?
Well, I feel like I've kind of been under the radar, for sure. At the end of last season, in the last four GNCCs, I had some really solid rides. But on paper they didn't look great because I had two mechanicals. For example, at the Mason Dixon race I was about three miles from the finish and leading XC2 when my bike expired. Then at the next race in West Virginia I backed it up with a podium and top 10 overall.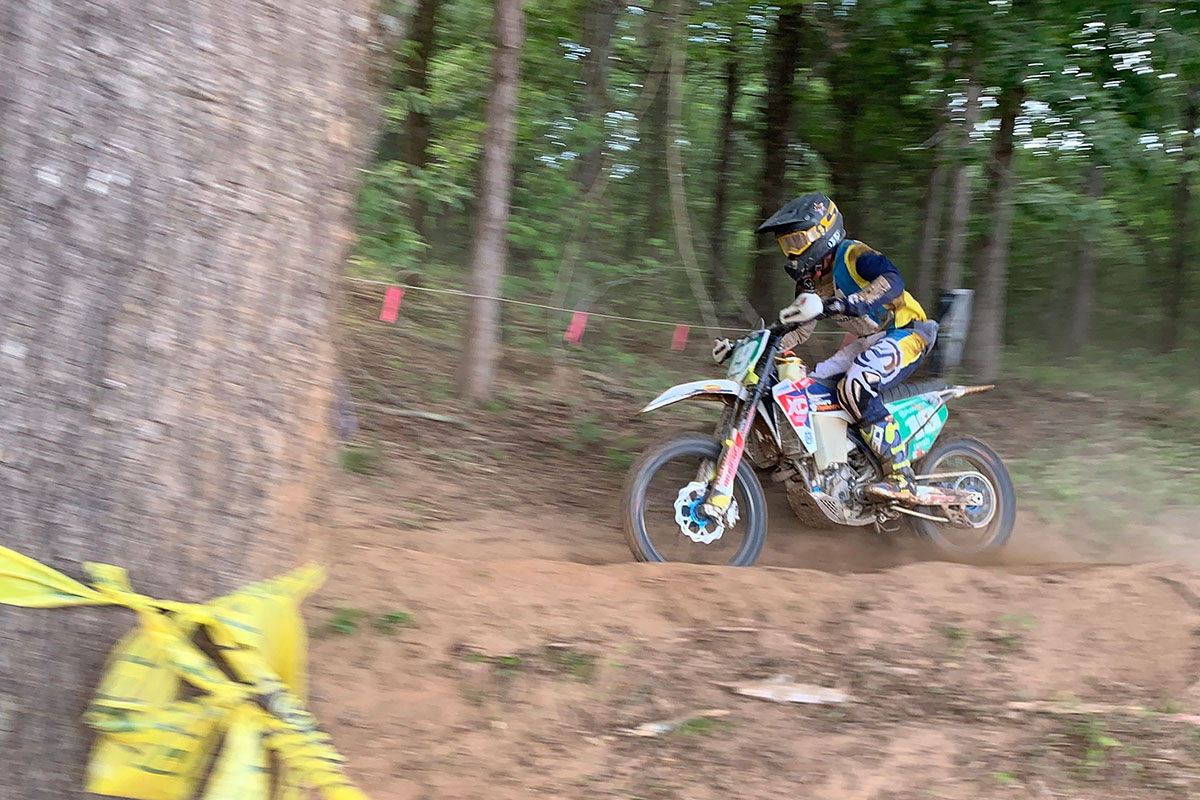 So, I felt like I was really starting to figure it out at the end of last year but then I came into the 2020 season injured so that's been the biggest thing that's held me back.
So, this season has been tough so far, how did you injure on your foot?
Definitely it's been tough this year coming into it injured. I never really got to start my season until the Bulldog GNCC last weekend (first race back after Covid-19) besides the one lap I put in at Florida earlier in the year where I tried to come back a little too early and just wasn't 100% yet.
I injured it in pre-season training at home getting ready for the first National Enduro and doing some sprints on some tight, single track trails. I lost traction going pretty fast and it shot me off the trail, slamming my foot in between my bike and a tree.
I broke my foot in six places and tore my Lisfranc ligament. I had surgery and was out for about four weeks, but it's taken a lot longer getting my strength back in my leg and foot.
In a way then did the Coronavirus lockdown period help a little, giving you time to heal?
It helped for sure giving me some extra time to get healthy before going racing again but since I was almost all the way healed when the pandemic hit and everything shut down, I was going stir crazy being stuck in the house for that long!
Let's rewind a little and ask where you grew up riding? Was it always Off-Road and Enduro?
I'm from New Jersey so I've grown up in the sand. At home we have a lot of sand pits that I've grown up riding. I've always been an off-road guy being that everyone in my family raced it. I just kind of followed in their footsteps at local series.
Growing up I raced the ECEA series and would also go up to Pennsylvania and New York a lot, so I really got comfortable riding in the rocks and gnarlier conditions.
You moved to the XC Gear/EnduroEngineering/Husqvarna Motorcycles USA team for 2020 – what difference has that made for you?
It's been a huge help getting a ride with a team this year! The past few years I've basically been doing it on my own with a little bit of support from a local shop and just a few sponsors, my uncle (Mike Lafferty) and one of my buddies helping me work on bikes and pit crew.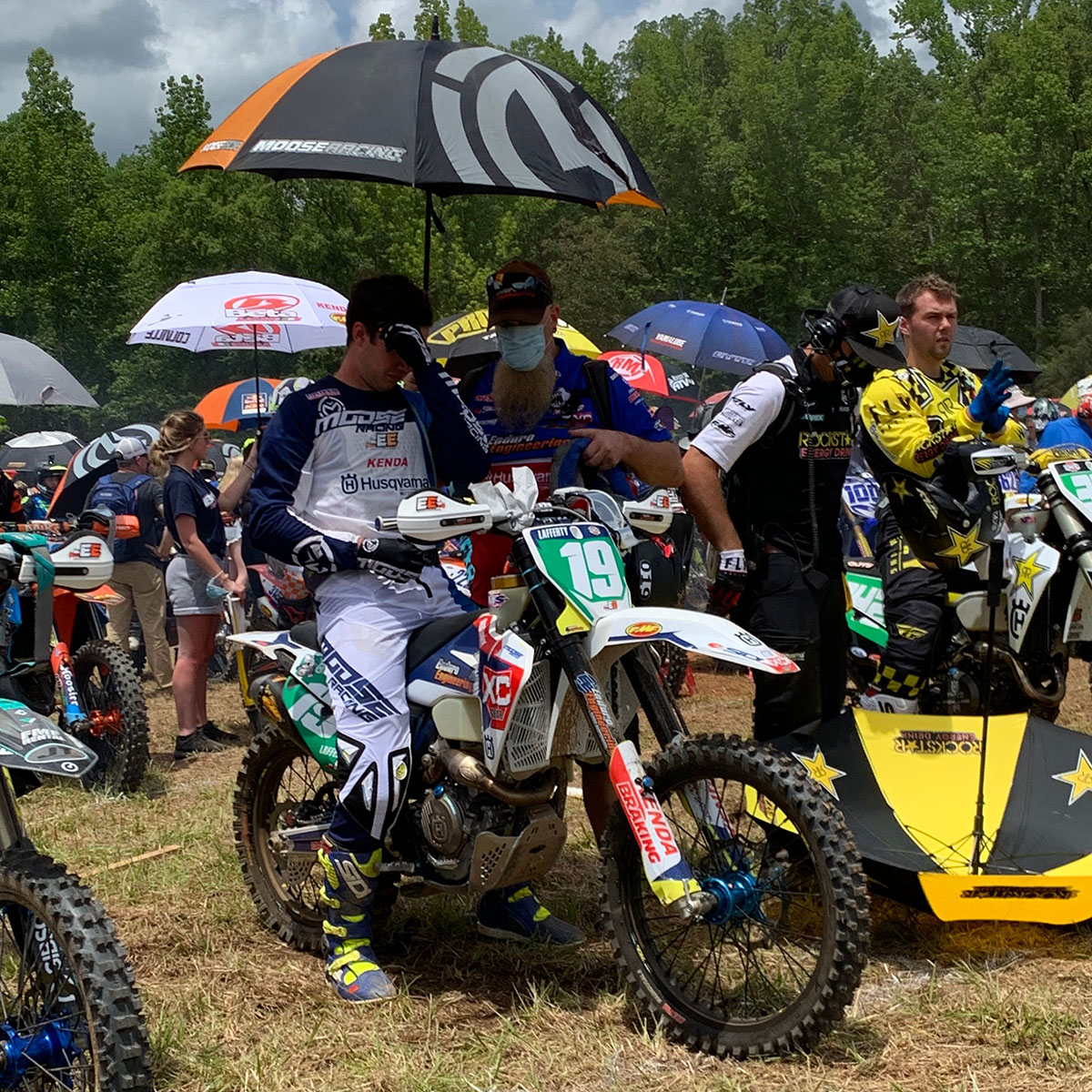 Being with a team has really helped take a lot off my plate with prepping bikes and getting ready to go racing. It gives me a lot more time to focus on my training.
What's the goal from here forwards? XC2 and Pro 1 podiums and championships?
The goal now is definitely to get some wins in XC2 and be on the podium as much as I can at GNCC. For enduros I still don't know how I stack up with everyone since I missed round one. But I think realistically I'm aiming at getting on the podium in the National Enduro Pro 1 class.
I want to focus on both of them equally. For sure I've always been known as just an enduro guy, but I want to keep improving in GNCC's so I can have some good results in both series.
Who do you look up to as a rider?
I think just like a lot of people you have to respect all the success that KR557 (Kailub Russell) has had, since he's at the top. He's definitely someone I try to study and look up to.
Have you ever raced ISDE? Do you want to get to Italy in 2021?
No, I've never been to ISDE, but I have been wanting to go for the past couple of years. Italy would be awesome and is definitely one of my goals is to get there in 2021!
Career highlights:
2015 East Coast National Hare Scramble champion
2x ECEA Hare Scramble Champion
2018 National Enduro NE Pro 2 Champion
Age:
22-years-old
Explain your relationship with Mike Lafferty:
Mike Lafferty is my uncle. I grew up watching all of his successes and he's really been a big help for me in my racing career so far because he has so much knowledge about racing dirt bikes.
Preferred riding conditions:
I enjoy all conditions we face riding, but I really like rocks for some reason. The rougher and gnarlier the better!
We need your support
If you've enjoyed this article, if you've found it informative, interesting, entertaining even, please support us.
We want to continue doing what we do, to the best of our ability, serving the enduro and off-road community.
Please consider a donation, every little helps…
Thank you.
Favourite thing about your 2020 bike:
I love everything about my Husqvarna FC 250, but my favourite is probably the XC Gear MAKO 360 bar clamp. In the past I've always struggled with arm pump but since I started running the XC Gear clamp it's really helped keep me loose on the bike.
For more information and to keep up to date, follow Enduro Engineering on Facebook or Instagram.
Photo Credit: Logan Densmore