Red Bull Factory Racing teams fight for the RAM Truck keys!
Not strictly the headline Red Bull KTM Factory Racing were looking for in their continued partnership with RAM Trucks but we reckon Josep Garcia, Mani Lettenbichler and MXGP guys like Jeffrey Herlings will have to fight for the keys as they share PR duties on TRX, Rebel and Laramie models.
Pro riders getting free stuff isn't normally 'news' for us but race trucks and vans are cool Friday viewing fodder so we're running with it.
The main question is, with just four RAM 1500 trucks spread across the Red Bull KTM Factory Racing enduro and motocross teams, how hard will Mani and Josep have to fight to get a set of keys. Never mind from each other but from their team manager, KTM Motorsport bods and not to mention team mechanics.
The four trucks they're promoting here are two RAM 1500 TRX models, a RAM 1500 Rebel, and a RAM 1500 Laramie which are already in the hands of Red Bull KTM. They say the trucks will be at selected events throughout 2023, showcasing themselves.
The trucks themselves are billed as the fastest, most powerful production pickups in the world producing 650 ft-lb of torque, and with 0-100km/h claimed figures of just over 4.5 seconds.
Born in the USA back in 2009, RAM Truck's full line-up includes RAM 1500, 2500/3500 Heavy Duty, and 3500/4500/5500 Chassis Cab heavy-duty workhorses.
There's more stuff from KTM here about "shared values of power and agility" between the "brands" KTM and RAM but we're guessing you're not so excited to read that stuff. So here's another picture of two trucks Mani and Garcia are fighting over…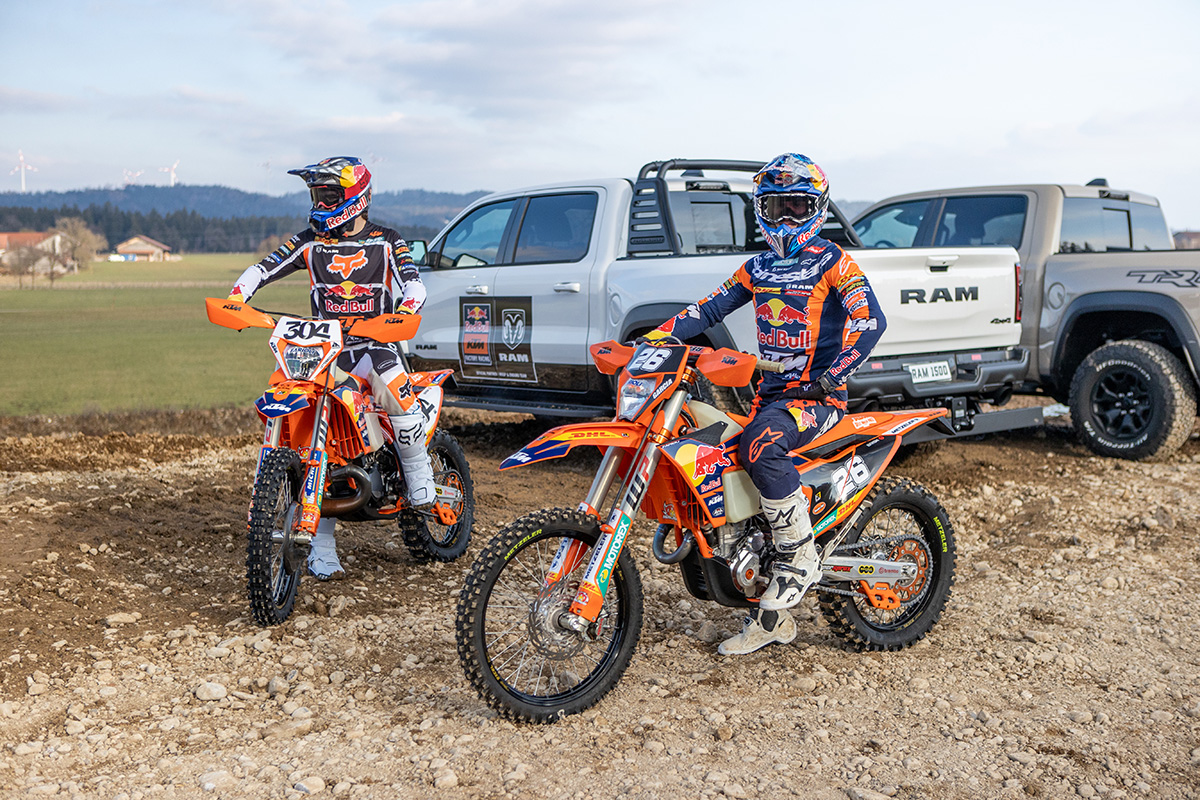 Photo Credit: KTM