New $53 million KTM USA Corporate Headquarters
PIERER Mobility AG makes "biggest single investment" in its history with $53 million new KTM North America Headquarters in Murrieta, California.
This last week marked a significant milestone for the KTM North America, Inc. and PIERER New Mobility North America as they unveiled the new HQ.
The new "campus" will bring the eight brands under one roof including KTM, Husqvarna Motorcycles, GASGAS and MV Agusta; in addition to bicycle brands Husqvarna E-Bicycles, GASGAS Bicycles and FELT Bicycles and high-end components under the WP brand.
The development is situated on 20 acres of land adjacent to the French Valley Airport. Following a development phase over the past 15 months, the $53 million corporate campus is now operational with three state-of-the-art buildings that include over 130,000 square feet of space dedicated to the company's technical development, administrative offices, media relations, dealer training, warehouse and world championship racing departments, with 12 additional acres set aside for future development.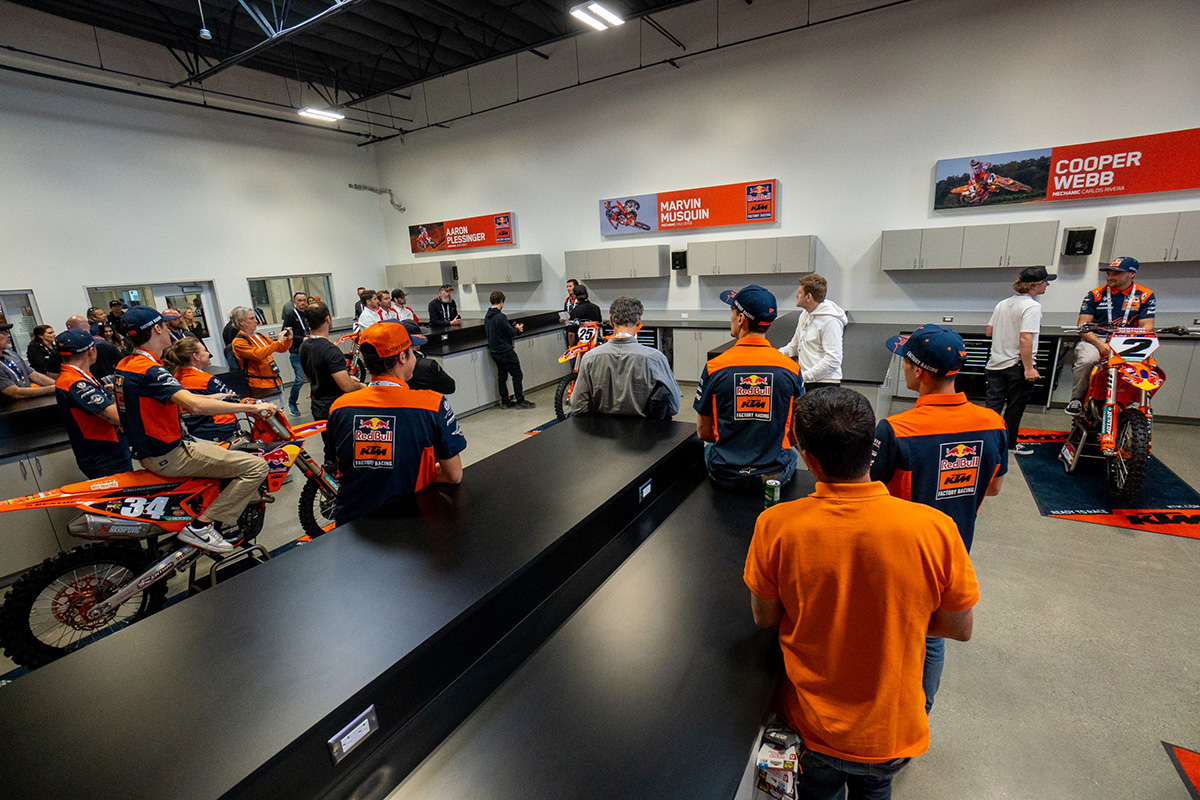 The group's purpose-built private motorsports facility – RD Field – sits one block south of the corporate campus, equipped with two supercross test tracks, hard enduro test track and a trials competition section for product testing and athlete training.
With global headquarters based in Austria, PIERER Mobility AG – parent company of the highly prominent two-wheeled brands – is Europe's leading manufacturer of powered two-wheelers that has been an active player in the North American market since 1967.
PIERER Mobility AG CEO, Stefan Pierer, and select members of the global Board of Directors were in attendance on Tuesday to celebrate the momentous occasion.
"This is an emotional day for me," said Stefan Pierer, CEO of PIERER Mobility AG. "Exactly 30 years ago I started in the USA with only a dozen employees. Today we are Europe's leading Powered Two-Wheeler group, we're selling approx. 100,000 units annually in the US market, so more than one billion dollars in sales.
"The most important success factor for us is racing, that is the driving force that pushed us over the years, even in the US market. Building our new North American headquarters in Murrieta was the biggest single investment we've ever made yet. We set a new standard for the whole US market."
The new headquarters is part of KTM North America's commitment to growing the sport of motorcycling through continuous investment in infrastructure, research and development, technical training, and continuing education for the company's class-leading products and technology.
Specifically, in North America, the organization has grown from 30 employees in 2009 to almost 360 employees in 2023 and this new building allows for further room to expand and grow to support its network of more than 1,000 independently owned small businesses across North America.
CEO of KTM North America, Inc. and PIERER New Mobility North America, Inc., John Hinz, addressed the group on Tuesday afternoon, "Today marks a massive milestone in our company's history. The campus and our facilities, this represents the single biggest investment by our company, so thank you to Mr. Pierer.
"We designed these buildings for our employees, race teams, athletes and truly for our dealers across North America to help support our brands and help support sales. This new campus showcases not only the facilities as a tool for our employees and dealers, but it's our commitment, our dedication and our investment into the motorcycle and bicycle industry here in North America."
More information: www.ktm.com