AIROH announce €1000 Cairoli special edition helmet
Airoh have announced a collector's edition Aviator 3 Legend helmet in celebration Tony Cairoli's motocross career – golden graphics and liner, laurel leaves, chessboard and the TC222 logo all mark this €999.99 special.
A very special collector's edition
The Aviator 3 Legend is a collector's helmet Airoh say, created to bring the one-off helmet Airoh presented to Cairoli at the end of his career, in his final race podium available to fans.
The special edition is characterised by the gold and black colours, the "Legend" graphics including the laurel leaves symbol of victory, the "TC222" on the chin guard, plus the chessboard emblem that Cairoli wore in numerous races.
The "work of art" continues with details inside with golden inner linings embellished with a the laser printed edge with the wording "The Legend of Cairoli".
The price? That's right, a recommended retail of €999.99 which to put it mildly is a heavy one but this is a rarity which comes with a postcard with Tony's autograph.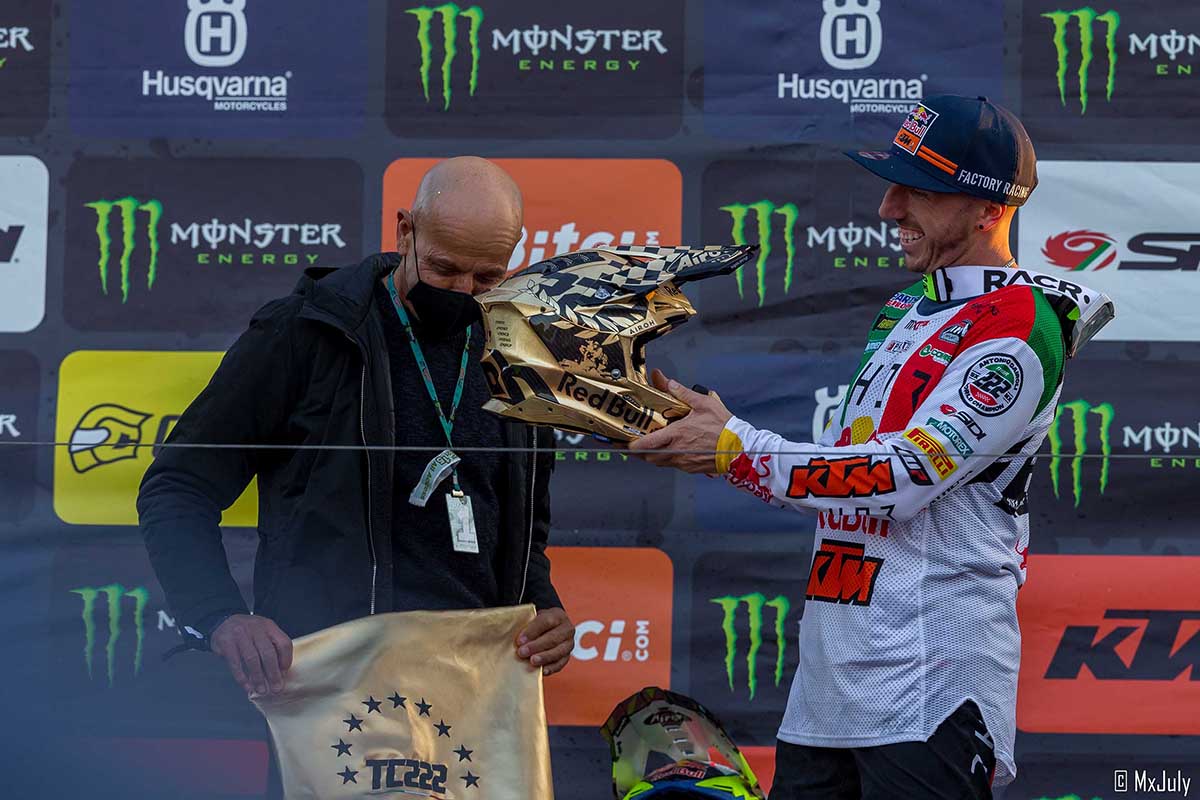 Aviator 3 Legend edition technical details
From a technical point of view, the Aviator 3 is Airoh's top-of-the-range helmet in terms of features and technology. The Legend version is available in four shell sizes, uses their AMS2 Plus (AIROH Multiaction Safety System) which dissipates kinetic energy in the case of an impact and features the AEFR (AIROH Emergency Fast Release) for quick removal of the cheek pads in an emergency.
The Aviator 3 is also equipped with the AMLS (AIROH Magnetic Lining System) the system of magnets for comfort and ease in removing the linings. It has eight air intakes and spoilers with integrated extractors to improve fit and comfort in demanding off-road conditions, plus the integrated AHS (AIROH Hydratation System) hydration system.
Recommended retail price: 999.99 Euros.
More information: www.airoh.com
Photo Credit: MX July + Lucio Buselli