Borilli Racing expand Enduro tyre range
Brazillian manufacturer Borilli has expanded its three-model range of Enduro tyres – developed in EnduroGP by Alex Salvini and his S2 Motorsports team – with a new front tyre designed for "better cornering" and "decisive braking".
Borilli have been building their enduro market presence over the last 12 months or more. Development for the growing range of tyres has kept Alex Salvini and the Brazilian rider Bruno Crivillin busy throughout the 2020 World and Italian Enduro Championships.
That range has just expanded with a new 7DAYS ENDURO front tyre in 90/90-21 size (alongside a 90/100-21), proof of that work by Salvini and his team. The new front tyre matches the rear 7 DAYS ENDURO in having "excellent self-cleaning and improved acceleration and cornering, as well as decisive braking without traction loss" Borilli say.
Borilli's full 7 DAYS ENDURO range in a nutshell:
Borilli's 7 DAYS ENDURO range consists of three tyre types: 7DAYS ENDURO, 7DAYS ENDURO SOFT and 7DAYS EXTREME SS.
The 7 DAYS ENDURO standard front and rear has the broadest range of application in the tyre range. The tread is designed to be effective both on hard and slippery terrain with "excellent lateral grip".
The SOFT version is for when the rains come and the ground is harder going and designed to improve traction on slippery rocks, roots and mud. They also boast greater confidence and safety when cornering.
The SUPER SOFT version is for the rear only (140/80-18) with an extremely soft compound for maximum grip both on the most difficult technical passages typical of extreme enduro and on mountain routes Borilli explain.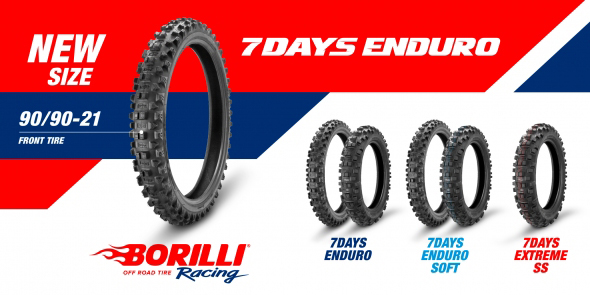 More information including pricing and stockists in your country: www.borilliracing.com