Enduro21 long term test mule Husqvarna FE 350 update – A day at the races
Enduro21 long term test Husqvarna FE350 hits the woods – literally – and goes racing in a timecard enduro.

Rolling up to scrutineers not long after daylight arrives is a special feeling you can't really explain to people not into racing (mostly people wonder why the hell you do it, right?) but it's definitely something you miss over the off-season.
At last we got out with the Enduro21 long term test mule Husqvarna FE350 for a dose of racing at an event called the Santon Enduro, a typical time card enduro in largely sandy forest. Conditions were perfect.
I'd been working on feeling comfortable on the bike across a few practice days recently and though I have a few more things to try, I think I have it about right.
New parts fitted for this race:
Techno Mousses front and rear (standard enduro compound)
Galfer discs and pads
Metzeler Six Days Extreme tyres
Most useful parts – stock Husqvarna handguards (more on that below).
Other parts already fitted: FunnelWeb Proline filter, Raptor Titanium footrests, Polisport front disc guard, Enduro Engineering rear disc guard.
How it went
Proof is in the pudding as they say and the race was great, well run and the conditions really enjoyable. The bike felt great too and I went home knackered, knowing I should have done better but happy – just the way it should be.
Rolling round on the four stroke 350 was a pleasure and I felt consistent (steady!) all day as the 11 mile course roughed up with each lap where in the same riding conditions on a 300 two-stroke my arms get knackered holding on to the peaky power. Holding third gear for long stretches meant most the 30 minute lap was in one gear with a dozen or so gear changes all lap.
"I've headed back to the pits with less handguards than I started with more than once"
The final two, tight time checks obviously means you forget about everything and go for it but I finished on a bike that felt the same as it started which says plenty about the updated standard WP shock on the 2020 model.
I felt surprisingly good to and the XC Gear Mako 360 handlebar clamps, absorbing the shocks through the bars and making riding easier, must be playing a role here – I had was less blisters than the same event a year ago on a 300 two-stroke.
I'll add a note here that a 350 four stroke might well be my preference for ripping round the woods but a guy called Julian Harvey beat me in class on his KTM 125 2T, a far from a new 125 at that. It proves ultimately it always boils down to the rider.
Ugly handguards ain't so bad
Of all the things worth their weight in gold in the world I'm going to wave the flag for Husqvarna's stock handguards. Ugly is my word for them normally. I think they used to be worse but they're still too big and too white.
But here are two good reasons to stick with them: Firstly they deflect the cold air in the early morning and help prevent my bony fingers from turning to ice.
Secondly I've also headed back to the pit area at an event like this with less handguards than I started with more than once. Pine forests have a habit of jumping out at me and the handguards can take a beating when you're running so close to trees.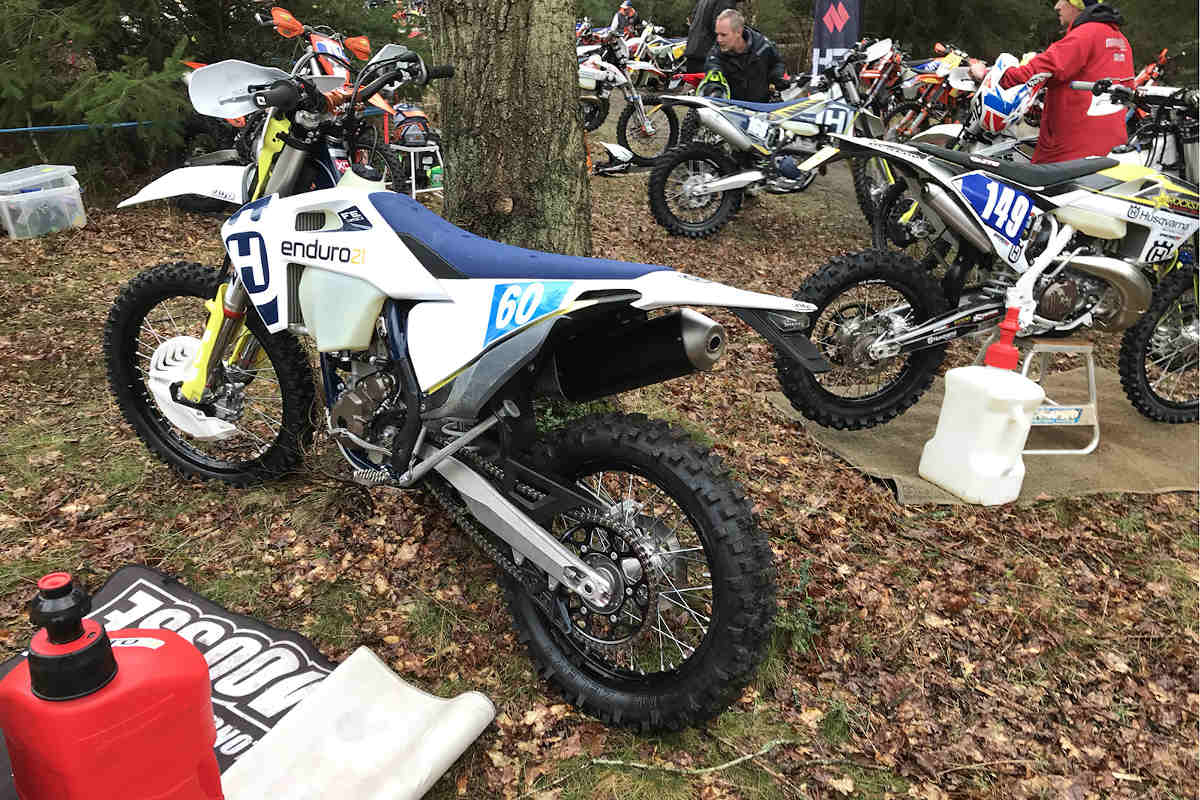 The design of the Husky handguards means that any hard impact causes the weakest point to break, not the whole thing, and that means a snapped zip tie (which sits towards the inside end, round the master cylinder hoses).
Other types of solid mounted handguards can easily snap when hit hard but the stock Husky ones rotate (they're mounted lever pivot bolt each side). So I went home with two broken zip ties and not two broken handguards (or fingers). Good design works in the real world and after this I feel less bad about how they look.
It was also a good lesson in having the lever clamps tight but not too tight on the bars. Both times I hit a tree the lever got pushed around the bars. If they had been too tight they could have snapped a lever, too loose obviously and they're going to drop when you're riding.
My Leatt helmet took a blow too, leaning too much in a corner. It was a glancing blow but it pitched me upright and straight out the corner into a thicket – I must avoid those damn trees!
Photo Credit: Enduro21 + Anthony Ridge