First look: 2023 Leatt Body Protection range – including two new systems for female off-road riders
First look at Leatt's new and updated 2023 range of hard shell body protection for off-road riding including fresh focus on women with two new systems designed for the female body shape.
As Leatt say with the release of their updated body protection range, it's not just about safety but also about having the armour "sit correctly and comfortably". Particularly if you're a female off-road, you'll know how much that means and like always with Leatt, they've put serious effort into the design using their male and female pro riders.
The focus for the new, 2023 line-up is improving and growing the range of hard shell protection with different models to suit your riding but also your wallet. Common details across them all, no matter which price point, is having the hard shell exterior, 3D impact foam on the inside, CE certification across all models and compatibility with their neck braces.
Two new designs in the women's range, plus one more hard shell option, give the same CE certified chest and back protection, plus additional coverage and straps which go over the top specifically designed for the female form.
Enduro21 takes a look at the details behind Leatt's the new body protection range…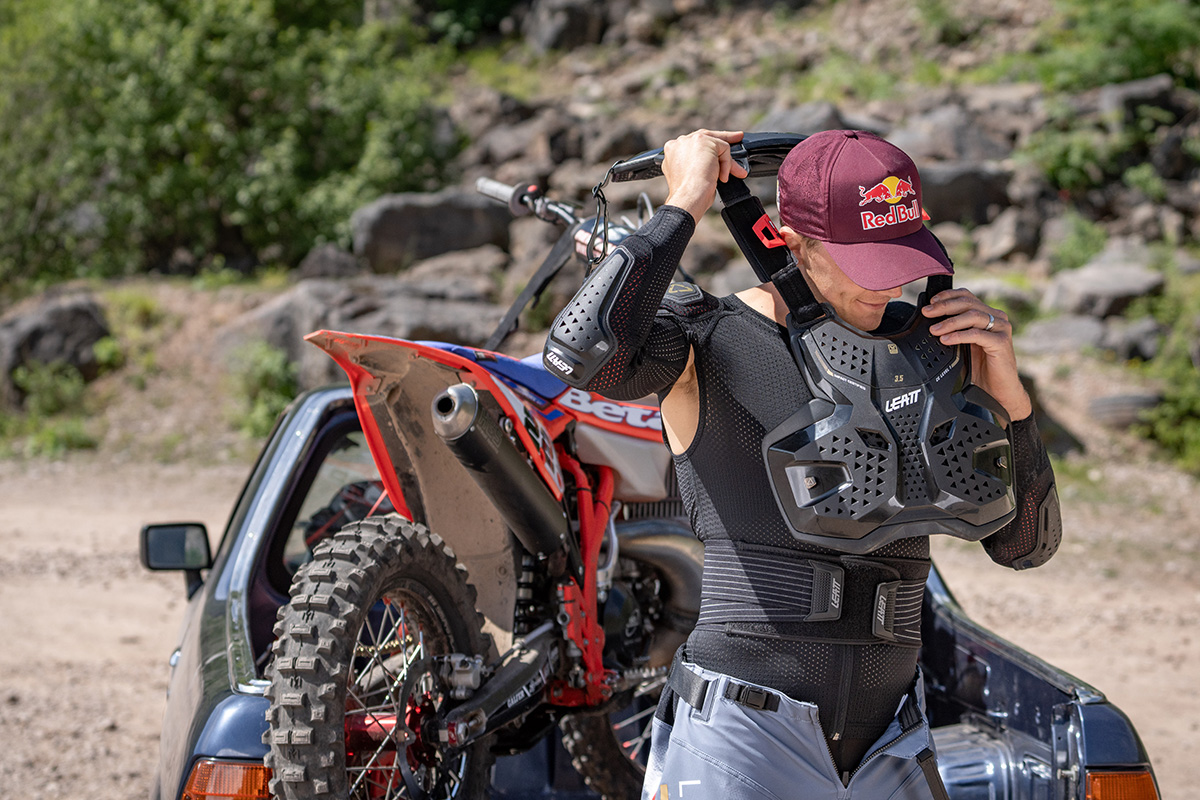 6.5 body protection – ultimate hard shell with impact foam
Total Leatt® protection score of 25 points
Hard shell and 3DF AirFit ventilated soft impact foam
CE tested and certified as impact protection: Chest prEN1621-3 Level 2
Back EN1621-2 Level 2
Elbow and Shoulder EN1621-1 Level 1
Separate Anti-odour modular central zip-up compression sock with built in
elbow and shoulder protection designed for maximum airflow, evaporation,
and ultimate comfort
3D design ensures a great fit
Multi-layer, multi-plate articulating design for added comfort
Kidney belt with height adjustability for best fit
Flank panels for added side protection
Removable front and rear plates and BraceOn™ system allows over and under
the shirt Leatt® neck brace fit
FFM - French Motorcycle Federation Certified
Product weight:
From 2.58kg (5.68lbs)
Sizing: 160-196cm 5ft 3"-6ft 5"
S - M - L - XL - XXL
Plastic Free Recyclable Packaging
PRICE: $379.99 / €419.00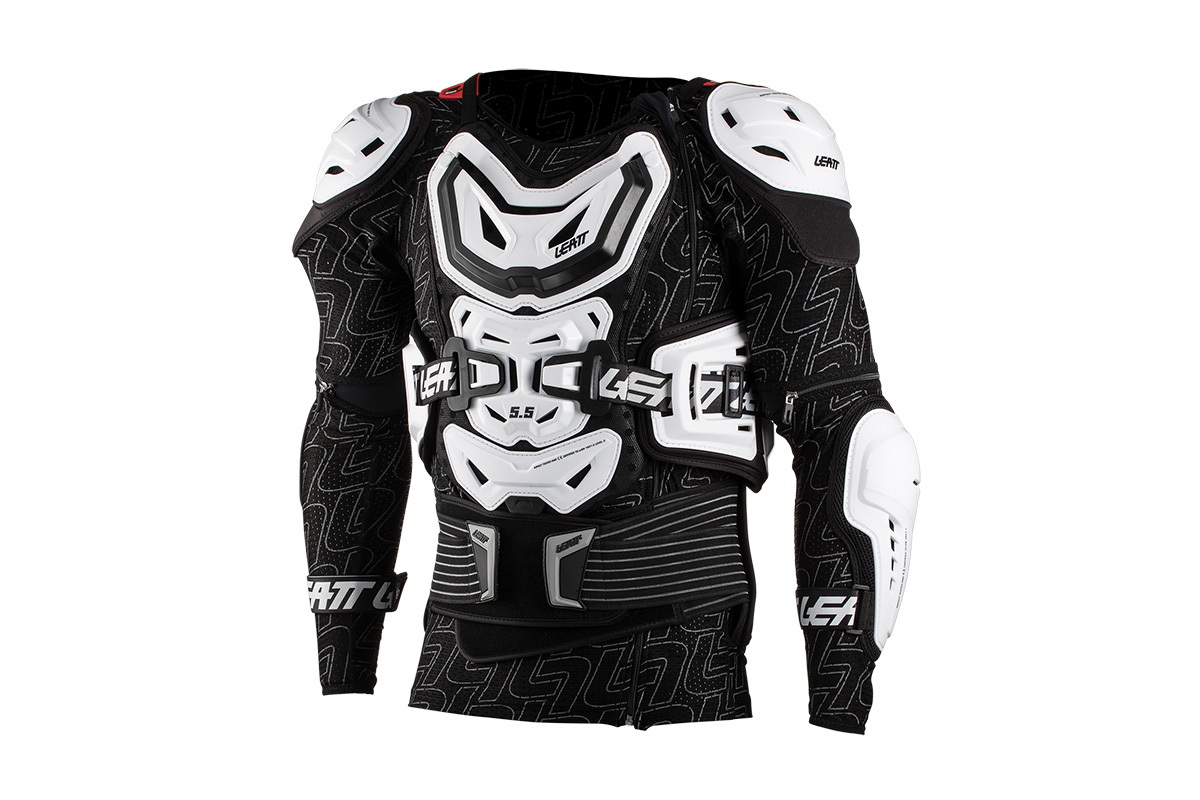 5.5 body protection – ultimate hard shell with impact foam
Total Leatt® protection score of 25 points
Hard shell and 3DF AirFit ventilated soft impact foam
CE tested and certified as impact protection: Chest prEN1621-3 Level 2
Back EN1621-2 Level 2
Elbow and Shoulder EN1621-1 Level 1
3D design ensures a great fit
Multi-layer, multi-plate articulating design for added comfort
Kidney belt with height adjustability for best body fit
Adjustable flank panels add side protection
53 ventilation slots for maximum cooling
Anti-odour MoistureCool and AirMesh wicking base fabric
FlipFit front and rear function and BraceOn™ system allows over and under
the shirt Leatt® neck brace fit
FFM - French Motorcycle Federation Certified
Product weight: From 2.36kg (5.2lbs)
Sizing: 160-196cm 5ft 3"-6ft 5"
S/M - L/XL - XXL
Plastic Free Recyclable Packaging
PRICE: $329.99 / €369.00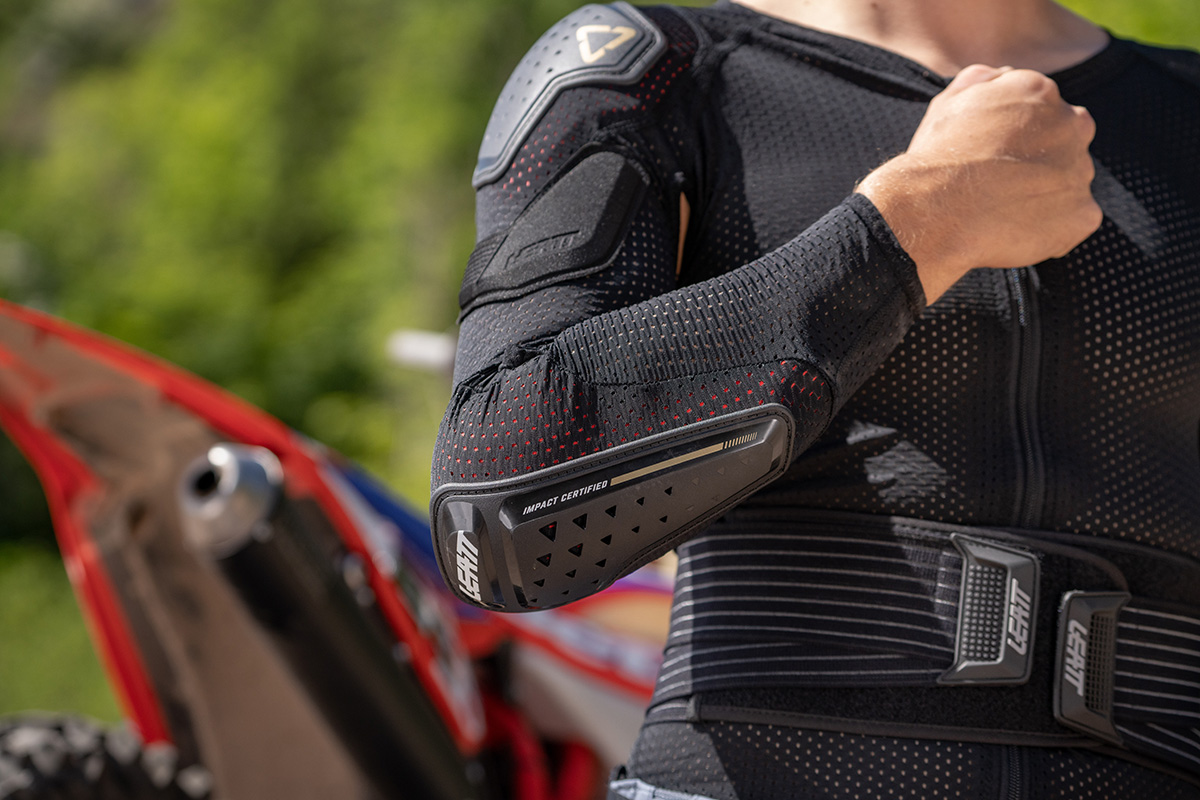 4.5 body protection – premium hard shell with impact foam
Total Leatt® protection score of 19 points
Hard shell and 3DF AirFit ventilated soft impact foam
CE tested and certified as impact protection:
Chest prEN1621-3 Level 2
Back EN1621-2 Level 2
Elbow and Shoulder EN1621-1 Level 1
3D design ensures a great fit
Multi-layer, multi-plate articulating design for added comfort
Kidney belt
Ventilation slots for maximum airflow
Mesh base layer
Anti-odour MoistureCool and AirMesh wicking fabrics
Removable front and rear plates and BraceOn™ system allows over and
under the shirt Leatt® neck brace fit
FFM - French Motorcycle Federation Certified
Product weight: From 2.12kg (4.67lbs)
From 2.100kg (4.63lbs)
Sizing: 160-196cm 5ft3"-6ft 5"
S/M - L/XL - XXL
Plastic Free Recyclable Packaging
PRICE: $289.99 / €319.99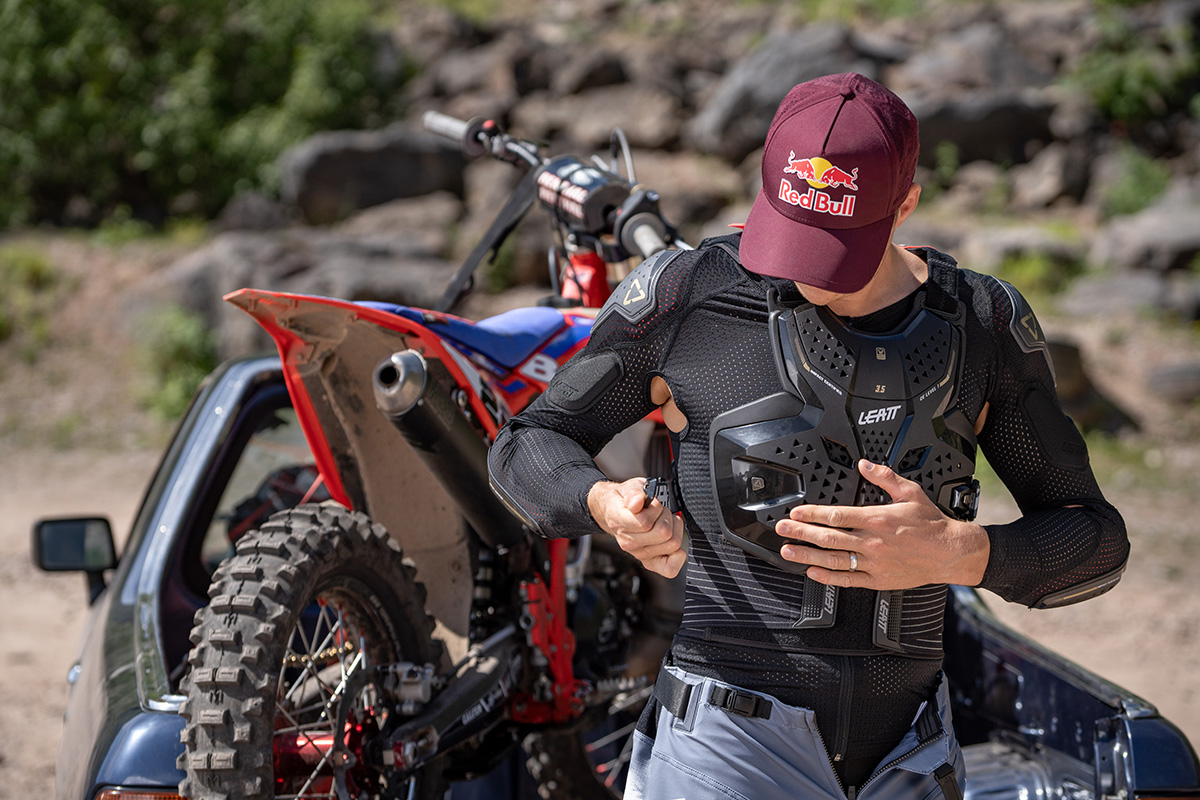 3.5 body protection – lightweight hard shell with impact foam
Total Leatt® protection score of 17 points
Hard shell and 3DF AirFit ventilated soft impact foam
CE tested and certified as impact protection:
Chest prEN1621-3 Level 1
Back EN1621-2 Level 1
Elbow and Shoulder EN1621-1 Level 1
Separate Anti-odor modular central zip-up compression sock with built in
elbow and shoulder protection designed for maximum airflow, evaporation,
and ultimate comfort
3D design ensures a comfortable, low profile, great fit
Kidney belt with height adjustability for best fit
Removable front and rear plates and BraceOn™ system allows over and under
the shirt Leatt® neck brace fit
FFM - French Motorcycle Federation Certified
Product weight:
From 1.95kg (4.30lbs)
Sizing: 160-196cm 5ft3"-6ft 5"
S - M - L - XL - XXL
Plastic Free Recyclable Packaging
PRICE: $239.99 / €259.99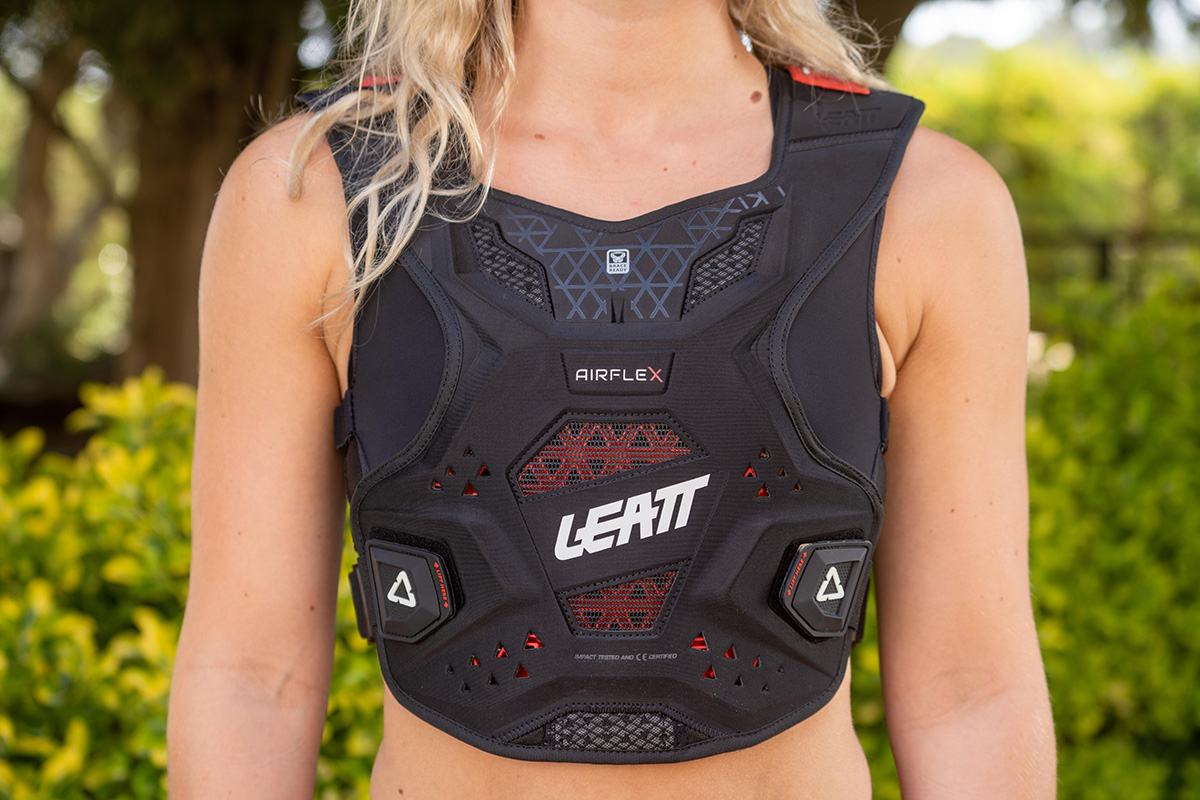 Aiflex chest protection for women – lightweight, slim and super-vented
Total Leatt® protection score of 9 points
3D pre-curved design specifically for the female form
AirFlex ventilated impact protector for the chest and back
Slim ergonomic design
CE tested and certified as impact protection: Front EN1621-3 Level 1
Back EN1621-2 Level 1
Ventilation slots for maximum airflow
3D design ensures a comfortable, great fit
BraceOn™ neck brace fitting system
Padded flanks
FFM - French Motorcycle Federation Certified
Weight: From 745g (1.64lbs)
Sizing: Women - 148-178cm 4ft10"-5ft 10"
XXS/XS - S/M - L
Plastic Free Recyclable Packaging
PRICE: $179.99 / €199.00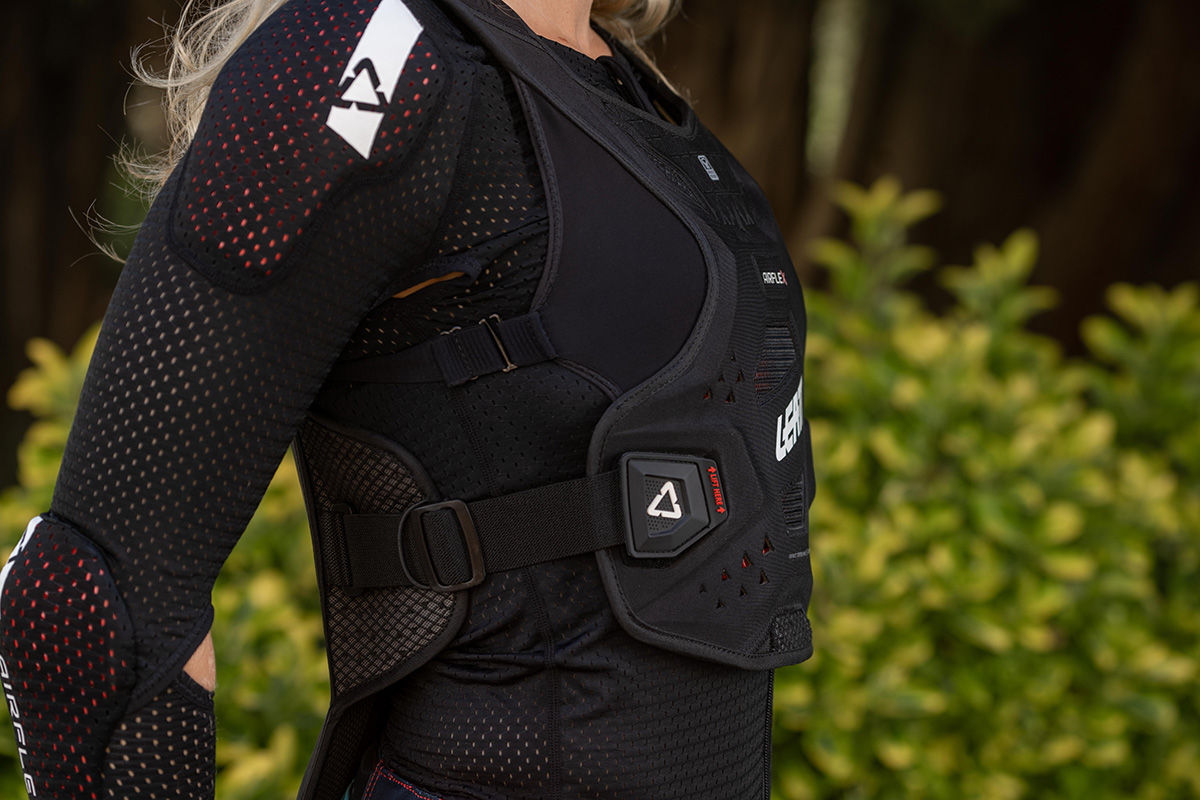 Airflex body protection for women
Total Leatt® protection score of 19 points
3D pre-curved design specifically for the female form
Separate Anti-odour modular central zip-up compression sock with
built in elbow and shoulder protection designed for maximum airflow,
evaporation, and ultimate comfort
AirFlex ventilated impact protector for the chest and back
CE tested and certified as impact protection:
Front EN1621-3 Level 1
Back EN1621-2 Level 1
Elbow and Shoulder EN1621-1
Slim ergonomic design
Superior ventilation using MoistureCool and AirMesh wicking fabrics
Floating chest and back protection for maximum manoeuvrability and comfort
with adjustable straps to secure positioning and improve fit
BraceOn™ neck brace fitting system
Padded flanks
Easy to clean: hand wash
FFM - French Motorcycle Federation Certified
Weight: From 1.064kg (2.35lbs)
Sizing: 148-178cm 4ft10"-5ft 10"
XXS - XS - S - M - L
Plastic Free Recyclable Packaging
PRICE: $329.99 / €369.00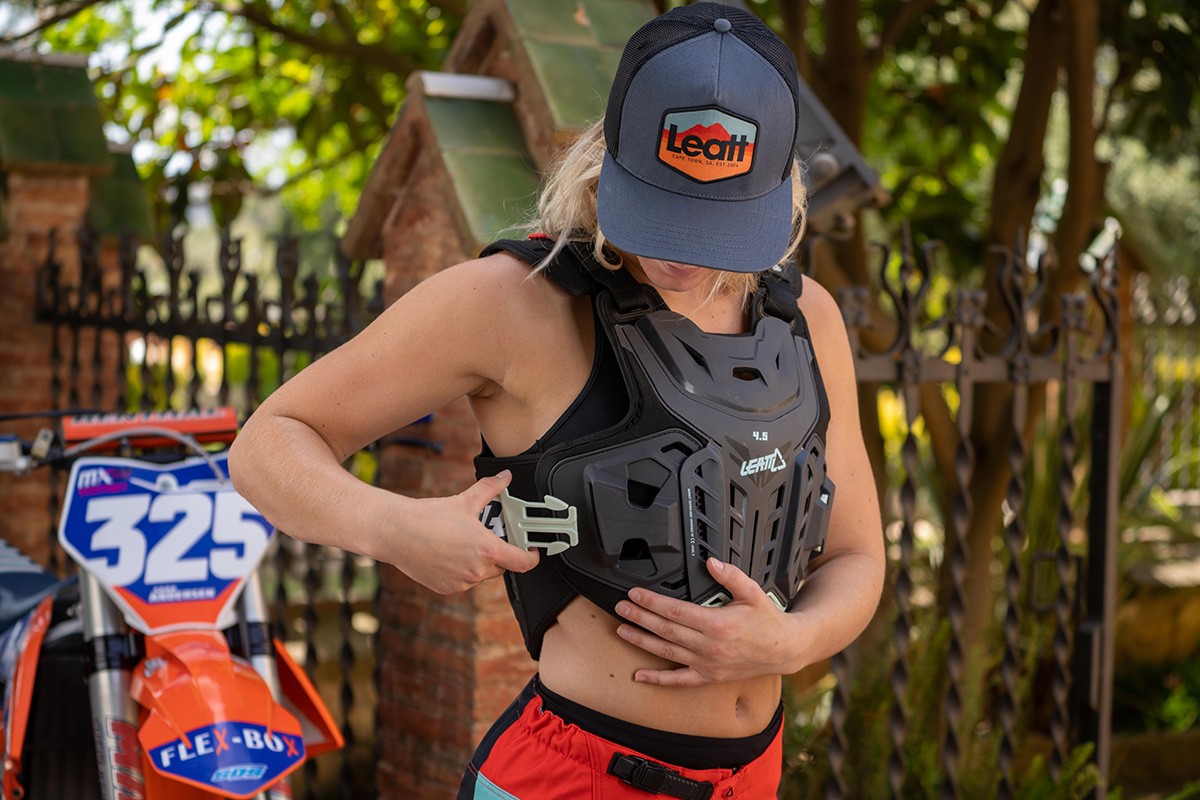 4.5 Jacki chest protection for women – premium hard shell with impact foam
Total Leatt® protection score of 12 point
3D pre-curved design specifically for the female form
Hard shell and 3DF AirFit ventilated soft impact foam
CE tested and certified as impact protection: Chest EN1621-3 Level 2
Back EN1621-2 Level 2
Multi-layer, multi-plate articulating design for added comfort
Ventilation slots for maximum airflow
Flank protection
Smaller back for better fit
Removable front and rear plates and new slimmer BraceOn™ system allows
over and under the shirt Leatt® neck brace fit
FFM - French Motorcycle Federation Certified
Product weight: 1.08kg (2.38lbs)
Sizing: Women 55-95kg (121-209lbs)
Plastic Free Recyclable Packaging
PRICE: $179.99 / €199.00
More information: www.leatt.com