Quick look: Flexiplates Enduro registration plates
Whatever type of Enduro, Off-Road or Trail riding you do a numberplate is often a requirement along with tax, insurance and lights. Enduro21 takes a quick look at the 'Flexiplate', one solution to the problems around riding off-road but needing to be road 'legal'.
What type of number plate do you use? A regulation giant square or a piece of duck tape with the registration written in magic marker? It's a perennial problem we have to weigh up when riding off-road where we are often climbing all over our bikes up and down hills and have a habit of crashing.
What is required by law, what you can get away with and what choice you personally make is a cause for serious debate in some quarters. Obviously writing your registration on a piece of tape is not overly legal but equally the legal requirement is often big and made from a hard material which can break and is arguably dangerous to ride an enduro with.
This 'Flexiplate' is one solution which in essence it does exactly what it says on the tin. It's flexible and tough which means it can take the battering that riding off-road dishes out but is still clearly visible with the bike's registration.
The Flexiplate was naturally easy to fit – just two holes drilled in the soft plastic – and is available in different shapes and sizes (two options as shown above alongside the original plate for this Enduro21 test mule KTM).
Rules – ISDE Italy riders take note
The rules for numberplate use on off-road bikes is wildly different in different countries which makes it impossible for Enduro21 to set down in stone a rule of thumb to follow. It ranges from super-strict to no-one cares – as anyone who has travelled and raced in different countries will know. It depends on where you're reading this as to what the actual rules are and what the widely accepted precedent is.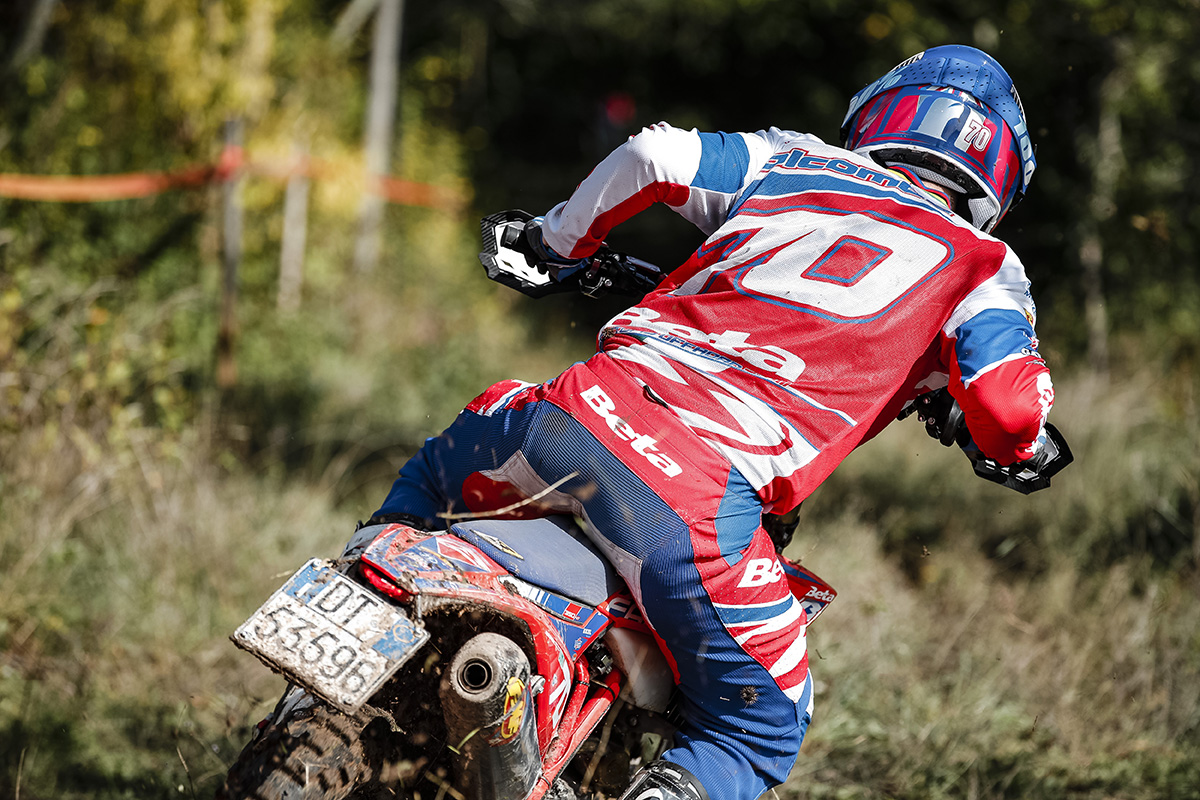 Some countries require pretty strict number plate and lettering sizes. Italy is one such and riders heading to the ISDE this year will want to take note of Steve Holcombe's plate on his factory Beta at an Italian race shown above.
The rule in Italy is the plate must be the original and this creates a big discussion with any Italian rider you speak with. The sheer size is one thing but the rules for using a motorcycle on the street there don't account for the sport where you can easily break the rear fender.
It's a grey area
By and large the letter of the law will most often not be enforced strictly where all documentation and insurance is present and it is of an easily readable size. A clearly visible plate (which you dutifully wipe clean each time you head onto the road transfer) with black lettering on a regulation background colour is generally accepted.
BUT, disclaimer alert, Enduro21 obviously cannot condone breaking the law whatever it may be in your country. You should make your own judgement on this matter.
These flexible plates are from www.Flexiplates.co.uk, are sold as show plates and cost around £10/€12/$14 plus postage.
Photo Credit: Enduro21