Quick look: SCOTT's new off-road back packs and tool pack (enduro bumbag)
Enduro21 takes a look at SCOTT's new backs packs and updated Six Days bumbag, or hip belt if you prefer, designed for enduro, off-road, trail and even adventure bike riding.
SCOTT's 2023 range of off-road clothing and accessories has been in Enduro21's kit bag for a few months now. Specifically the X-Plore range is tailored to enduro and trail riding and we put it to good use in the recent 2024 KTM EXC model range test in Lesotho.
Alongside the riding clothing, the manufacturer best known as a goggle manufacturer is also pretty switched on when it comes to back packs and bumbags (or tool belts/hip belts).
The 2023 range includes three bags designed for riders on the trail, adventure and in enduro competition, each bringing options depending on the type of riding you are doing: the Pack Roamer Hydro 8, Pack Radiator 12, and SCOTT SIX DAYS hip belt.
SCOTT Pack Roamer Hydro 8
The Hydro 8 "Roamer" pack is the lighter, smaller riding pack option from SCOTT. Suitable for trail riding certainly, it is equally usable for enduro and XC racing where you need to carry a few tools but mainly need a decent hydration bladder and drink tube.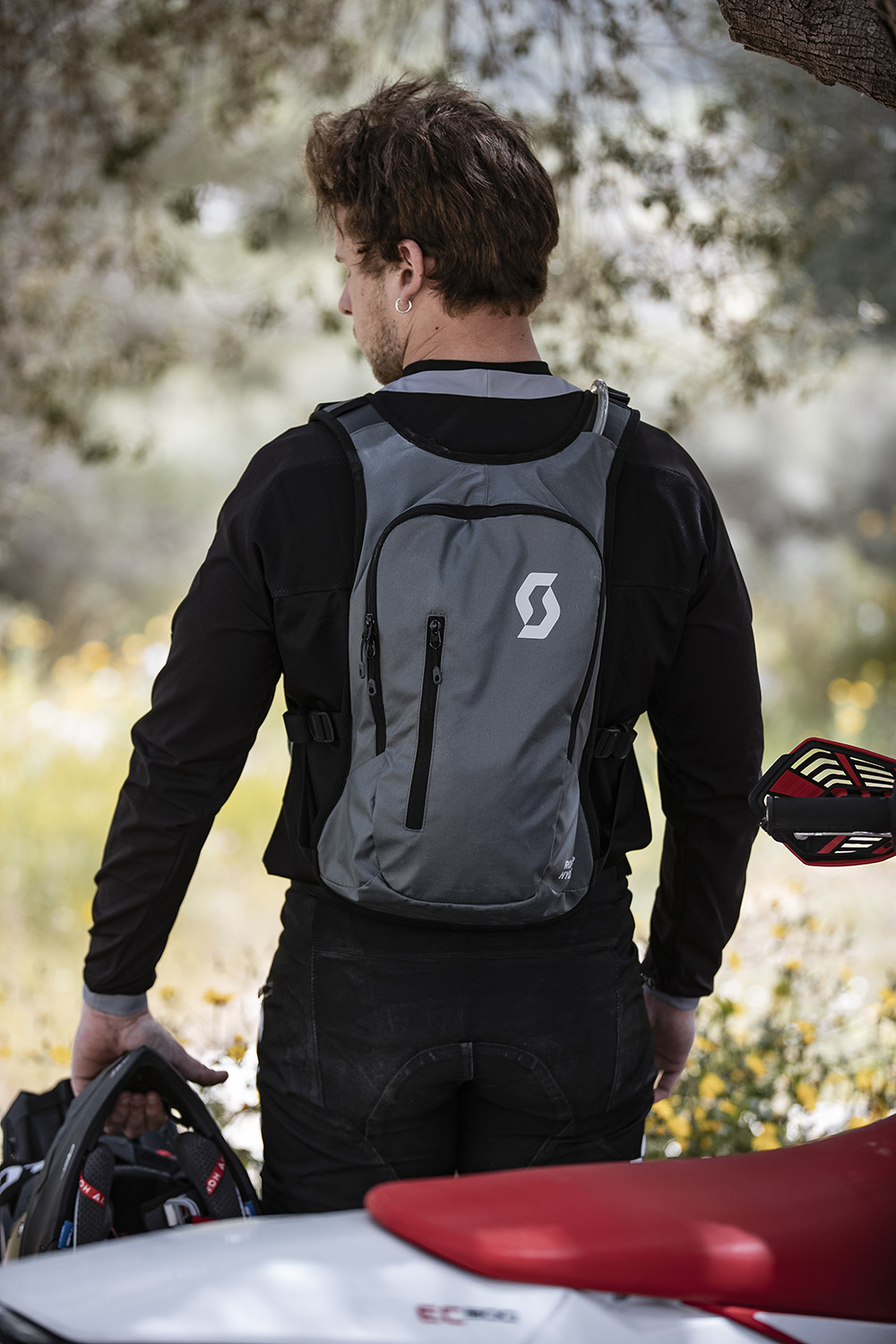 The pack is equipped with a two-litre bladder inside an insulated compartment to keep your fluid of choice cooler depending on the temperatures. The drinks tube has multiple and adjustable fixation points to switch position and length for your body size or preference.
For the same reasons there's a multi-point strap fixing system to adjust it to fit different size bodies and help keep the pack in the right place, stay put, as you ride.
SCOTT say it's built to be robust and withstand tough riding conditions though does not claim to be waterproof.
SCOTT Pack Roamer Hydro 8 key features:
Lightweight design
2-litre bladder included
Separate insulated bladder compartment
Adjustable tube fixation
4-point fit adjustable straps
Shell Fabric: 100% Polyamide; Lining: 100% Polyester
Dimensions: Height: 46cm, Width: 27cm, Depth: 9cm
Colour: black/dark grey
Cost: £90 / €119.90
SCOTT Pack Radiator 12
Bigger by design, this is the pack for the rider who needs more equipment and options with them as they ride: trail riders and adventure riding we suggest.
Radiator 12 gets its name partly from having 12 litres of volume inside plus additional pockets for your goggles (or a spare set) plus pockets on the front chest straps which can act as phone pocket and/or tool pouch.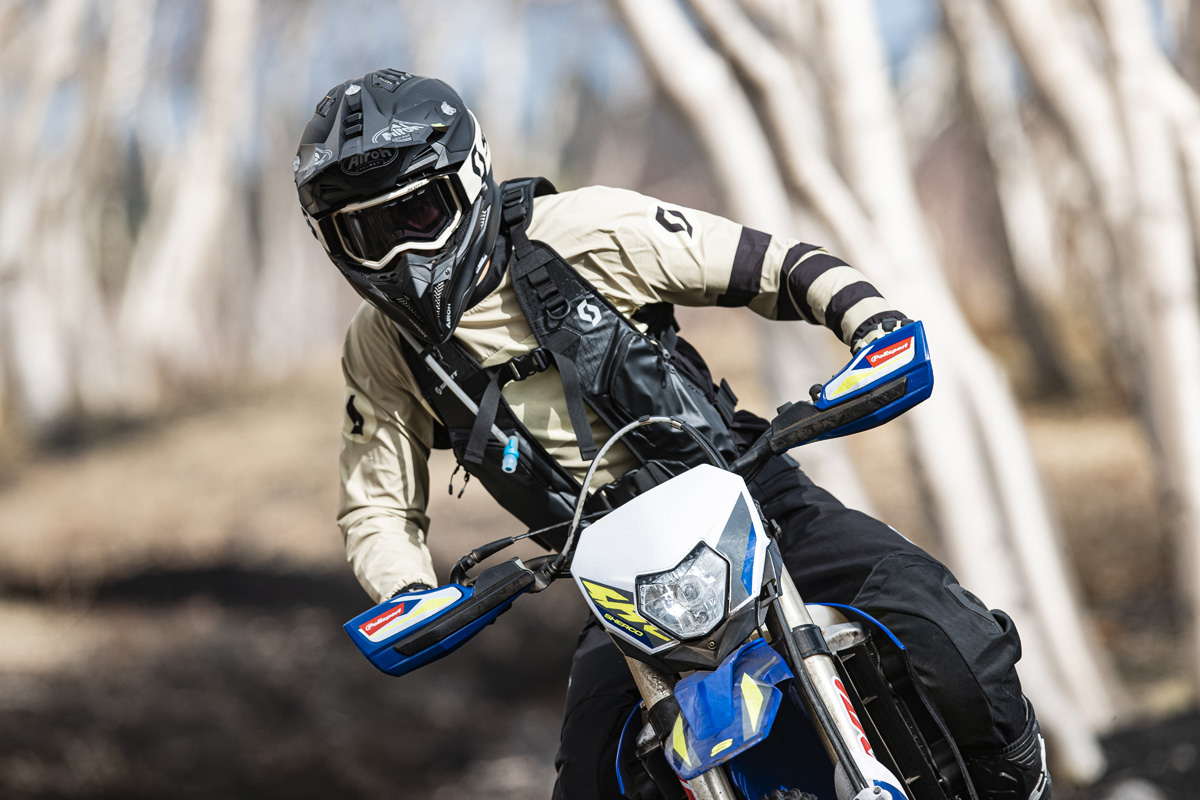 The SCOTT Pack Radiator 12 is "hydro-ready" they say which means sadly the bladder and drink tube is not included and has to be bought separately.
The Radiator 12's adjustable strap system lets you tailored the fit to your size or riding clothing.
SCOTT Pack Radiator 12 key features:
Big main compartment (12 litres volume in total)
Tool storage compartments on the front
Goggle pocket
Separate bladder compartment (bladder not included)
Adjustable tube fixation
6-point fit adjustment
Shell Fabric: 100% Polyamide; Lining: 100% Polyester
Dimensions: Height 46cm, Width 27cm, Depth: 14cm
Colour: black/dark grey
Cost: £115.00 / 119.90
SCOTT Six Days Hip Belt
The new version of the classic Six Days hip or tool belt is an upgrade on the previous model with new features and we have to admit being a little too excited about this "bumbag".
It's little more expensive than the older SIX DAYS model but for the extra money you get more tool storage options, new fabric and construction, improved fitting around the waist, plus more pockets for all your essentials. Those pockets include a zip close one and a water bottle compatible one the other side.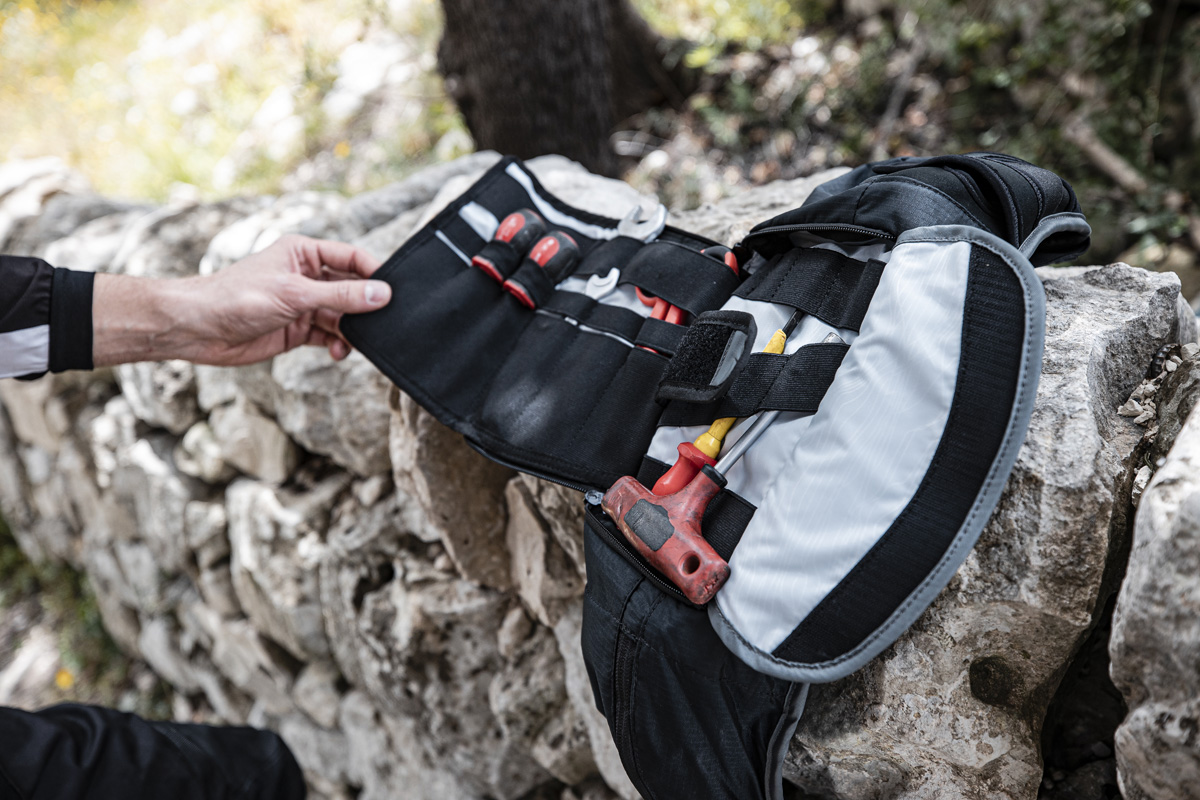 The extra comfort around the waist looks good to us and the ease of use with that 'roll-out' tool mat can be super-practical when you're fixing something at the side of a trail.
The PU-coated exterior doesn't claim to be 100% waterproof but will keep most the water out from rain or fling from riding. Importantly it should also prevent it from soaking up moisture and getting heavy.
SCOTT Six Days Hip Belt key features:
Enduro focused
Ultra-durable construction
H400D x 400D PU-coated; H/T 210D Nylon Double R/S (W/R)
Approx. weight 0.37kg
Compression webbing strap closure and padding
Spacious front pocket with several compartments including a roll-out tool flap
One zipped side pocket
One side pocket for bottle
Volume: 3.7L
Colour: black/dark grey
Cost: £80 / €79.90
The packs are currently available across the globe but not in the U.S.
More information: www.scott-sports.com
Photo Credit: Future7Media