Spotted: BRC Racing 500cc two-stroke KTM
BRC Racing attempt to break the internet (again) with a first look at their new BRC500 two-stroke KTM – the Canadian two-stroke engine specialists are in the last stages of development for a new 500cc kit to fit the latest generation KTM and Husqvarna 2T models.
BRC Racing are based in Calgary, Canada and specialise in two-stroke engines for off-road, motocross motorcycles plus kart engines. Their 500cc conversion kits are their greatest development (we're saying) and the newest kit will soon be available for 2017-onwards KTM and Husqvarna models with a version for fuel injected (TPI) engines also coming soon.
How does it work?
The BRC 500cc engine kits sit on top of a donor engine and transmission but use new cases, crankshaft, cylinder, seals, gaskets and so on including a new exhaust system. They even use the standard electric starter. You bolt it back in your existing chassis and you have one mighty upgrade!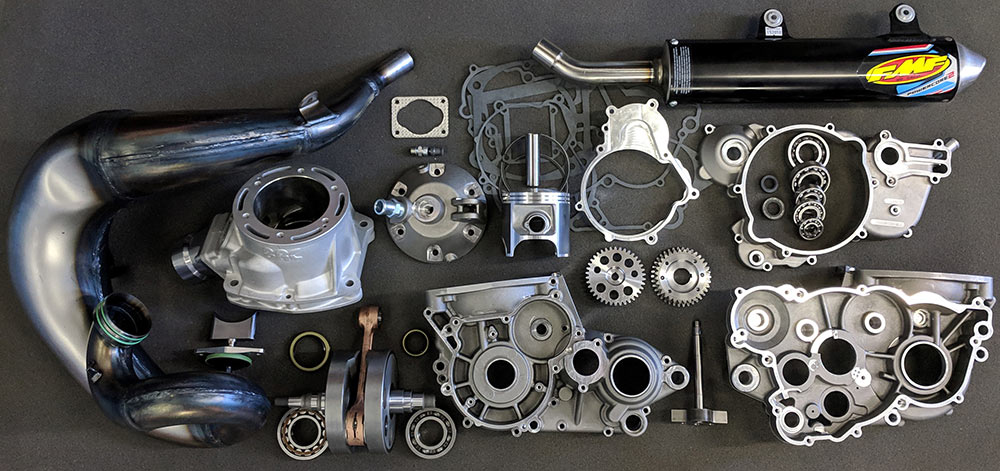 We know we're a little late to the party with this – the kits already exist for 2007 to 2016 KTM/Husqvarna EXC/XC/SX models (for $7500 Canadian Dollars) and plenty of happy customers are already flying around on bikes with 70+ bhp…
BRC say the plan is to get testing underway with running prototypes for the 2017-onwards models in late October, 2020 and will then announce pricing options for both carburetted and TPI options in the coming weeks. The fuel-injected version is being developed by Australian engineering company, Two Stroke Performance.
More information: BRCRacing.ca