Tested: 2 years of hard graft for the FOX Legion off-road riding pants and jersey
Two years wearing FOX's Legion riding pants and jersey, the American brand's enduro and off-road focused riding gear range, has been a tough test in conditions ranging from ice and snow, to tough mudders and baking heat – here's how they stood up to the Enduro21 programme…
Here's what FOX have to say about the Legion pants and jersey:
When you're out there in the boonies and exploring it all in the dirt, you'll want the durability and sweat-busting features of Legion off-road range.
The pants are designed with tough Cordura fabrics in areas that take a beating, plus TruMotion stretch panels, these pants provide an exceptional performance fit, defining the perfect balance of function, durability, and versatility.
The pants use 8500D polyester on the main body, heat and abrasion-resistant material and leather knee panels on legs for reinforcement in the critical wear areas. Airflow and storage are further enhanced with two zipper vents and zippered cargo pockets.
The Legion Jersey utilizes TruDri fabric to wick sweat away from your body as you ride and provides a soft, lightweight fit to keep you feeling fresh.
Our Rider Attack Position (RAP) construction tailors with articulated sleeves optimize comfort while in a riding position. Breathable, vented mesh underarms and back panels ensure plenty of airflow while the slim wrist cuffs and four-way stretch give you an exceptional fit.
We say:
FOX is a massive off-road brand best known for the MX gear and possibly the MTB kit first before enduro. But their Legion Off-Road range has been around for a few years now and we like its simplicity and functional approach – plus it's always good to see kit designed specifically for how we ride and in a range of colours which don't shout out loud.
Does it work? From the outset it is tougher than much of the off-road gear you can buy. The riding pants are constructed largely from Cordura Ripstop (except for stretch panels) and that means they put up with a lot and have lasted the test of time.
The snags from bushes and trees, crashes or the high-wear areas like the seat of the pants have stood up well to some bad riding conditions at times.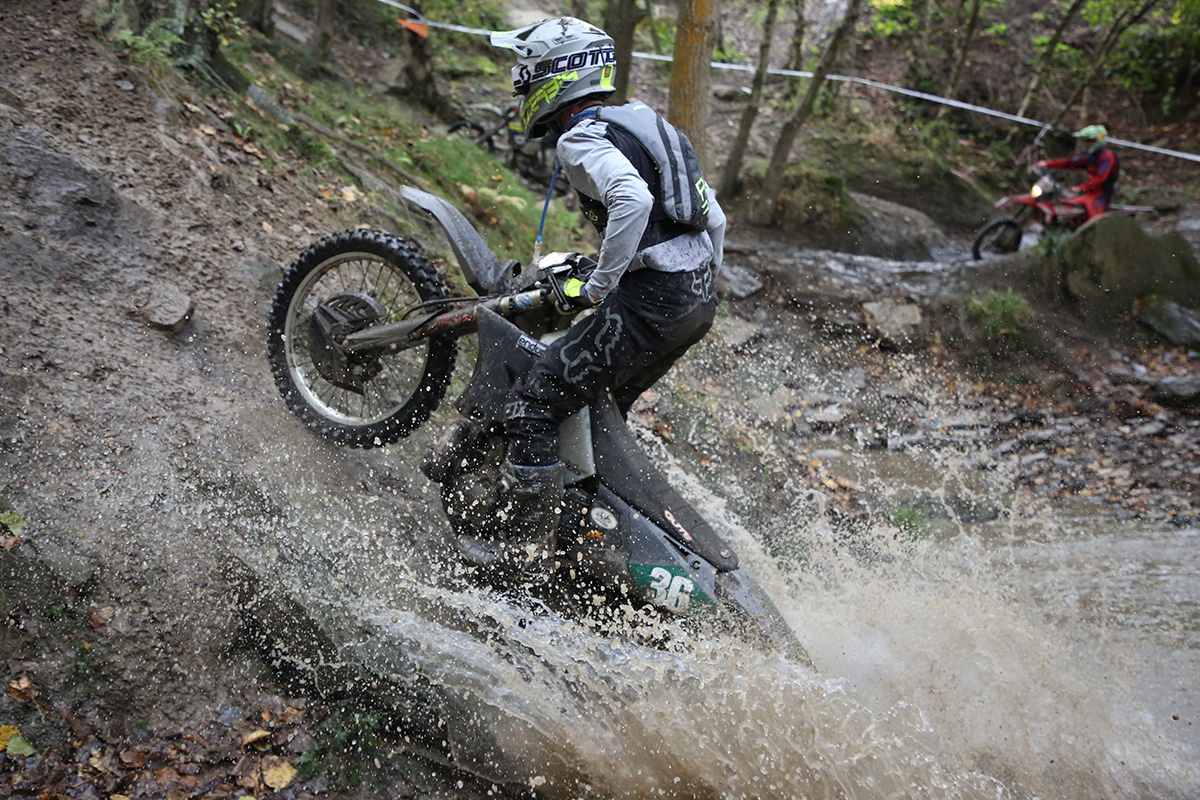 Zipper venting up and across the thighs are good for the hot days and is easy to pull open or close while you're on the bike.
The Cordura material also works as a good wind stopper on a cold day but if you're worried about being too hot, the venting does work and funnels air in. There are also 'lighter' construction options in the Legion range if you're not in the cooler climate like us.
The zippers (and the Cordura main material) don't claim to be waterproof but they do a good job of being resistant and water tends to run off these trousers more than soak in except in the worst of conditions.
There's a pocket on the right thigh which is handy for a cloth to wipe goggles, keys or whatever you might need to grab quickly while riding.
The waist isn't adjustable externally at the side like some pants are but elastic stretch panels, plus the waist buckle, give you adjustment instead.
The waist band itself also has a rubber strip inside which keeps hold of the jersey and stops the shirt tail pulling out while riding (the rear of the jersey is also cut longer than the front to help with this).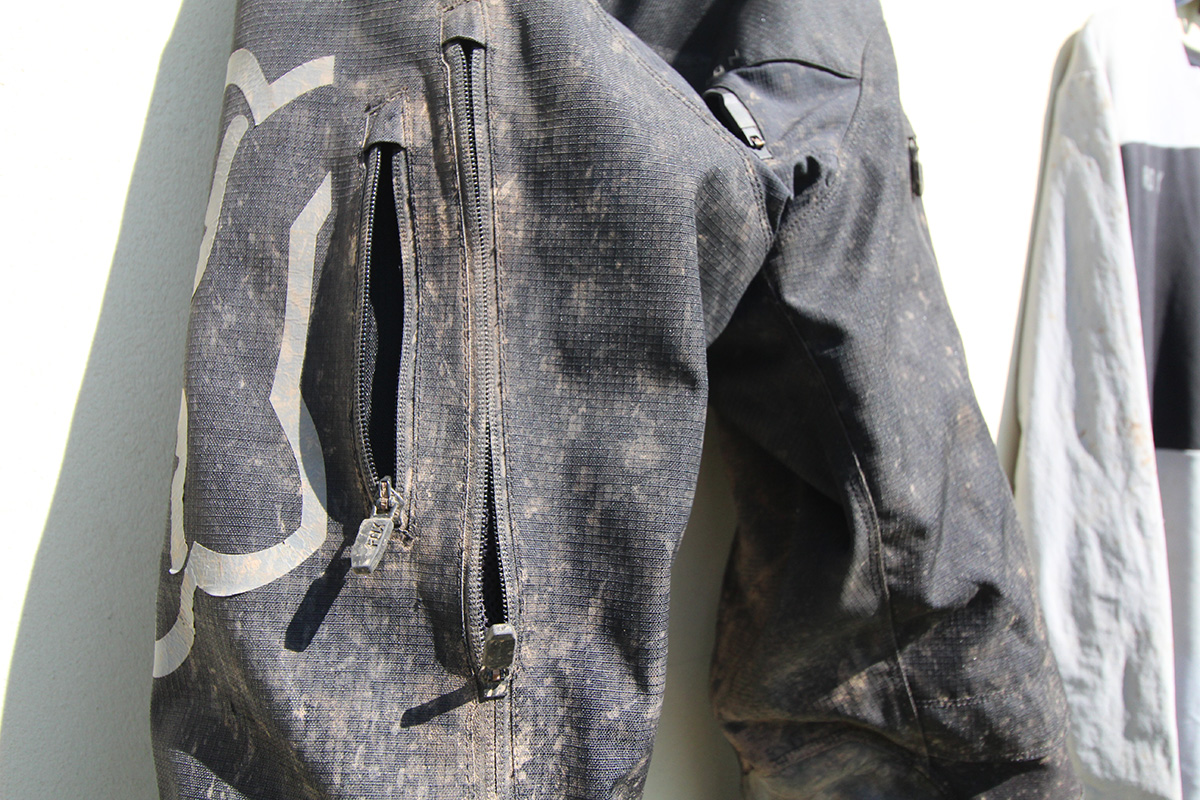 Another good sign of the build quality of this gear is how the stitching has stood up to the test of time without defect through a lot of riding and machine washes.
The inside knee leather patches are just as hardy too and they accommodate knee braces inside well though they take a bit more effort to get on and off.
The only minor downside we've found with the pants is the printed-on FOX logo has begun to peel away from one knee and very slightly on the legs which is their main sign of age and use. It's no biggy given the amount of time we've had them.
It's also worth pointing out the Legion pants design has changed a little since we got this set to no longer have this logo printed on the knee.
The jersey has proved just as robust and adaptable across a range of weather conditions, from freezing to 70 degrees.
The torso and down the inside of the arms is constructed from "TruDri" fabric which is stretchy to a degree but lets your body breathe and heat escape, especially on your back. If you're an Arnold Schwarzenegger kind of guy, the arms might feel tight but the cut is slim not baggy and it is stretchy as you ride.
The arms also feature more abrasion resistant material on the outside top which acts as a wind stopper on a cold morning trail. It's not thick like the main trouser material (that'd be too much), but it is tougher than the rest of the jersey and has withstood brushing trees and crashes where thinner shirts would rip or grow holes.
We've found ourselves using the jersey with a light, zip-up riding vest a lot on colder days and winter three-hour enduros. With the breathable fabric on the torso doing its job and the Cordura outer sleeves, it's a good combo.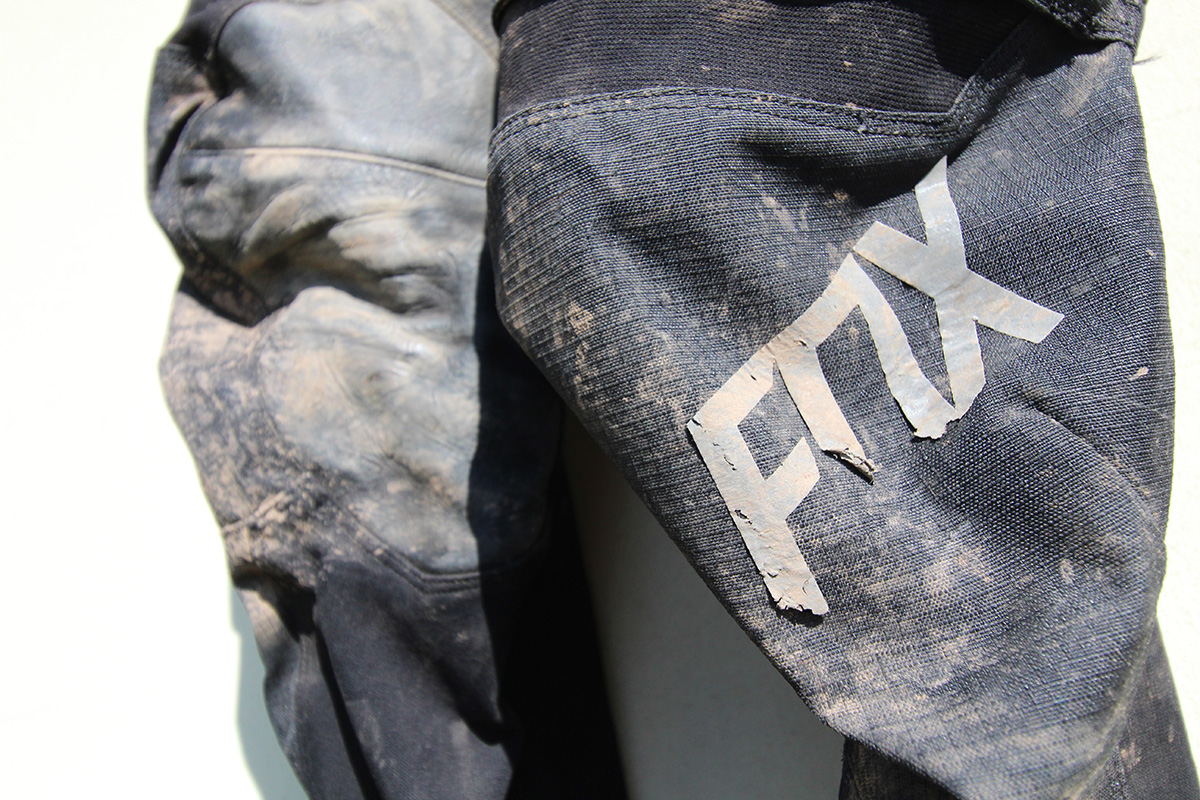 Verdict:
FOX have a short and sweet range of colour options for the Legion gear sets which has changed in design compared to the set we've been testing (ignoring this mud) but the colour themes remain less 'loud' and we prefer that.
Colour options change slightly depending on where in the world you might be shopping but essentially it is the same kit.
Overall, we rate this gear highly and would say it is something of a benchmark for enduro riding gear. In the big pile of used kit we test over the years these are just about as tough as they come which is a big box ticked.
The kit washes well, zips still work, the material on the high-wear areas of the pants has stood up to abrasive riding conditions and has generally taken a beating yet still has many hours riding left yet.
It's proved hard to fault across everything from trail rides to extreme and though the Legion pants and jersey might be a tad more expensive than some of the more throwaway gear sets, you get what you pay for (as your dad might say).
Tested for: 2 years
Cost: $229.95/€219.99/£189.99 (pants), $69.95/€69.99/£69.99 (jersey)
The Legion range includes gloves, jackets, boots and more.
More information: www.foxracing.com
Photo Credit: Enduro21 + Phil Hodges