Tested: Armor Vision Smart Film – Tinder swipe left for dirty goggles
Enduro21 tests the Armour Vision Smart Film lens protector, "the world's first wire wool and race tested retrofit lens protector" which gives you the easy option to Tinder swipe left for clear vision.
Plenty of things in life seem too good to be true. Who hasn't fallen for an online product which claims to be the answer to a particular problem only for it to not live up to expectations?
The Armor Vision Smart Film could easily be one of those products with its big claims of wire wool resistance, to eliminate the need for tear-offs and its revolutionary technology. How can a thin piece of film do that?
Practically speaking, don't we want to just wipe a goggle lens clear no matter what the riding conditions without fear of scratching? From heavy dust to real mudder riding in enduro, trail or moto conditions, Armor Vision claim they are a revolutionary answer to all your goggle lens and vision problems.
Enduro21 got hold of a Smart Film pack, fitted a strip to one set of SCOTT goggles and used them in hard enduro, sprint enduro, time card enduro and a stack of hours free-riding, practising and testing to answer the question: are they really that good?
They say:
A "revolutionary" tear-off replacement system with a super-hard coating containing hydrophobic properties which means mud, dust and sand sticking to the goggle lens easily wipes away.
Available to fit most modern goggles including Oakley, Scott and 100% and more, the film also comes in 38mm and 50mm width sizes.
Armor Vision Smart Film is a "universally fitting clear lens protective strip which will allow you to wipe away water, mud and grit to no end without scratching your lens."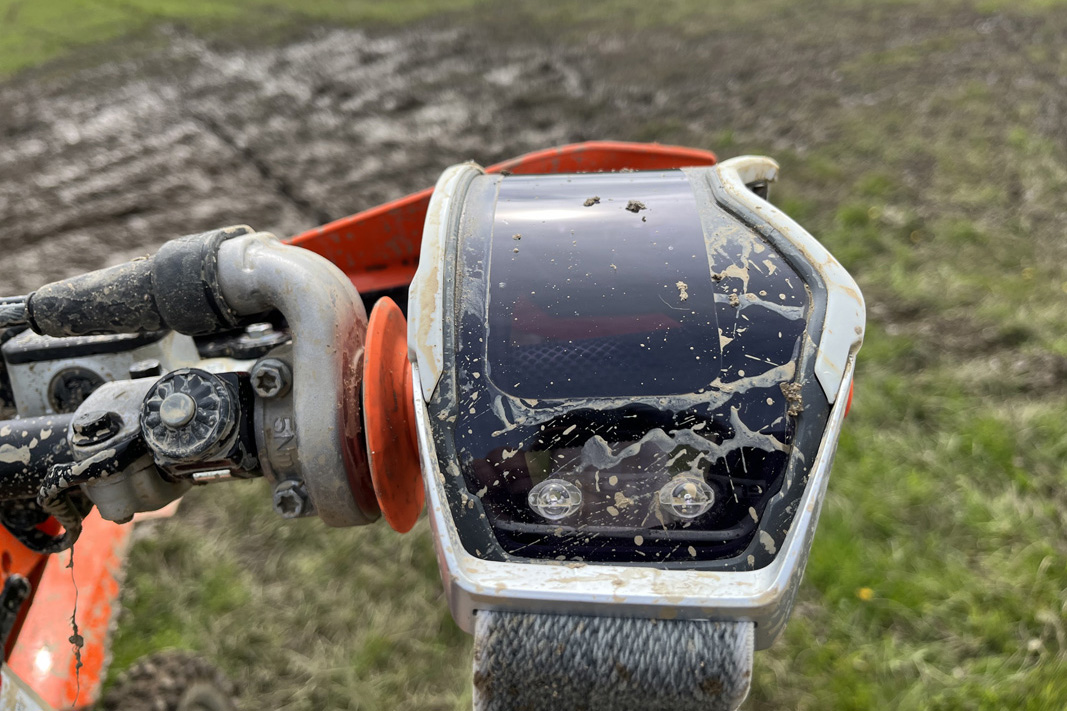 We say:
Enduro21 picked up an Armor Vision Smart Film three-pack around six months ago and fitted them to one set of SCOTT Prospect goggles. We admit we kept a bit quiet when they first emerged on the market because it felt like a few big names in motocross and off-road were talking it up and we wanted to make sure it really was as good as they say it is.
Fitting is easy
The smart films are a genuine back of the van fit. You make sure the lens is completely clean and dry before peeling an adhesive film partly back, finding the centre and progressively, gently placing the film as you peel the backing away underneath.
The film basically adheres itself but we also used a soft, clean cloth to apply a bit more pressure. You can do it with the lens out the goggle frame but we didn't bother.
Is it as good as they say it is?
Fitting is the hard part and from that point onwards you really can treat the goggles like crap and ignore it.
A logbook of what we've dished at the Smart Film includes branches and bushes in the face, a bombardment of dirt in the face on an opening lap of a mass-start enduro, a drenching through a water splash on an otherwise baking hot day (so dust immediately sticking was a problem) and hours of general dirt flying up off the front wheel.
The one pictured has been fitted used and abused many times over in all conditions and shows no signs of scratching. A revelation is too grand a phrase but it has made life simpler while riding to just be able to wipe a finger across the lens and see clearly again. No stopping, no need for tear-offs or roll-offs, just your goggles on your face which you can wipe clean as many times as you like.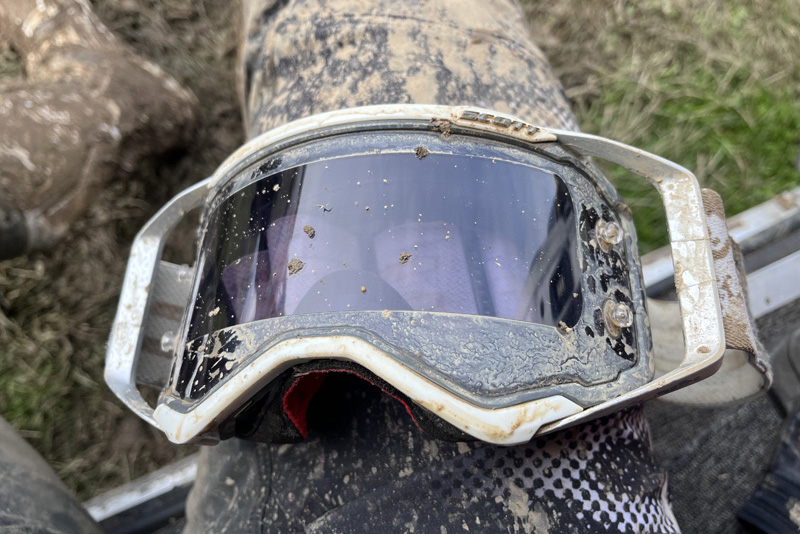 Good on the trail
We've been pretty pleased with the Smart Film on trail or general practice rides rather than just race conditions. Times like when you don't want to carry extra kit, to wear a set of roll-off and don't want to keep stopping but the conditions mean you're going to keep getting vision obscured.
It's simply more practical and life is easier. Any water splashes or real muddy sections, where dirt flies in your face or a rider in front roosts you, are wiped in an instant. We've a good habit of using water repellent spray on our lenses and that helps too.
Race tested
We're pretty sure you won't find a riding condition that we haven't tested this product in but to be clear (no pun intended) it included a Sprint Enduro which was a real mudder and featured plenty of dirt in the face from other riders, dirt from the front wheel and even a submerging after the bike went one way and the rider continued forwards through a small lake.
In one hard enduro, the start led into a rutted, single line on the first lap which meant a tonne of really claggy roost as we tried to make passes/keep up/stay ahead. Through all this it was easy to swipe and move on – like dirt Tinder maybe (?!).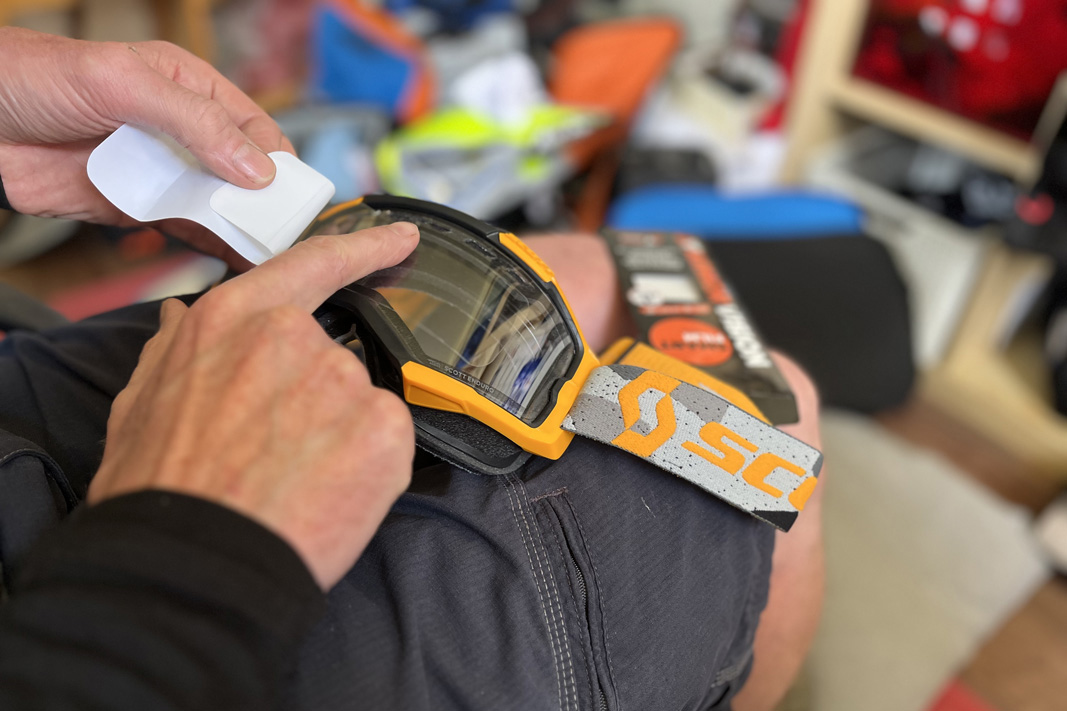 Treating them bad
Slightly shamefully we also treated the goggles really badly for a couple of weeks, just in the interests of real world testing you understand. That meant just chucking them in the kit bag and fishing them out, not cleaned, before the next ride. It made no difference, the lens are the same and the film remained intact.
All good?
The only negative we found was washing the goggles in warm water and then putting them in the sun made the film start to lift on one side. It wasn't desert sunshine, just British Springtime so not blindingly hot, but worth bearing in mind.
The goggle manufacturer and Armor Vision don't recommend direct sunlight to dry them after washing so this was our bad and besides, it leaves smears on the lens surface if you dry goggles too quickly. The next time we dried them without the sun and had no problems.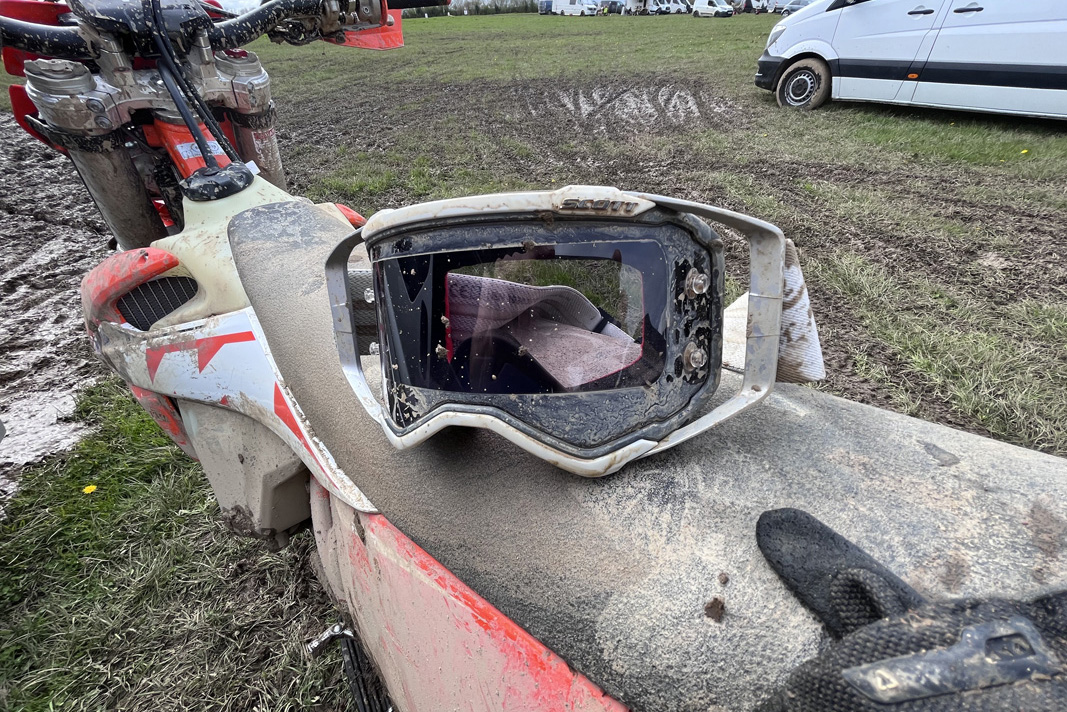 Enduro21 Verdict
All-in this is a product which does exactly what it says on the packet and after about as comprehensive process of testing as you could put them through, has proved to be anything but one of those 'too good to be true' online products.
Yes, the best goggle manufacturers have scratch resistant lenses but this really is scratch resistant and nothing we threw at it, including savage bush and branch whacks, endless finger wipes while riding in at times horrible mud, rock roost and even testing their wire wool brag left no marks.
Smart Film doesn't replace the roll-off in the worst of conditions but there are definitely times when it is an easier solution like a race start, or all the many times we've had to pit for a fresh set of goggles. You really can just do a Tinder finger swipe and keep riding.
The universal fitment film is available in two sizes: 38mm and the 50mm we've tested and which offers good coverage on the lens in front of your eyes and is wider, or at least comparable, with many roll-off films.
Fitting is dead easy, the price is good, it's better than using tear-offs, lighter than roll-offs, this three-pack is likely to last us a season and left us with one question: why wouldn't you stick one on?
Cost: £15/€20/$20
Contact: www.armorvision.co
Photo Credit: Enduro21