First look: New WP XPLOR PRO forks and shock for 2024 KTM EXC enduro range
WP Suspension follow the launch of the 2024 KTM EXC Enduro range with new XPLOR PRO 7548 Fork and XPLOR PRO 8946 Shock to fit all the new models (plus Husqvarna and GASGAS in the near future we're guessing).
WP Suspension has announced new and redesigned XPLOR Pro Components for the newly released KTM enduro model range. Though Enduro21 was not alone in being impressed by the upgrades to the standard suspension on the new EXC models (read more on that here: 2024 KTM EXC range tested: Big handguards and TBI? Is that it?) which will mean more people will be able to make use of the OE equipment in enduro, the need for an upgrade is still there for serious racers.
WP say the new XPLOR PRO 8946 Shock is designed for enduro and as previously it incorporates their SUPERTRAX Technology that detects when the rear wheel is no longer in contact with a riding surface, enabling faster rebound by opening a bypass oil valve to minimise the time spent without ground contact.
The XPLOR PRO 8946 shock "helps to reduce motorcycle compression and promotes a more upright riding position" they add, helping decrease the rider's physical effort. "By minimising physical strain, riders can maintain better control over their motorcycles and perform at a higher level."
XPLOR PRO 8946 shock features:
New flow-optimised compression adjusters, big high-speed compression adjuster and small low-speed compression adjuster
New flow-optimised main piston for improved damping response
New SKF seal bushings
All adjusters accessible from one side
Hand-crafted with the highest care and manufactured using premium materials for the increased durability
Developed through and inspired by motorsports success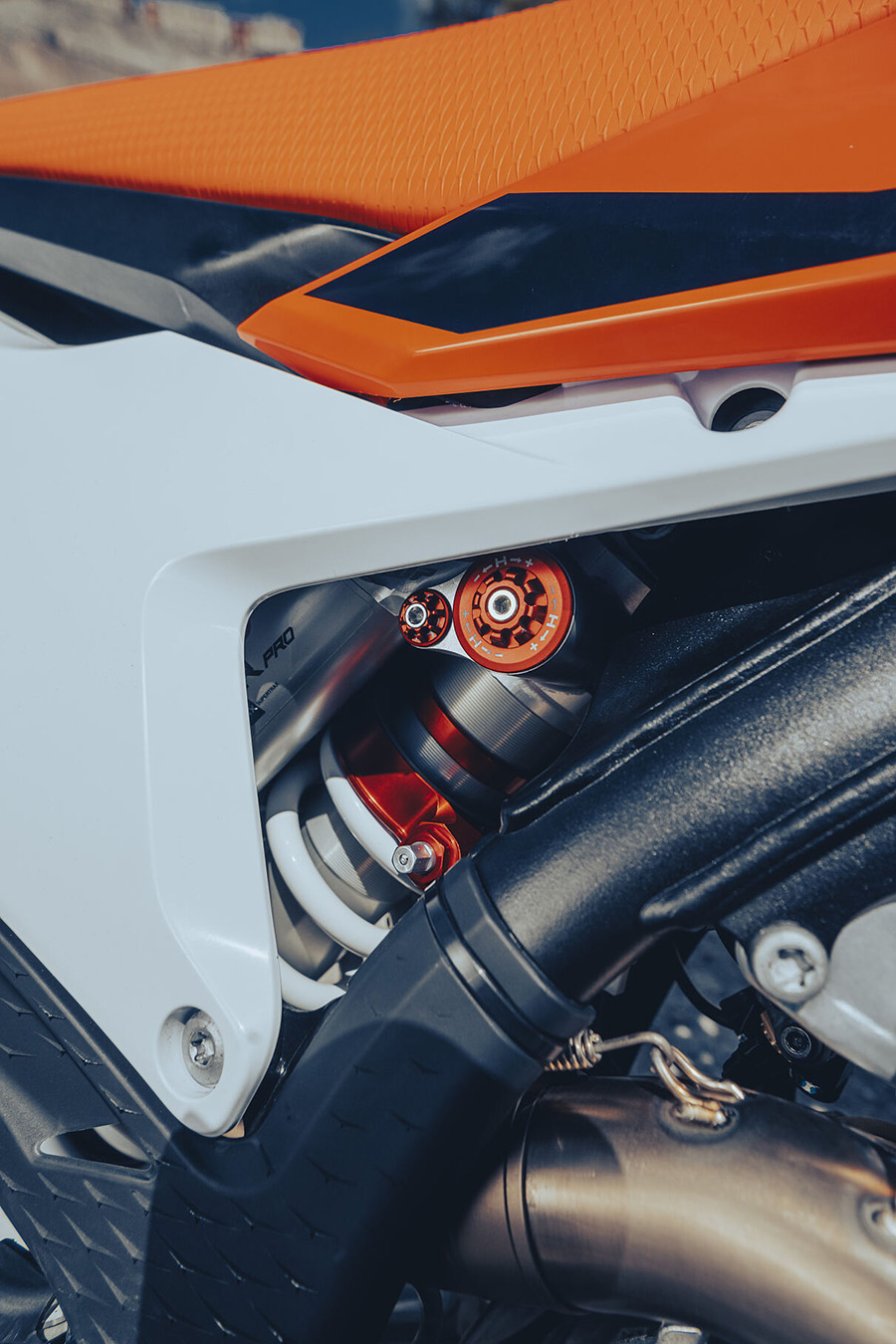 The XPLOR PRO 7548 fork also maintains its highly developed CONE VALVE Technology to the front of the new bikes. Combining comfort with what WP call "improved breakthrough reserves" enables an more direct response on any terrain they say.
XPLOR PRO 7548 fork features:
New hydro-stop for better end progression
Basevalve tap with low-speed circuit for better damping control
Progressive damping behaviour thanks to WP Cone Valve Technology
High damping reserves for strong impacts and jumps, preventing abrupt locking
Comfortable handling in all situations
No damping loss thanks to the WP CONE VALVE Technology
Fully adjustable
Cost:
XPLOR PRO 7548 Fork, part number A490C167X403220, £2,888.78
XPLOR PRO 8946 Shock, part number A490C467X311220, £1,925.82
(Apologies, we don't have more global prices currently)
Fitment:
All 2024 KTM Enduro Models (expect the same for Husqvarna and GASGAS linkage type rea suspension in the near future).
More information: www.wp-suspension.com