Tested: Fox Racing's Instinct Offroad Boots
We've spent eight months riding in Fox Racing's enduro-specific Instinct Offroad boots. Here's how we rate them…
During 2016 Fox Racing released their new enduro and offroad-specific Legion riding gear. To complete a head-to-toe offroad offering, they took their motocross Instinct boot, and with input from Taddy Blazusiak, developed the Instinct Offroad.
They say:
Created from our championship winning motocross boot and refined by enduro legend Taddy Blazusiak, the all-new Instinct Offroad boot is ready to tackle the most demanding terrains you can throw at it. The embodiment of high-performance race gear and rugged durability, this offroad dirt bike boot features a veritable arsenal of innovative features ready to tackle the most demanding terrain. The Instinct Offroad shares many key attributes with the original Instinct boot but brings drastically improved prowess and comfort for both walking and riding.
Riders who face roots, wet rock, and steep, loose hills know well the skill and concentration needed to keep the machine upright. The Instinct Offroad uses our exclusive Duratac rubber compound with a larger, open lug pattern on the sole for exceptional traction as you navigate challenging obstacles.
Full coverage at toe box provides added protection without hindering shifting. The low ride chassis is designed for a better feel of the bike and command of the controls, while our patient pending buckle system provides flawless operation every time.
We say: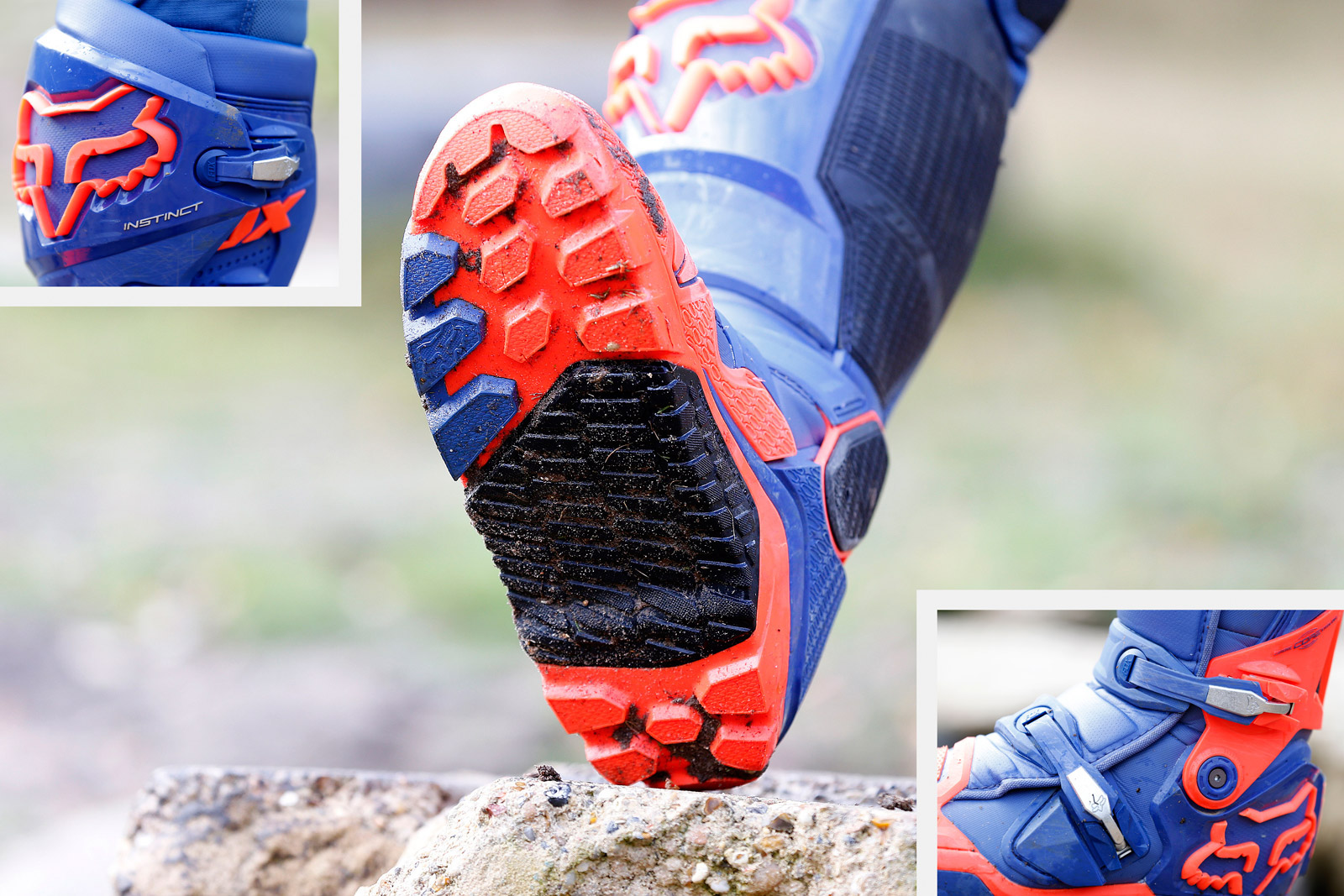 The first point to make about the Instinct Offroad is they feel lighter and more accurate on the pegs and foot levers than many boots. It's a neat trick, which makes you feel a little more confident about what your feet are doing and after a couple of rides to break them in, they became something of a benchmark pair of boots for us.
The Duratac rubber compound sole, which Fox call 'open lug', provides grip and Fox also claim good durability too – we've had ours for about eight months and the sole shows no sign of needing replacement.
The added tread is welcome in mud and technical riding but also, because the boot is comparatively lightweight, they feel particularly good when you need a good, solid 'dab' to help haul the bike up or over something. This will be Taddy's influence right here in the development. They slot in the foot peg well too, without being grabby.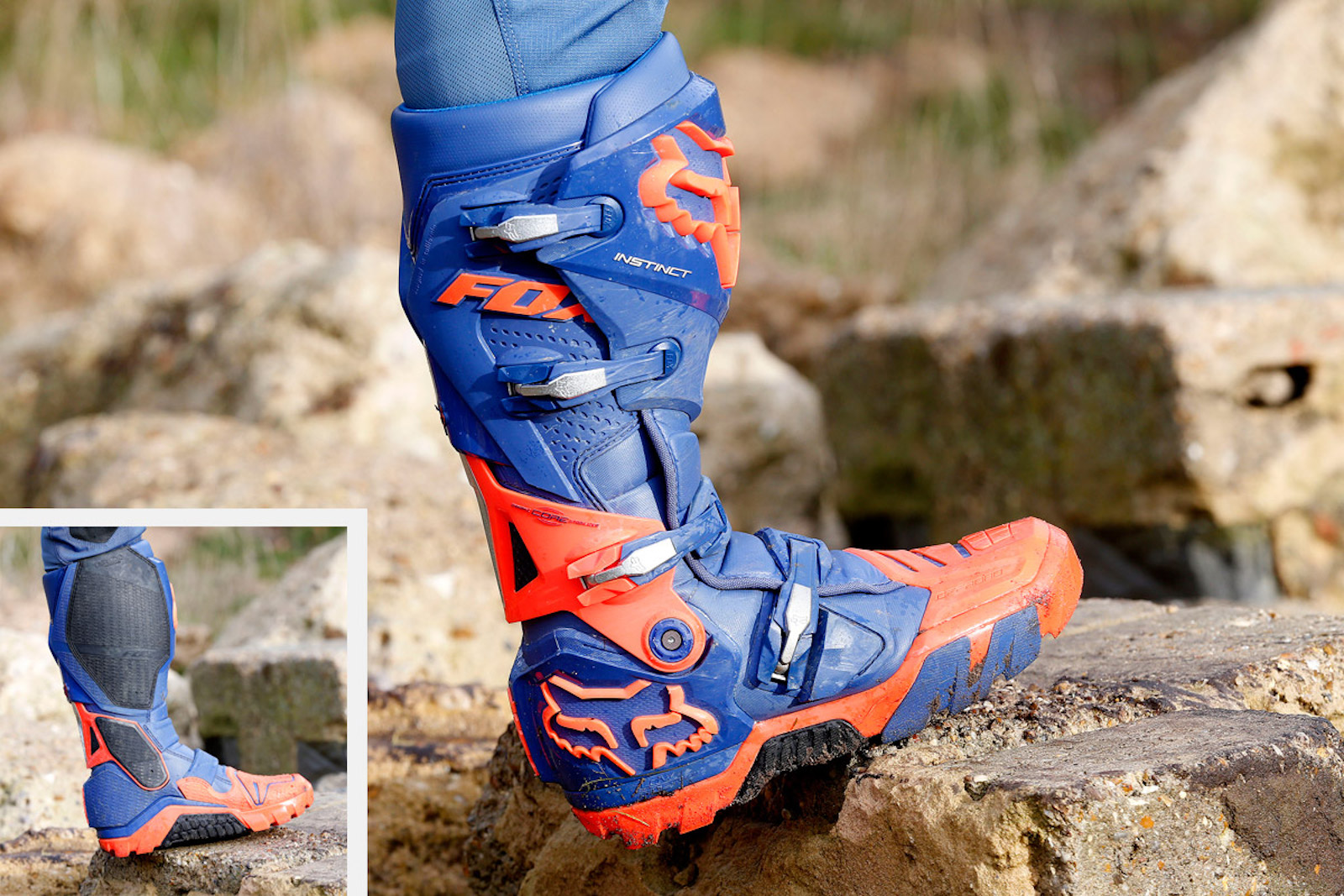 The hinge lockout system limits movement and prevents hyperflexion of the ankle and we've had some ankle-testing moments in them, which proved the point. Shin, heel and toe armour has taken a few hits for us too and we've had no cause for complaint. The positive feel of the boots is working in its favour here too because you're subconsciously more aware of your feet, less cumbersome and therefore less clumsy. It could be psychological but it's worth mentioning.
The buckle system secures well and hasn't opened while riding. The only thing to say is, depending on the size of your calf, the top buckle may not adjust in enough, as we found. Overall the build quality and stitching has held up well following many hours riding.
The retail prices are up the top end of the scale with other top-of-the-range boots from rival manufacturers. One tip though, don't wash them inside and leave somewhere too cold to dry for days. Our pair now stink so bad they frighten vampires away but on the plus side no-one wants to borrow them.
Really liked:
Light, accurate and great feel for foot controls
Colours:
Blue, charcoal
Cost:
£400 / $574
More information: FoxRacing.com