2021 EnduroCross: Webb returns with double win – Haaker equals Taddy with title No5
The final two rounds of the 2021 AMA EnduroCross season across two nights in Denver saw a winning return to the series for Cody Webb and Colton Haaker crowned overall champion to equal Taddy Blazusiak with five titles.
If you're gonna come back, come back with a bang, right? Cody Webb has been absent from the 2021 AMA EnduroCross season due to an injury. But the former champion returned for the final two rounds in Denver on Friday and Saturday nights in some style by taking a double victory.
Webb used 1-3-1 moto scores to beat Colton Haaker's 2-1-2 scores in a tiebreaker for the round five win on Friday. But the night was still sweet for Rockstar Husqvarna's Haaker as he clinched the 2021 championship with a round to spare. This makes five AMA EnduroCross championships for Haaker, equalling Taddy Blazusiak on the all-time list.
"I'm looking to go down as the greatest!"
"I didn't feel amazing on Friday night but I knew we just needed to grit it out and get the job done," Haaker said. "I made a couple mistakes that cost me the overall win but we were still able to bring home the title, which was the ultimate goal. This makes it five titles with Husqvarna Motorcycles, eight total with world supers, so I'm just looking to go down as the greatest!"
Savage racing in Denver!
Both racing nights in Denver saw plenty of drama with Haaker showing his season-long form in the Hot Laps qualification runs with fastest times for best gate picks. It set Colton up nicely for each of the three main motos but it wasn't easy and ultimately he would come up just short behind his Sherco rival, despite the shackles of the championship being off for the second night.
Behind Webb's winning return, riders like Tim Apolle, Ty Cullins, Ryder LeBlond, Wil Riordan, Cooper Abbott and Max Gerston all took turns to shine in the spotlights.
Beta USA-backed Tim Apolle earned his best-ever EnduroCross result with third overall with 4-6-5 moto finishes.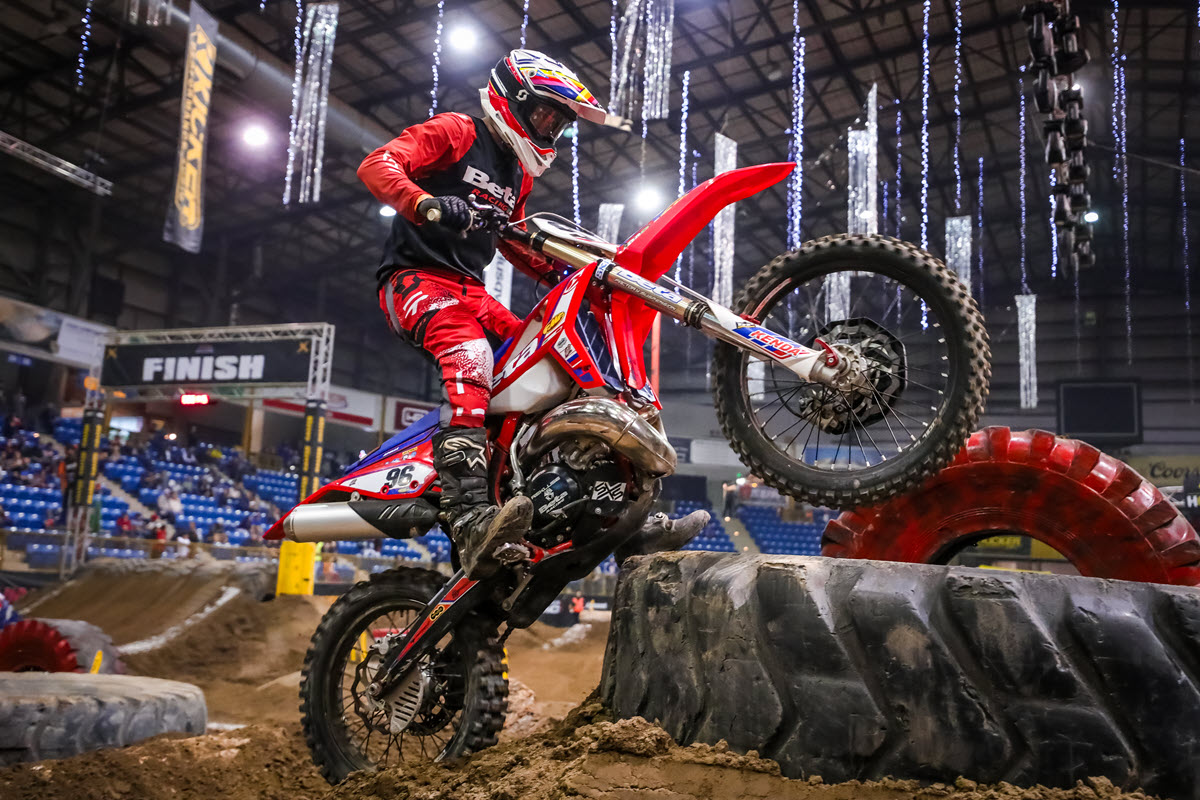 Also making their marks in Denver were Ty Cullins taking two top two finishes, Ryder LeBlond and Wil Riordan fighting hard for the Junior championship. In the end a few too many crashes cost LeBlond and Aussie Wil Riordan took the title.
Meanwhile it might not have been the final set of results Cooper Abbott wanted, fourth and fifth overall for his only non-podium finishes of the season, but it was already enough to secure second overall in the series after Trystan Hart was a non-starter in Denver (with a broken thumb).
"I am not super happy with the final two rounds," said Abbott, "but the goal was to finish top three in the championship and I benefited from a few guys getting hurt but I think I belong up here now and will keep working hard to build on this for next season."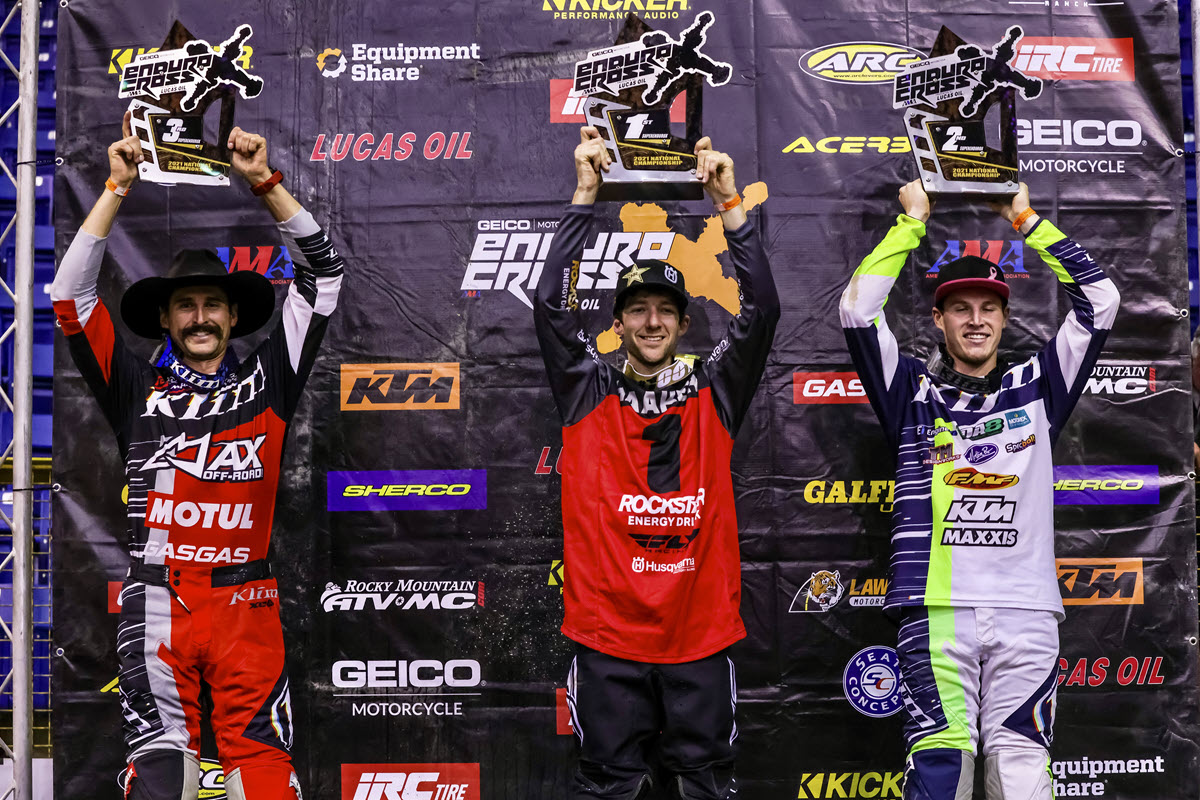 Handlebar tash on the box
Max Gerston has switched up his set-up for the 2021 EX season and built his own team which proved very fruitful by the end of round six this weekend. The privateer rider took third overall on the podium at the final round and with that claimed third place in the 2021 AMA EnduroCross championship.
"At the end of the day, I am super happy with the program that I put together with GASGAS, KLIM, Motul, and Mitas." Says Gerston. "I scratched and clawed to be up here and I am the only guy up here that worked construction and did drywall to pay the bills so it makes it more special."
What if Cody?
Both Denver nights belonged to Cody Webb and it was impressive to see the Sherco USA rider bounce back straight to the top of the podium – which begs the 'what if' question, had Cody been fit to race the full championship.
After a season-long dogfight with Trystan Hart for the AMA Extreme championship title, where he finished second, Webb promptly put himself out of action just ahead of the indoor races with a wrist injury.
A teaser guest appearance the previous weekend in Prescott (where Cody ran the GoPro for the track preview) was followed up by actual race entries to the double-header and Cody promptly delivered. In this intense sport, bike fitness matters big time so it was an impressive return which left us wondering about what could have been if Cody and subsequently Trystan Hart had both been fit for a full season.
Denver EnduroCross Pro class results, round 5 (Friday):
1. Cody Webb, 1-2-1, Sherco
2. Colton Haaker, 2-1-2, Husqvarna
3. Tim Apolle, 4-6-5, Beta
4. Cooper Abbott, 5-8-4, KTM
5. Ryder LeBlond, 8-2-8, Husqvarna
6. Max Gerston, 6-4-9, GasGas
7. Cory Graffunder, 7-9-6, Yamaha
8. Nick Thompson, 10-11-3, KTM
9. Ty Cullins, 13-5-7, TM
10. Will Riordan, 3-13-10, KTM
11. Spenser Wilton, 9-7-12, GasGas
12. Brandon Petrie, 12-10-11, KTM
13. Anthony Johnson, 14-14-13, Sherco
14. Daniel Lewis, 14-12-14, Husqvarna
15. James Flynn, 11-15-15, GasGas
16. Dustin McCarthy, 16-16-16, KTM
Denver EnduroCross Pro class results, round 6 (Saturday):
1. Cody Webb, 1-1-2, Sherco
2. Colton Haaker, 4-2-1, Husqvarna
3. Max Gerston, 3-3-4, GasGas
4. Ty Cullins, 2-5-2, TM
5. Cooper Abbott, 5-6-3, KTM
6. Cory Graffunder, 6-4-7, Yamaha
7. Tim Apolle, 7-7-6, Beta
8. Will Riordan, 8-8-8, KTM
9. Nick Thompson, 10-12-10, KTM
10. Ryder LeBlond, 8-2-8, Husqvarna
11. Spenser Wilton, 11-14-9, GasGas
12. Dustin McCarthy, 13-9-12, KTM
13. James Flynn, 12-11-14, GasGas
14. Thorn Devlin, 14-15-11, Beta
15. Cody Miller, 15-13-15, KTM
16. Wally Palmer, 16-16-16, Kaw
2021 AMA Super EnduroCross Series Standings
1. Colton Haaker, 165, Husqvarna
2. Cooper Abbott, 126, KTM
3. Max Gerston, 106, GasGas
4. Cory Graffunder, 91, Yamaha
5. Ty Cullins, 85, TM
6. Will Riordan, 85, KTM * Junior class champion
7. Trystan Hart, 84, KTM
8. Ryder LeBlond, 84, Husqvana * Junior class runner up
9. Tim Apolle, 82, Beta
10. Cody Webb, 60, Sherco
Turner matches Haaker and Blazusiak
With her fifth race win of the season in the Women's class, Sherlby Turner made sure it wasn't just Colton Haaker matching Taddy with five EnduroCross championship crowns.
The KTM rider earned her fifth AMA EnduroCross championship with yet another victory ahead of Louise Forsley and Morgan Tanke-Colon who both claimed second and third in the championship.
"It was a good year," said Turner. "I won every round but one. Today I knew what I had to do and Louise was right there the whole time and I felt the fatigue from riding two classes so I was happy to take the Women's class win and fifth in the Intermediate main netted me fourth overall in that class. I am looking forward to next year."
NB: Shelby has doubled-up all season racing the Intermediate class as well as the Women's.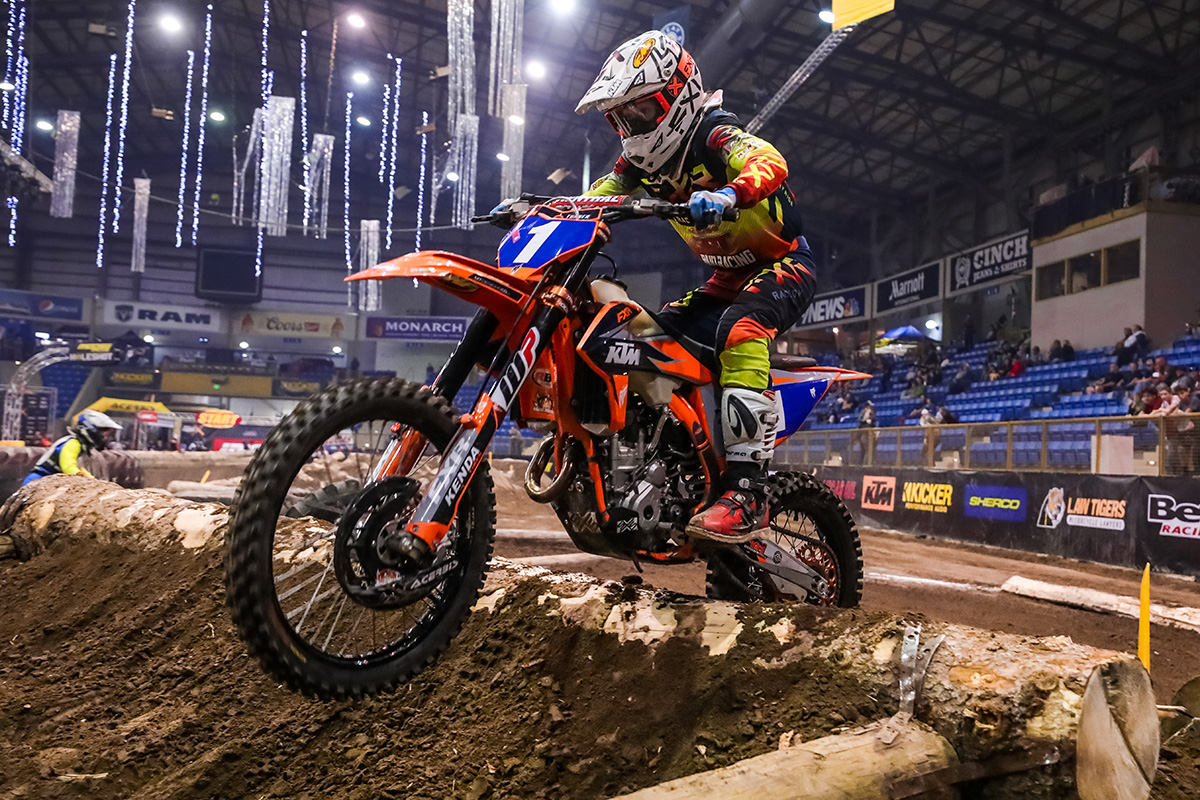 More information and full results: www.endurocross.com
Photo Credit: Jack Jaxson