Colton Haaker wins Prescott EnduroCross round – Hart crashes out of contention
Rockstar Husqvarna's Colton Haaker fired another perfect scorecard win at round four of the 2021 GEICO AMA EnduroCross series in Prescott Valley, Arizona ahead of Cooper Abbott and Max Gerston on the night.
After starting the 2021 EnduroCross season with back-to-back wins, the defending champion Colton Haaker finished second at the previous round in Reno as KTM's Tyrstan Hart got into his stride. But Colton came into round four confident and, on a dramatic night which saw Hart caught in a pile-up (breaking his thumb), Haaker is now odds-on for another championship.
Hart tops hot laps
The top fourteen pro riders ran hot-laps during the opening of the evening program to earn their gate picks and Hart set the fastest time of 34.456. Haaker was a close second with a 34.515 and TM rider TY Cullins put in an impressive 35.809 for third. SRT Offroad Yamaha rider Cory Graffunder was fourth with a 35.889 and Gerston rounded out the top five with a 36.771.
Haaker got the jump on the field to start the first moto followed by Gerston and Hart. Hart got past Gerston before the end of the first lap to go after Haaker. The two front runners stayed close for the whole moto but Hart was not able to make any serious challenges for the lead. Gerston was a strong third. Abbott had to make up for a bad start to finish fourth. Graffunder rounded out the top five.
Check out Cody Webb's onboard lap (he didn't race BTW)
Championship decider in moto 2?
The second moto inverts the first moto finish positions for gate picks and Will Riordan took the holeshot ahead of Spenser Wilton. The pro riders coming through often causes chaos and the inevitable first lap class caused a big pile-up including Abbott, Gerston and title contender Trystan Hart. Hart came off worst of all and though he was able to complete the three motos on the night )2-16-16 scorecard), xrays later showed he'd broken his thumb.
Riordan led a couple of the moto two laps before Haaker made the pass for the lead and eventually the moto win. Riordan, a teenager from Australia latched onto Haaker and held the spot for a career-best second place in the moto. Abbott rebounded from his first lap crash to finish third. Wilton hung on for fourth and Cullins rounded out the top five.
Abbott took the lead to start moto three ahead of Cullins, Haaker and Riordan. Haaker got by Cullins on lap two and managed to pass Abbott for the lead as they neared the halfway point.
Abbott put up a good fight for a couple of laps that included nearly landing on Haaker with a tighter pivot over a huge log, but Haaker edged away for his third moto win of the night. Abbott finished second to secure second overall.
Gerston passed Cullins early in the moto and rode a lonely moto to finish third and earn his first overall podium finish of the season. Pennsylvania's Ryder LeBlond put in his best moto of the season for fourth, which also earned fourth overall. Graffunder rounded out the top five in the moto.
Say what? Top 3 riders speak:
Haaker was happy with his results and happy with the vibes in the Precott stadium. "I felt like tonight I was back in the zone and the tight track meant we had a lot of lappers so that was difficult. I liked the track, I liked the fans and I liked the show. The promoters stepped it up with the light show and fog and cool intro and the Prescott fans were really into it. So I appreciated all of that."
Abbott had another strong night for second overall. "Second overall is awesome and that is a good finish, but the night started off rough with a fourth in that first moto and then getting landed on during the first lap of the second moto. I finally put it together in the final moto for a holeshot and I actually got a little nervous out front. I need to ride better at these next two races in Denver next week."
Gerston was proud of his first EnduroCross overall podium of the season. "I have been working really hard for this and I am proud of myself because of the level of competition this year. There are a lot of really good athletes out here so I am stoked to be up here and on my program I put together this year with my family and a lot of really good sponsors helping me do what I love."
2021 Prescott Valley, AZ AMA Super EnduroCross Rnd 4 overall results:
1. Colton Haaker, 1-1-1, Husqvarna
2. Cooper Abbott, 4-3-2, KTM
3. Max Gerston, 3-7-3, GasGas
4. Ryder LeBlond, 6-6-4, Husqvarna
5. Will Riordan, 9-2-7, KTM
6. Cory Graffunder, 5-9-5, Yamaha
7. Tim Apolle, 7-8-6, Beta
8. Ty Cullins, 8-5-8, TM
9. Spenser Wilton, 12-4-12, GasGas
10. Anthony Johnson, 13-12-9, Sherco
11. Brandon Petrie, 11-13-10, KTM
12. Nick Thompson, 10-11-13, KTM
13. Trystan Hart, 2-16-16, KTM
14. James Flynn, 14-10-11, GasGas
15. Dustin McCarthy, 15-14-14, KTM
16. Noah Kepple, 16-15-15, Husqvarna
Third win of the season for Turner
Shelby Turner is putting in a textbook performance in the Women's class. The KTM rider dominated on the difficult track ahead of Sherco USA's Louise Forsley with Morgan Tanke rounded out the podium on her Beta.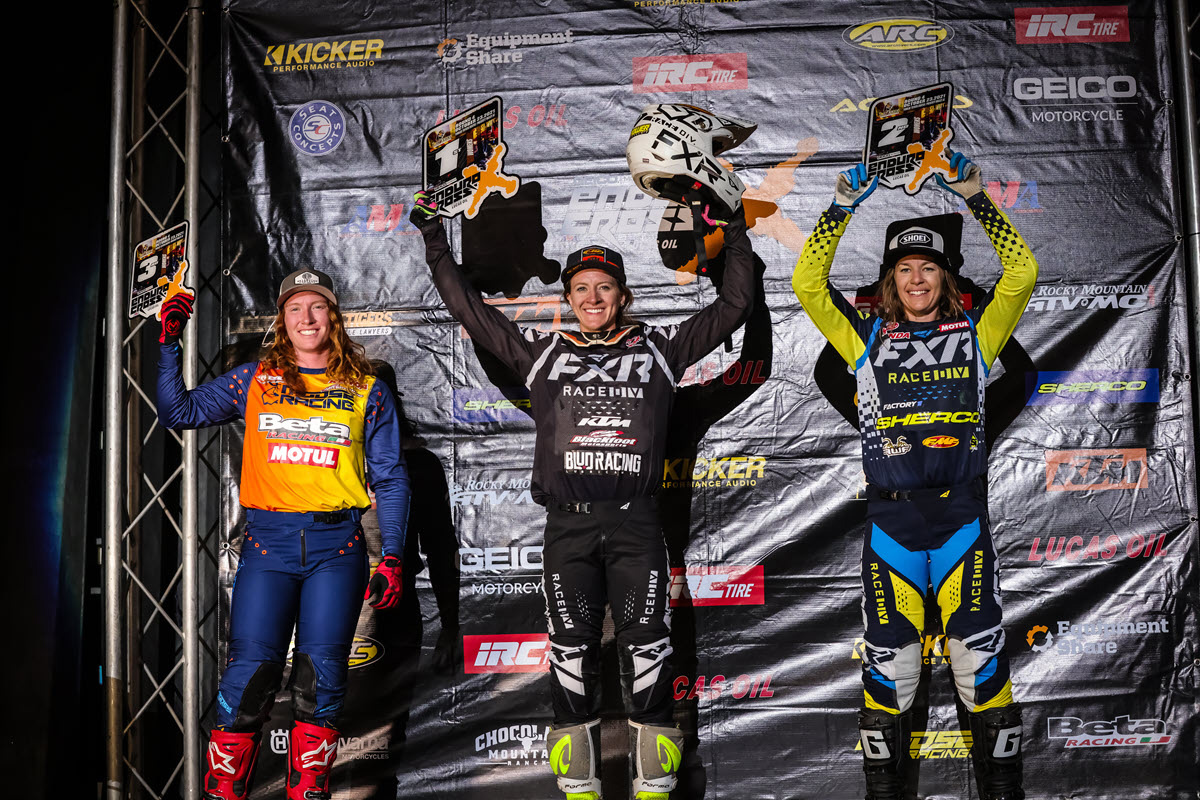 Nathan Rector won the intermediate class for the second race in a row ahead of Colman Johnson and Nick Tolman. The amateur class was won by David Stirm from Dan Hayakawa and Frederick Parr rounded out the podium.
Hawaiian Ryan Gouveia came out on top of a large field of Vet 35+ riders in front of David Kamo and Craig Thompson. Meanwhile 13-year-old Murphy Aaron won the Junior Trials class in his first-ever EnduroCross event.
The 2021 GEICO AMA EnduroCross series now moves on to the final Denver doubleheader on October 29-30.
Photo Credit: Jack Jaxson