2022 EnduroGP results: First victory since 2017 for Nathan Watson on day 1 in Portugal
Results from 2022 EnduroGP World Championship round four in Coimbra, Portugal where Nathan Watson has claimed the overall day win for RedMoto Honda ahead of Andrea Verona and Daniel Milner.
EnduroGP of Portugal II, day 1 in a nutshell:
Take a deep breath, there's a lot to digest today on day one of the fourth FIM EnduroGP round of the 2022 season. Josep Garcia did not start (after sustaining a thumb injury last weekend), championship points leader Wil Ruprecht crashed in the first test and lost not just a minute there but any chance of a win, and with it the points lead back to Andrea Verona.
Verona was favourite to win today but RedMoto Honda's Nathan Watson had other ideas and took his first win since 2017, and Honda's first since 2019 (Salvini, Italian GP).
Meanwhile Daniel Milner claimed third spot on the podium, Steve Holcombe was back at the races and challenging for that podium. Brad Freeman was also continuing his climb back to full fitness and today narrowly stole the E3 class win away from veteran French rider Antoine Basset by 0.27s. Matteo Pavoni was third a further 0.12 back meaning all three were within one second.
Back to day one winner Nathan Watson though and he has been stealthily approaching the top of the time sheets these last couple of GPs. On day two in Italy last weekend, he was third on the podium and seemed to have worked out the bike, the tests and his rivals. Today he said he "made a good start" and it "came easy" as he nailed an impressive second lap topping each of the tests to establish a gap. Taking two of the three tests on lap three cemented that win, 15 seconds clear of Verona.
Andrea Verona might be disappointed with second after his main EGP scratch championship rivals were either out (Garcia) or crashed (Ruprecht), but the Italian takes the overall points lead and extends his E1 advantage.
Australian Daniel Milner has clearly clicked with the European tests by this mid-point of the season and since switching to the Fantic XEF 250 has been troubling the top of the time sheets with regularity. Third place today and second in E1 is his best-ever EnduroGP scratch result.
After a tough year, Steve Holcombe was back in the mix today and for a while was challenging Milner for that podium. Fourth scratch and an E2 podium marks his return to form. Hugo Blanjoue deserves mention too for fifth outright and the final E2 podium place, his best senior result.
No prizes for guessing who topped the Junior time sheets today for the seventh day in a row this season. Zach Pichon had stiffer competition mind you as Roni Kytonen and Luc Fargier both ran the points leader closer. As has been the case often this season though, Pichon upped his game on the third lap and in fact was posting times which would have put him top three overall. The Sherco rider finished with a healthy 40 second gap to the Finnish rider Kytonen second, and Frenchman Fargier third.
The Youth class riders picked up where they left off last weekend with Harry Edmondson, Leo Joyon, Kevin Cristino and Sami Puhakainen all buzzing each others test results on the 125s. In the end it went right to the wire with Fantic teammates Cristino and Edmondson entering the final test less than a second apart. Edmondson it was who blitzed that final cross test, three seconds faster to take another win for the season.
In the Women's class, the damage was done in the first test for all of Jane Daniels' rivals. She ripped the opening enduro test run a full 30 seconds faster than anyone else and from then on had a healthy lead to consolidate.
Mireia Badia turned it up on lap two and took a test win away from Daniels but it was a case of too little, too late. Rosie Rowett equalled her best result in third but the gaps between the female riders this weekend were huge – a minute between each of the top four riders.
The Open class scratch result and 2T classification once again went the way of British rider, Harry Houghton. Not even the serial Open class winner from seasons past, Portuguese Goncalo Reis (P2 today), could stop championship leader Houghton maintaining his 100% record for the season.
GP of Portugal II, day 1 results – EnduroGP scratch: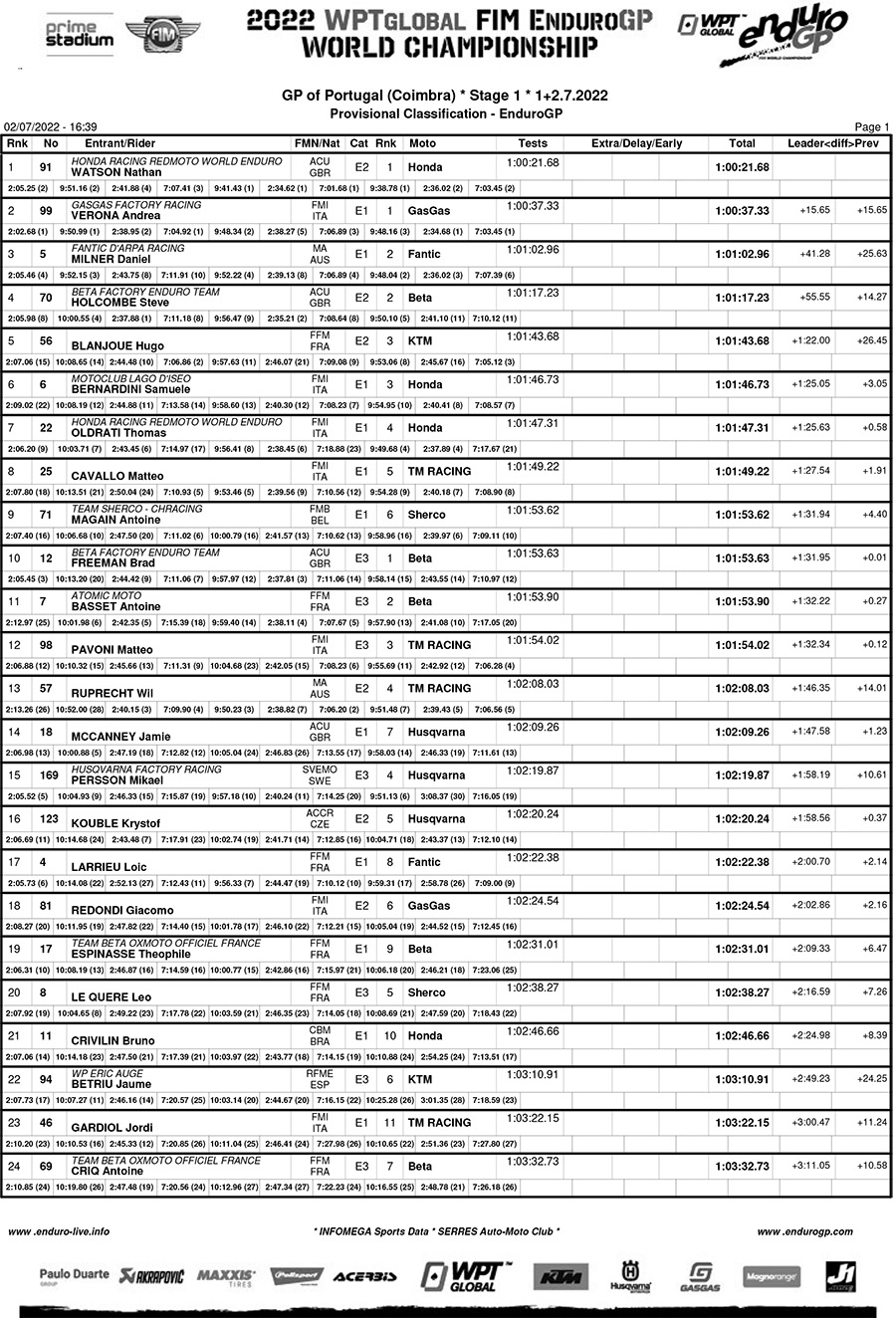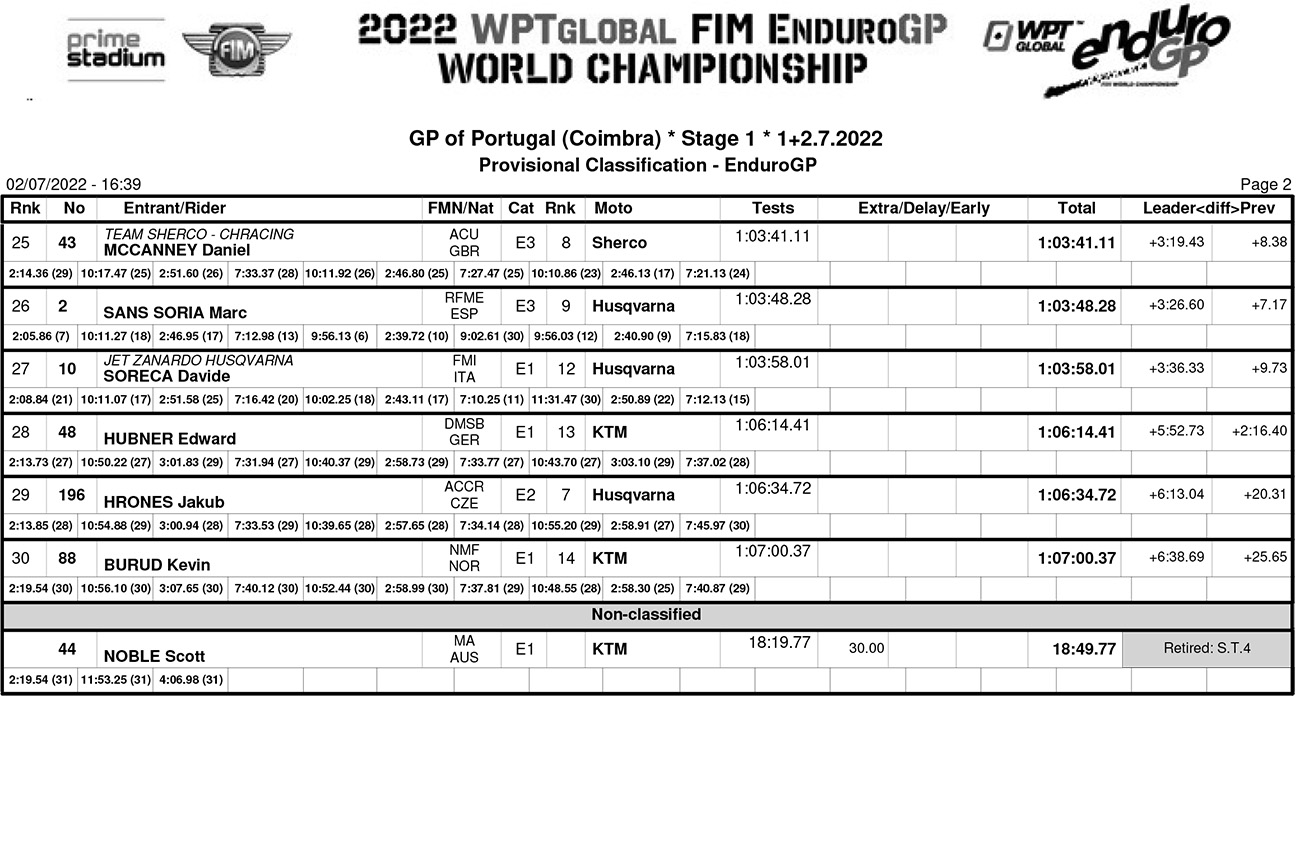 GP of Portugal day 1 results – E1: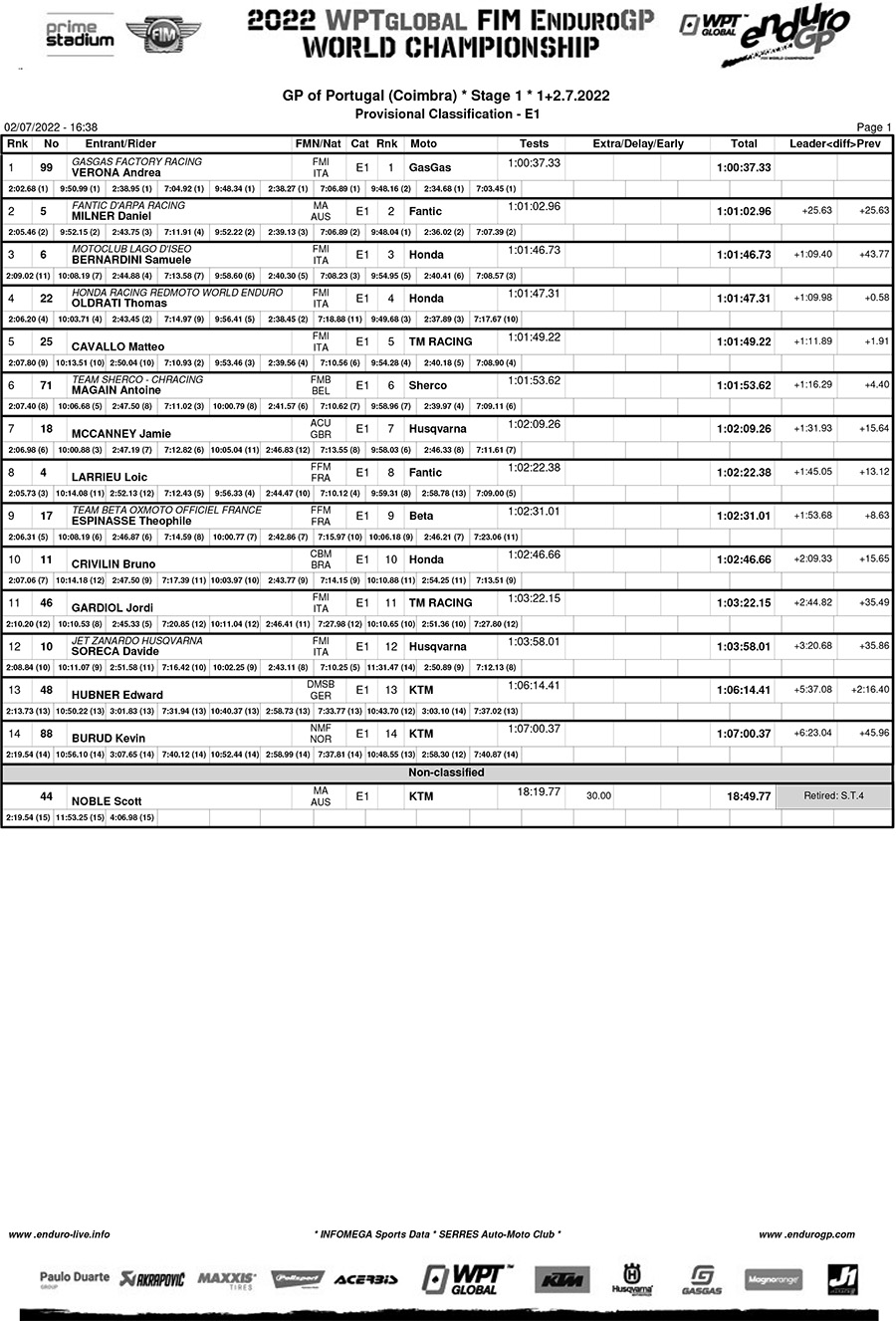 GP of Portugal day 1 results – E2: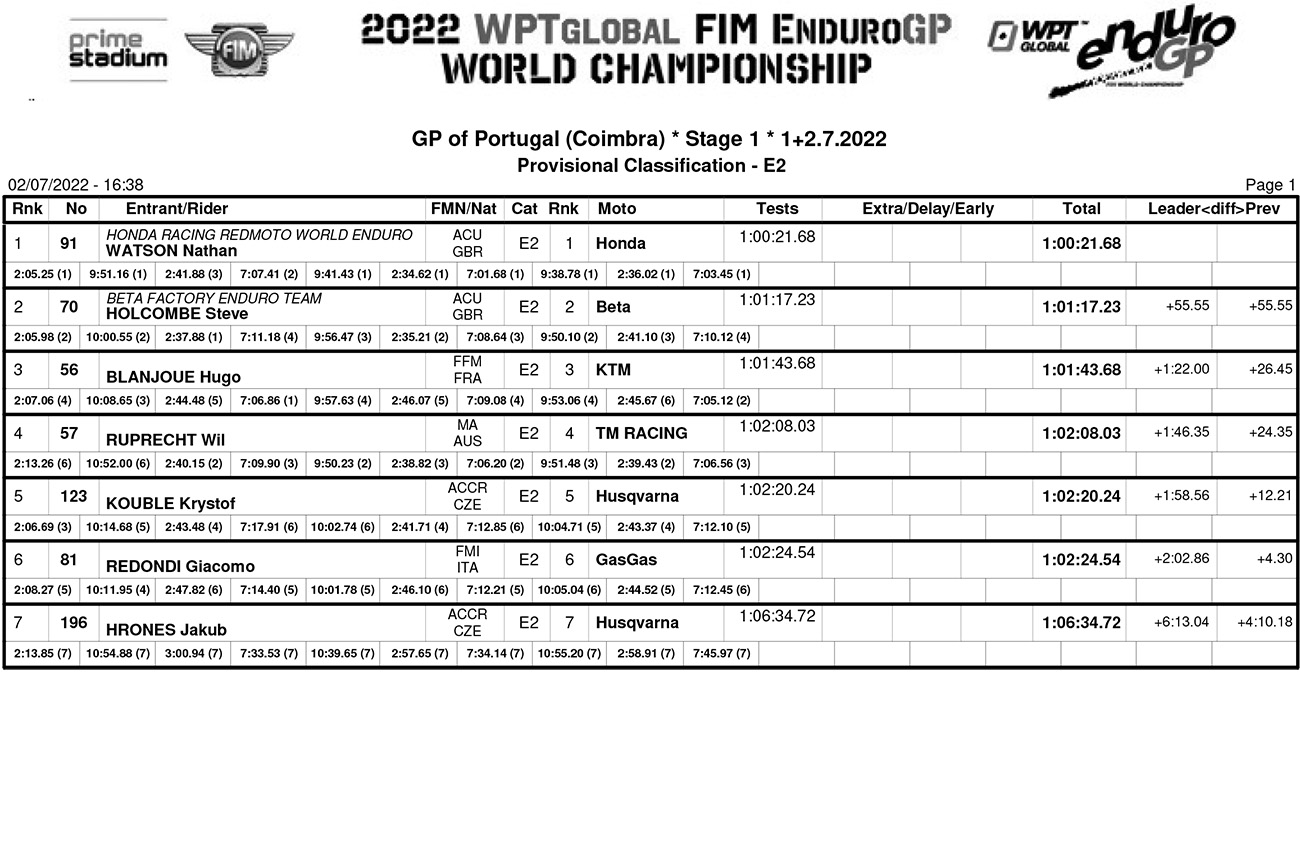 GP of Portugal day 1 results – E3:
GP of Portugal day 1 results – Junior: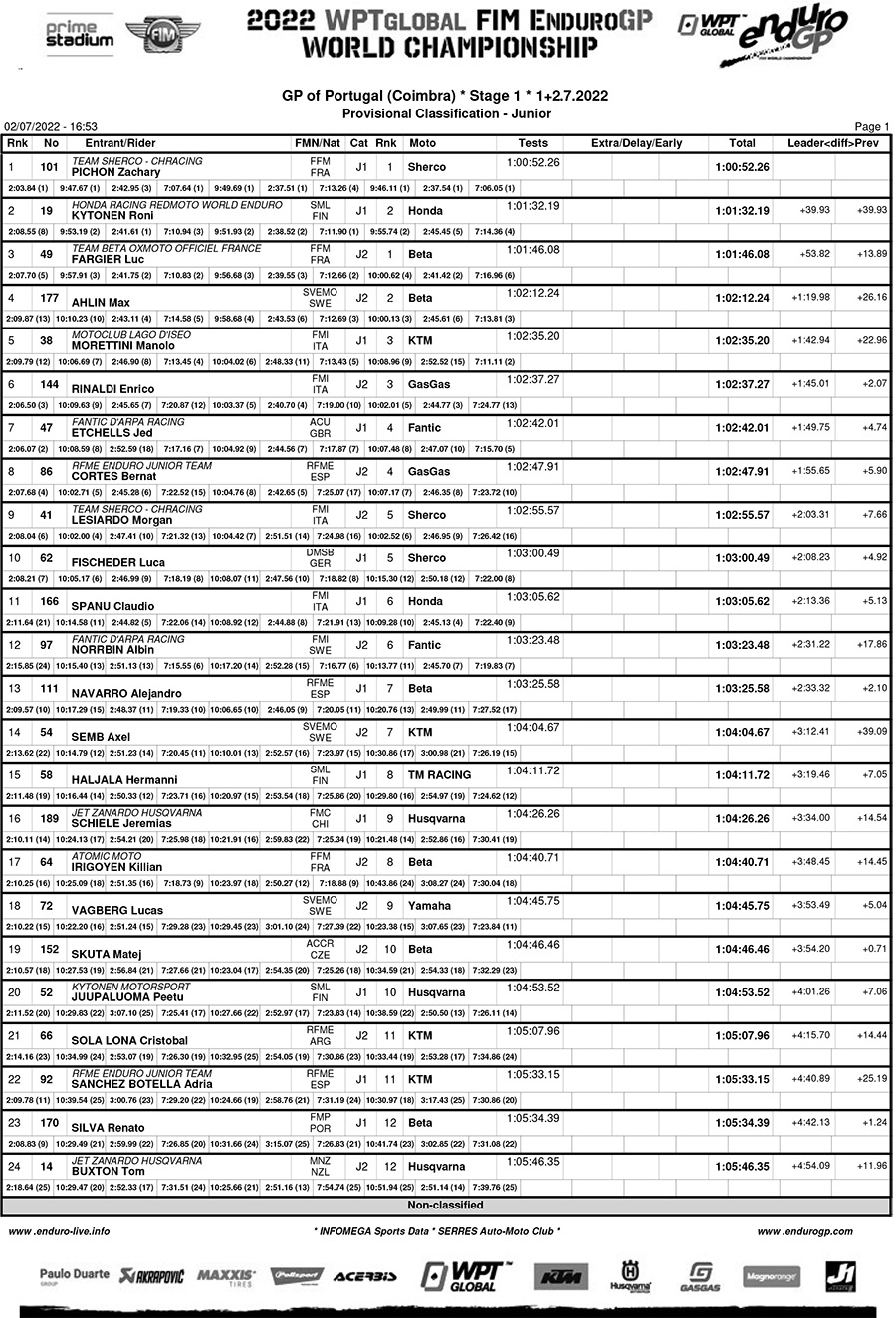 GP of Portugal day 1 results – Women: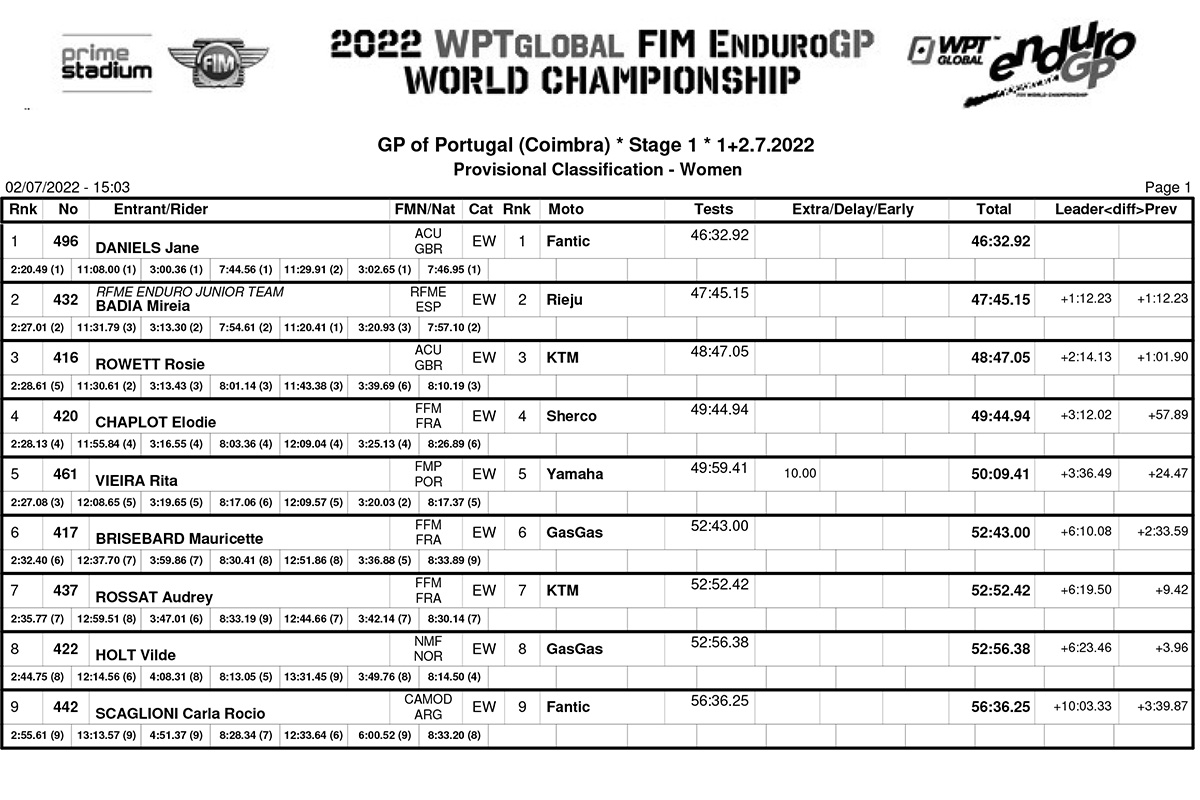 GP of Portugal day 1 results – Youth: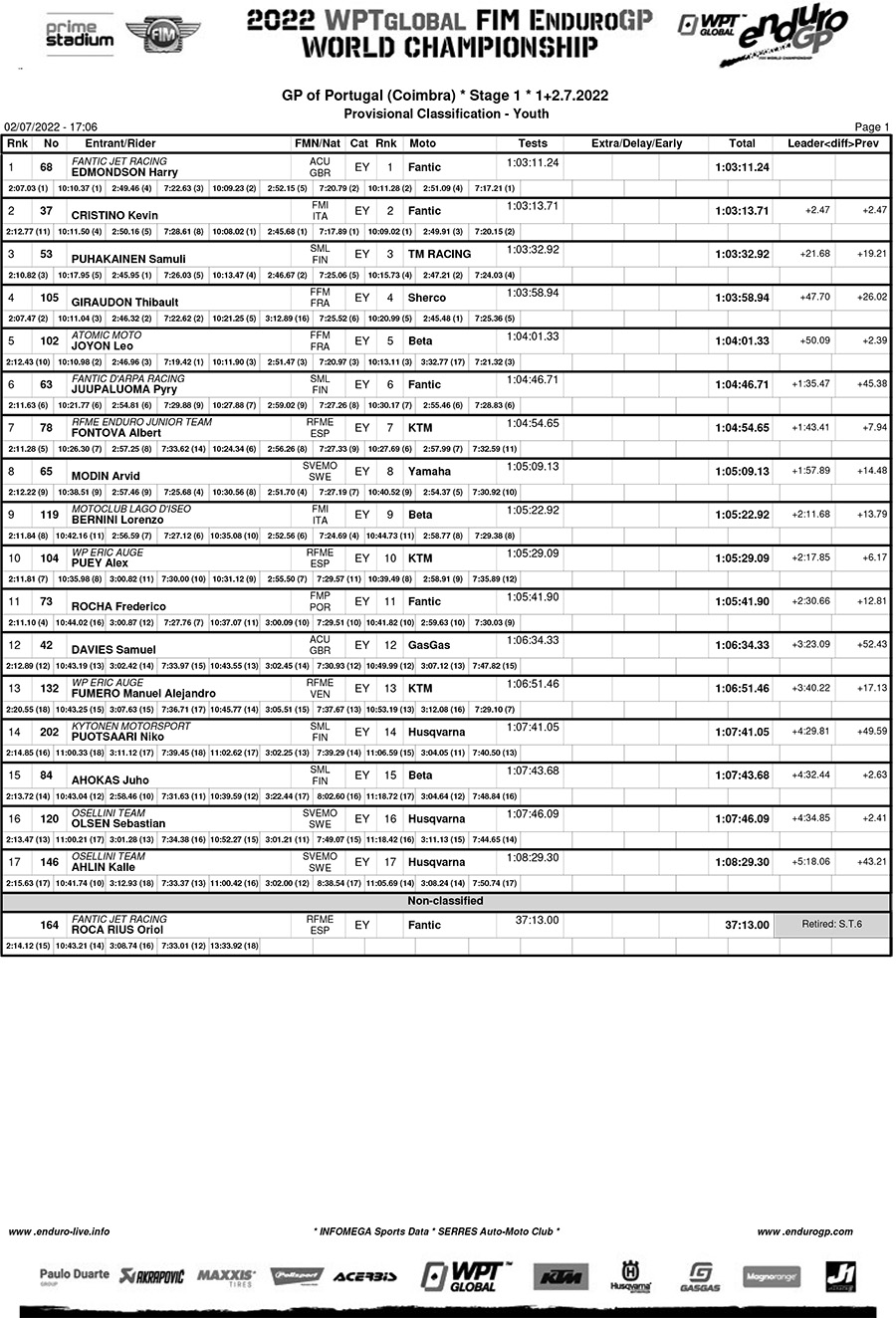 GP of Portugal day 1 results – Open (scratch):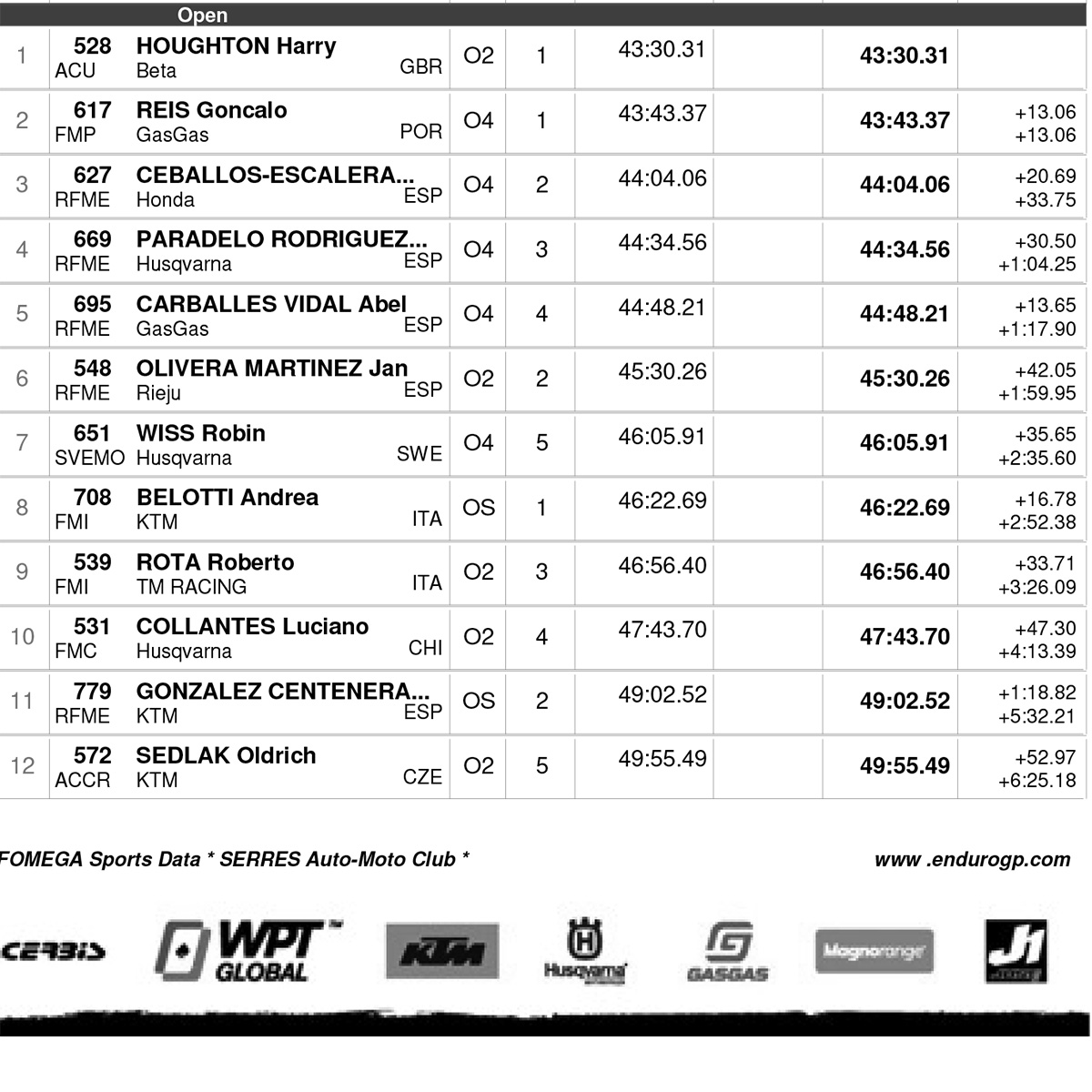 Photo Credit: Future7Media | Andrea Belluschi