2022 EnduroGP results: Nathan Watson does the double in Portugal
Results from round four of the 2022 EnduroGP World Championship in Coimbra, Portugal where Nathan Watson has taken the RedMoto Honda to a double victory ahead of new series points leader Andrea Verona with Steve Holcombe in third place.
EnduroGP of Portugal II, day 1 in a nutshell:
Day two dawned a damp one in Coimbra and that meant the baked-hard ground took up some moisture to be slick in places but ultimately grippier than day one.
That meant more traction for the back wheel at least and that played into Steve Holcombe's hands, allowing the Beta rider to steal the lead for the first lap and a half.
But, much like day one, Nathan Watson was keeping it consistent with fast test times. When he clocked clear quickest runs in the enduro and cross tests on the second and third visits, as the ground dried out the Honda rider grew an advantage and sealed a "perfect weekend" in EGP class and E2. The result means Watson is now third in the EnduroGP World Championship standings.
Andrea Verona was as committed as ever on the GASGAS EC 250 F and despite a couple of crashes, sneaked ahead of Holcombe as the third lap got underway. Verona's second place P2 scratch, and P1 in E1, for the weekend sees him back as the scratch points leader.
Wil Ruprecht had another tough day today riding with injuries from yesterday's crash and he finished 14th plus drops to second in the EGP points behind Verona.
The Beta team will be having a mini celebration tonight after Steve Holcombe took third overall and P2 in E2. After a disappointing Italian GP last weekend, it was some turnaround for him and his teammate Brad Freeman who took the E3 class and fourth overall. It was their collective best result of the season.
Second in E3 and taking his best result of the season sandwiched between Freeman and points leader Mikael Persson, Marc Sans proved the big E3 bikes were working this weekend with a scratch test win outright on the 500 Husky and P5 overall.
For the first time this season someone other than Zach Pichon topped the Junior class today as well. Day two saw Roni Kytonen join his RedMoto Honda team-mate Watson on top of the box. A crash for points leader Pichon took some pressure off Kytonen but he was on it in the long enduro test especially and earned the win.
After setting a remarkable third fastest time overall on day one, Pichon had to fight his way back in the Junior order after that crash to an eventual P2 but he maintains a healthy championship lead.
In the Women's class it was a repeat result from day one and a repeat performance of this season for Jane Daniels who maintains her 100% record of wins ahead of Mireia Badia second and Rosie Rowett again third. Badia ran Daniels closer today, the gap was 25 seconds at the finish rather than 1:12, but is was still a comfortable one for Jane.
The Youth class was again a close contest between the usual suspects of Harry Edmondson, Kevin Cristino, Leo Joyon, Samuli Puhakainen and Thibault Giraudon.
Edmondson again took the win after stepping up on laps two and three to pull a small gap but it was close at the finish, just 2.85s to his teammate Cristino second. Frenchman Joyon nailed a fast final test to go from fifth to third – that's how close it was.
The Open class scratch result saw a change in the order as points leader Harry Houghton got relegated to third behind Portuguese rider Goncalo Reis and Spaniard Alejandro Ceballos. In the end Reis won on home soil by three seconds while Houghton was 12 seconds back in third, but first in the 2T classification.
A.O.B. Daniel Milner went out of after a big one at the start of the second lap. We understand he took a hit to the elbow and snapped his handlebars and was forced to retire along with Fantic brother Loic Larrieu who went out a test later.
GP of Portugal II, day 2 results – EnduroGP scratch: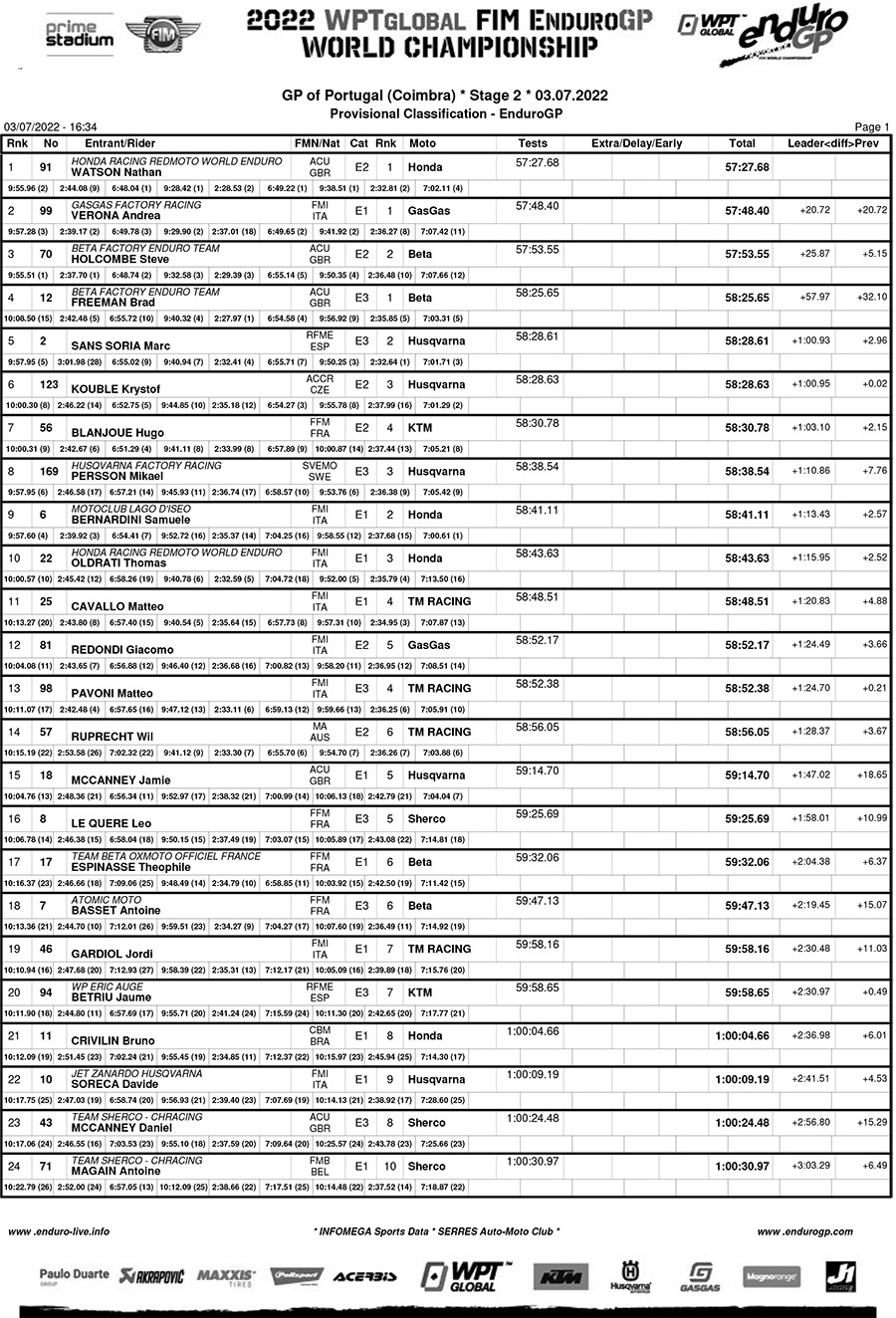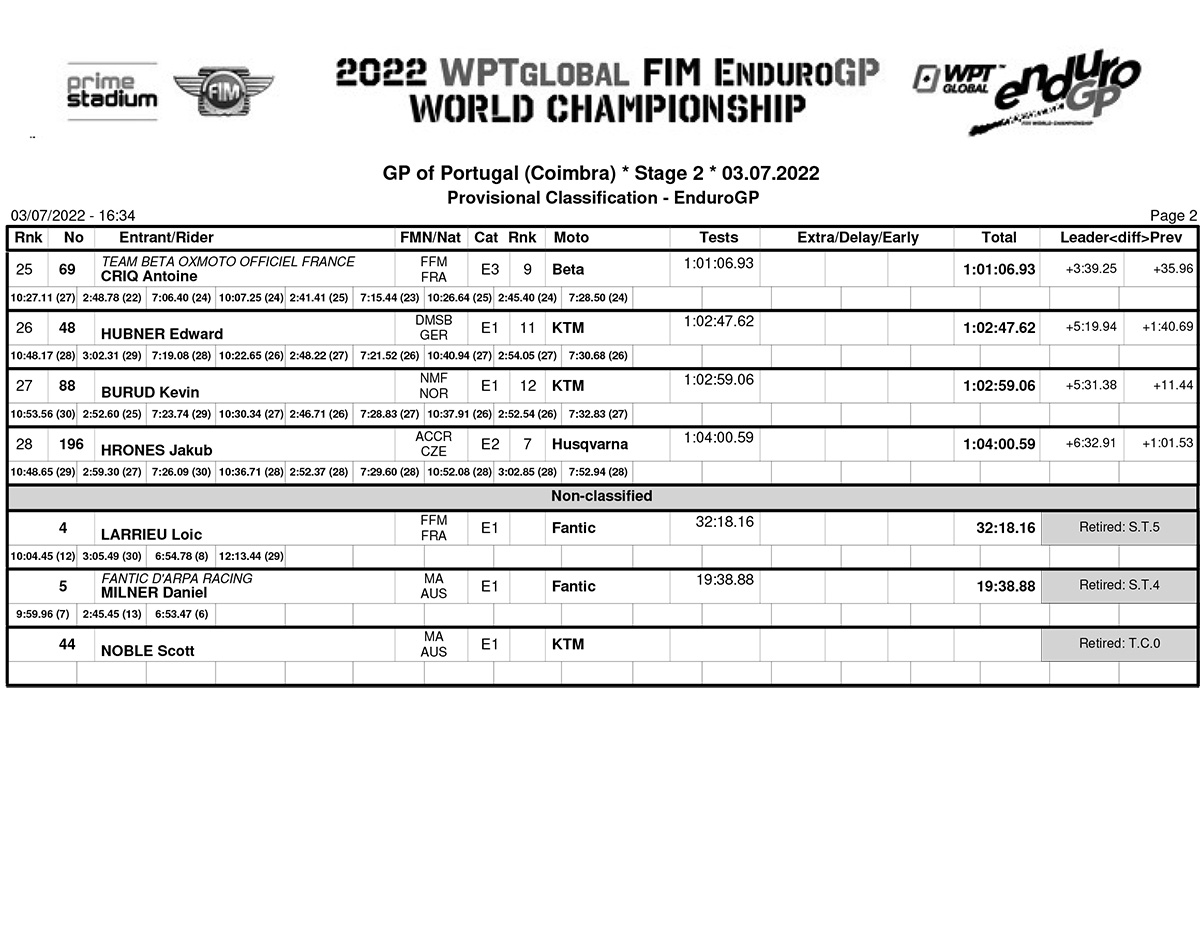 GP of Portugal day 2 results – E1:
GP of Portugal day 2 results – E2: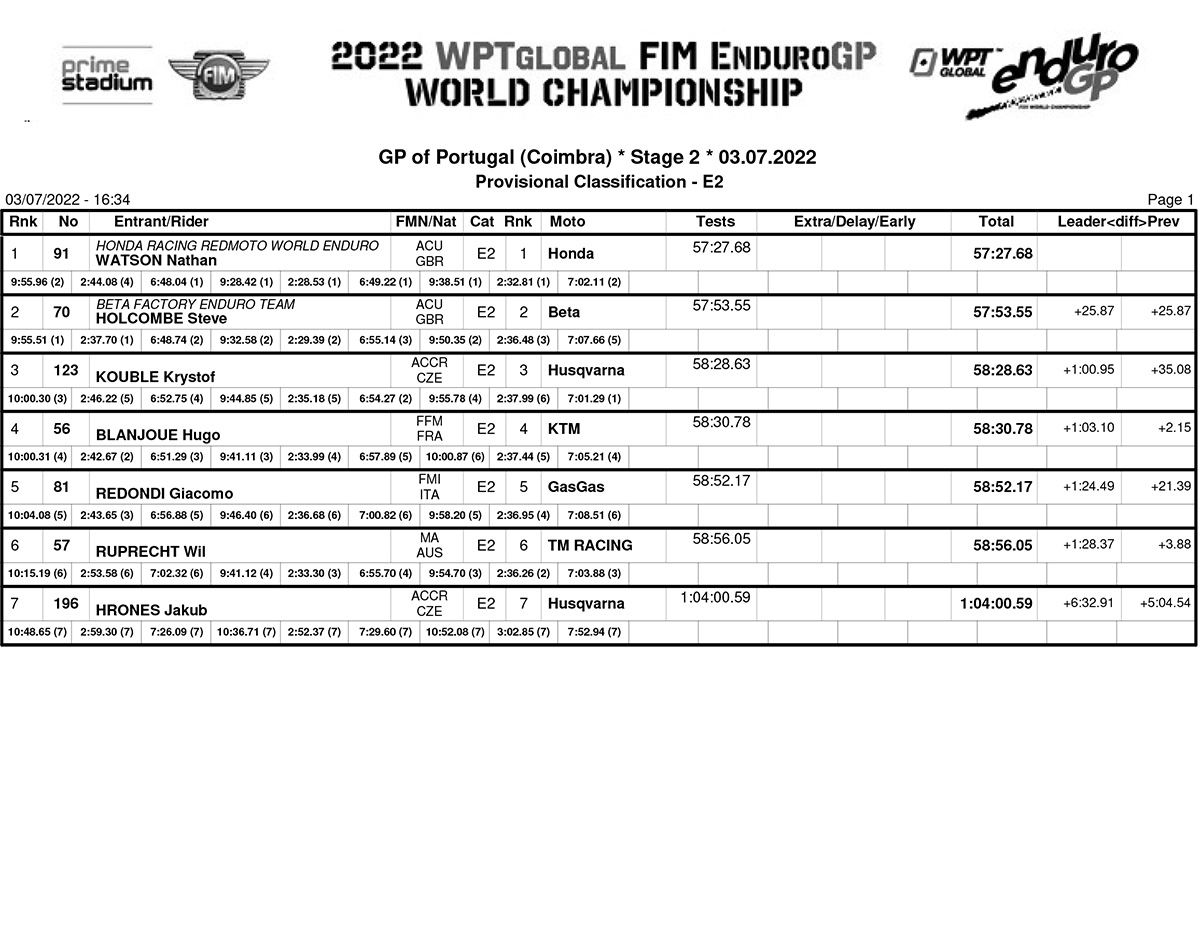 GP of Portugal day 2 results – E3: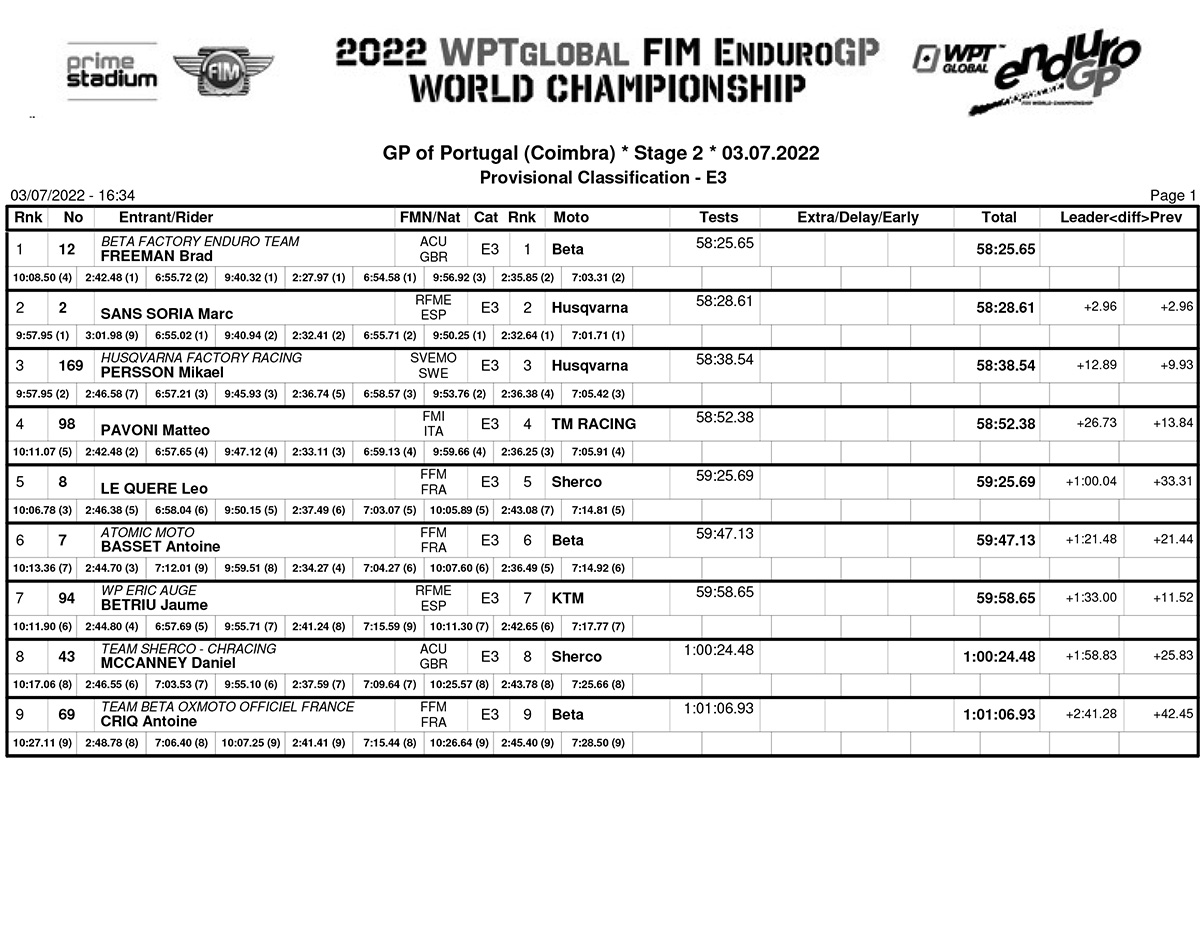 GP of Portugal day 2 results – Junior: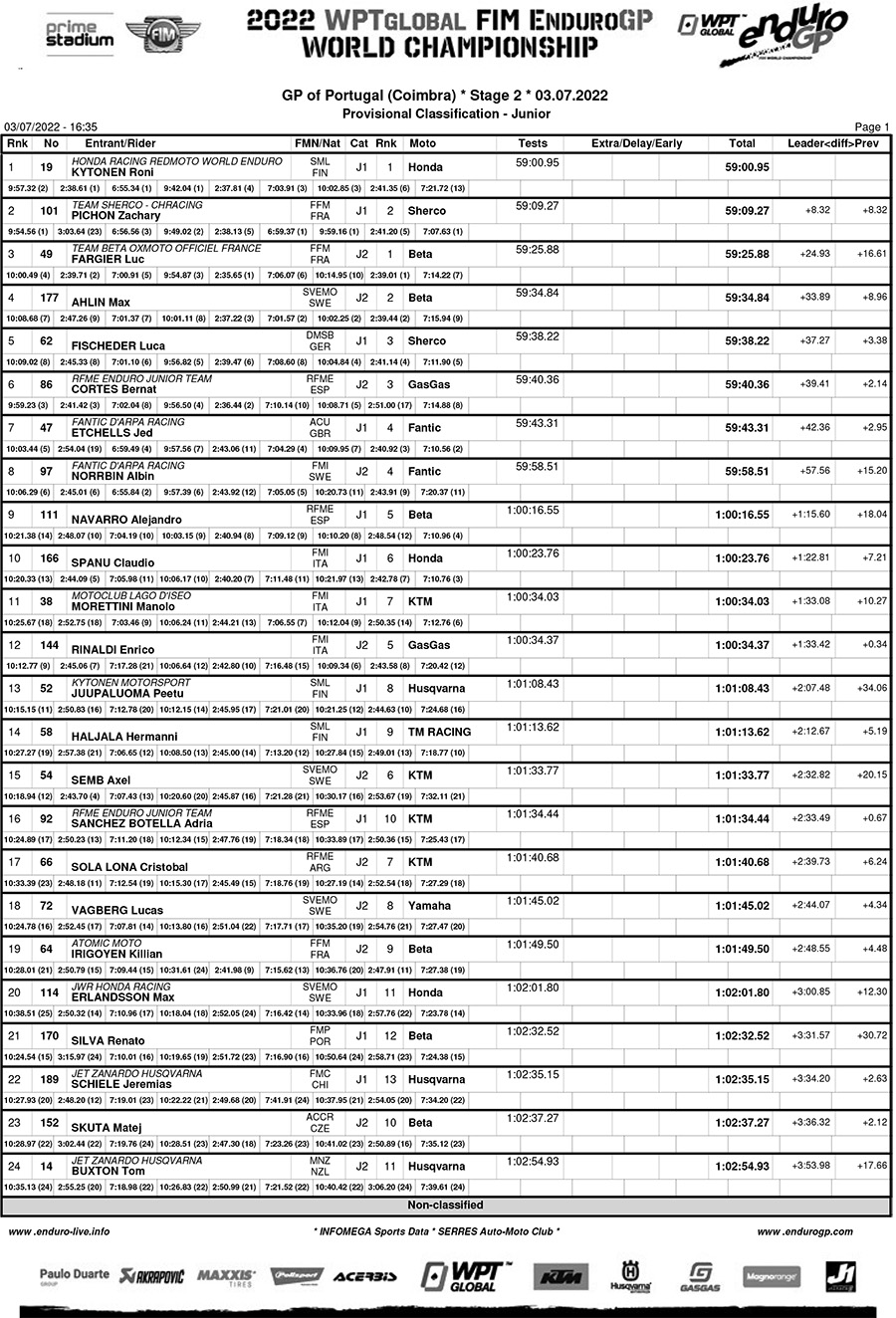 GP of Portugal day 2 results – Women: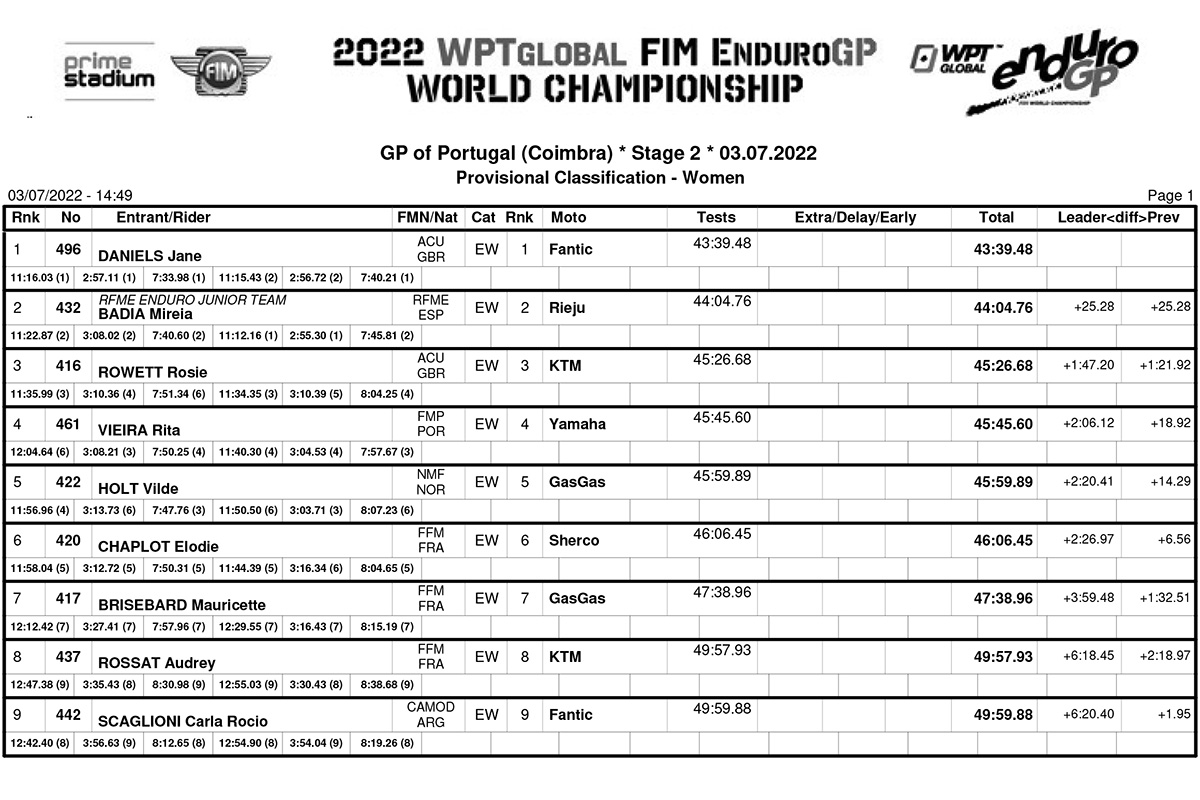 GP of Portugal day 2 results – Youth: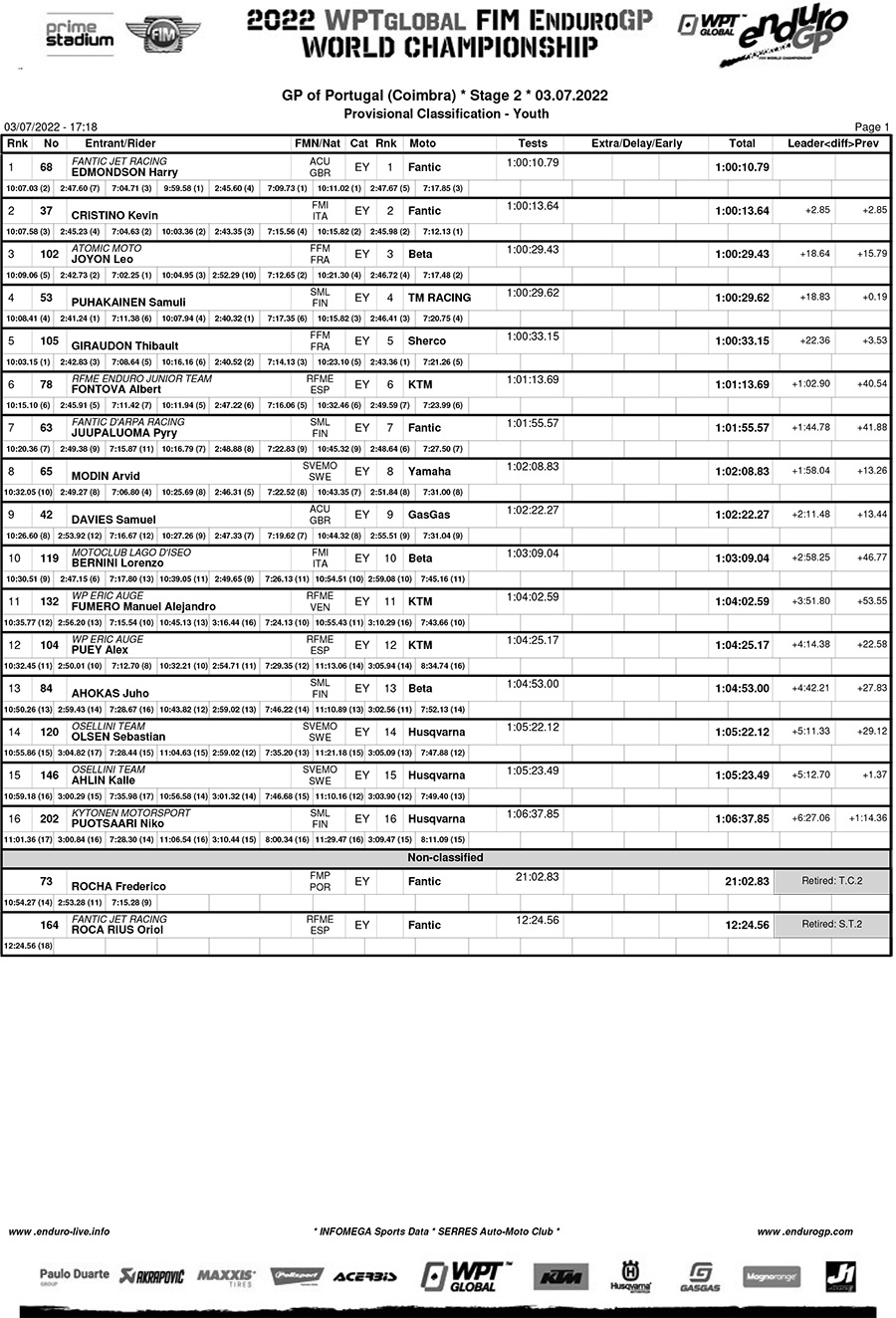 GP of Portugal day 2 results – Open (scratch):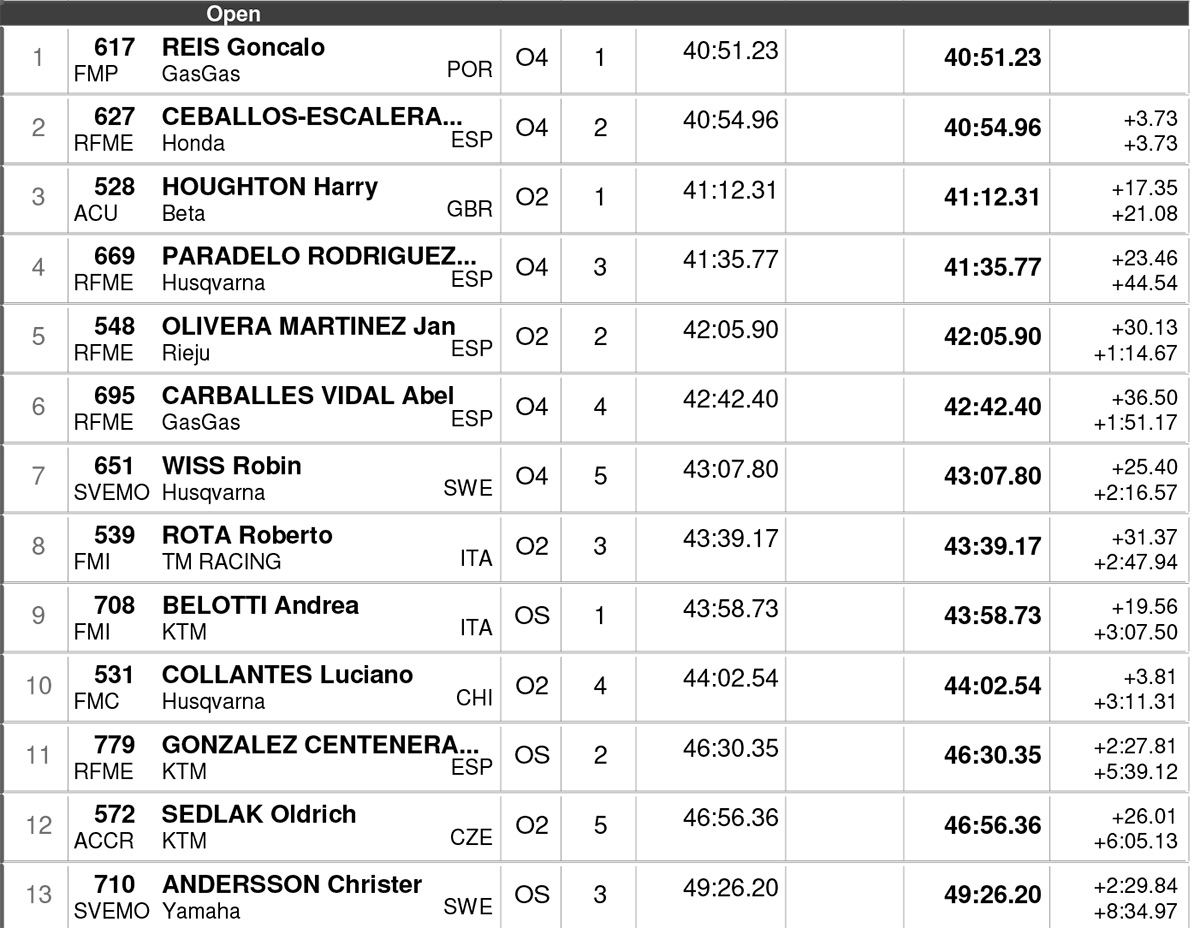 Photo Credit: Future7Media | Andrea Belluschi