2022 EnduroGP World Championship points standings after Rnd 4
Four rounds down, three to go in the 2022 EnduroGP World Championship and here's how the riders in all classes are stacking up in the points standings as we enter the second half.
Four dramatic EnduroGP rounds this season so far have had it all: from unbelievably high levels of riding, competitive at the top of the time sheets like we haven't seen in years, monster crashes, and a complete dominance in some classes and hugely competitive and unpredictable in others.
In the end though it is always the scores on the test timing sheets which matter because they deliver the points which win prizes. So take a look, classes by class, at how the championship tables are looking after round four, Portugal (II) in Coimbra.
The championship picks up again in Slovakia on the last weekend in July, continues one week later in Hungary and then skips to the other side of the 2022 ISDE in France to reach a finale in Zschopau, Germany on October 15-17.
EnduroGP scratch standings
Consistency has been the key to Andrea Verona's points lead in the overall standings. His main rivals have been Wil Ruprecht and Josep Garcia who until last weekend in Coimbra were the only riders to beat him.
Crucially, and despite not always quite matching his rivals on the first day of a GP at least, Andrea has been on the boil and on the pegs when others have taken turns to jump off and injure themselves. Fast without the mistakes brings championships. Big get-offs for Garcia at the Italian GP, round three, and Ruprecht last weekend certainly don't help.
Behind the top three, Nathan Watson has been the steadily improving rider who stuck it on top overall last weekend – it was a results which carried him to third in the standings.
Behind Watson it has been a case of crashes and injuries which have kept predicted protagonists down the order.
There's a long way to go yet and a lot of points to be had so don't count out Garcia or Ruprecht, neither discard the Beta duo Steve Holcombe and Brad Freeman. It seems unlikely they'll catch the runaway leaders but they are on the comeback trail from injuries and could upset the apple carts at the least.
EnduroGP class standings after round 4: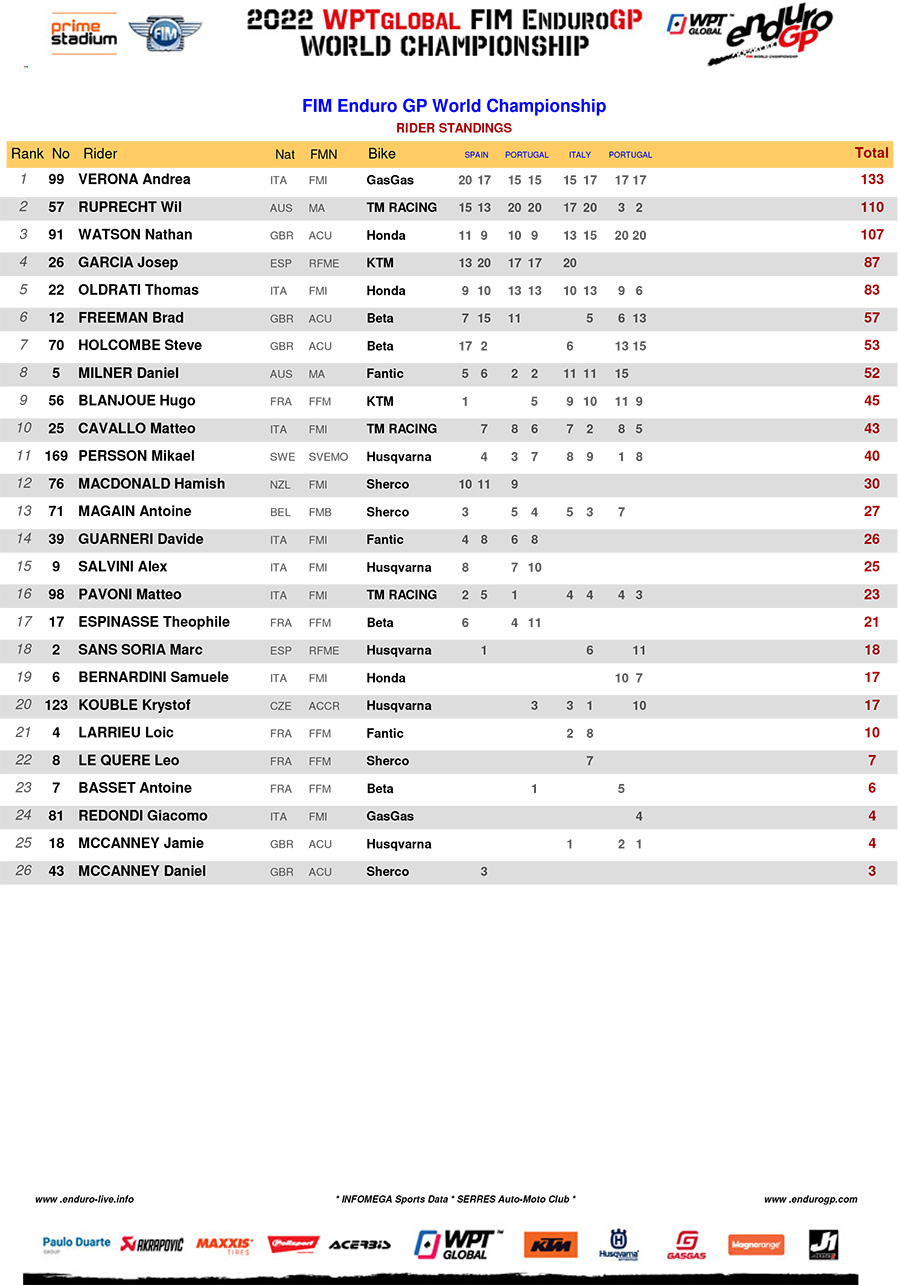 Class acts
EnduroGP seniors are divided into classes depending on bike capacity, it's the fight within the fight but very much still with world championship crowns up for grabs.
E1 class standings after round 4: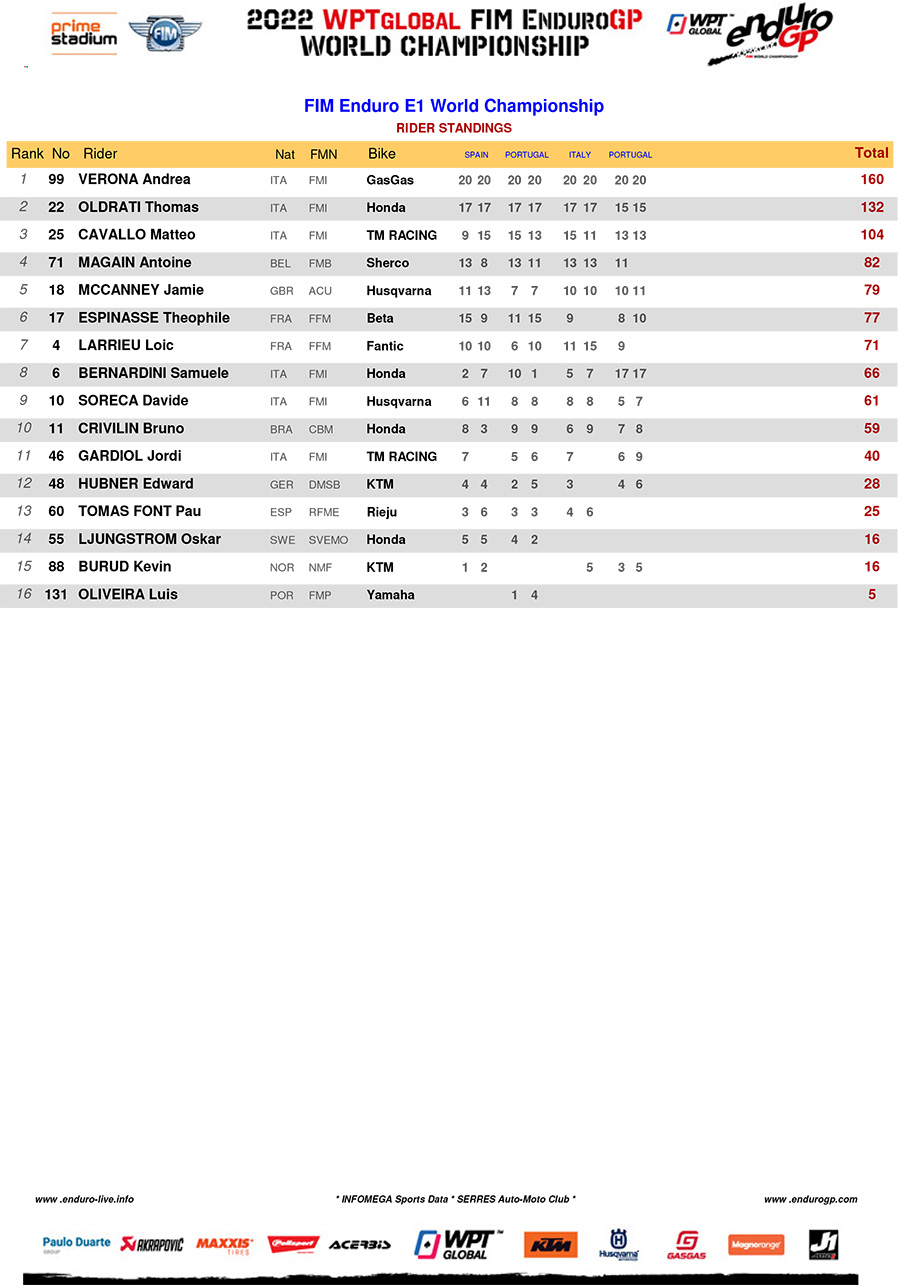 E2 class standings after round 4: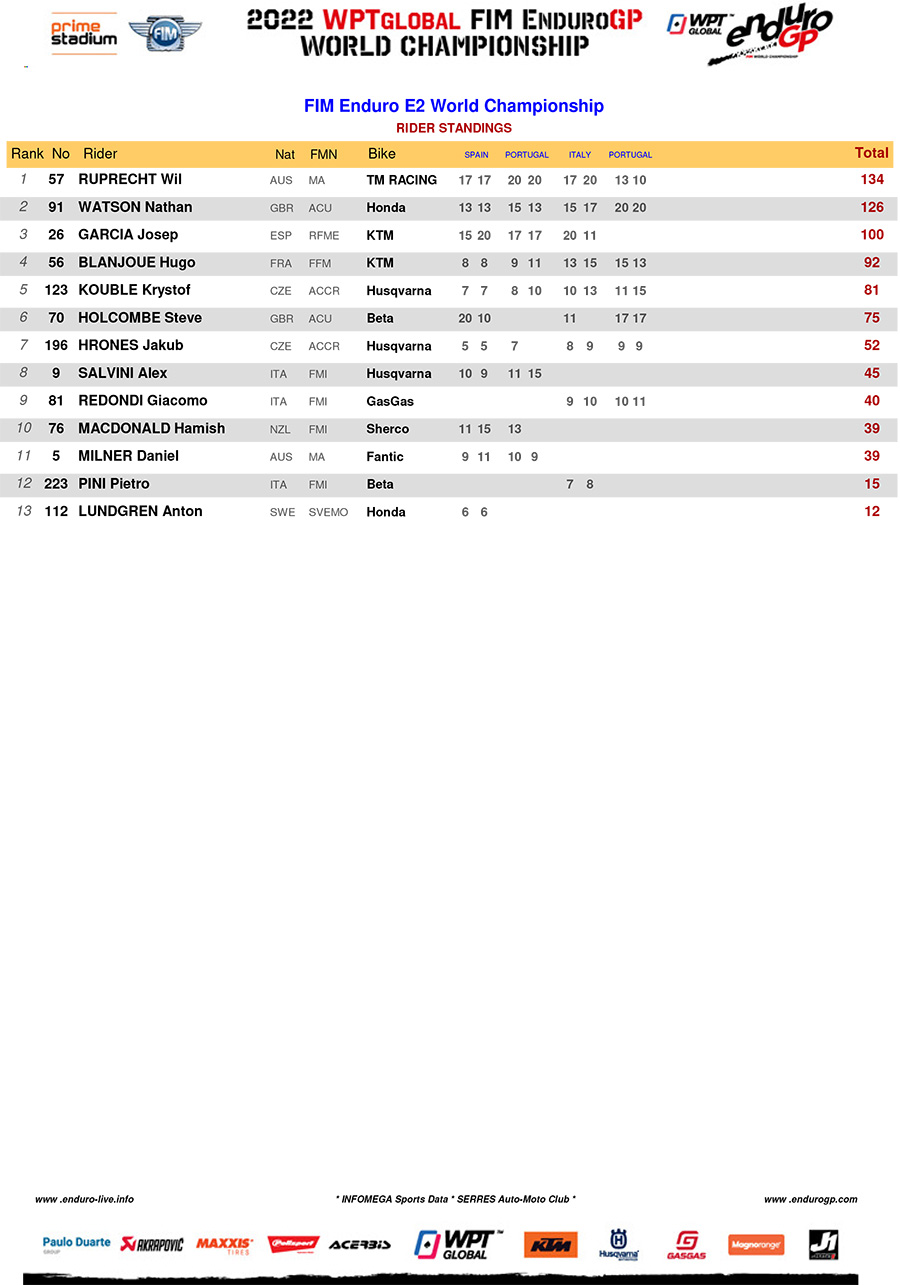 E3 class standings after round 4: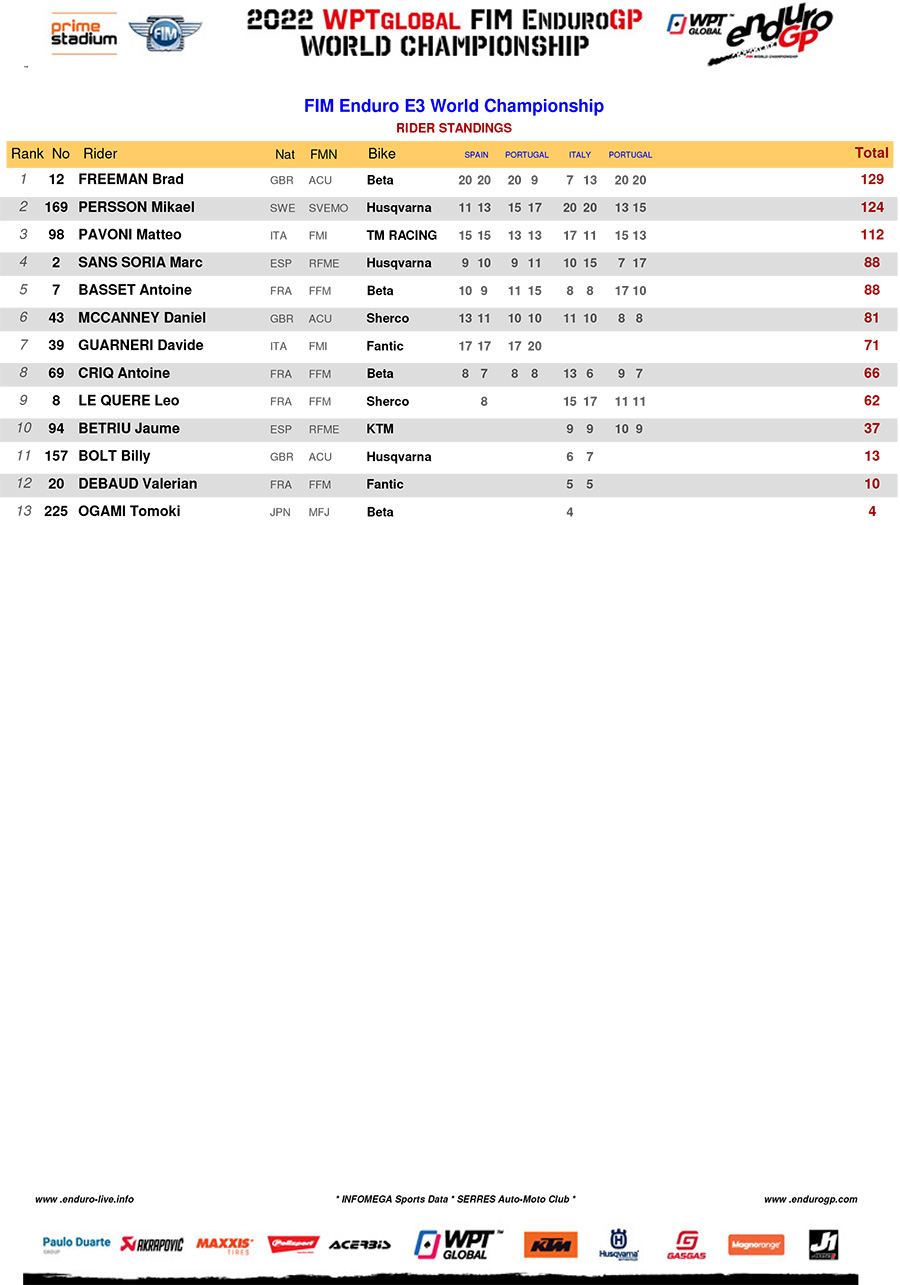 Pichon shining brightly in Juniors
Sherco have a new star in Zach Pichon. It's not often a rider from the lower ranks, in this case the Juniors, troubles the seniors for the overall scratch times but that is exactly what the French youngster has been doing this season. Remember, this is his first full GP season having been signed up in the off season.
A nearly perfect season was only just pipped by an early fall in a test on day two in Coimbra, even then, he almost clawed all the time back.
Enduro Junior class standings after round 4: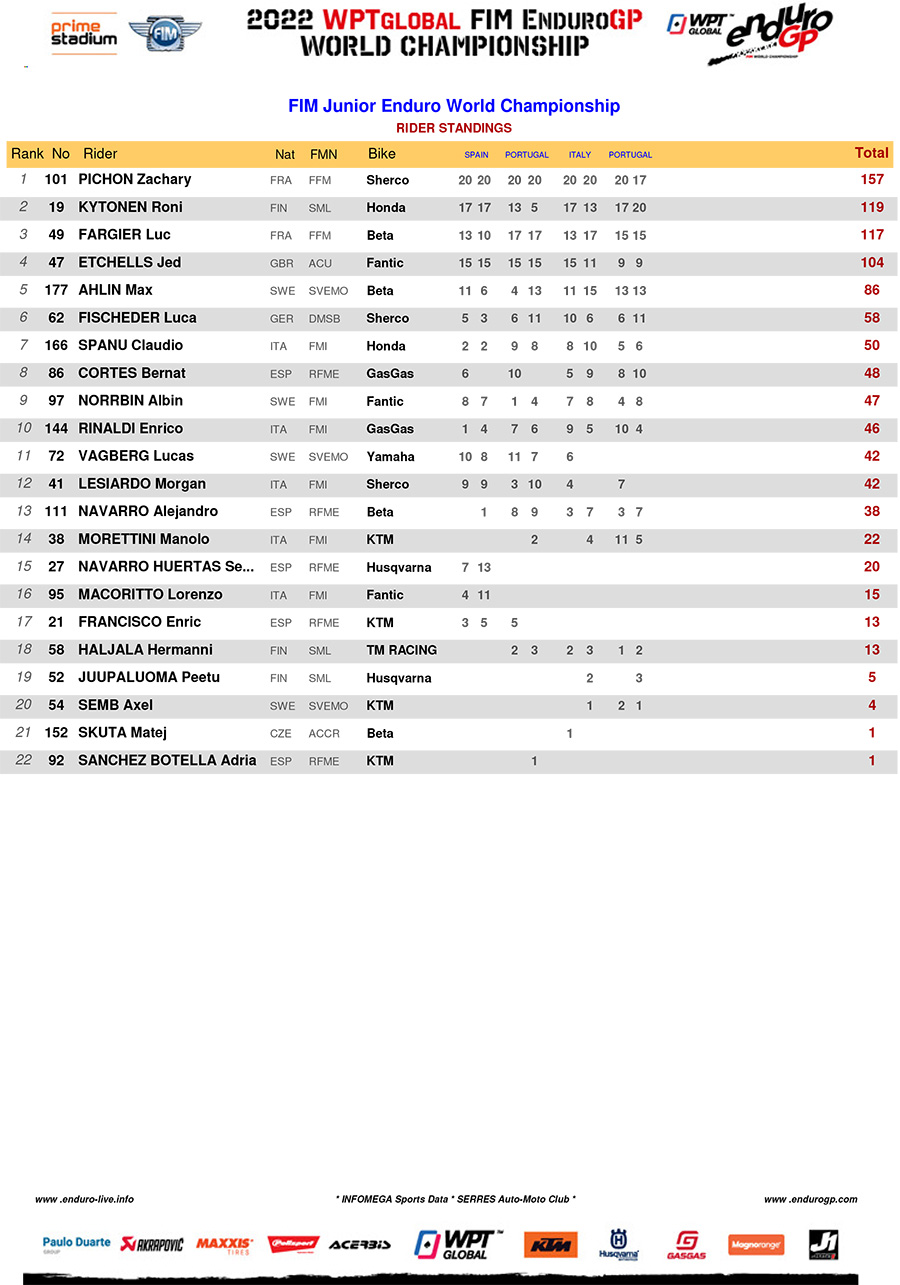 Edmondson following hefty footsteps
A dad, and uncle, a brother…Harry Edmondson has some class acts to follow not just in enduro but from his own doorstep at home. But the British rider has been living up to their quality this season.
There's no question the Youth 125 class is crazy competitive, test times can be so tight riders can completely swap places from one test to the next. But crucially Harry has been the consistent one, keeping competitive and seemingly mentally strong across the three laps of racing at the GPs.
He looks like he's enjoying it too and has the reward of a championship points lead.
Enduro Youth 125 class standings after round 4: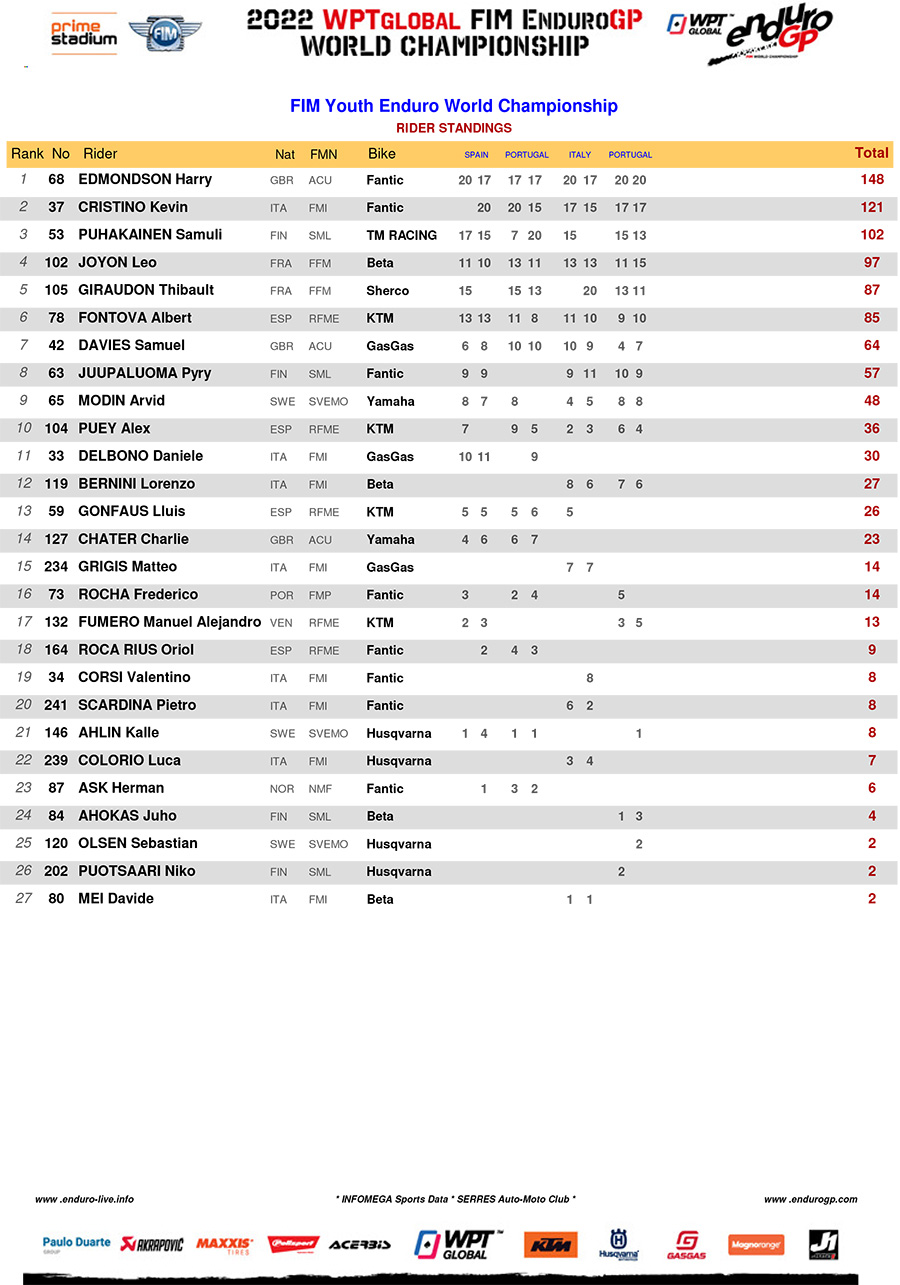 Enduro Women
The Enduro Women World Championship races four of the seven rounds (Portugal, Spain, Portugal II and Germany). So far it is former champion Jane Daniels who has completely dominated with comfortable victories each of the six days raced and a maximum points haul of 120.
Mireia Badia hasn't been on the same form since jumping on the Rieju two-stroke this season, last year she was challenging for day wins against Laia Sanz and Daniels.
The bigger competition in the female classes therefore is between Rosie Rowett and Rita Vieira who've traded third place across the three rounds so far. After a double 15 points haul in Portugal, Rowett has the advantage.
Enduro Women class standings after round 4: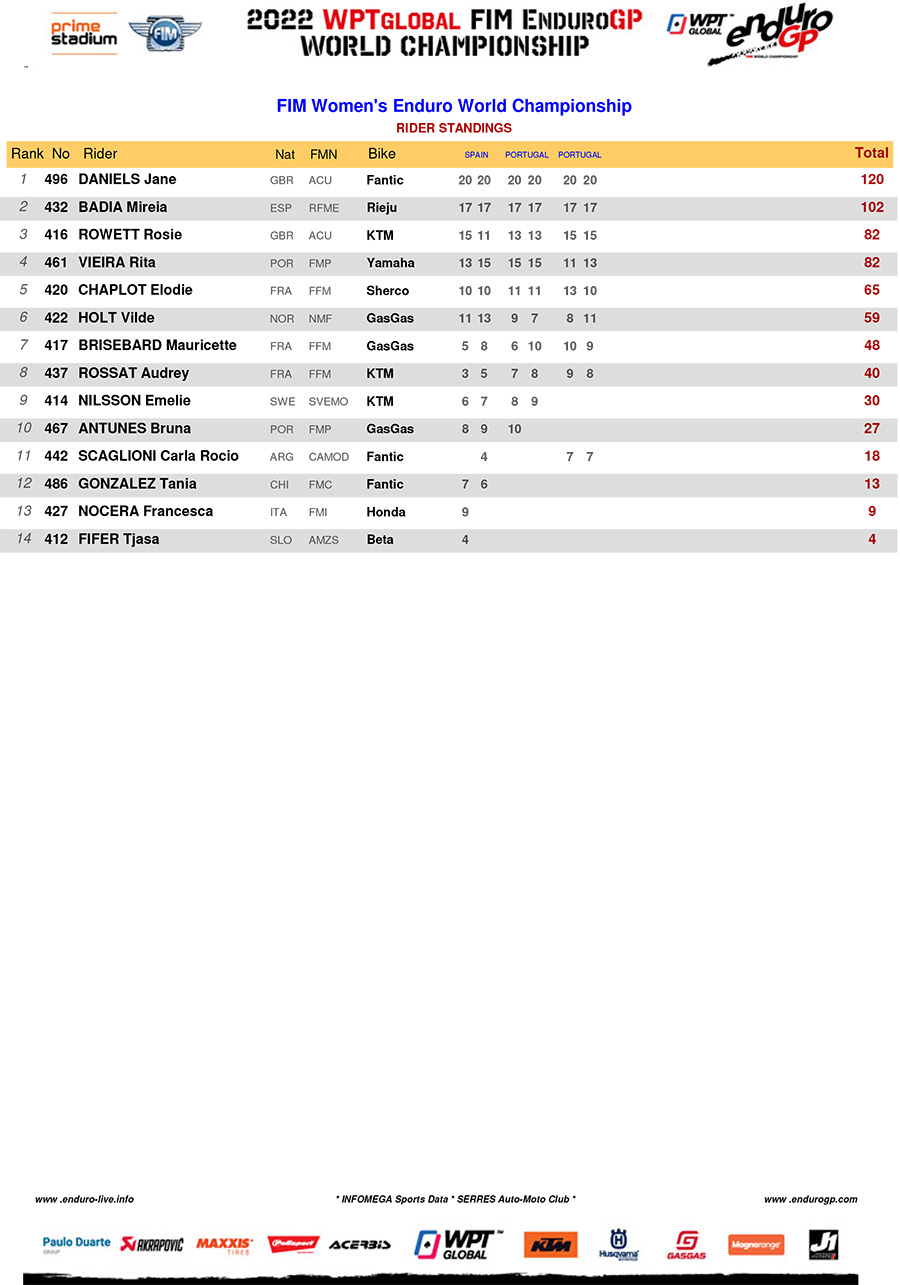 Another Brit leading the Open class
Yep, we know the Open classes are officially split into '2strokes', '4strokes' and 'Seniors', but like the senior main championship, it is the scratch result which most people take note of. In that ranking (and in the 2T class) Beta UK rider Harry Houghton is bossing it.
The 4T boys Goncalo Reis and Alejandro Ceballos broke up Houghton's six from eight rounds winning run in Portugal II but this class drops a round come the end of the season. He's unbeaten in 2T class as well.
Open class scratch standings after round 4: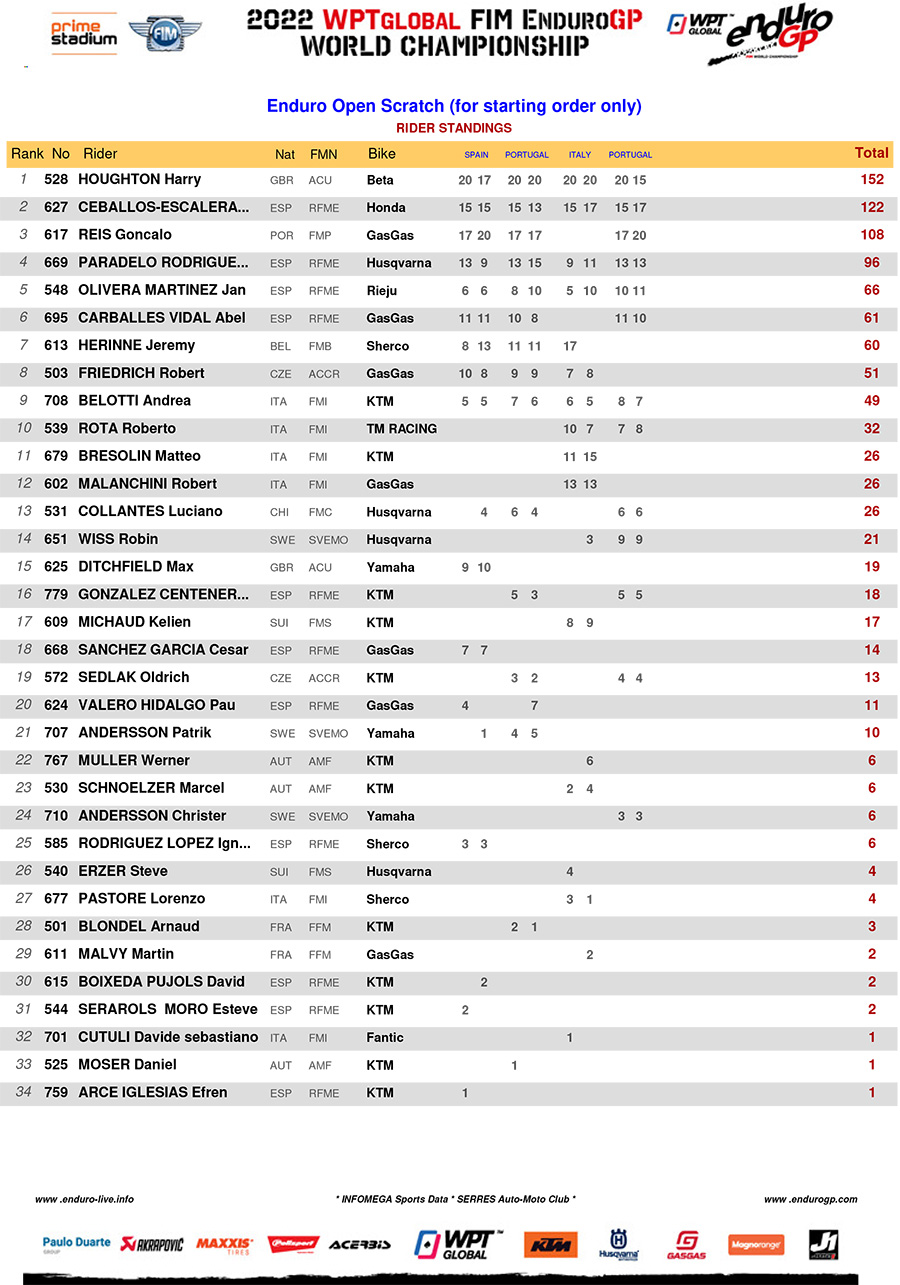 Photo Credit: Future7Media | Andrea Belluschi