2022 EnduroGP World Championship rolls on to round 4 in Portugal
2000 kilometres and two days driving later, the 2022 FIM EnduroGP World Championship riders and teams move around the Mediterranean from Italy to Portugal and round four of the season this weekend in Coimbra.
We've reached the mid-way point of the 2022 championship following a drama-filled couple of days last weekend in Italy characterised by awesome tests, long days and a few major casualties.
The WPTGlobal FIM EnduroGP World Championship continues at pace this weekend as we visit Portugal for the second time this season and the city of Coimbra, in central Portugal half way between Lisbon and Porto.
Check out the Portugal tests track preview here.
Ruprecht edging clear?
By now you might have expected a front runner to have emerged but the competition has been off the scale this year, for wins overall and in each of the classes. But the speed of the top three – Wil Ruprecht, Josep Garcia and Andrea Verona – has been nuts and until Garcia crashed last week, there was nothing in it.
Despite being the hardest class to take victory in, E2 has just seven riders this weekend. One less since Josep Garcia battered himself last Sunday and will sit out this GP with a broken hand.
Ruprecht leads the EGP scratch results (overall by six points) ahead of Verona and Garcia but behind the fast three, a few riders are getting their mojo going by this point in the season and getting closer, not least Nathan Watson, Thomas Oldrati and Daniel Milner.
Oldrati showed good form on home soil last week and his RedMoto Honda team-mate Watson has been inching closest of anyone to the top boys in time, a win from the British riders is overdue. Milner is also a rider to keep a close eye on. A switch to the smaller XE 250 Fantic last weekend has seen a step up in the Australian's results.
Another outright win from Andrea Verona is entirely possible this weekend too. The GASGAS factory rider has a 100% record in E1 class but proved he can take an overall EGP win on the little 250 F following his maiden victory on day one of round two in Spain.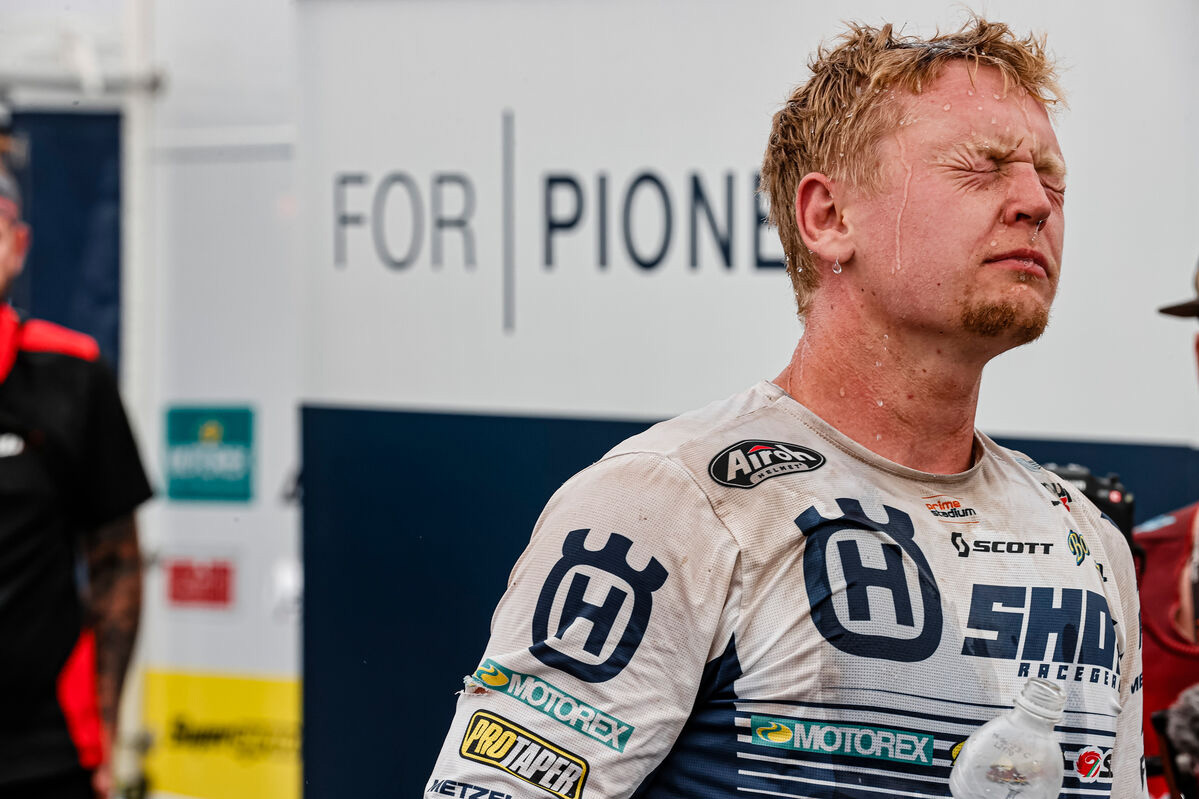 Enduro3 class is also hotting up after Mikael Persson took his maiden class win at the GP of Italy last week. For some years E3 has been the domain of the Beta riders, mot obviously the reigning world champion Brad Freeman on the 300 RR Beta.
A double win for the Swede means he's out front in the points now and after a strong dose of that winning feeling he'll be the rider to watch. He'll have to look behind though because Freeman I son the mend from his broken hand and getting faster with each race day.
He's been riding injured from the start of the year, then broke his hand but day two in Italy saw him clawing back closer to the podium and he remains second overall in the E3 standings.
WPTGlobal FIM EnduroGP World Championship standings (after Rnd 3), EnduroGP scratch:
1. Wil Ruprecht (TM Racing) 105pts
2. Andrea Verona (GASGAS) 99pts
3. Josep Garcia (KTM) 87pts
4. Thomas Oldrati (Honda) 68pts
5. Nathan Watson (Honda) 67pts
6. Brad Freeman (Beta) 38pts
7. Daniel Milner (Fantic) 37pts
8. Mikael Persson (Husqvarna) 31pts
9. Hamish MacDonald (Sherco) 30pts
10. Matteo Cavallo (TM Racing) 30pts
Enduro Women back in action
Absent in Italy, the Magnorange sponsored FIM Women Enduro World Championship makes a return this weekend in Portugal. Fantic's Jane Daniels has dominated the opening rounds in Spain and Portugal and she arrives in Coimbra unbeaten.
With four second-place results, Mireia Badia has work to do if she is to nail her expectations at least to take the fight to Daniels. A change to Rieju two-stroke in the off-season hasn't proved positive so far with the time gaps to Daniels enormous. But like all the Women's GP class leading contenders – home girl Rita Vieira (third in the points) and Rosei Rowett (fourth) – the break between their last round has been full of training racing on respective home soils and we expect a different story this weekend.
WPTGlobal FIM EnduroGP World Championship standings (after Rnd 3), Enduro Women:
1. Jane Daniels (Fantic) 80pts
2. Mireia Badia (Rieju) 68pts
3. Rita Vieira (Yamaha) 58pts
4. Rosie Rowett (KTM) 52pts
5. Elodie Chaplot (Sherco) 42pts
Pichon unstoppable in Enduro Juniors
Team Sherco CH Racing's Zach Pichon began the 2022 Enduro Junior season as a rookie, although he'd made some one-off rides previously. But the Frenchman has owned it, claim six wins from six starts and looking like a class act.
The battle behind him for the podium is loads more competitive however with Luc Fargier (Beta), Fantic's Jed Etchells and Roni Kytonen (Honda) at each other like flies.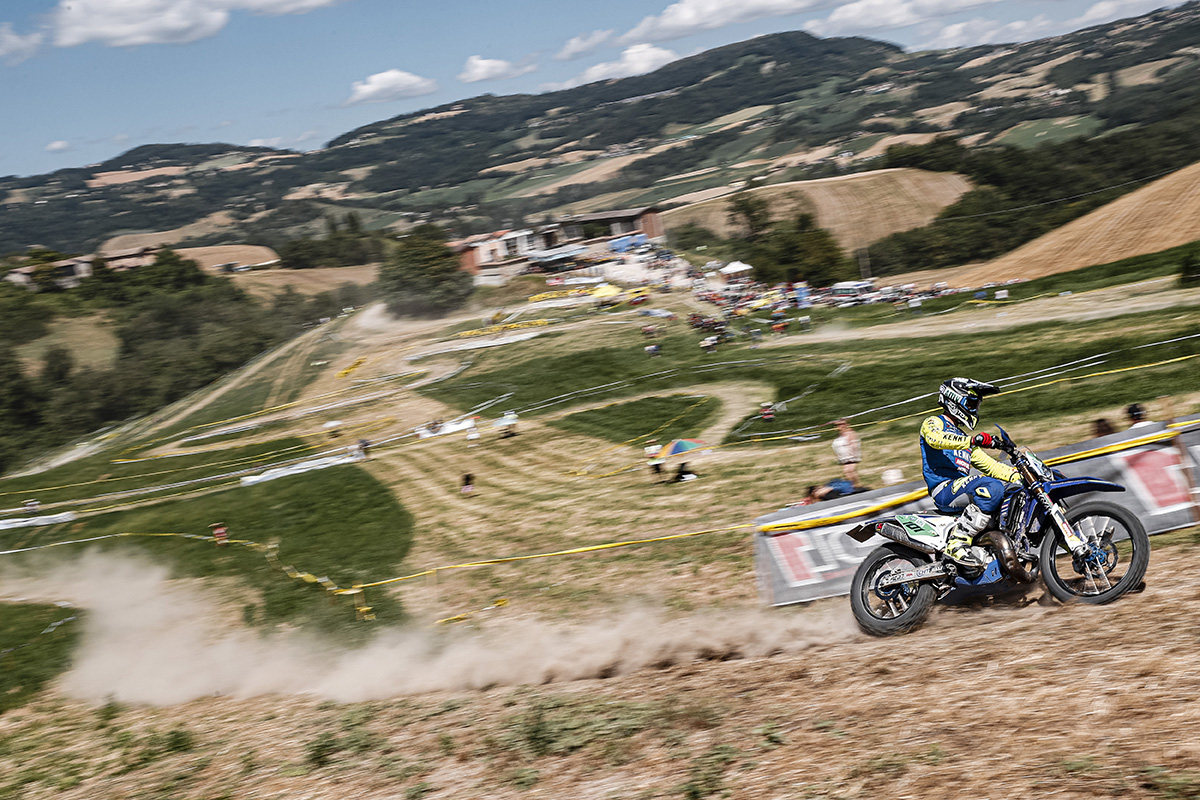 WPTGlobal FIM EnduroGP World Championship standings (after Rnd 3), Enduro Junior:
1. Zachary Pichon (Sherco) 120pts
2. Luc Fargier (Beta) 87pts
3. Jed Etchells (Fantic) 86pts
4. Roni Kytonen (Honda) 82pts
5. Max Ahlin (Beta) 60pts
Mr Consistent Edmondson leads Enduro Youth 125 class
Having finished inside the top two at each round so far in 2022, Harry Edmondson leads the Enduro Youth standings after round three.
As we said last weekend, Edmondson's been the most consistent across the tests each racing day and that is stacking up across the GPs, despite constant attention from Fantic team-mate Kevin Cristino, TM Racing's Samuli Puhakainen and Oxmoto Beta's Leo Joyon.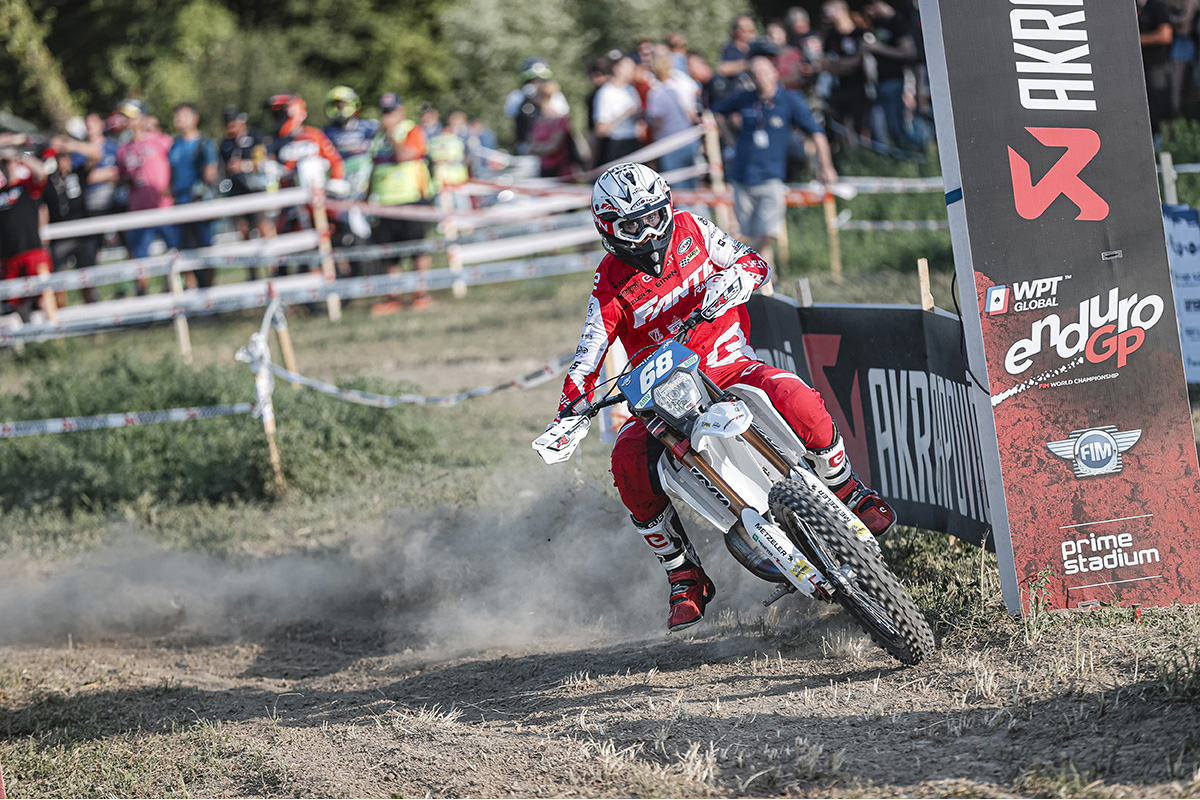 WPTGlobal FIM EnduroGP World Championship standings (after Rnd 3), Enduro Youth:
1. Harry Edmondson (Fantic) 108pts
2. Kevin Cristino (Fantic) 87pts
3. Samuli Puhakainen (TM Racing) 74pts
4. Leo Joyon (Beta) 71pts
5. Albert Fontova (KTM) 66pts
The WPTGlobal FIM EnduroGP World Championship round four kicks-off in Coimbra on July 1 with Friday's Super Test. Enduro21 will bring all the results, videos and more across the weekend.
Complete FIM EnduroGP of Portugal II entry list: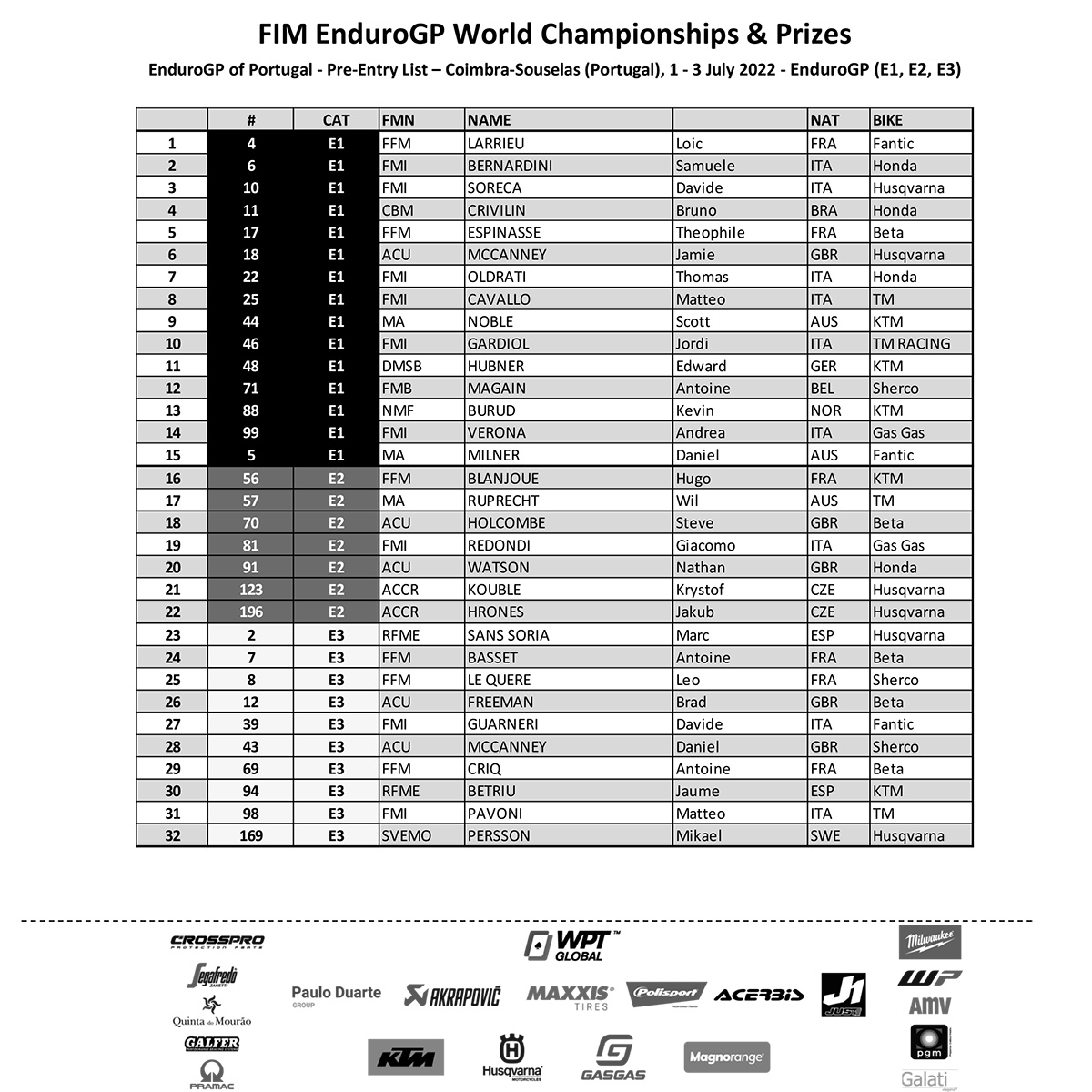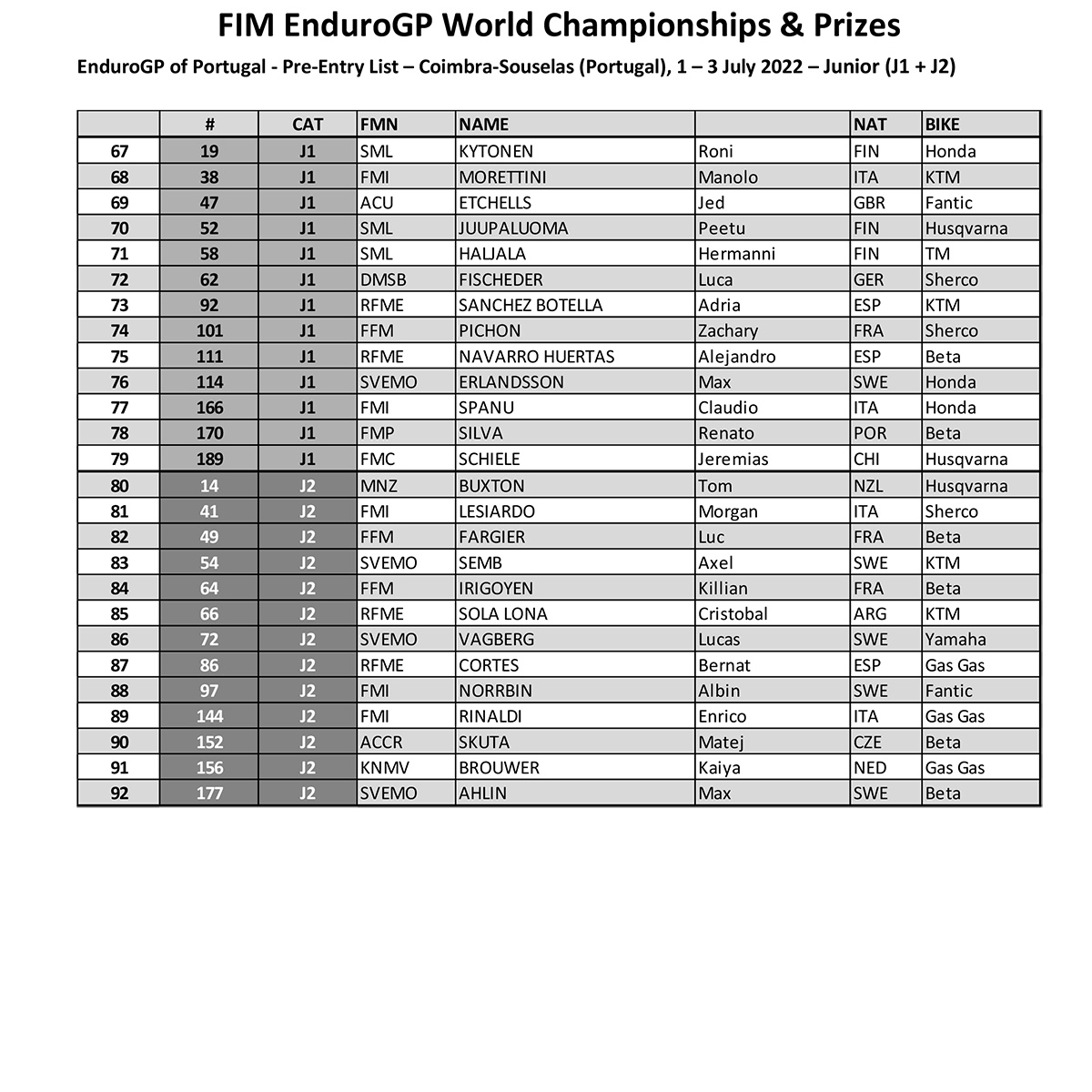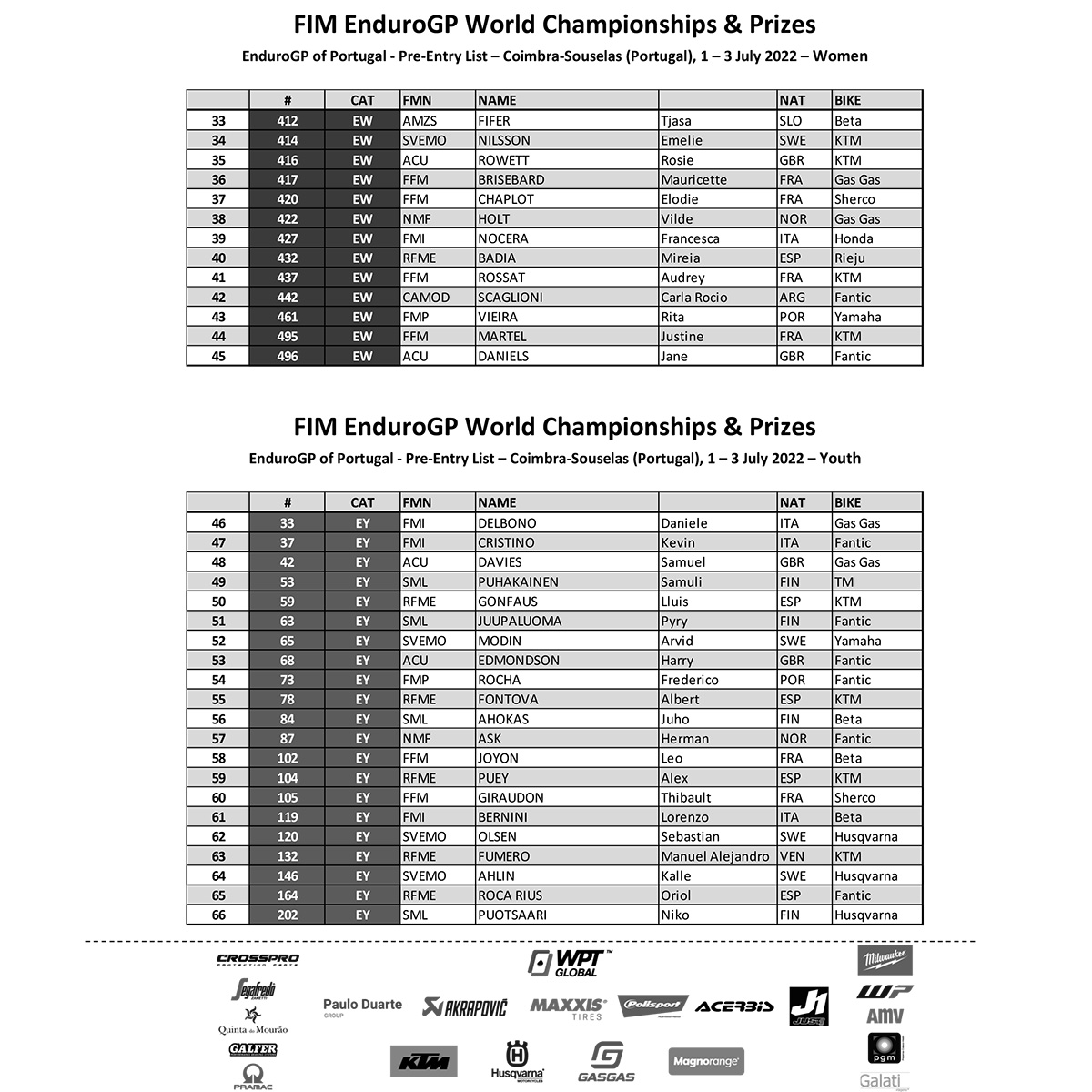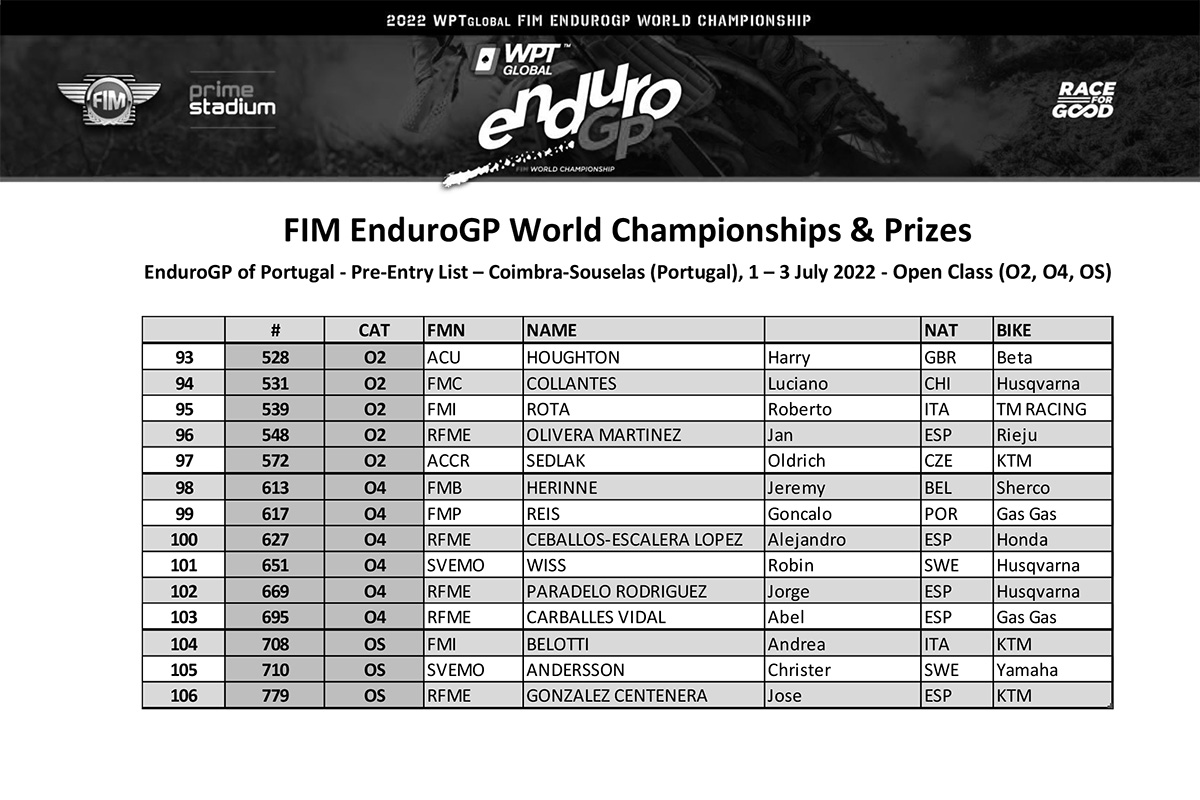 Photo Credit: Future7Media