EnduroGP World Championship: fast facts ahead of round 1 this weekend in Italy
The 2023 Paulo Duarte FIM EnduroGP World Championship bursts into action this weekend with the Acerbis GP of Italy in Arma di Taggia, San Remo – Enduro21 throws some fast facts at you ahead of the season opener.
The 2023 GP of Italy couldn't arrive soon enough for most of us eager to catch the class of '23 in action against each other for the first time. A winter of shapeshifting between classes, teams, and a seemingly better than ever prepared list of potential challengers across the classes are already walking the tests in Italy.
2023 is anyone's championship
All of that, the switches between teams, classes, fresh, fast riders plus the early national racing makes this a very open championship season. It feels like the first time we've had all rider fit, things settled and in ship-shape since the pandemic to be honest and it promises much across the next seven months.
EGP '23 Fast Facts:
Defending EnduroGP and E1 champion Andrea Verona has moved to E2 on the bigger 350 GASGAS and already looks fast, taking day wins in the Italian series ahead of championship rivals.
One chief rival has to be Josep Garcia who's jumped back down to E1 class on the 250 KTM this year. The Italian GP was his downfall literally in 2022, a crash arguably cost him the championship.
Consistently fastest in those two Italian season openers, E3 World Champion Brad Freeman has shrugged off an injury and illness plagued '22 and looks every bit like his usual, determined self.
His teammate Steve Holcombe has dropped to the slightly smaller 350 Beta this season but arrives in quietly determined mood, very much a former world champion hungry to drop the "former" moniker.
Defending E2 World Champion Wil Ruprecht arrives with no pre-season formbook having not contested any of the national series' on his new Sherco. We know he's got the goods, what we don't know is how they fit on the new blue bike.
His Sherco teammate Zach Pichon has been racing however, this year in the Spanish series alongside Garcia as a benchmark as he moves up to E1 on his familiar 250 two-stroke.
Another Sherco rider Hamish Macdonald is also back from injury and though admittedly lacking race fitness, the Kiwi was another rider shining in the opening Italian races alongside Freeman, Verona and Holcombe.
Narrowly behind them in Italy was Aussie, Daniel Milner who looks to have settled into the TM Racing/Boano family nicely. His teammates, the two Matteos Cavallo and Pavoni will also be ones to watch on homes soil.
Home soil and pre-season has gone well for the Italian based Honda RedMoto team who have two potential podium (at least) finishers in Nathan Watson and Thomas Oldrati.
Watch out too for the flying factory two-strokes of Mikael Persson and Jaume Betriu who both have development roles on the 2024 TBI 300s and are part of an enriched E3 class this season.
You'll also want to keep an eye out for one Billy Bolt racing his SuperEnduro World Championship winning 350 Husqvarna ahead of the Hard Enduro World Championship season start in May. Two years ago, Billy came, saw and conquered the Friday SuperTest and went on to bag a podium the following day.
Find the full entry list below.
New Junior World Champion
Picking a winner from this lot is equally impossible with a heap of young talent beginning the Junior title chase which this year will see a new champ as Zach Pichon moves up.
Max Ahlin, Jed Etchells, Albin Norrbin, 2022 Enduro Youth World Champion Harry Edmondson, Samuli Puhakainen, the Navarro brothers are just some of the potential podium pie eaters.
Enduro Youth runner-up in 2022, Kevin Cristino starts as favourite this year ahead of over 30 EY class riders entered into the opening round of the 2023 world championship.
Stay tuned to the Women's World Championship
The female category at world championship level can often be a one-horse race. In recent seasons that has largely been Jane Daniels' who has dominated with the exception of a brief return of Queen Laia two seasons ago.
2023 looks set to buck that trend with two very determined Rieju riders and one Italian Honda rider busting the formbook not to mention riders from 10 nationalities in the entry list.
Rieju's challengers for Daniels' dominance are Mireia Badia and Rosie Rowett who have raced and trained together in Spain during the winter months and are highly motivated to topple the reigning champion.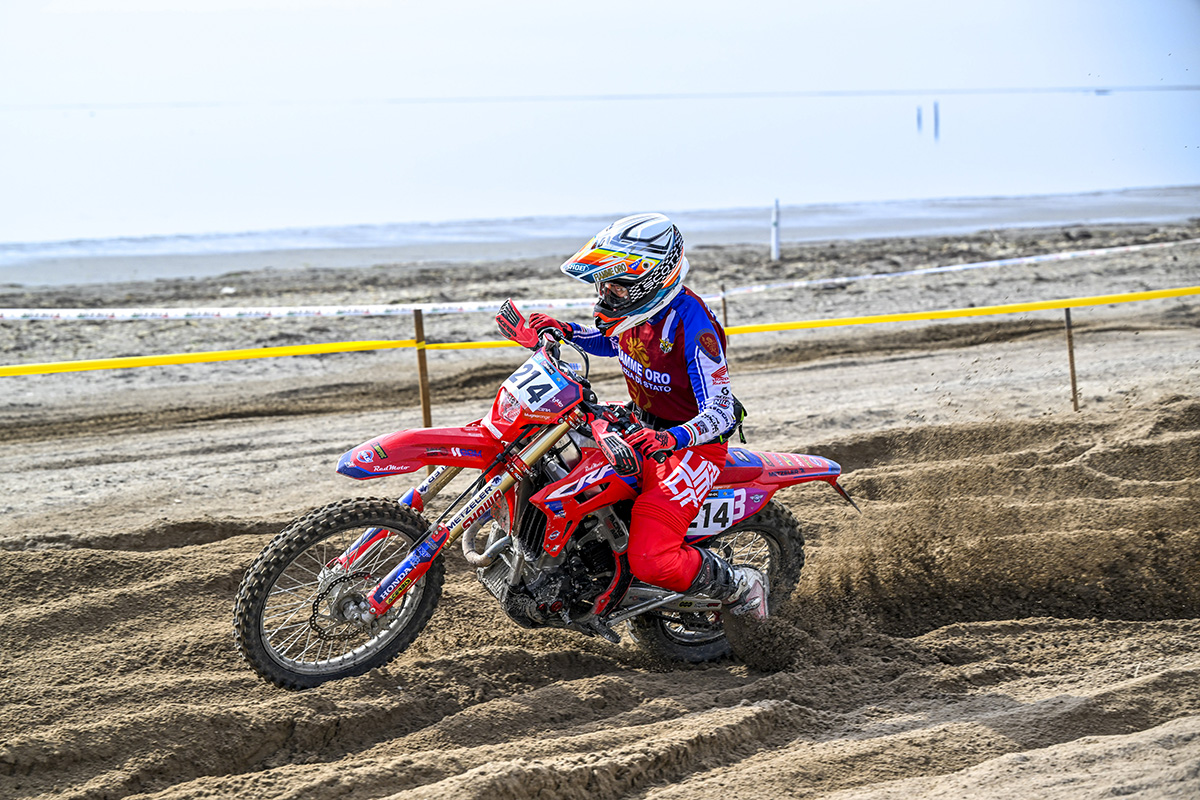 Only one rider has beaten Daniels this pre-season however, in fact the only rider to beat her since the ISDE last year. Francesca Nocera in the second tier Honda RedMoto team has form and is on home soil this weekend. Watch this space.
Factor in there the reigning European Enduro Champion Nieve Holmes and we definitely have a Women's World Championship worth watching.
Entry list and plan of attack
The first GP of the season will see a full house of senior EnduroGP riders, the Galfer FIM Junior World Championship and the FIM Women's World Championship. The main paddock and parc ferme is situated close to the French border on the Riveira di Ponente in San Remo. Many of the riders have already had more than a taste of the typically Italian terrain with two Italian Enduro Championship rounds running in very similar conditions already including the ACERBIS Cross Test on the San Remo beach.
The surrounding mountain trails will lead riders to the JUST1 Enduro Test and POLISPORT Extreme Test with the Cross and and AKRAPOVIC Super Test situated near base camp.
The Paulo Duarte FIM EnduroGP World Championship gets underway with the AKRAPOVIC Super Test in San Remo on Friday evening, March 31. Stay tuned to Endur21 for all the results and rider reaction across the weekend.
2023 EnduroGP of Italy complete entry list: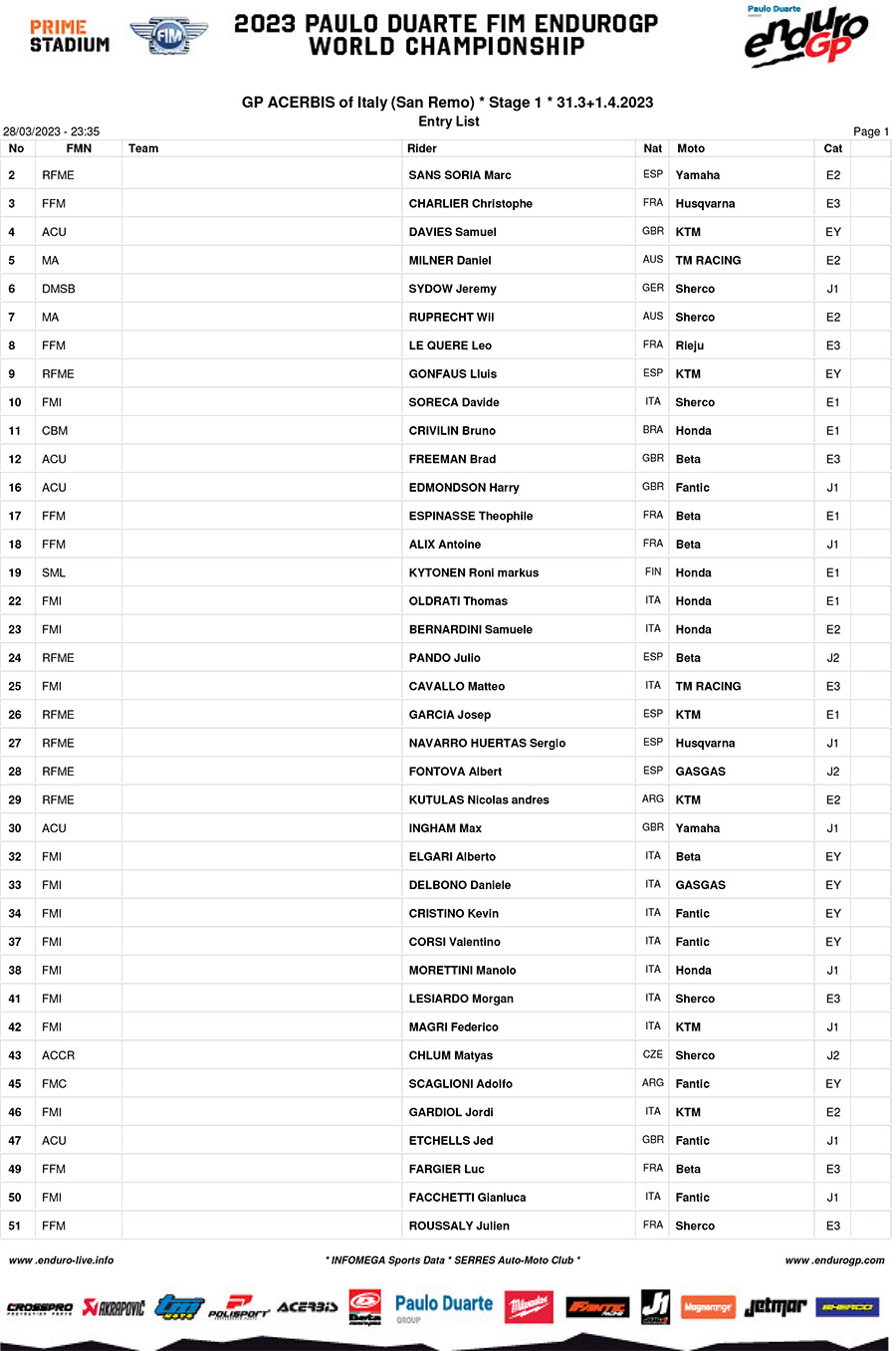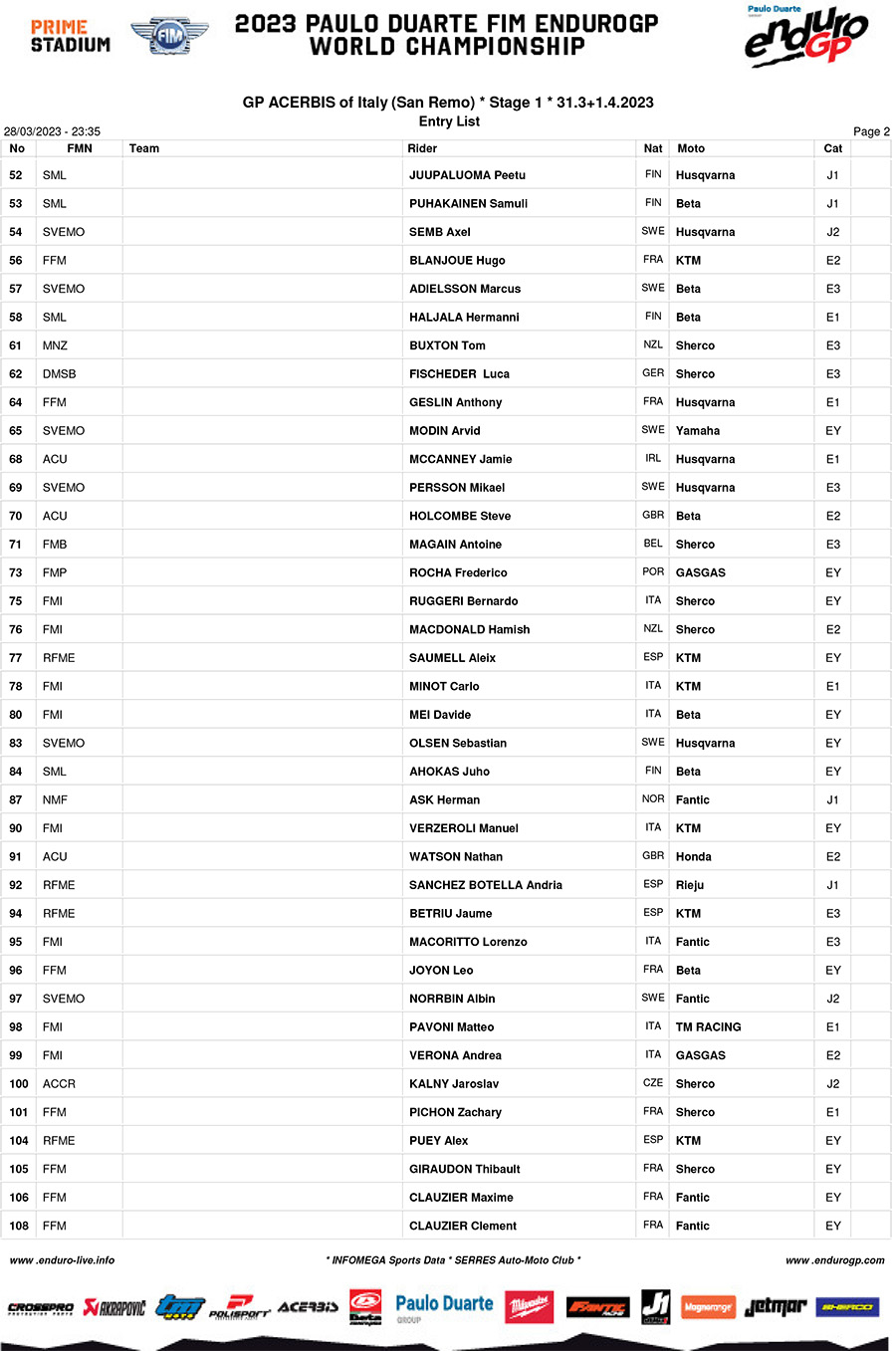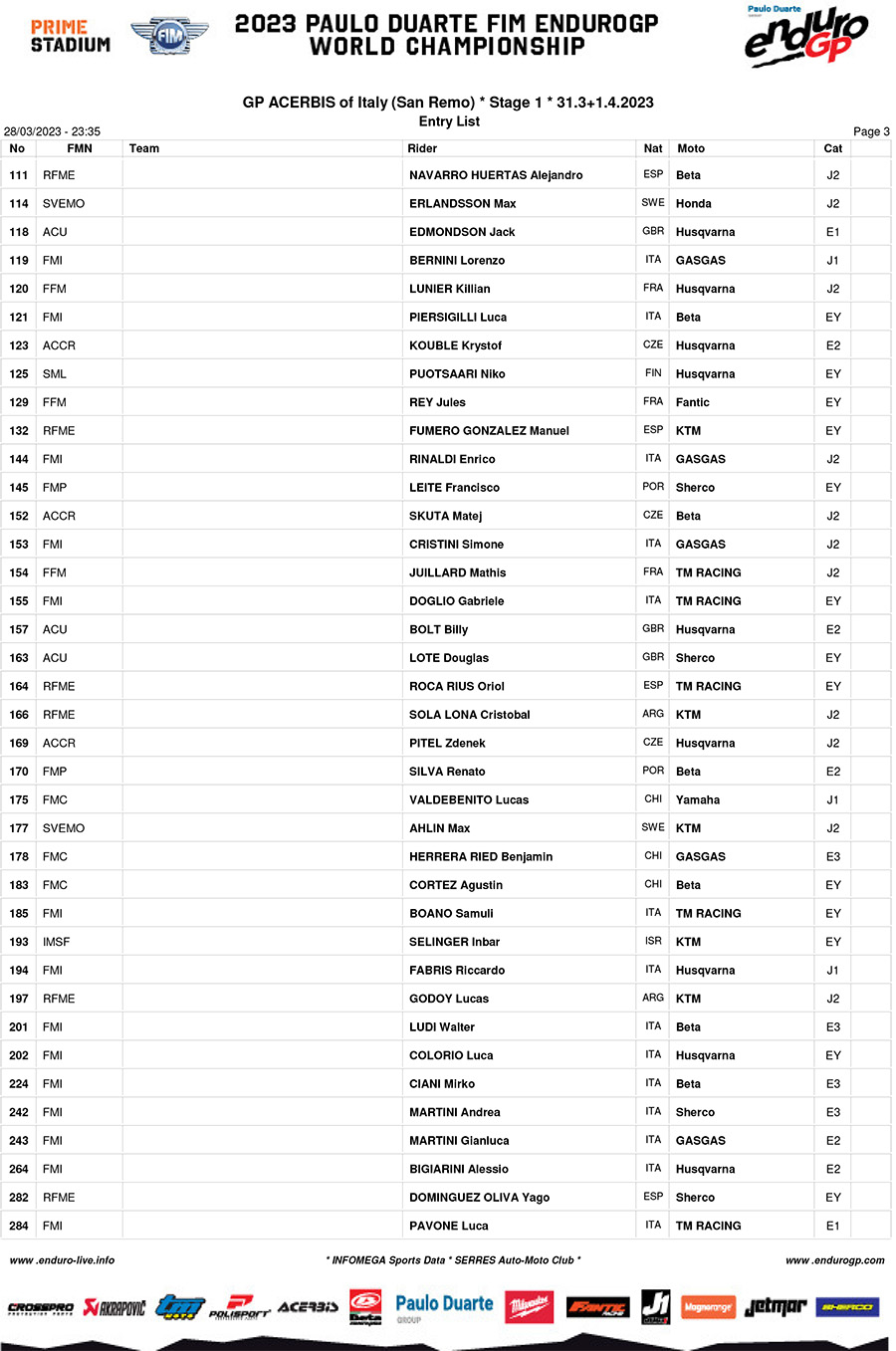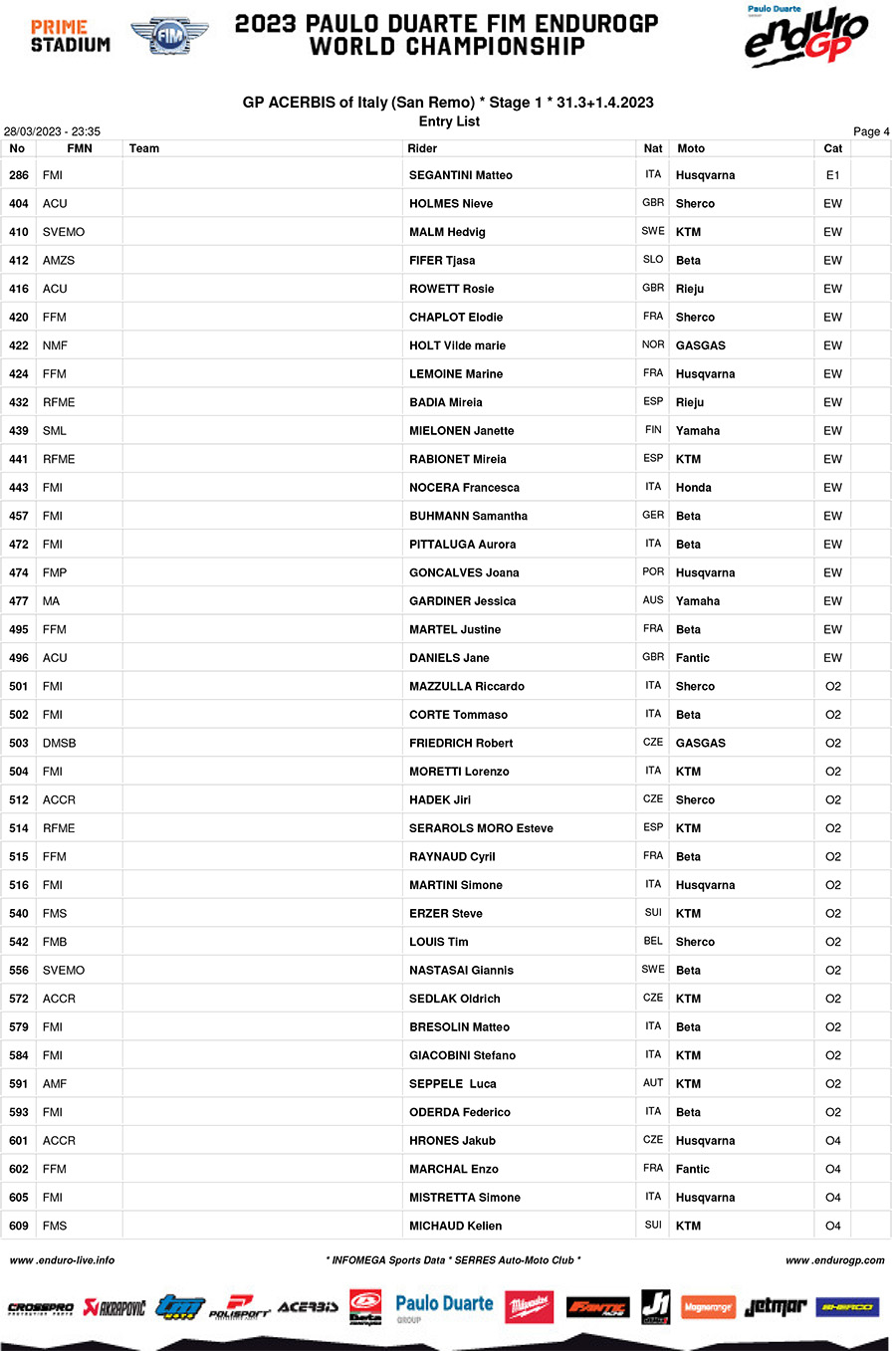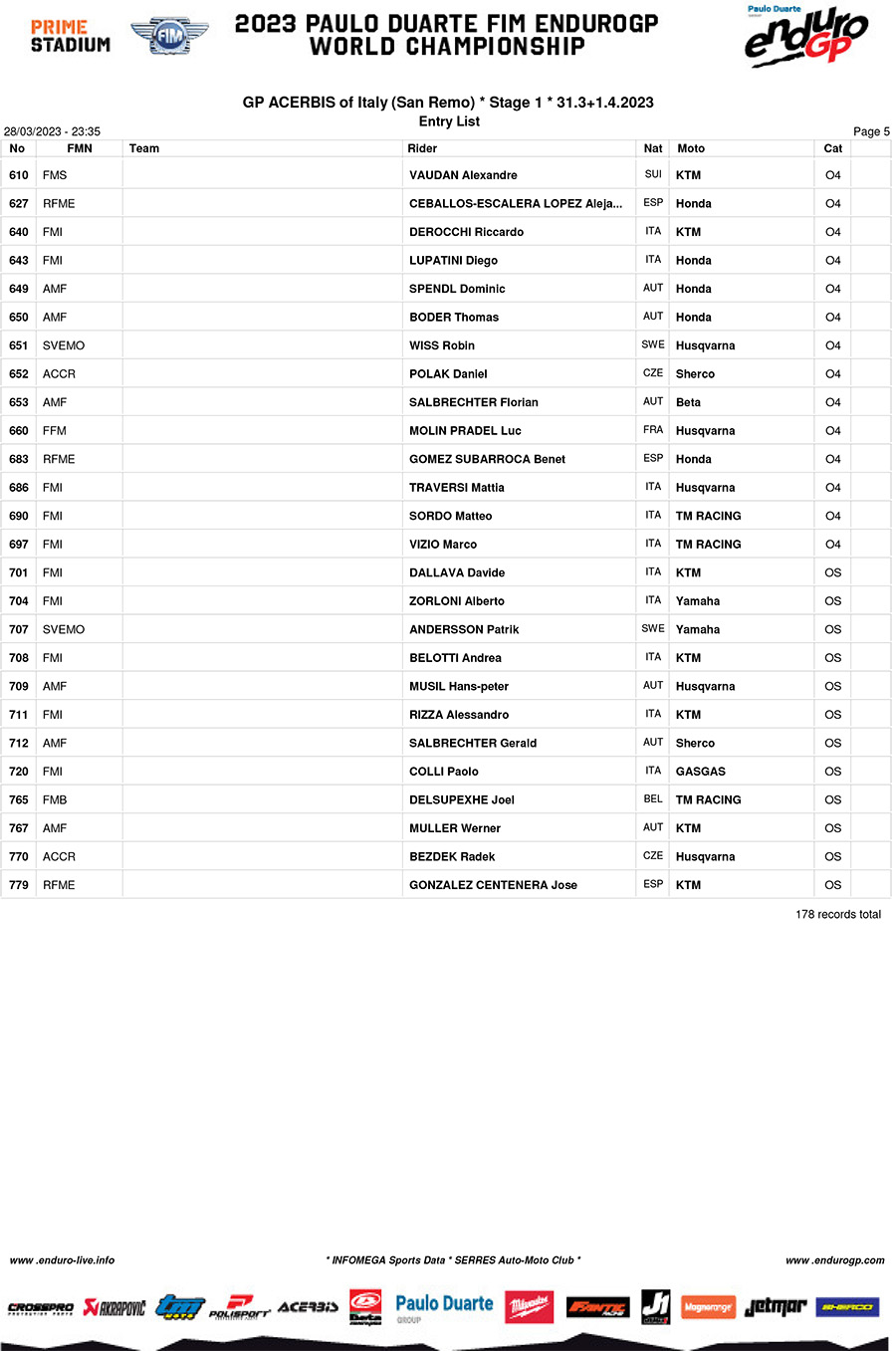 2023 Paulo Duarte FIM EnduroGP World Championship calendar
Round 1 - Italy - San Remo/Arma di Taggia - 31 March-2 April
Round 2 - Spain – Lalin - 5-7 May
Round 3 - Finland – Heinola - 26-28 May
Round 4 - Sweden – Skovde - 1-3 June
Round 5 - Slovakia – Gelnica - 30 June-2 July
Round 6 - Portugal – Valpacos - 29 September-1 October
Round 7 - Portugal – St Andre/Santiago do Cacem - 6-8 October
Photo Credit: Future7Media + Puig Arnau + Honda RedMoto