2023 EnduroGP results: Matteo Cavallo on top but Junior Axel Semb goes fastest in Super Test
2023 FIM EnduroGP World Championship results from the Friday night Super Test at round one in San Remo, Italy where a sandy beach cross opened the show and junior rider Axel Semb went fastest of all as Matteo Cavallo tops the senior time sheets.
2023 Italian EnduroGP Super Test in a nutshell:
A sandy beach cross as the show-opening first test of the weekend, the Super Test, at the Enduro World Championship. Normally it is a bit more extreme, often SuperEnduro-style but today it suited the beach bums – or at least those who'd entered the first two Italian Enduro Championship rounds and had two races on this stuff under their belts.
Senior classes had it harder (choppy and rutted) on the course which naturally got beaten up after 150-ish riders had battered it.
Former MXGP rider turned EnduroGP Junior champion Zach Pichon put his two-stroke 250 Sherco on top of the time sheets for a healthy amount of time in this, his maiden senior season.
The first to topple him was TM's Matteo Cavallo, impressing the Italian crowd with what ultimately proved the fastest time after favourites faltered.
Champion Andrea Verona and runner-up last year, Josep Garcia, both tried a bit too hard and lost time time to finish 16th and 11th respectively, albeit a matter of seconds behind.
Beta duo Brad Freeman and Steve Holcombe lined up together near the finale and both went quick, Freeman going second scratch behind Cavallo and pipping Pichon – all three were within a quarter of a second. Random fact: the top three were all on two-strokes.
Former beach race champ Nathan Watson was fourth fastest ahead of Holcombe and first 4t finisher on the RedMoto Honda CRF450RX.
They love a bit of sandy soil in Sweden and Axel Semb showed the everyone how to handle it by setting a whopping 1:42.68 time, four seconds quicker than any J-class rider and fastest overall by half a second. "No f*cks were given in the Juniors", said one friend trackside tonight!
Spain's Sergio Navarro was the best of the rest proving the sand specialist theory wrong (not so much of the soft stuff in sunny Espana) ahead of another Swede, Max Ahlin. Navarro brother number two, Alejandro, was fourth fastest ahead of German Jeremy Sydow fifth for Sherco.
Some familiar names topped the Youth class time sheets with championship favourite Kevin Cristino sailing the 125 Fantic across the beach (if that's possible?!) just under a second faster than rival Thibault Giraudon with Aleix Saumell third.
True to our prediction, Francesca Nocera went quickest in the Women's category. The RedMoto Honda rider clocked a comfortable near four seconds quicker time than Nieve Holmes who made a second placed start to her first, full GP season.
Champion Jane Daniels was narrowly third behind Holmes with a rider we confess we hadn't noticed was competing this weekend, multiple Australian champ Jessica Gardiner. The Yamaha rider posted P4 ahead of Rosie Rowett fifth in a tight contest.
The Open categories also ran this afternoon with Spain's Alejandro Ceballos-Escalera Lopez bettering Italian Mattia Traversi and Enzo Marchel from just across the border in France third.
As always, the Super Test is essentially just test one of a long weekend which begins tomorrow at 9am. Stay tuned.
Super Test scratch results: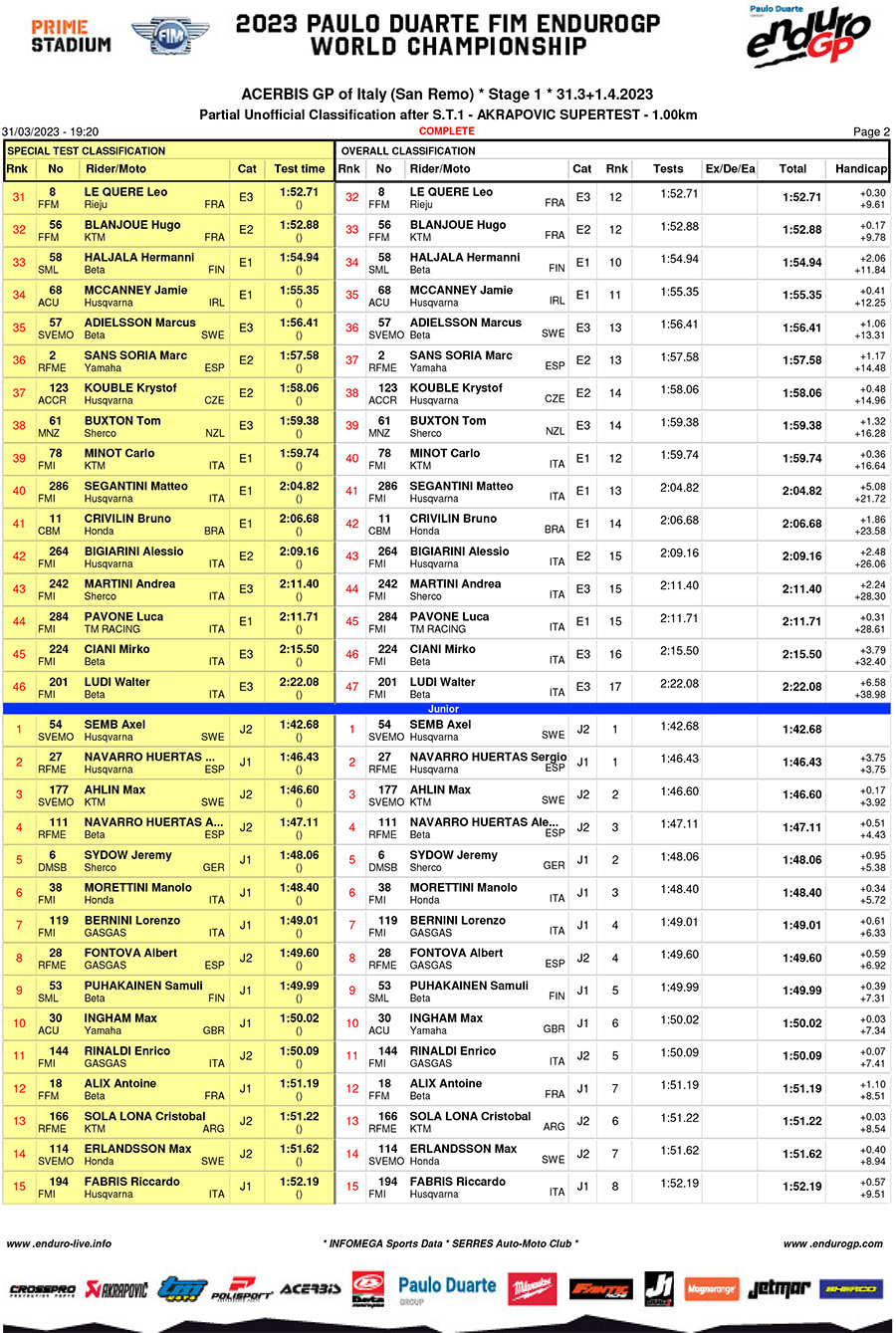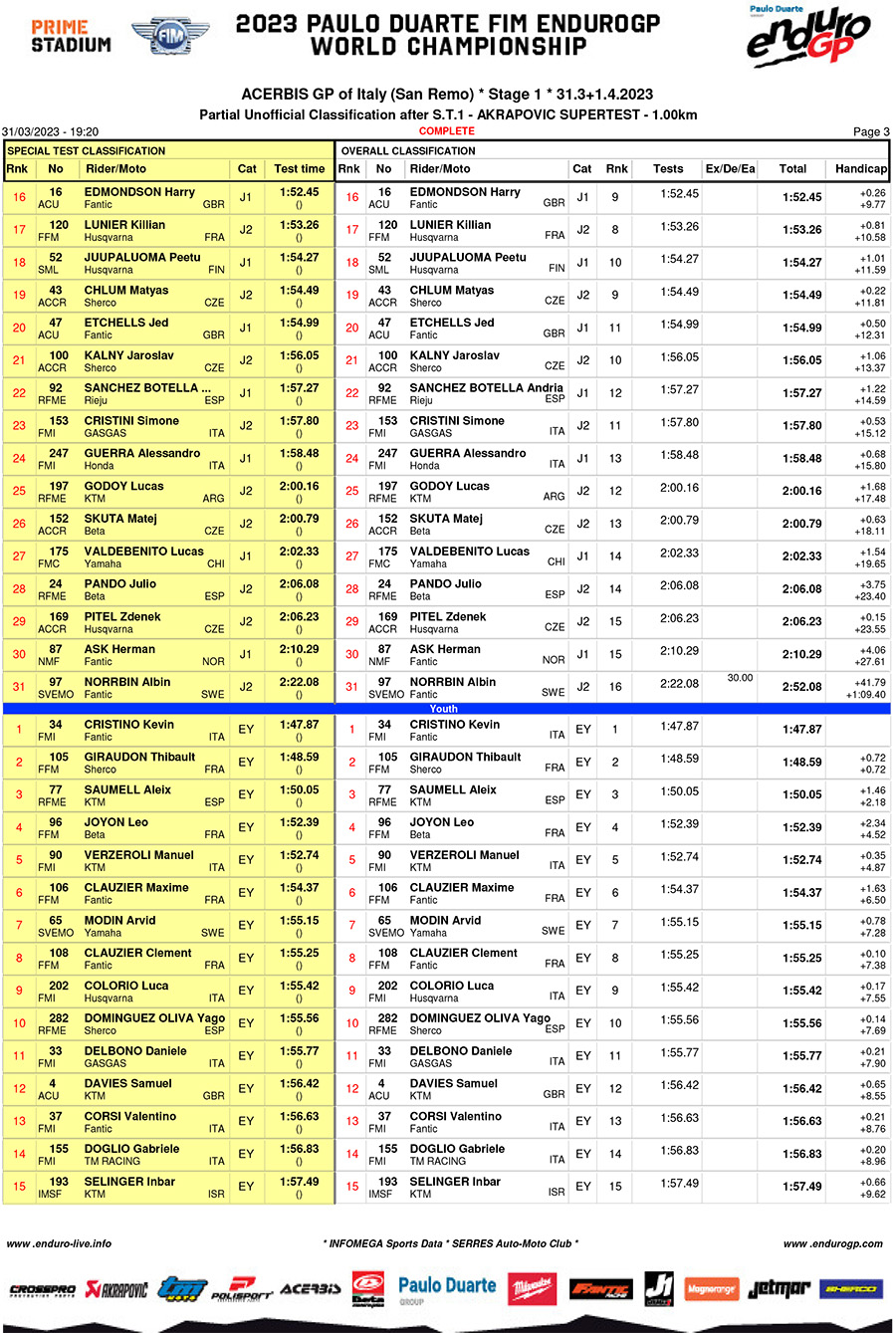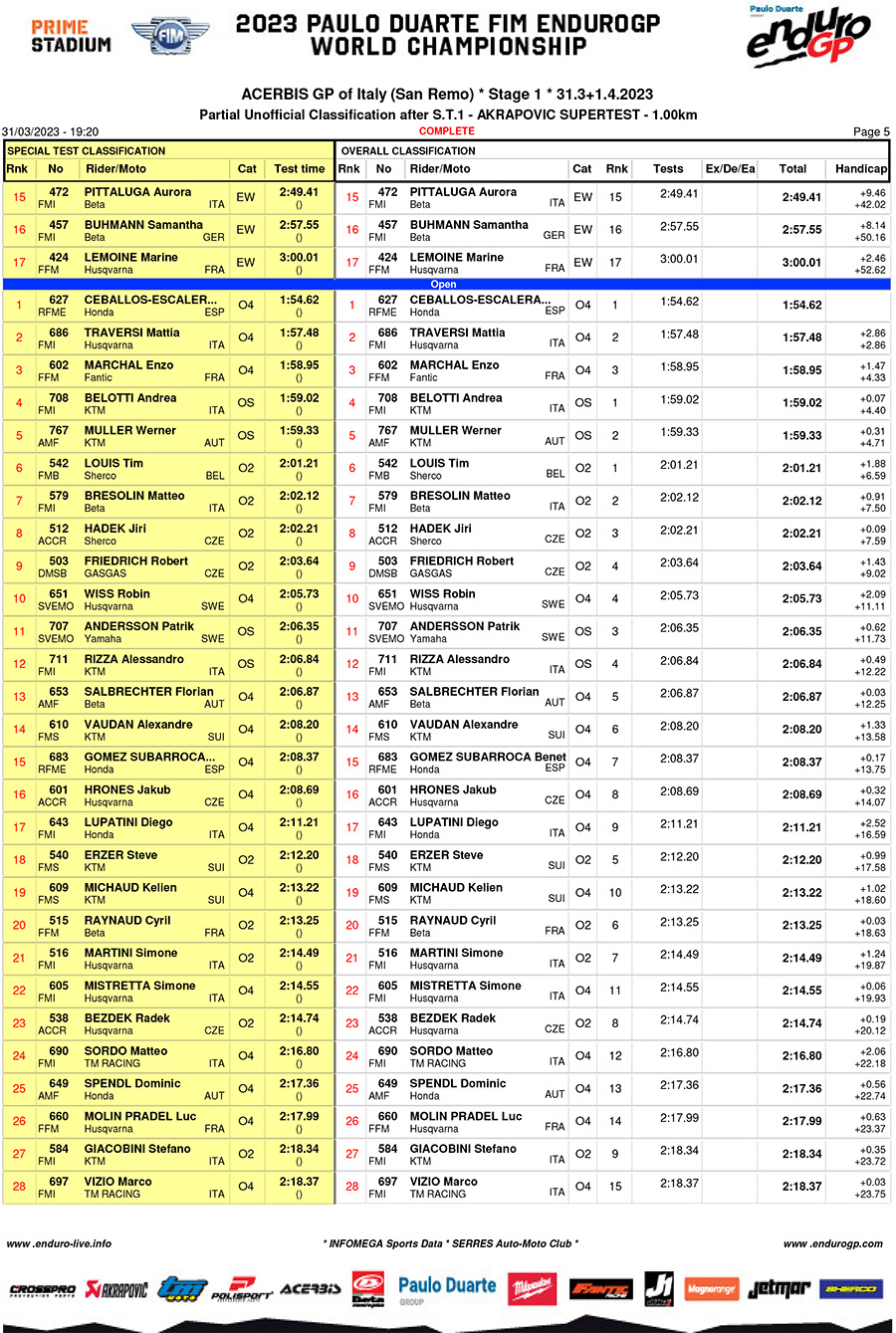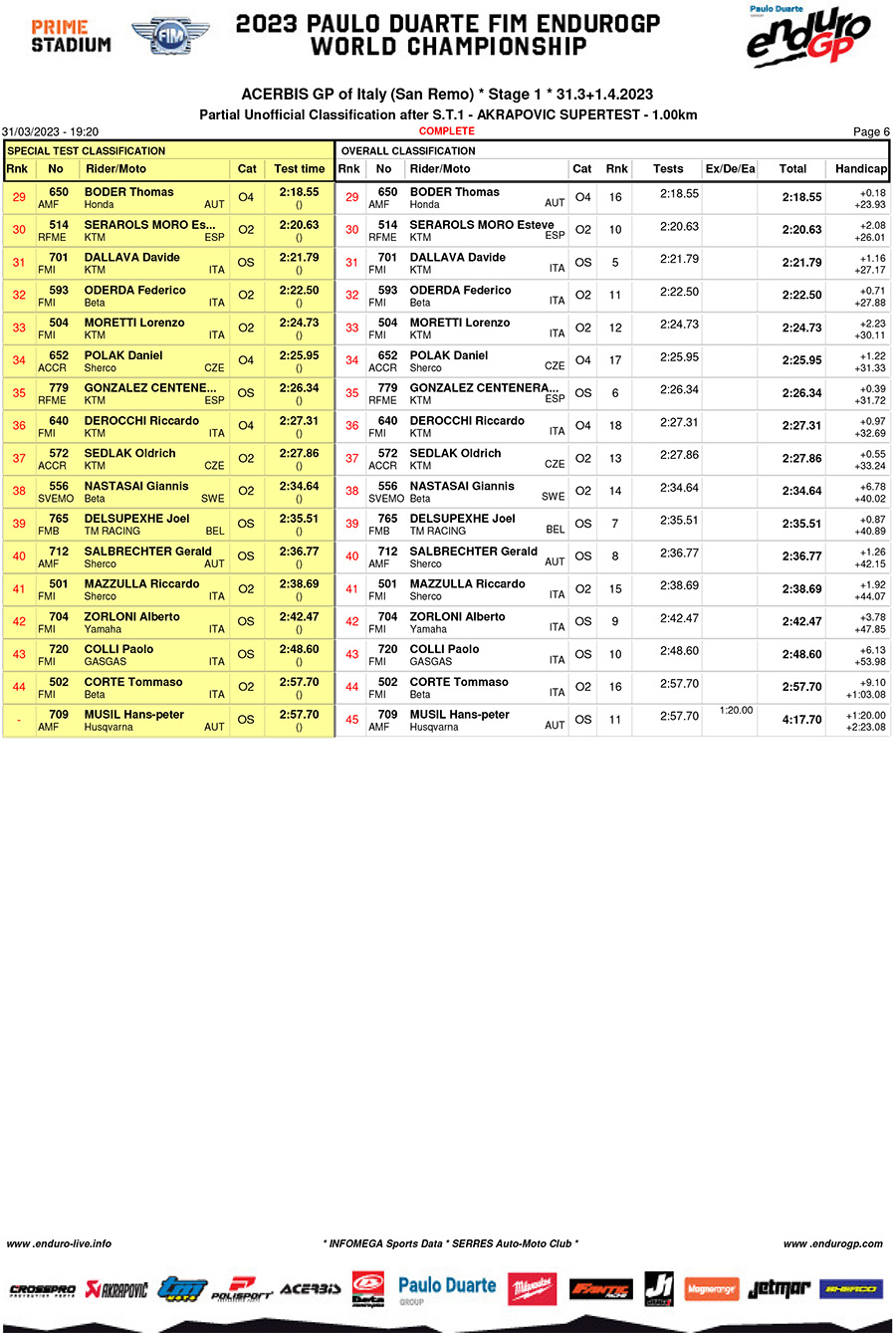 Photo Credit: Future7Media | Andrea Belluschi