EnduroGP results: Day 1 in Portugal belongs to Brad Freeman
Results feed from the opening day of the 2021 EnduroGP World Championship in Marco de Canaveses where Brad Freeman keeps it consistent as his rivals make mistakes in the technical Portuguese tests.
EnduroGP of Portugal, day 1 in a nutshell:
Brad Freeman started the 2021 season with a consistent performance none of his rivals were able to match sat on top of the timing sheets all day.
Steve Holcombe got off on the wrong foot by dropping 41 seconds in test one and though Steve went from 36th on the time sheets, took five test wins and bettered Freeman for most of the rest of the day (except the last two), but the lead was always in Brad's hands.
It was a day where no shortage of riders threw a bad test in the books but Freeman, though he says once he had the lead, "it was hard to know how hard to push", was the only leading rider to keep his nose clean for a winning margin of 36 seconds.
Josep Garcia was third on his return to GPs but surprisingly didn't take a test win and too many mistakes meant he was unable to match the fastest test times.
Wil Ruprecht was in the shout for a scratch P2 results but it fell apart in test 11 with a crash. Losing almost a minute, the Aussie dropped to P4 ahead of fastest E1 rider Andrea Verona fifth on the opening day.
It was a bad day for…riders named Alex. Alex Snow and Alex Salvini both crashed and injuries forced them out. Jack Edmondson had bike troubles which took him out but the Sherco team got to work and he'll be back for day two.
TM Boano Racing riders Lorenzo Macoritto and Matteo Pavoni won the Junior 1 and Junior 2 classes respectively with Macoritto taking the scratch result by a healthy 23 seconds.
Fantic riders dominated the Youth class podium with Harry Edmondson taking his first career GP day win. A day-long fight saw the youngest fast Edmondson beat Albin Norrbin by six seconds with Kevin Cristino third.
In the Women's class we've gotten used to Jane Daniels stretching huge leads early on and running away with it – she is no longer alone. Though Daniels won the first two tests of the day, on her GP return Laia Sanz then pulled the pin and won every subsequent test to finish 44 seconds clear. Mireia Badia was third, two minutes down.
Reis Goncalo was the scratch winner in the Open World Cup ahead of Priit Biene and Fraser Flockhart was third.
EnduroGP of Portugal, day 1, results by class: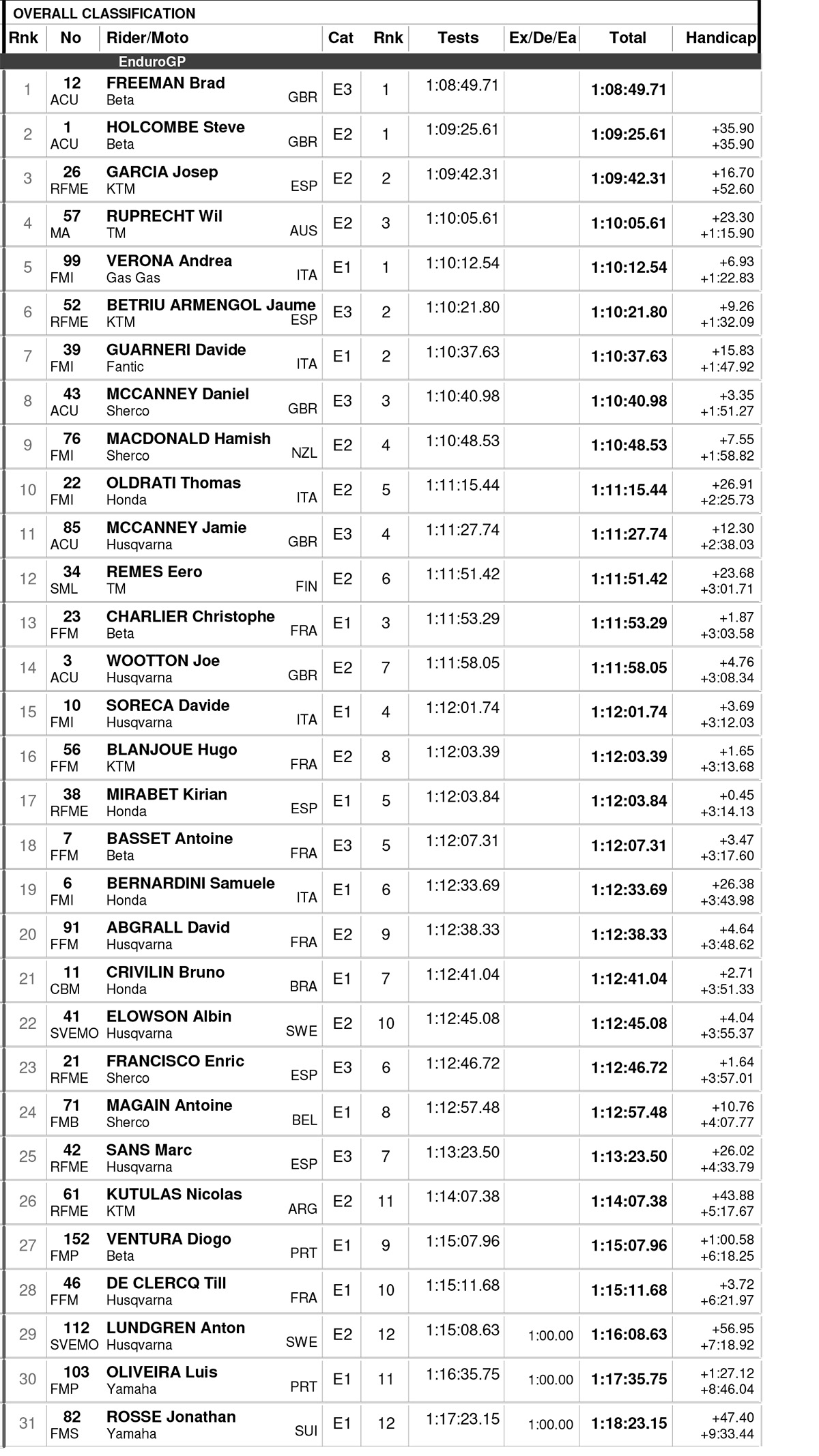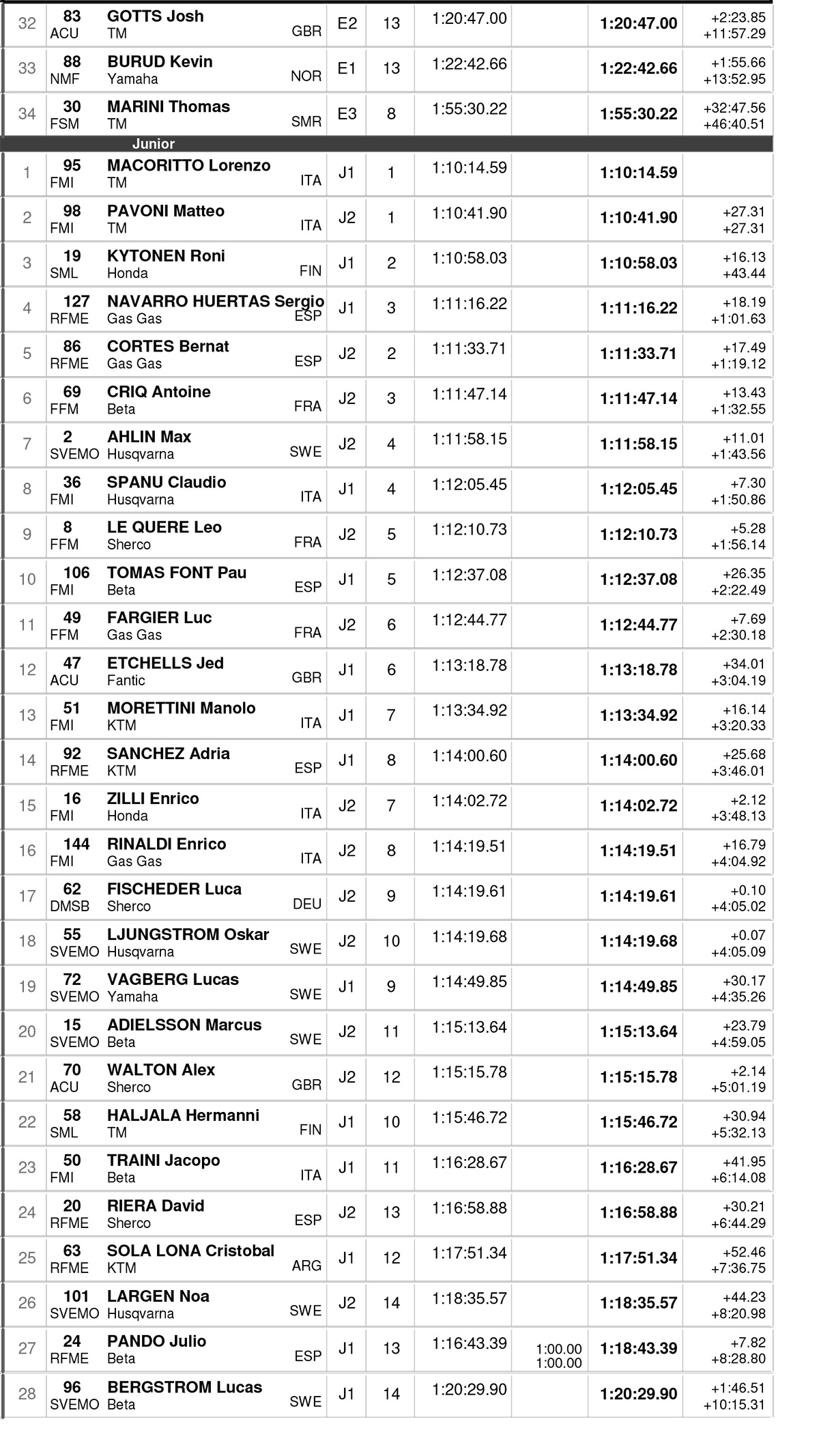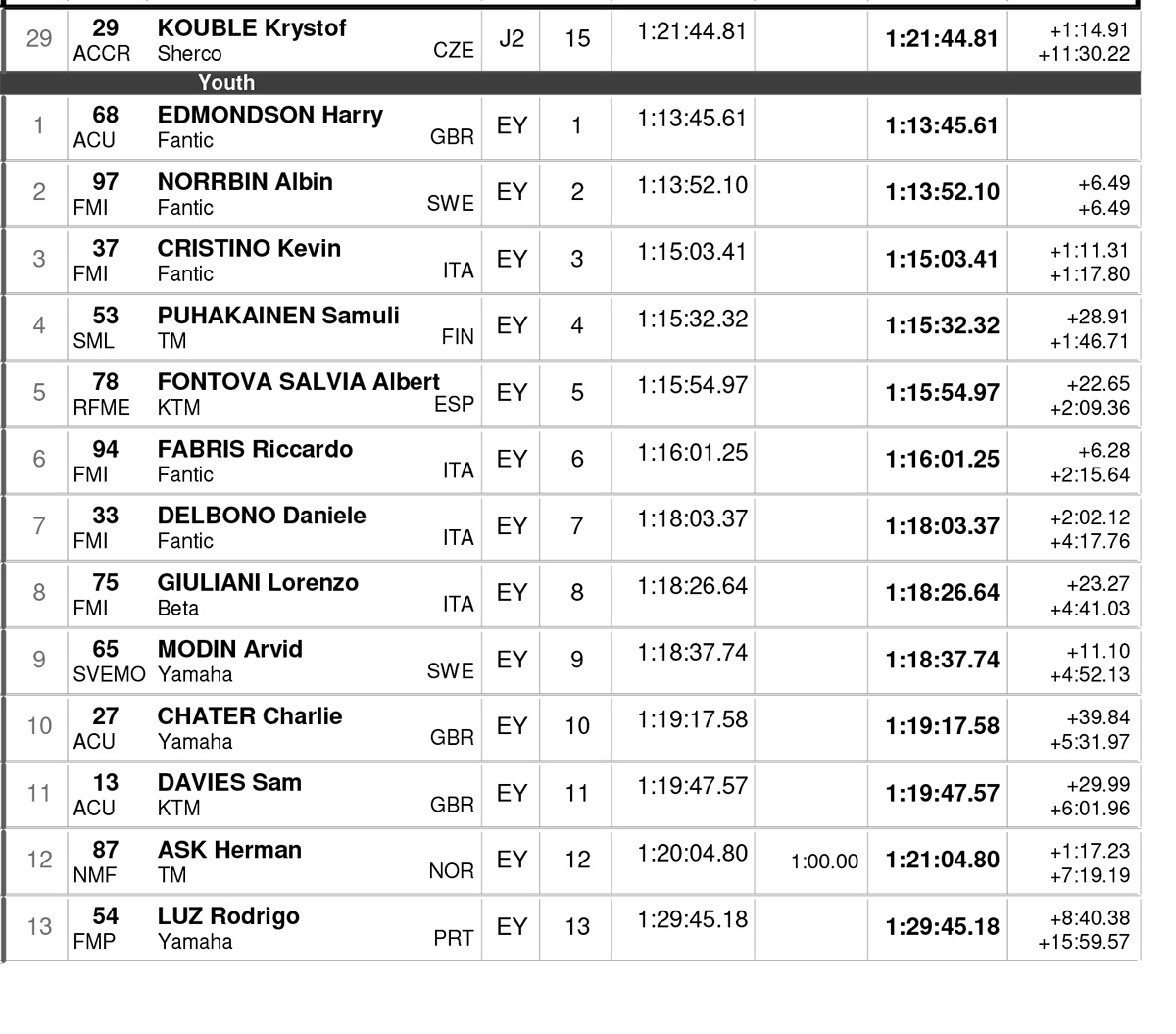 Women: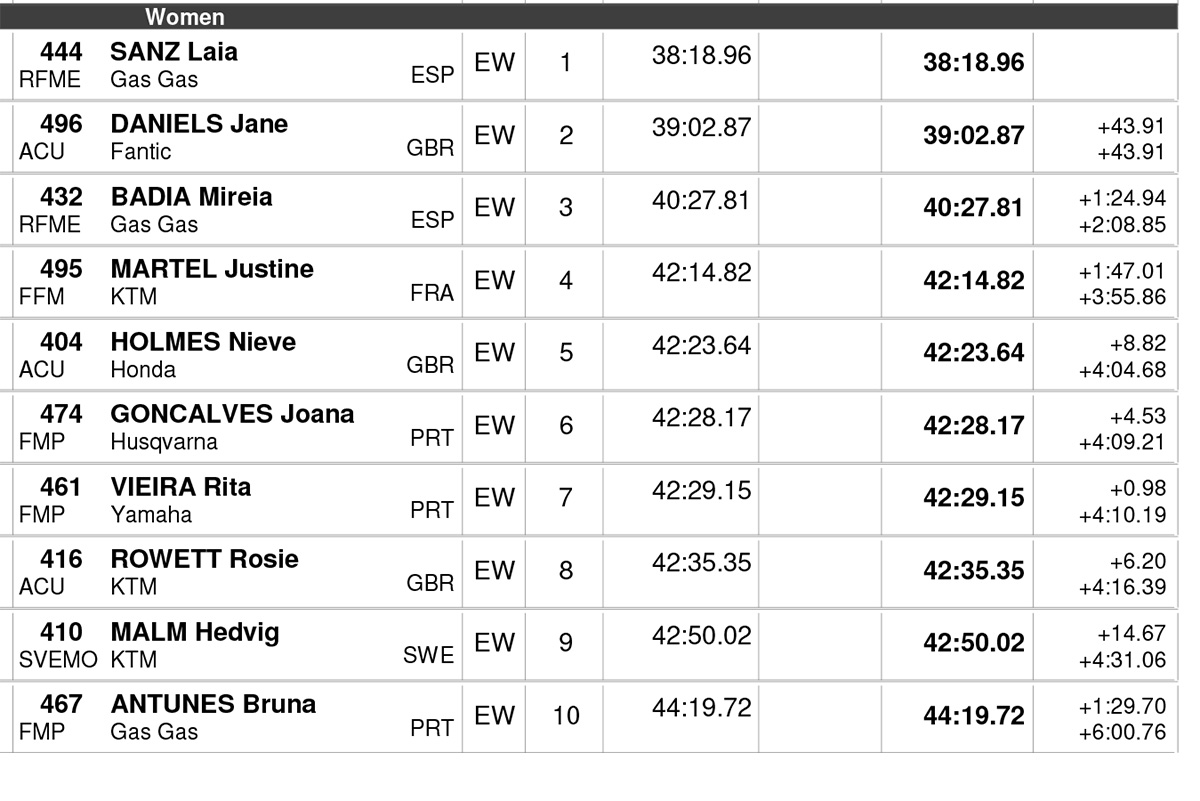 Open class: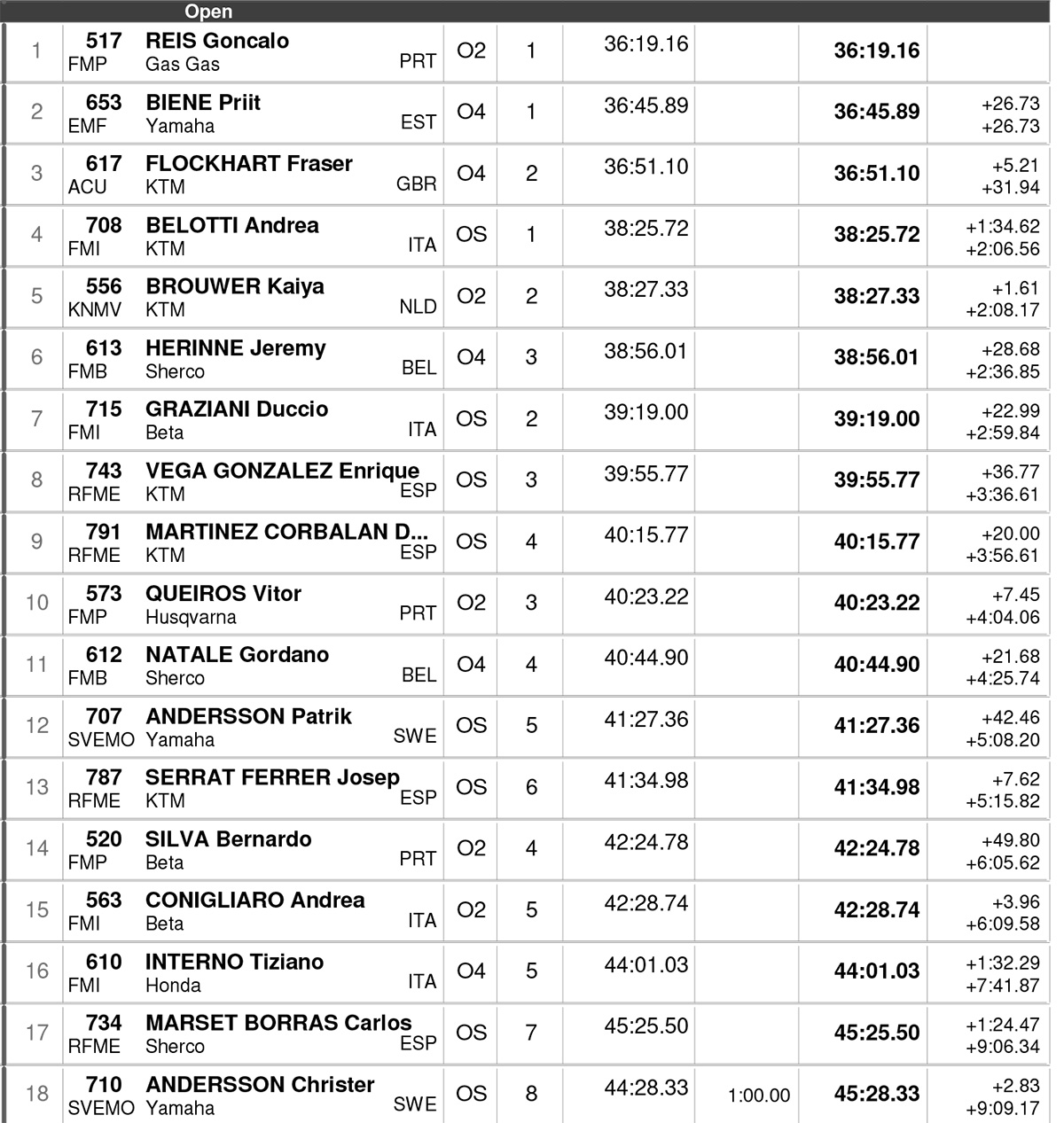 Photo Credit: Enduro21 | Andrea Belluschi + Nicki Martinez