EnduroGP results: Ruprecht and Freeman fight for day 1 win in Italy
Results feed at day one of round two in the 2021 EnduroGP World Championship in Edolo, Italy where Brad Freeman and Wil Ruprecht were on fire with an intense battle for overall victory – Billy Bolt finishes fifth overall.
EnduroGP of Italy, day 1 in a nutshell:
Day one at round two of the 2021 EnduroGP season was another corker with Wil Ruprecht and Brad Freeman fighting an impressive battle for the overall victory across the 12 tests.
The two-horse race established itself in the first test and went on to extend through the day to almost two minutes after four laps – they were that much faster than everyone else.
The dramatic script concluded in the very final test, an Extreme test, where Freeman set the fastest time and overhauled Ruprecht with a seven seconds quicker time to take the win by just 2.32s. It was as close as it gets and both riders were full of praise for each others standout performance.
Only Davide Guarneri stole a test win away from Wil and Brad today. Josep Garcia finished a distant third and had to worry about keeping the final EGP podium place away from Andrea Verona. In the end Verona was best placed Italian on home soil, in fourth scratch and first in E1.
This is supposed to be just race practice ahead of the Hard Enduro World Championship but Billy Bolt muscled a performance we would hazard nobody expected with fifth overall and an E2 podium. Bill was fast and finished ahead of an impressive list of names…
Notably down the order in eighth place was an off-colour Steve Holcombe, 2:46s behind his Beta teammate Freeman.
TM Boano Racing's Matteo Pavoni took the overall win the Juniors (and J2 class), some 30 seconds clear of Leo Le Quere. Lorenzo Macoritto stole third and P1 in the J1 class in the final test.
The Youth 125 class produced an equally dramatic fight between Harry Edmondson and Albin Norrbin. The Fantic riding pair picked up where they left off from round one in Portugal one week ago with a day-long battle equal to Ruprecht and Freeman.
In the end Edmondson followed his compatriot Freeman in stealing the day win in the final tests from Norrbin and with Kevin Cristino third, also on a Fantic.
Belgian Maxime Warenghien came, saw and conquered the Open class convincingly (by almost a minute) for the scratch and Open 2T class victory. Italian Fabio Mossini was second overall ahead of Estonian Priit Biene.
EnduroGP of Italy, day 1 results, EnduroGP: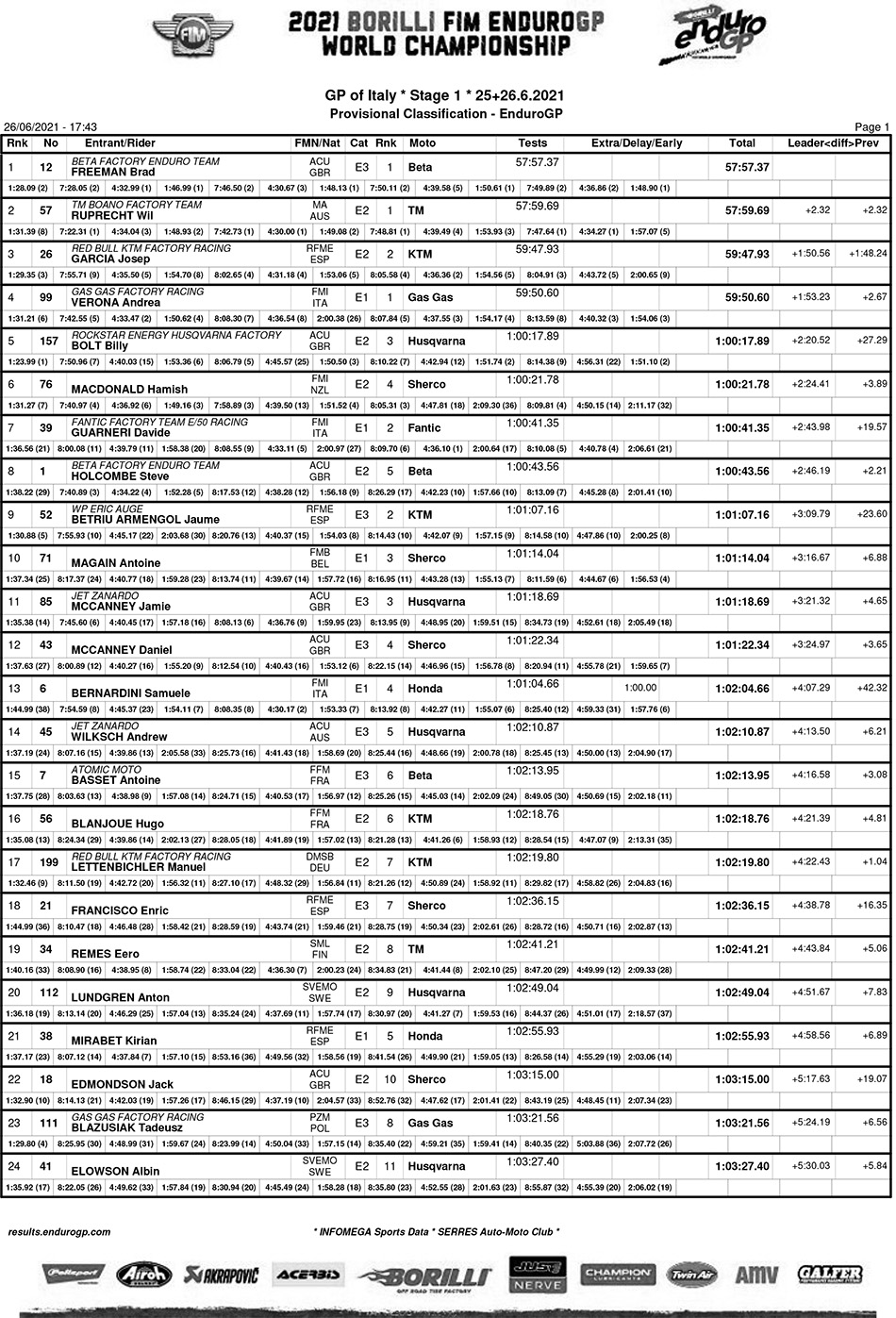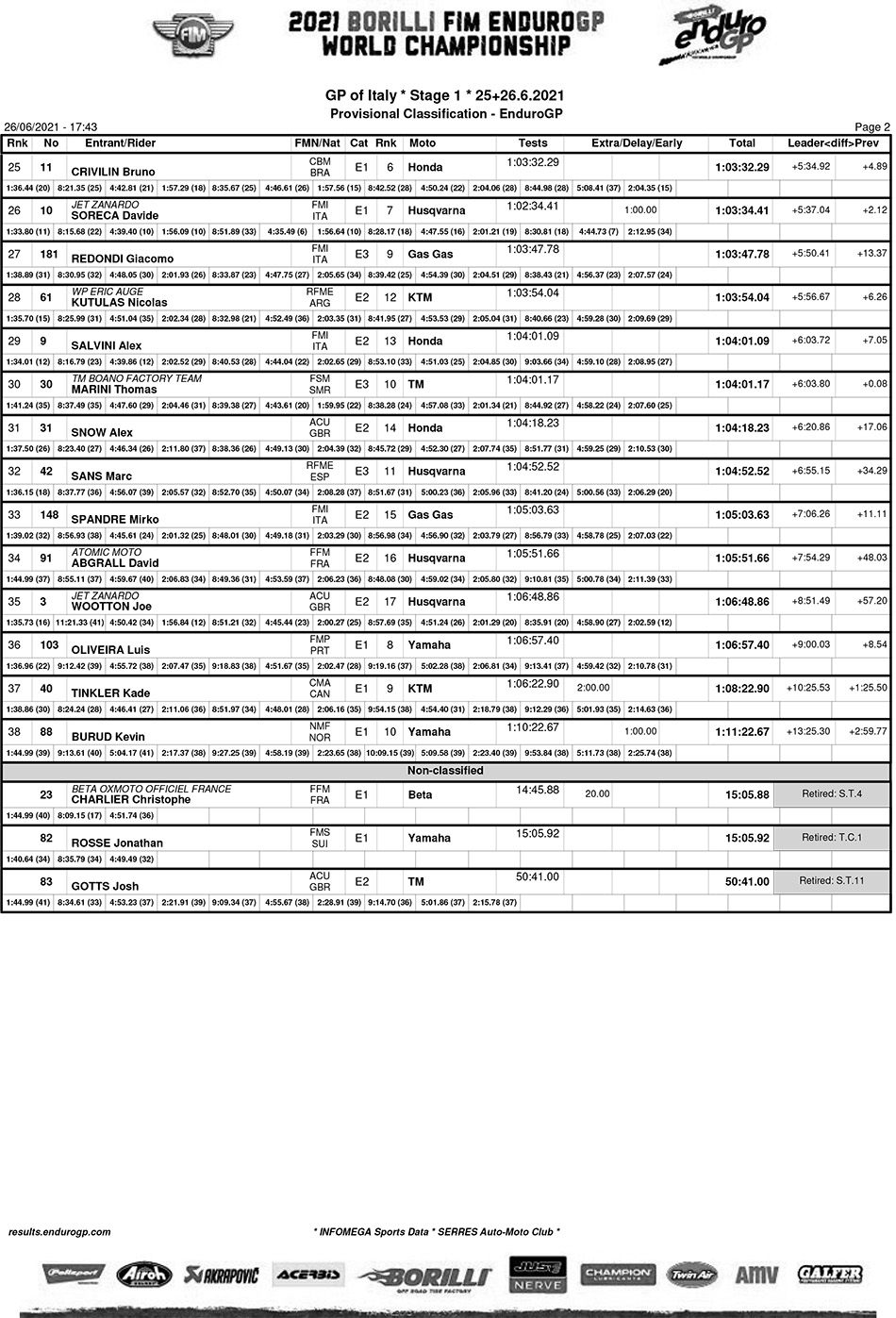 Here's what the Extreme test looked like - check how much work Freeman is putting into it...
Junior overall (J1 + J2):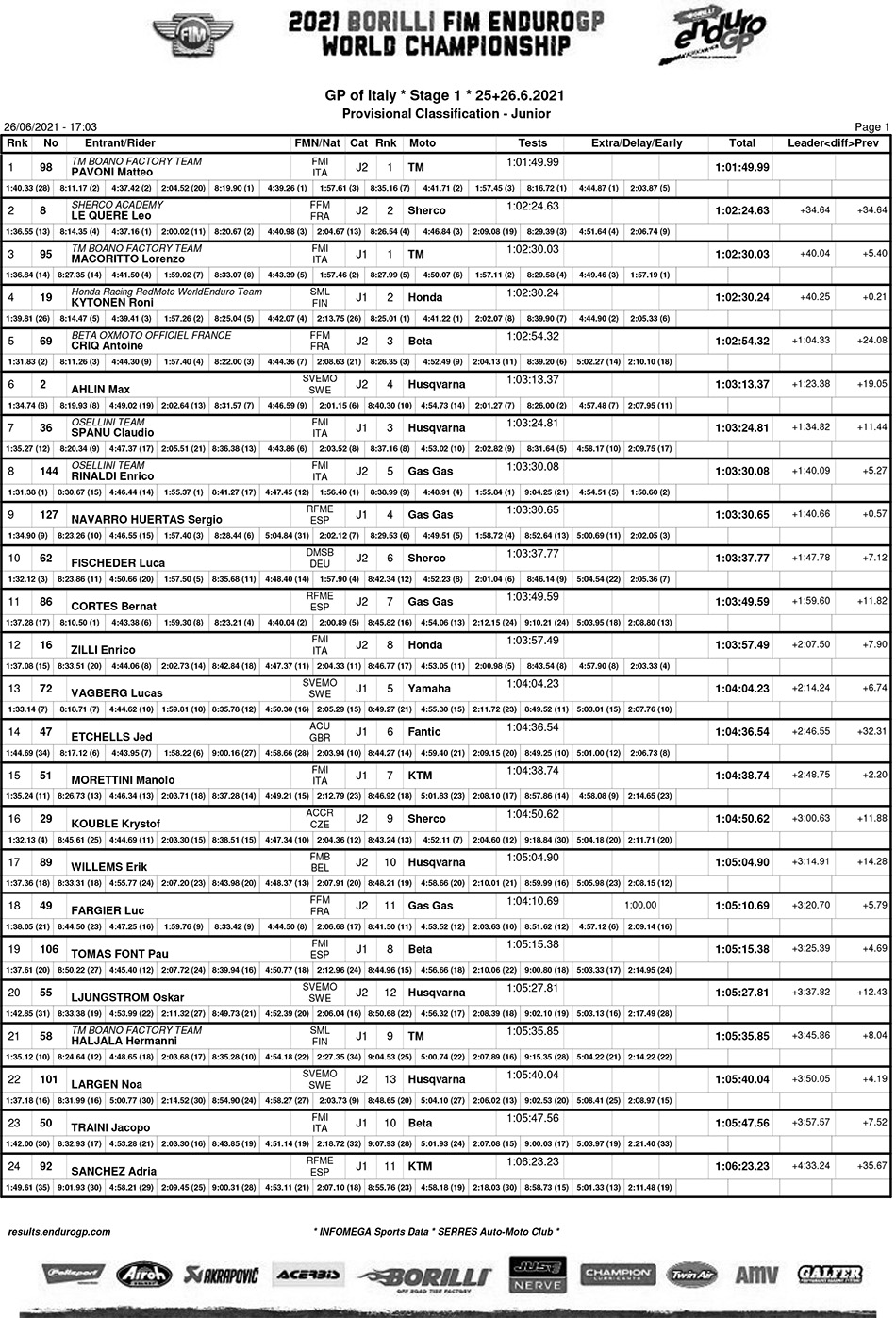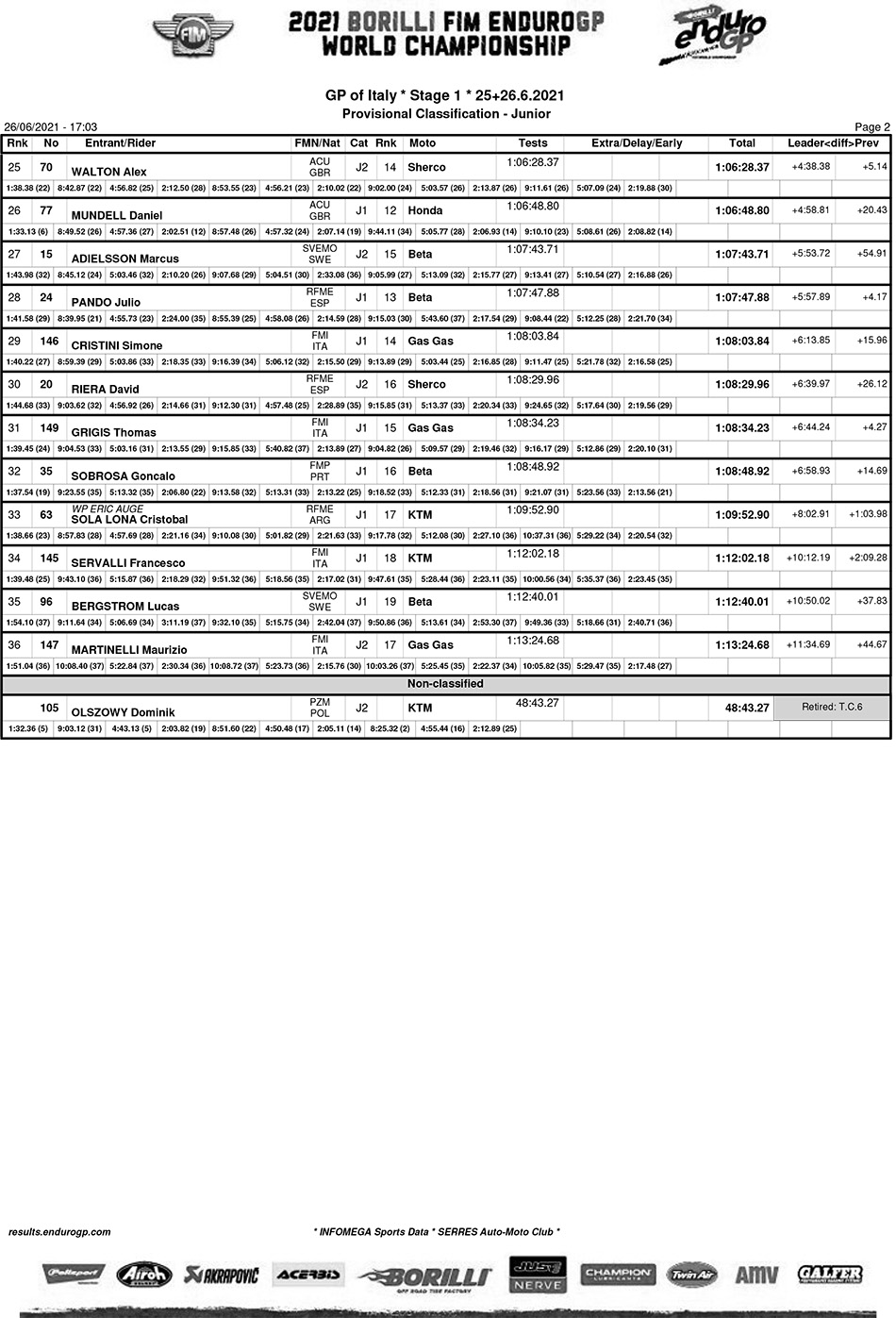 Youth: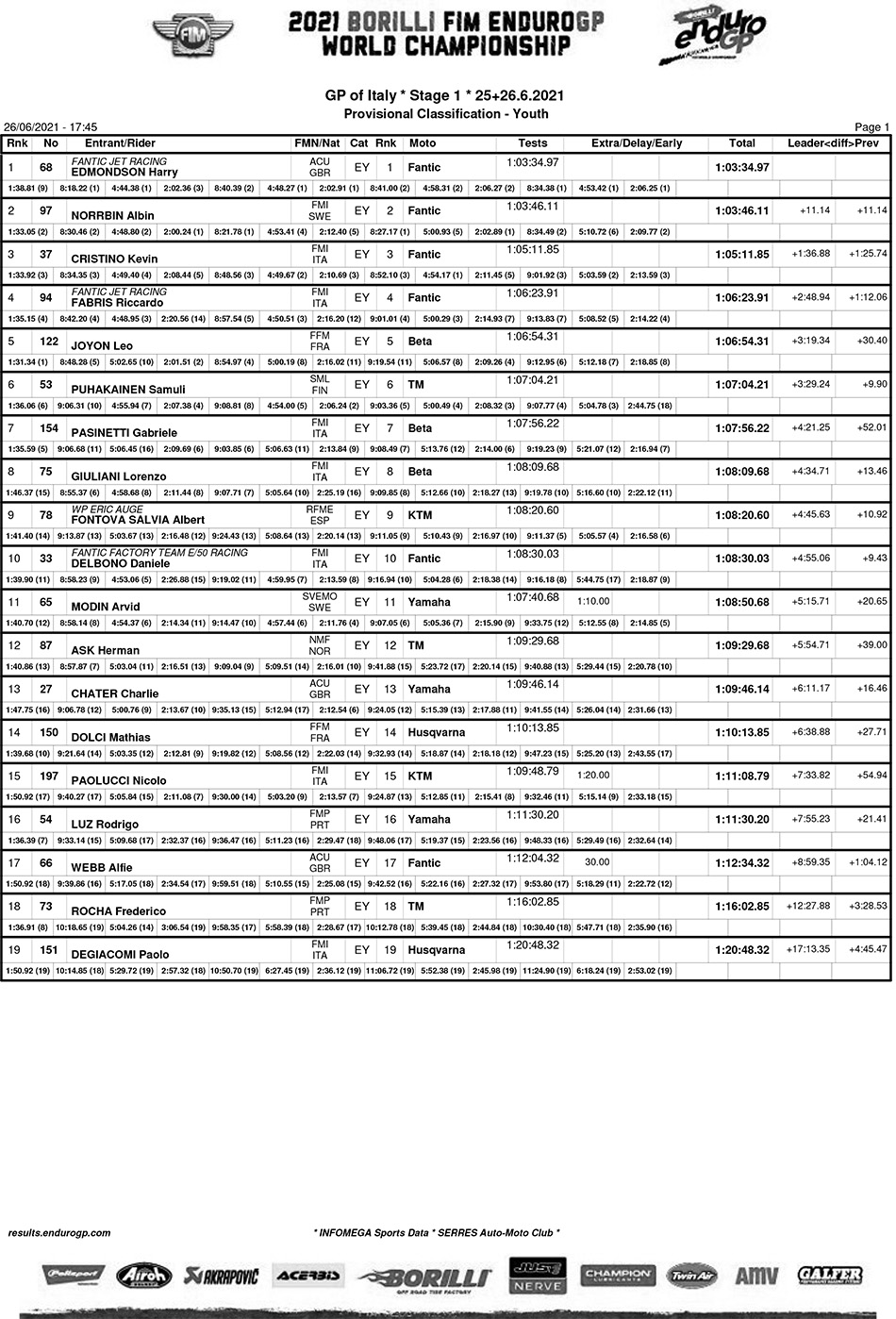 Open class scratch: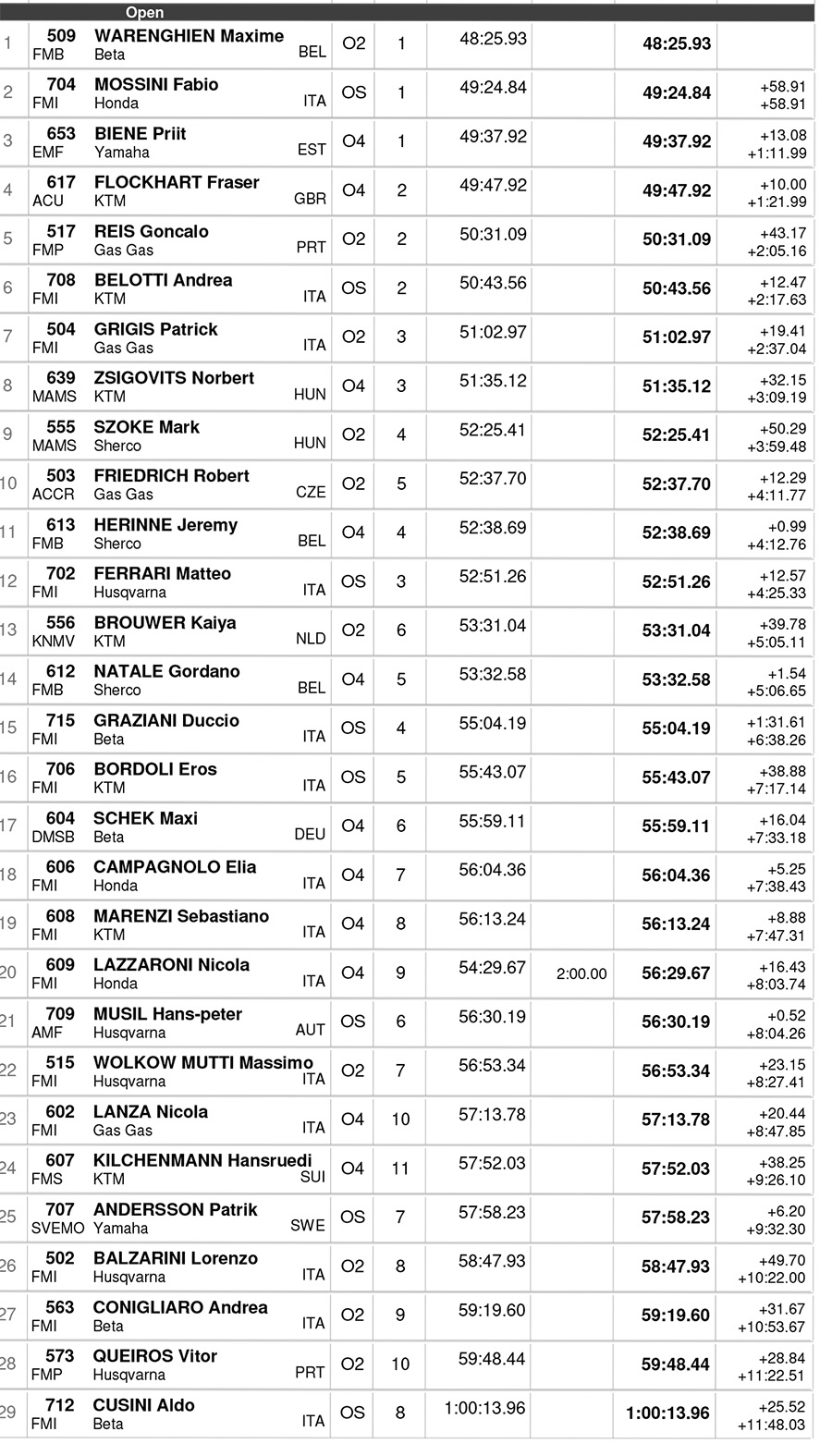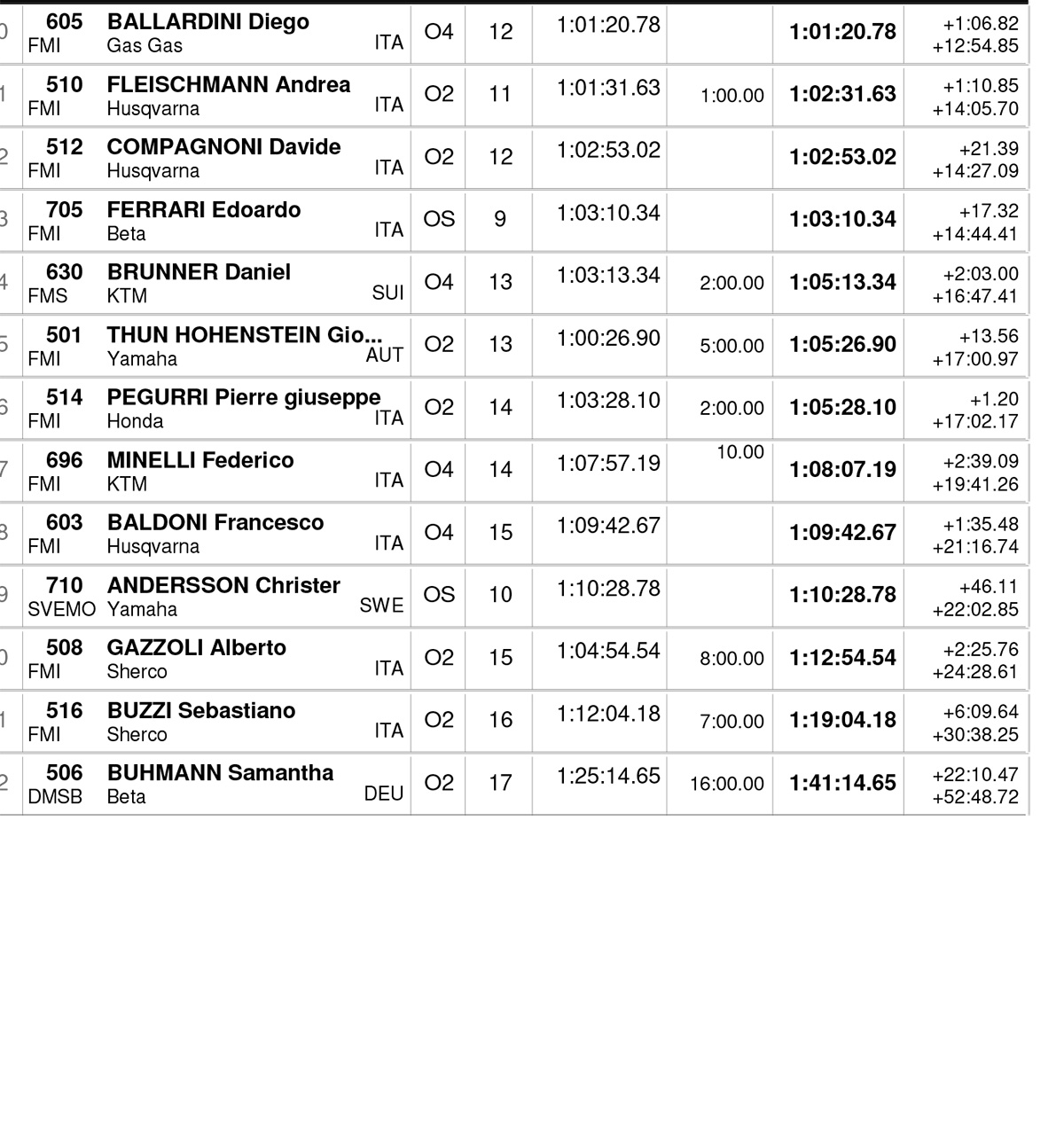 Photo Credit: Enduro21 | Andrea Belluschi