EnduroGP results: Freeman takes double win in Italy, day 2
Results feed from day two of the Italian EnduroGP in Edolo where Brad Freeman set a pace no rider could match for his second win on the bounce, again ahead of Wil Ruprecht with Steve Holcombe snatching third despite a broken rib.
2021 EnduroGP of Italy, day 2 in a nutshell:
If day one was the Brad and Wil show then day two was all about Freeman who pulled a string of six test wins through the thick of the day which did the damage, despite a few self-confessed mistakes.
Brad says he was expecting an easier GP in Italy but the beaten-up tests proved hard work over two days and this was no walk in the park. Going fastest in the final test nailed the lid on the coffin and this was Brad's day.
Ruprecht says going to go P1 in E2 and P2 overall "to a very competitive Brad Freeman" represents a good weekend. He's in it for the long game he says and it is great to have a new rider challenging for GP wins.
Two Cross test wins showed Steve Holcombe was happier on day two but he did reveal today he is riding with a broken rib. The EGP champ had a strong finish to the weekend despite that and as the tests got harder he was hounding Andrea Verona for the scratch podium.
When Verona crashed in the rocks on the last test, Steve snatched it by two seconds.
Verona was gutted with not being on his home GP podium overall but can console himself with the E1 class win and now championship points lead ahead of Davide Guarneri who was fast again in finishing sixth.
Josep Garcia sat between the battling Italians, quietly in fifth but unhappy with his feeling on the bike and over a minute and half behind Freeman.
A derailed chain on the lap three visit to the rocky riverbed Extreme test saw Billy lose half a minute and dropped him down the order on day two. Still, a top 10 in this crowd from an "extreme guy" is not to be sniffed at. Taddy Blazusiak was just outside the top 20 and Manuel Lettenbichler DNFd day two with a swingarm problem.
In the Junior class it was another intense battle between the Italian TM Boano Racing boys, Matteo Pavoni and Lorenzo Macoritto. Their fight went right to the wire with Pavoni taking a narrow, two second win after 12 tests.
Just like round one, roles were reversed for day two in the Youth 125 class with Albin Norrbin turning the tables on Harry Edmondson for the day win. Kevin Cristino took an identikit third place.
Maxime Warenghien was again top dog in the Open class overall. The Belgian also took the Open 2T trophy and finished half a minute clear of Priit Biene, best Open 4T rider. who was the same amount ahead of Fraser Flockhart repeating his Portuguese GP form in third.
EnduroGP of Italy, day 2 results, EnduroGP: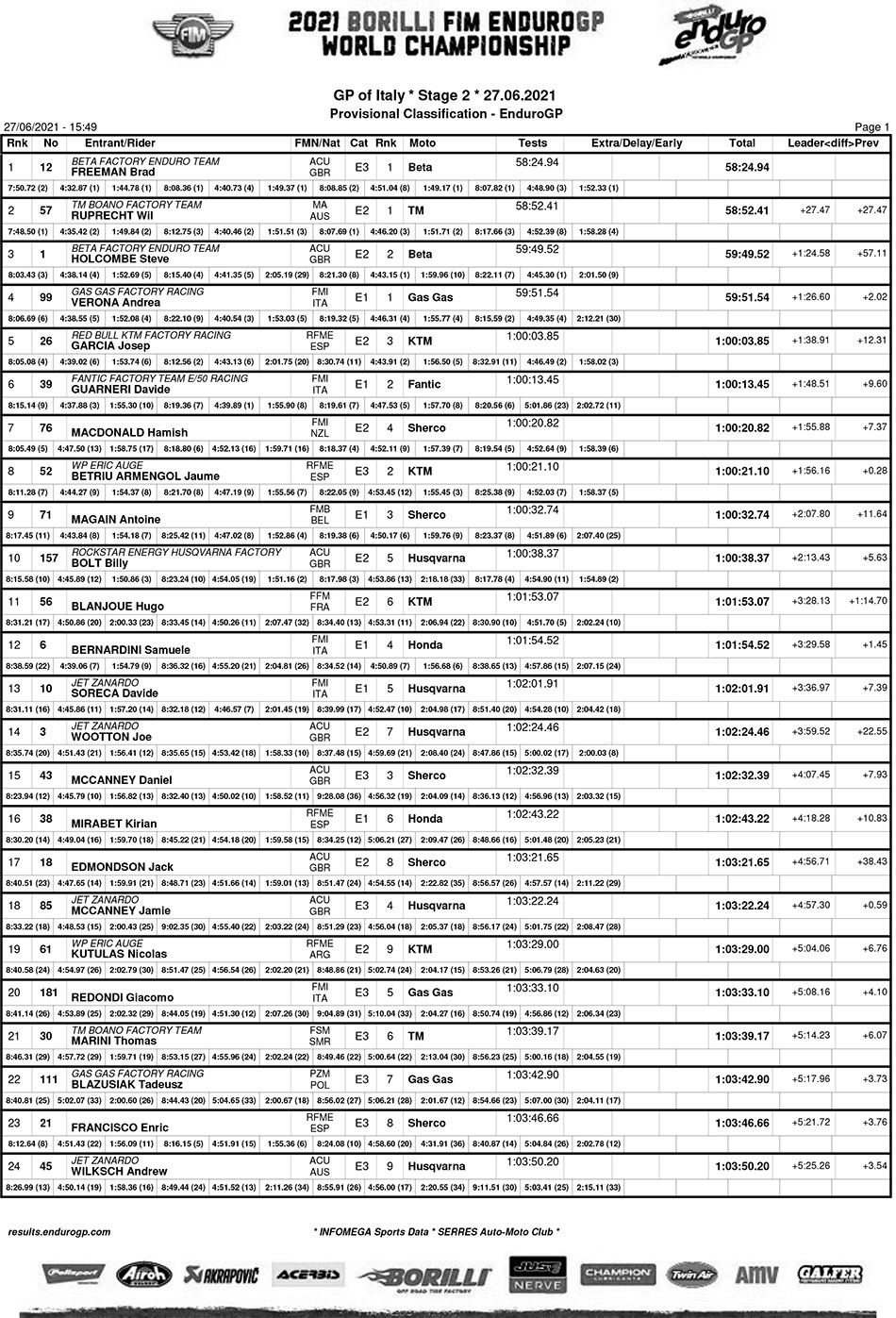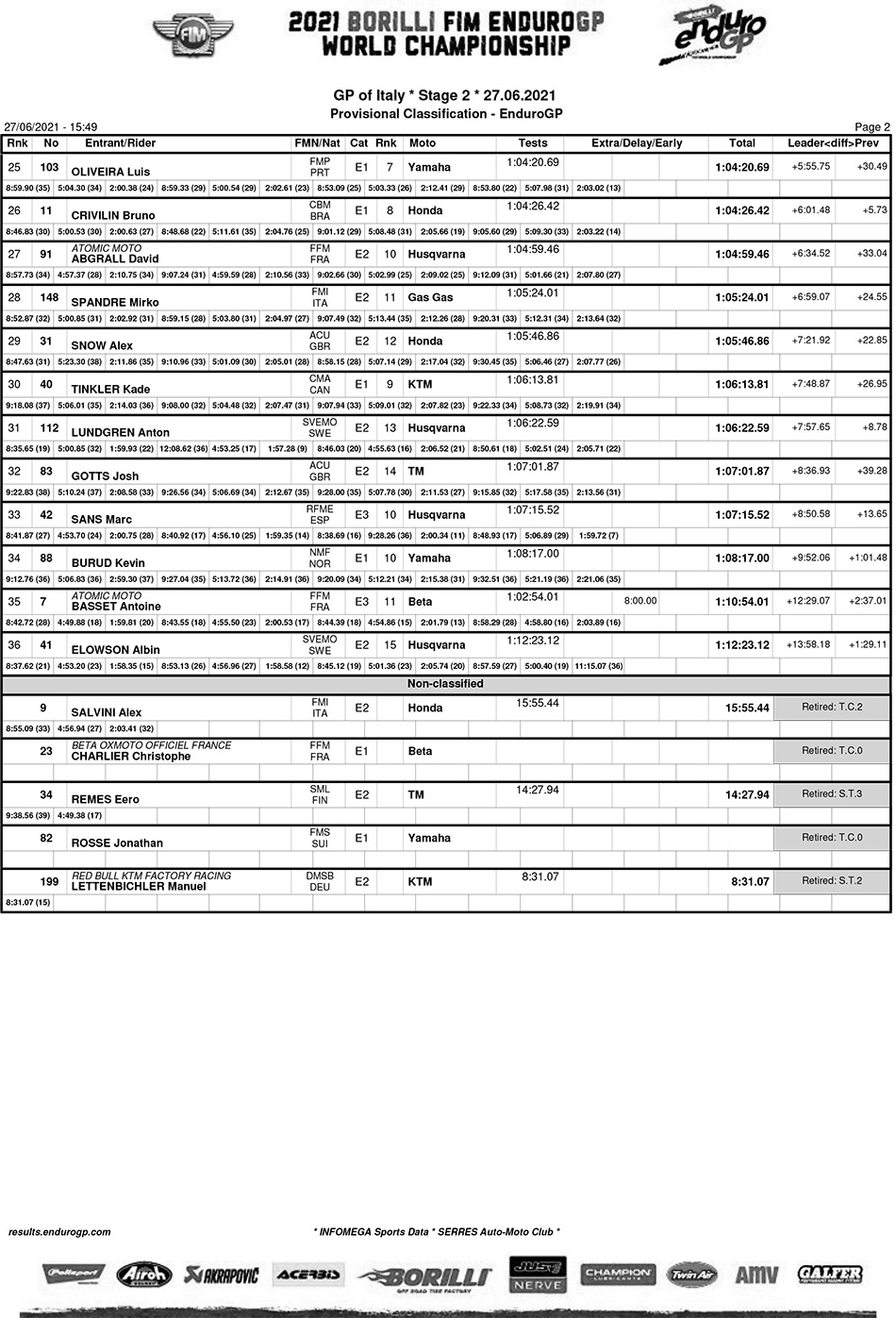 How the tests looked after two days of hammering...
Junior class (J1 and J2):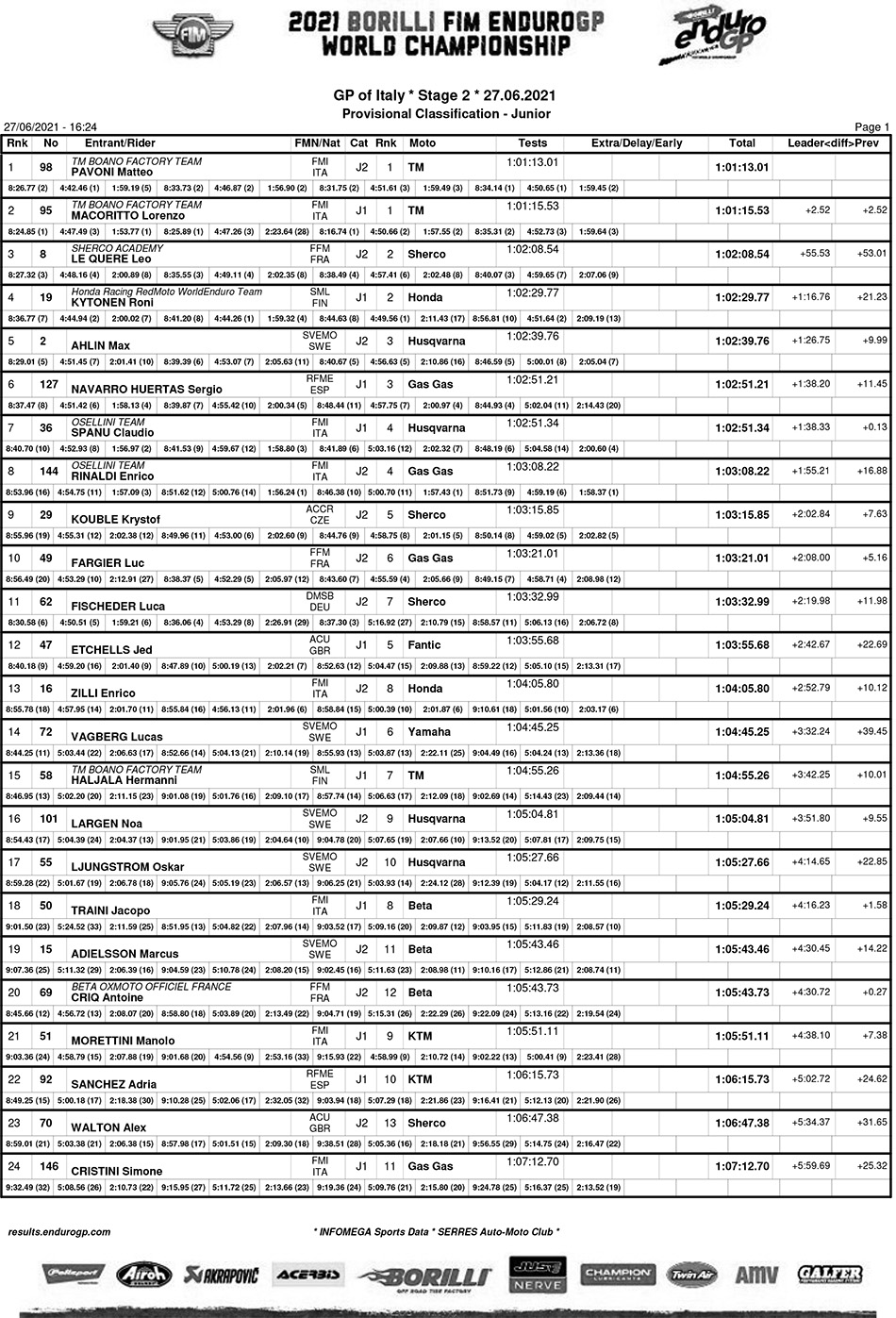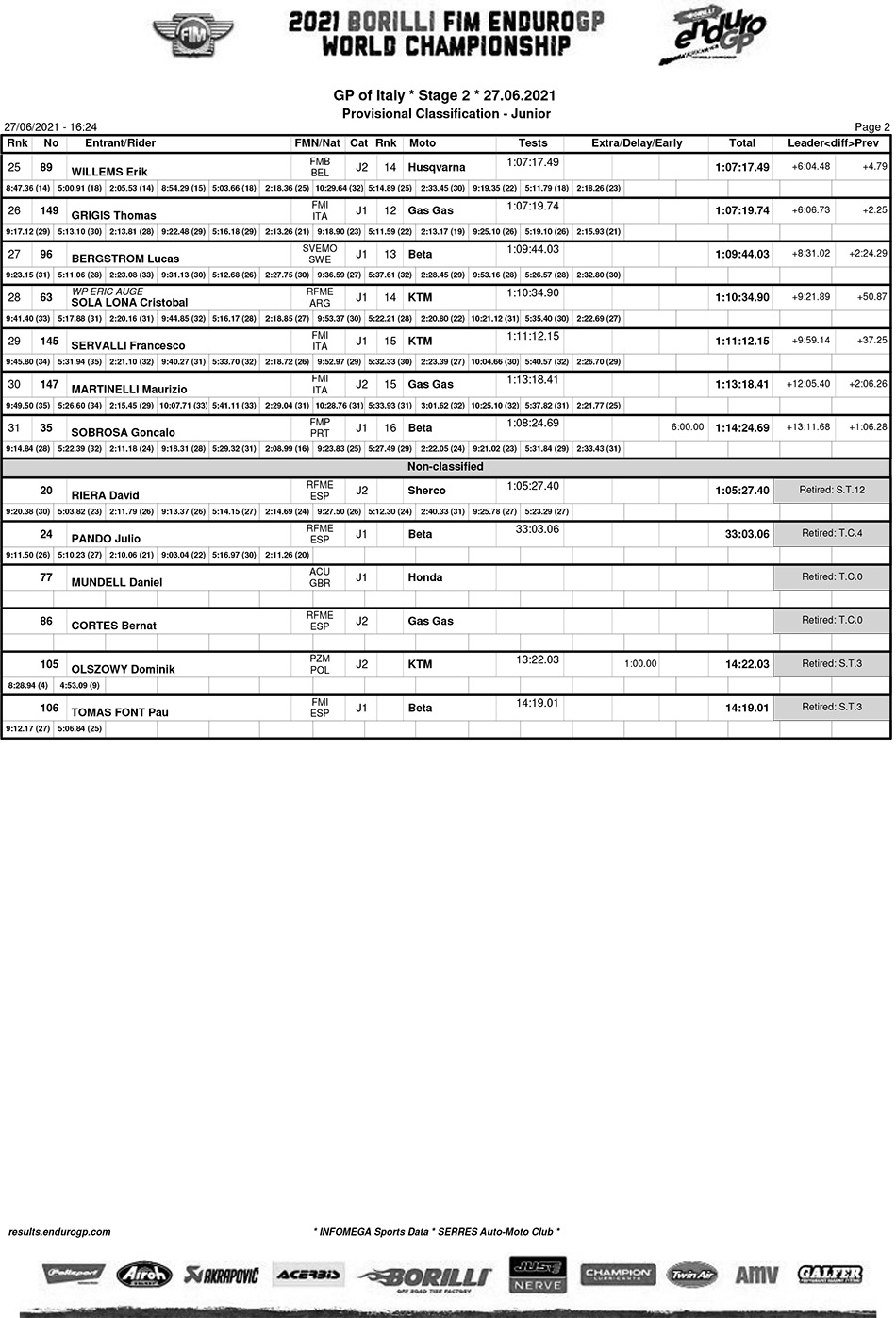 Youth class: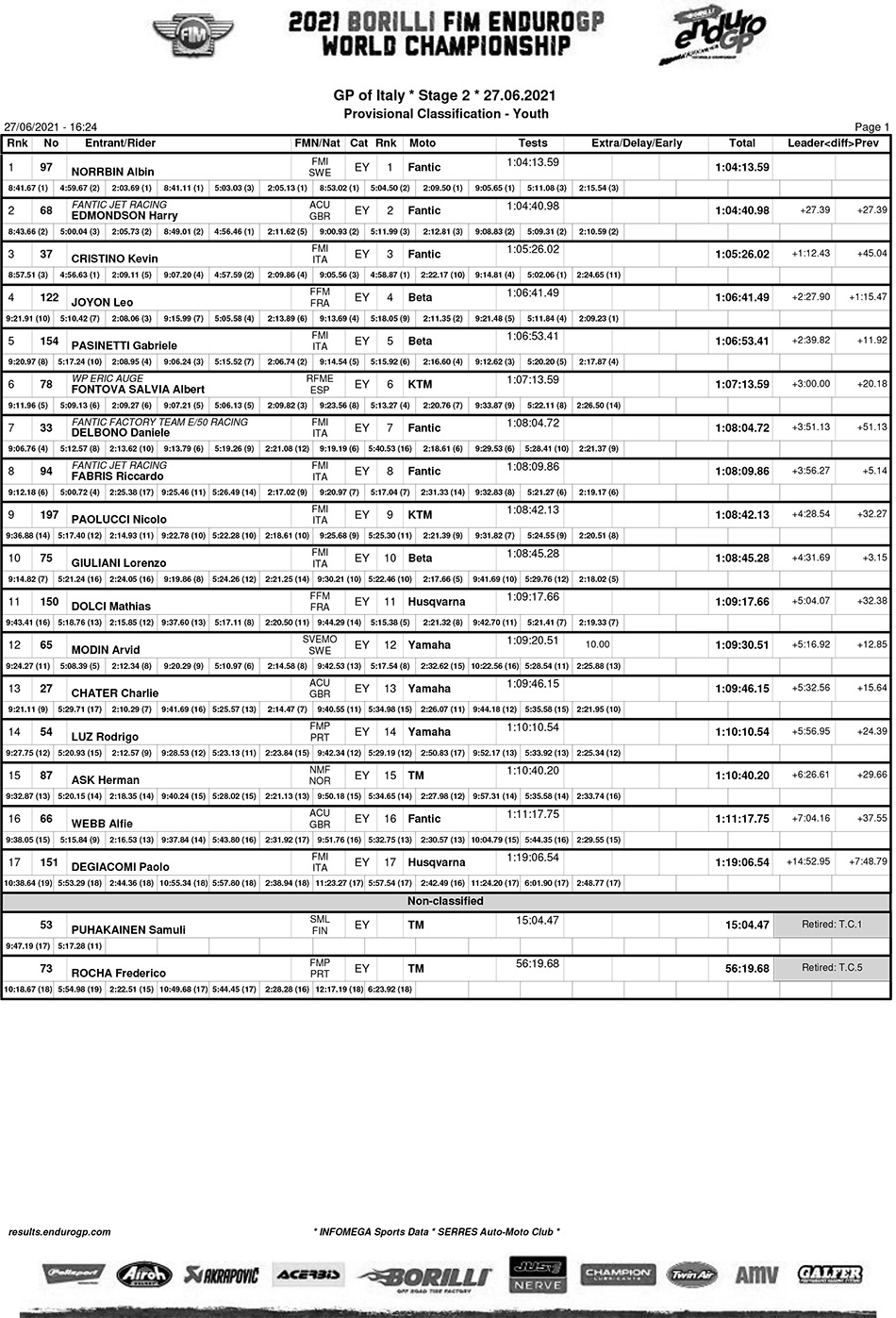 Open (scratch result):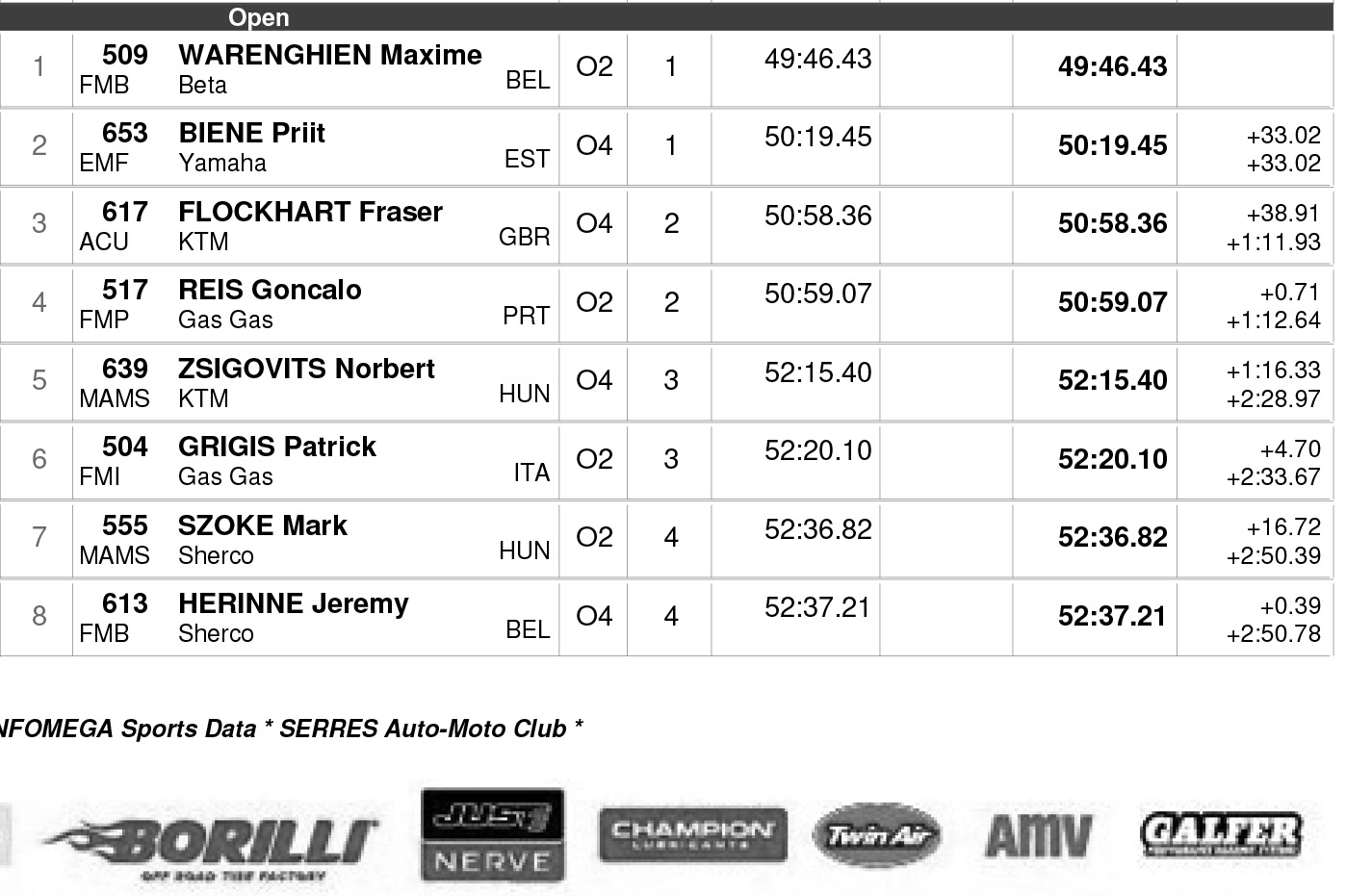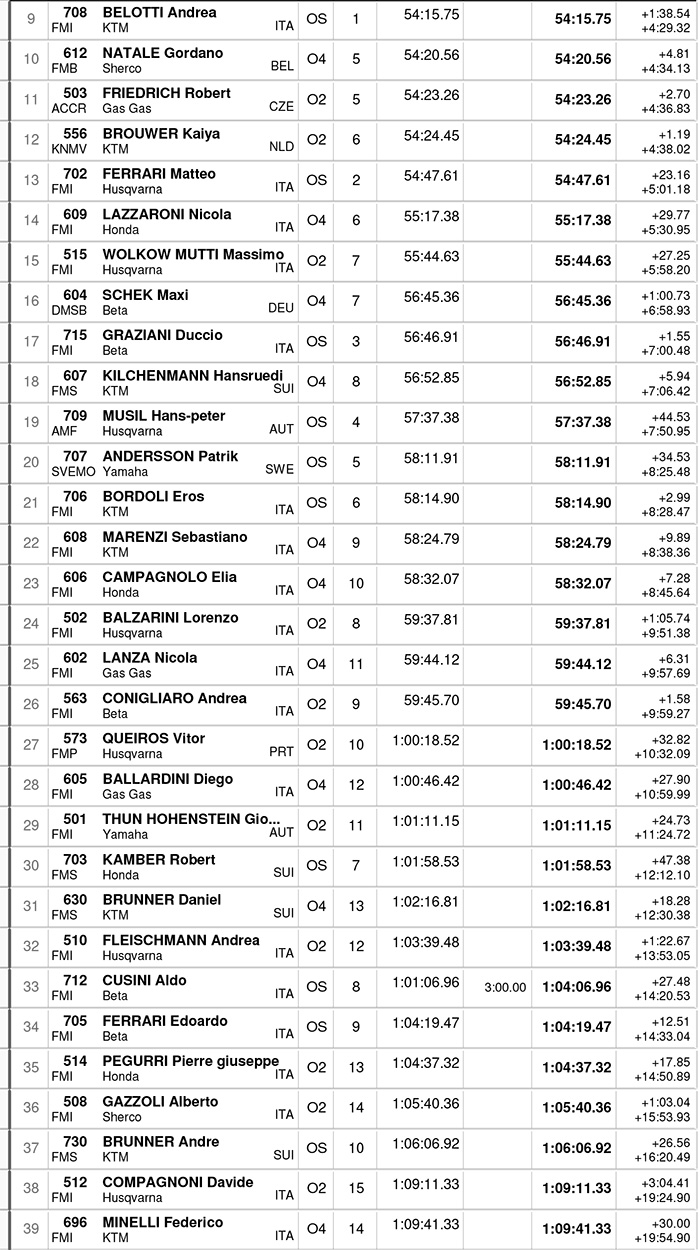 Photo Credit: Enduro21 | Andrea Belluschi