EnduroGP results: Wil Ruprecht takes maiden GP win on Day 2 in Portugal
Results feed from day two of the 2021 EnduroGP World Championship in Portugal where Australian Wil Ruprecht has taken his first career GP day win ahead of Brad Freeman.
EnduroGP of Portugal, day 2 in a nutshell:
Overnight rain changed conditions and caught many riders out in the morning including Thomas Oldrati who crashed heavily and was taken to hospital.
Josep Garcia came out swinging with two test wins on the bounce early doors and took an early lead ahead of Steve Holcombe, eventual E1 class winner Davide Guarneri and Brad Freeman.
Like an incoming missile, Wil Ruprecht turned the tide in his favour with a mighty 21 seconds faster first visit to the Enduro test and that triggered a titanic battle for the lead for the rest of the day between Wil, Brad and Steve.
The last visit to the Enduro test on the final lap saw the pendulum swing in favour of Ruprecht. The Australian "found another gear" and, after a weekend of "proper enduro" where many riders finished tired and cramping up, Wil took a popular overall day win and the E2 class victory.
Freeman kept it consistent again to claim second in scratch just under nine seconds adrift and with that the E3 win – Brad leaves round one with the championship points lead.
Holcombe meanwhile was certainly in with a shout until day one damage to the ribs caught up with him in the last three tests and had to settle for third step on the podium and P2 in E2.
Garcia also faded on that last lap to finish fourth ahead of his countryman Jaume Betriu on the big 500 KTM.
If the battle was titanic in EnduroGP then the Juniors were intense with a four-riders, Leo Le Quere, Roni Kytonen, Matteo Pavoni and day one winner Lorenzo Macoritto all in with a shout. In the end Pavoni made it a good day for TM Boano Racing team (alongside Ruprecht) with a six seconds winning margin over Kytonen.
As with day one in Portugal, the Youth class was dominated by three Fantic riders: Albin Norrbin, Harry Edmondson and Kevin Cristino. Roles were reversed today though as Norrbin bettered day one winner Edmondson in the end by almost 30 seconds.
The Women's class was dominated by a fresh name on day two in Portugal. Mireia Badia fended off heavyweight contenders defending champion Jane Daniels and Laia Sanz with particularly fast times in the Cross tests. The Spanish rider took her first GP victory by just two seconds over Daniels with Sanz third.
Fraser Flockhart gave local rider Goncalo Reis a run for his money for the scratch result in the Open class but the Portuguese was rallied by the crowd and ran out winner for the second day succession.
EnduroGP of Portugal, day 2, results: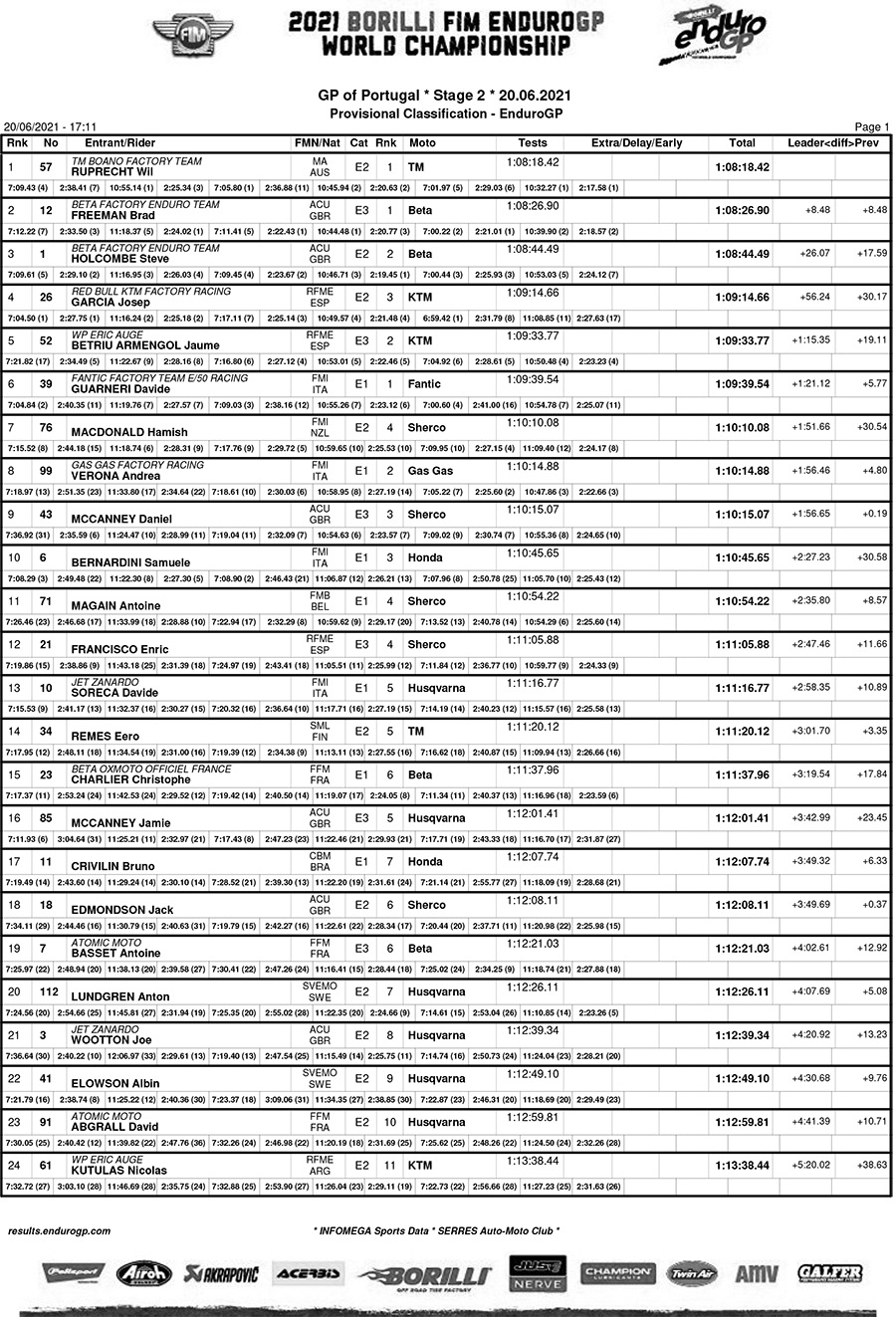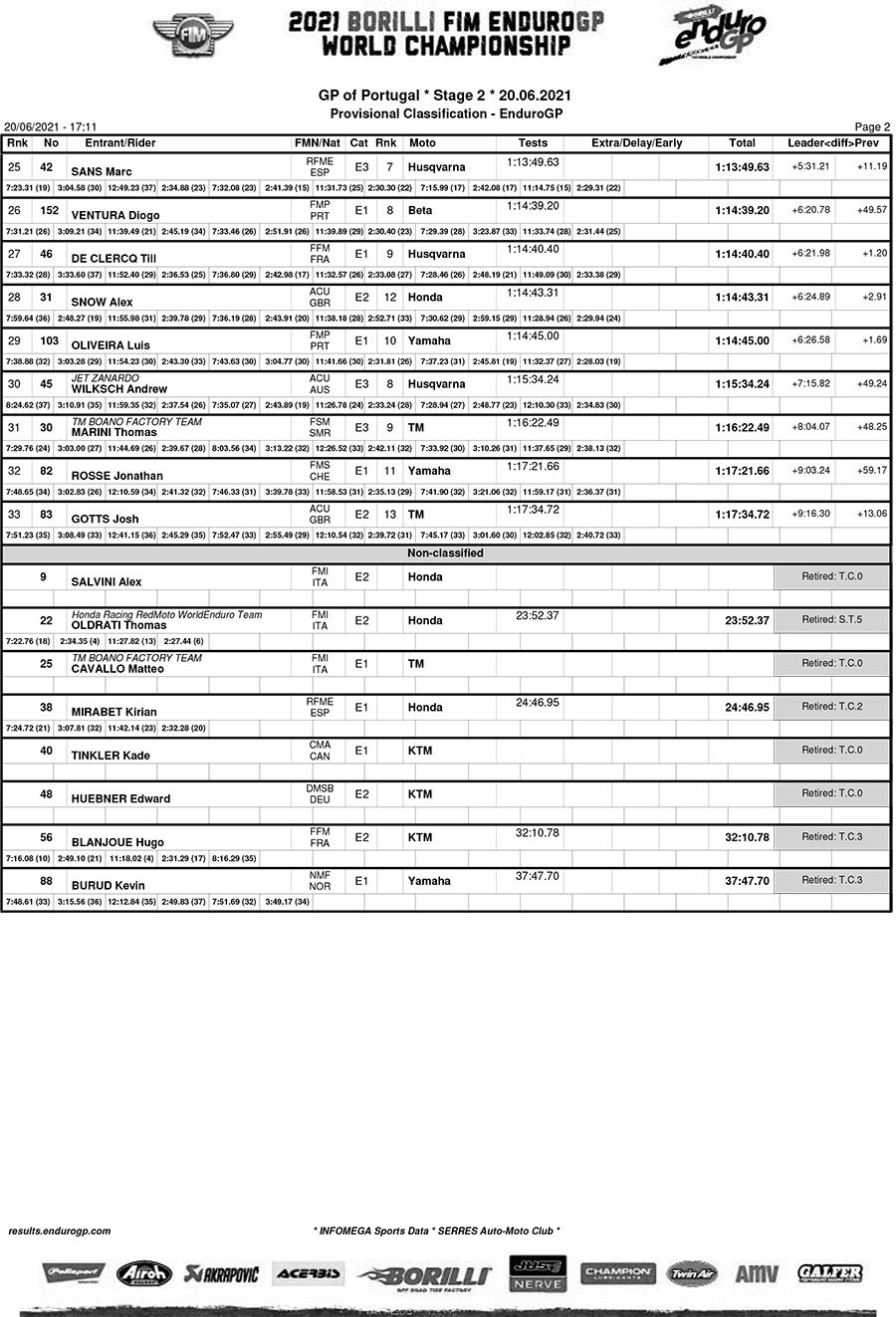 Junior class scratch: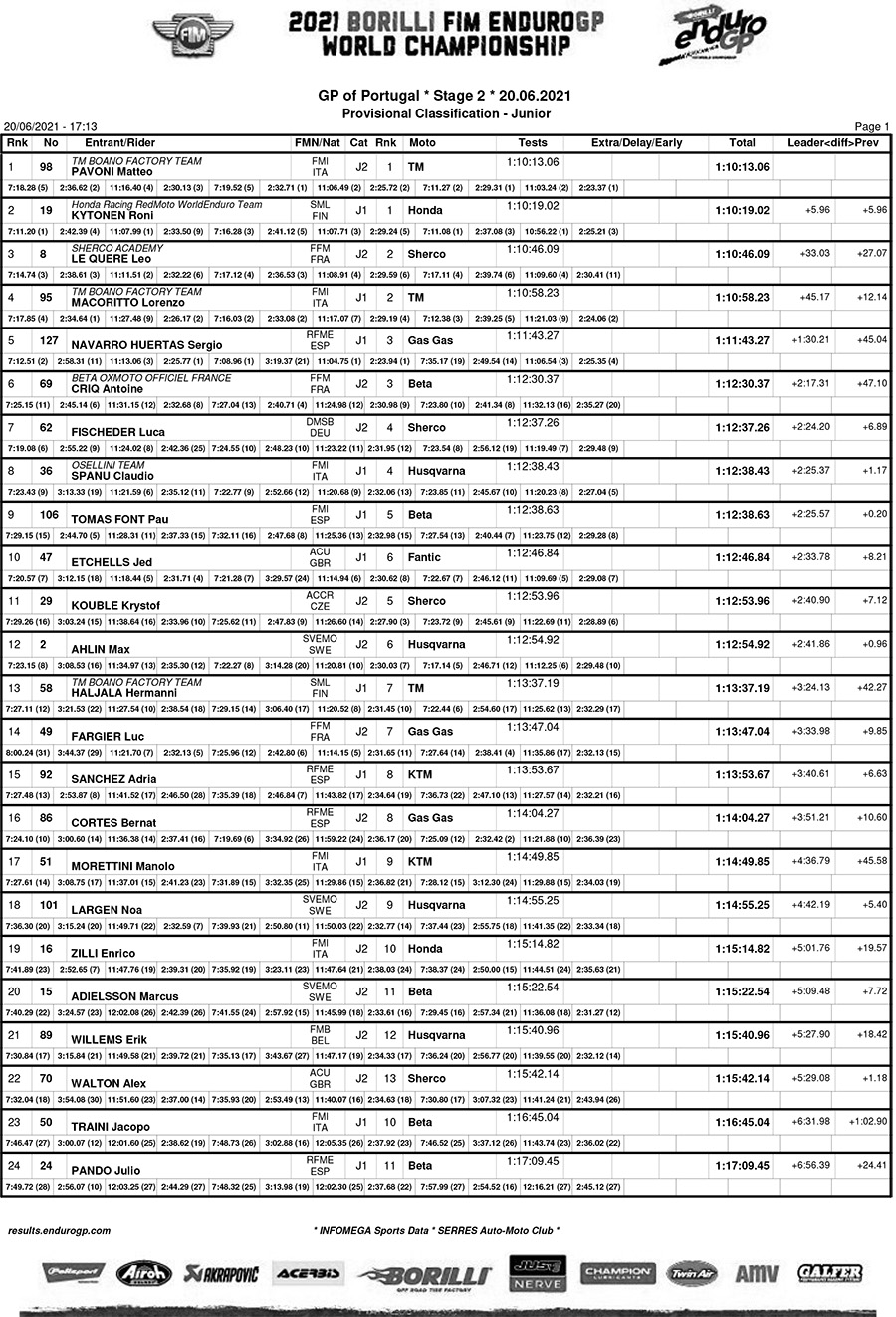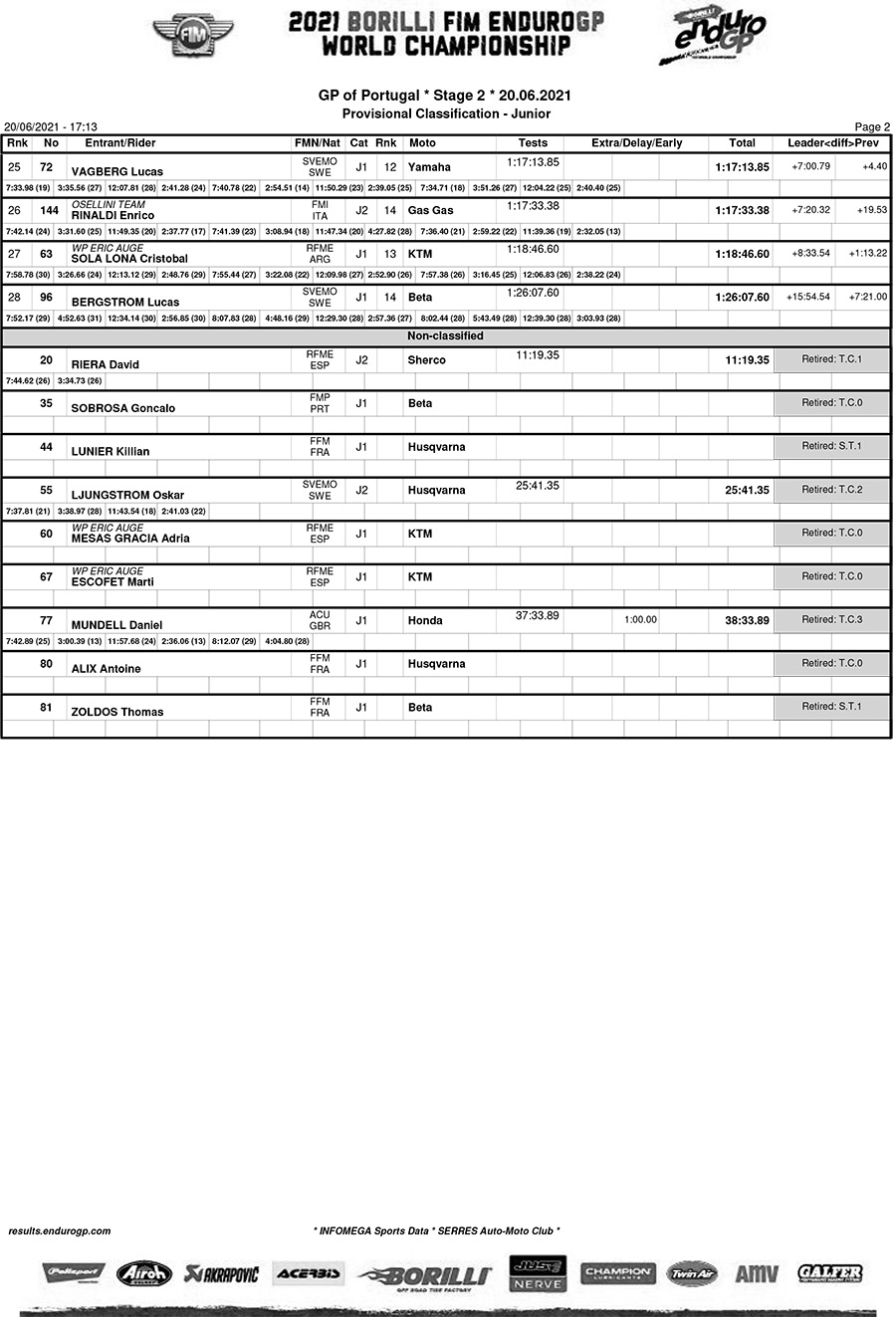 Youth class: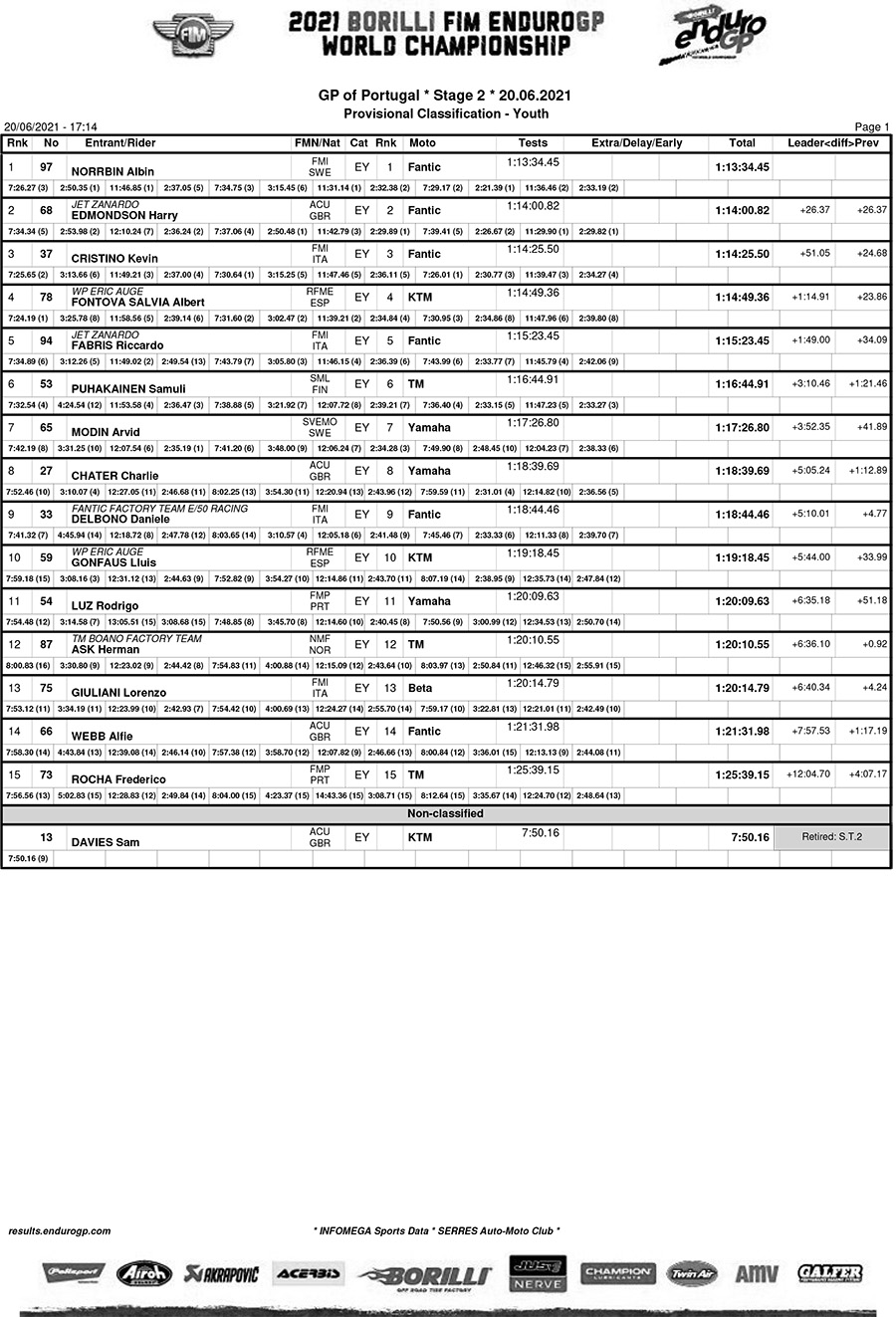 Women class: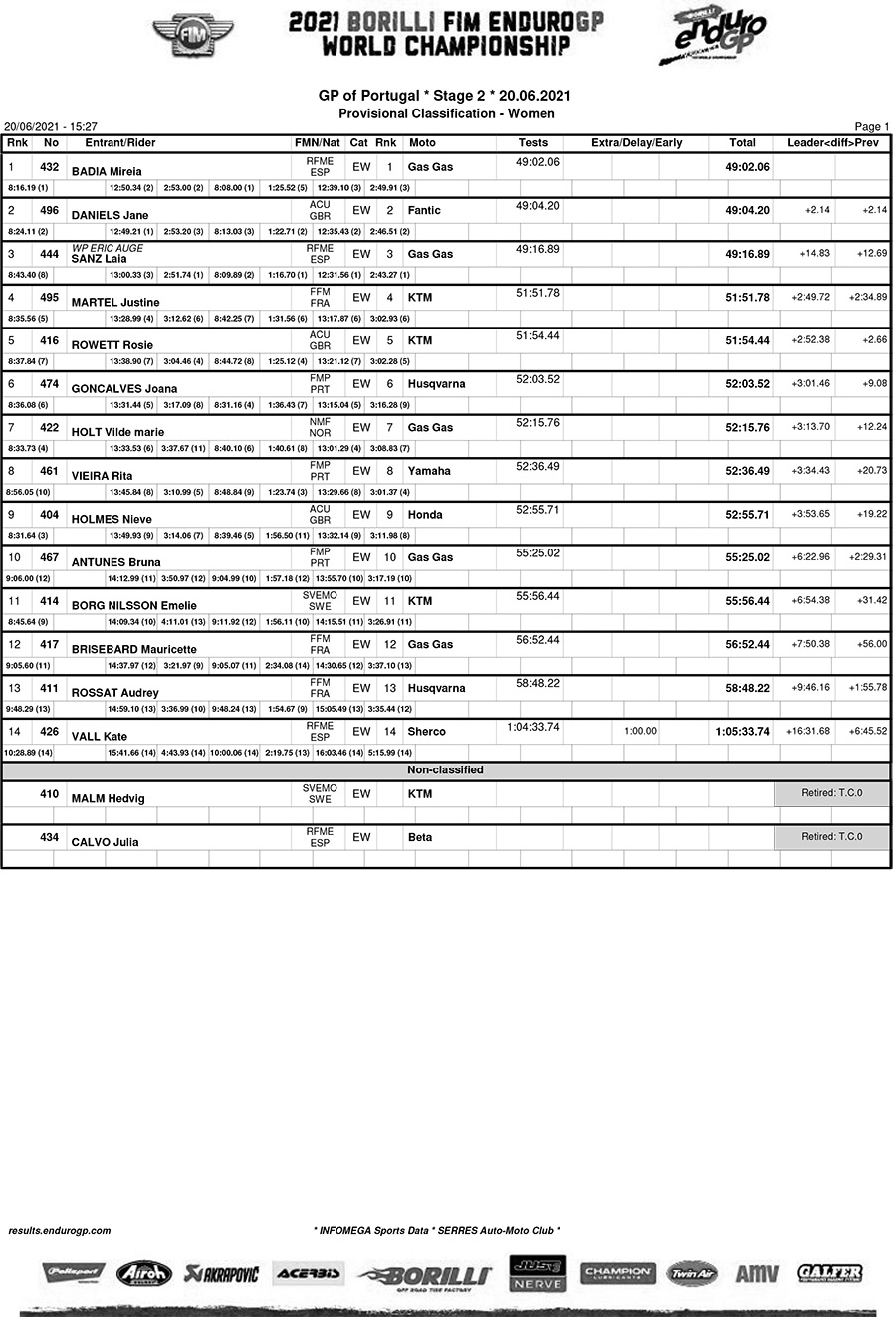 Open class scratch: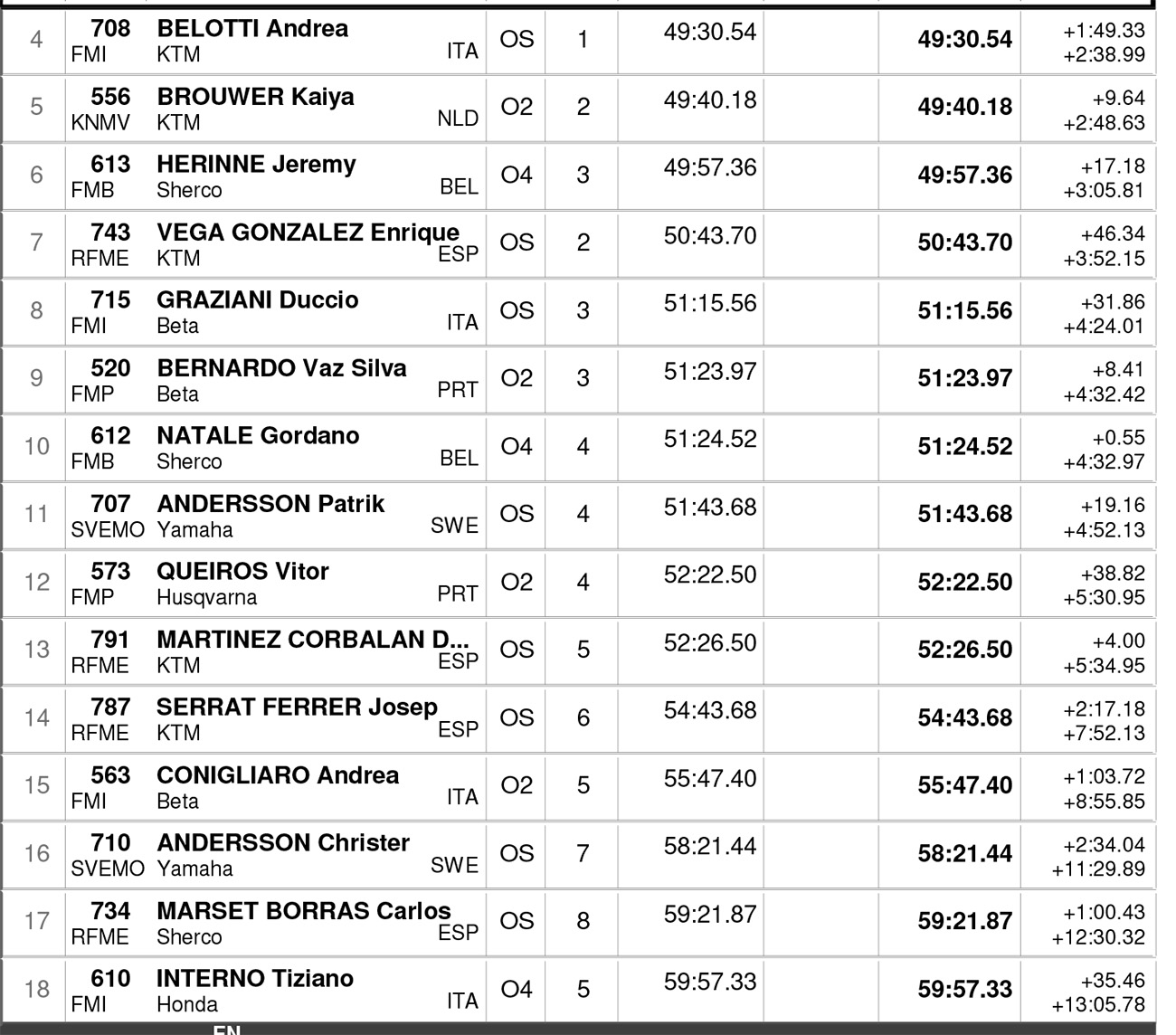 Photo Credit: Enduro21 | Andrea Belluschi + Nicki Martinez